Key Points
Windows 10 introduced a new browser to replace its rapidly aging Internet Explorer software, thus Edge was born.
It is known by many that Microsoft's Internet Explorer is the slowest of browsers.
Chrome was built to be the lightest-weight browser available.
Both browsers are available on Windows, Mac, Android, and iOs
The differences between the two include their performance, the number of extensions that are available, and the amount of security, safety, and privacy features that are provided.
The battle of the browsers is the longest ongoing battle royal in consumer technology. The comparison of Chrome, Firefox, Internet Explorer, and other browsers changes with each software release and iteration. It is already commonly accepted that Microsoft's Internet Explorer is the slowest of browsers, especially compared to Google Chrome, but now there is Microsoft Edge.
Windows 10 introduced a new browser to replace its rapidly aging Internet Explorer software. IE was beginning to have the worse browser safety and system performance compared to nearly all the competition. Meanwhile, Google Chrome has gone through several iterations.
At first, Chrome was built to be the lightest-weight browser available. In its early years, it kept to this tenant and also touted the best performance. As Google introduced new technology and their own routing servers, they began to push the improvements through Google Chrome. In 2021, Chrome has become bloated.
Google never stopped packing Chrome with system enhancements, telemetry, and support for extensions. Now, it uses more system resources than Microsoft Edge at around 1.4 GB of RAM used by Chrome and only 665 MB of RAM used by Edge. Chrome does have a much larger pool of installable extensions, which Edge competes with by offering a limited amount of extensions and more built-in exclusive features.
Both browsers are available on Windows, Mac, Android, and iOs. Both browsers are built on the Chromium open-source browser. Side note: There are performance and speed differences between full desktop versions of Edge and Chrome against their mobile counterparts.
Edge vs. Chrome: Side-by-Side Comparison
| | Edge | Chrome |
| --- | --- | --- |
| What it is | Web browser | Web browser |
| Primary use | Manage and view connections to websites | Manage and view connections to websites |
| Name | Microsoft Edge | Google Chrome |
| Conceived | April 29, 2015 | September 8, 2008 |
| Initial release | April 29, 2015 | September 8, 2008 |
| Technical committee | Microsoft | Google |
| Influential developers | Microsoft | Google |
| Open format | Yes (built on Chromium) | Yes (built on Chromium) |
| Technologies influenced | Windows 10, Windows 11, Chrome | Android, Firefox, Edge, Brave, other browsers |
Edge vs. Chrome: 10 Must Know Facts
Microsoft Edge and Google Chrome are both made from the open-source Chromium browser.
Chrome has a wider selection of customization options and extensions.
Both browsers allow for users to sync up their mobile and desktop versions of the browsers to continue searching when switching between devices.
Edge has an Immersive Reader mode that removes everything from the page except the core content.
Edge has a built-in inking feature.
Chrome has enough features to act as a virtual computer hence the creation of Chrome books.
Edge and Chrome are available on every major operating system such as Windows, Mac, Android, and iOS.
Chrome uses more RAM than Edge by an average of 30-40%.
Edge and Chrome are widely compared in the technology world, but Edge has been said to be the superior browser in more recent reviews.
Microsoft added tracking prevention to Edge that is not available in Chrome as tracking is essential to some Google services.
What is Microsoft Edge?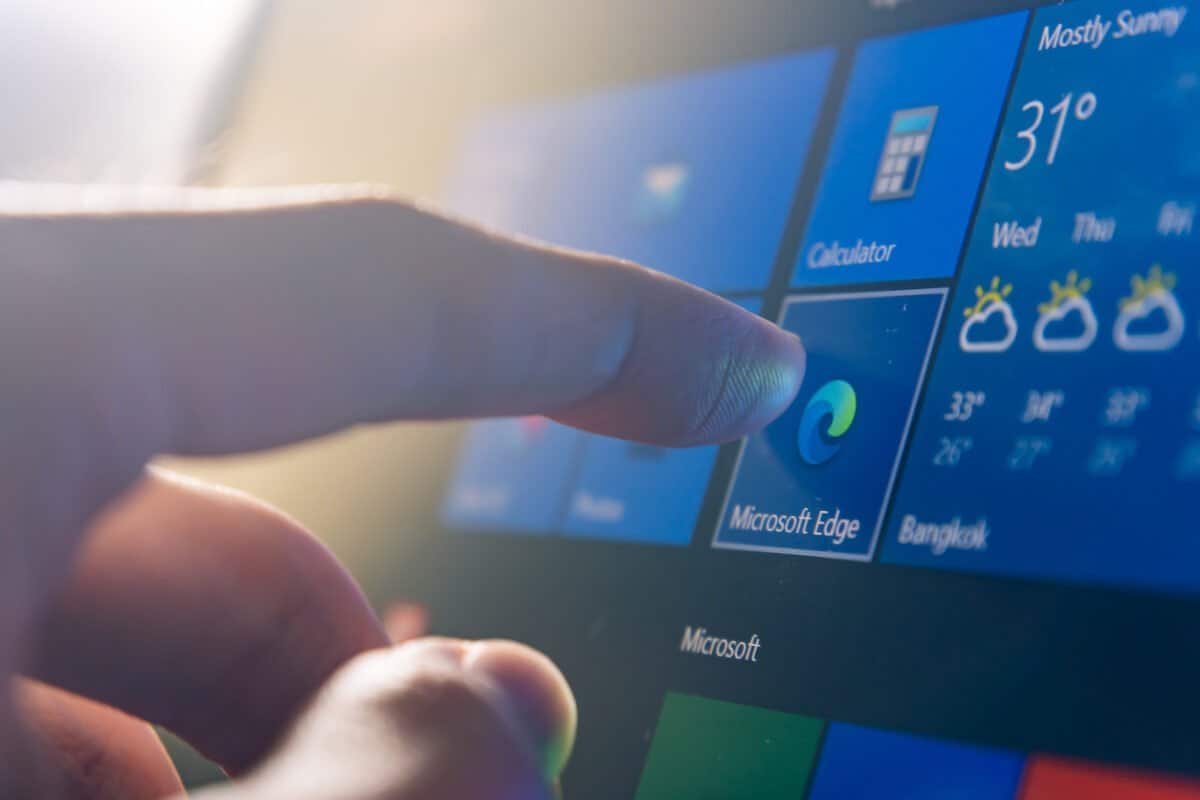 Before the release of Windows 10, Microsoft was working to create a better suite of built-in productivity and management software for their operating system. Microsoft Edge was a key feature in this alongside, Cortana, Live Tiles, and much more.
Internet Explorer had not aged well and needed to be replaced in order to keep up with the competition. Google's Chrome had already earned the top browser preference in the minds of most users, even over Safari on Mac OS. Microsoft took notes and built their browser on the same open-source Chromium system Chrome was made from.
Google had increased browser productivity by allowing for a wide selection of developer extensions. The change to chromium allowed Edge to make use of preexisting extensions while using fewer system resources.
Features of Microsoft Edge
Collections: Bookmarking links and URLs is as old as web surfing. Microsoft has introduced a way to keep your bookmarks organized and accessible with Collections. Think of it as a way to keep bookmarks in folders.
Taskbar Pinning: Some users rely on specific websites more than local programs. With Edge, those links can be placed as an icon on the Taskbar for quick access.
Add All Tabs to Favorites/Collections: Web surfers who find themselves keeping tabs open for multiple sources can now easily save every open tab into their favorites or add them to collections.
Read Aloud: Microsoft has added the ever-popular accessibility feature Text-to-Speech to Microsoft Edge. Users can now let it read the page to you.
Immersive Reader: Immersive Reader mode, accessed by hitting the F9 key or clicking on the Immersive Reader button, removes all the distracting content of a web page like ads and irrelevant hyperlinked content. All that is left is an easy-to-read article made from the website's content.
What is Google Chrome?
This question hardly needs answering. Almost everyone who uses a desktop, laptop, smartphone, tablet, or any other internet-connected smart device is well aware of Google Chrome, and for good reason. After its release on September 8, 2008, it quickly took the computing world by storm.
The browser was the lightest one to have been released at the time. The difference in speed and performance between it and the standards of the time like Internet Explorer, Mozilla Firefox, and Safari was more than noticeable. Developers flocked to create extensions for Google's browser.
As with almost all technology, Chrome didn't stop there. Google added more and more functionality into their browser in a bid to gain the market on browsers. While their ambition saw Google's browser become a powerhouse of productivity, it also saw it become a resource hog.
On average, it had gone from a low RAM usage of between 400-700 MB to 1.3-1.6 GB. On a desktop, this might be considered passable. On a laptop, resource hogs are a big problem for efficiency.
Chrome is still the average browser of choice, but the performance of Edge and the fact that it comes pre-installed on Windows gives Edge a chance to catch up.
Features of Google Chrome
Data Saver: Developed by Google, Data Saver is an exclusive extension for chrome that helps to reduce data usage by compressing visited pages.
Remote Desktop: While Remote Desktop is not a feature exclusive to Chrome, it is a feature exclusive to it as a browser.
Customization: Chrome isn't the only browser that allows for visual customization, but Edge does not offer this feature.
Trex Minigame: Google found a way for Chrome to be useful even when it's not connected to the internet with the Trex mini-game.
Chrome Task Manager: Google's browser has it's own task manager. It's pretty useful.
Edge vs. Chrome: Key Differences
Although there are a number of similarities between Microsoft Edge and Google Chrome, there are plenty of differences between them too. These include their performance — specifically the amount of RAM that they use — the number of extensions that are available, as well as major differences between the security and safety, and privacy features that are offered by the two browsers. Let's explore these differences in more detail below.
Performance
Chrome and Edge are fast browsers. During speed tests, the differences are negligible. Though for the perfectionists, Chrome did beat Edge in Kraken and Jetstream benchmarks. This is not something that is likely to be noticed by the everyday user, maybe by developers. However, Chrome uses quite a hefty amount of RAM compared to Edge. That's something you will likely notice, especially if you are a multi-tasker.
Extensions
Chrome has Edge beat when it comes to extensions. Chrome has been around for far longer. It has also been popular for longer. This has led developers to flock to creating Chrome extensions rather than Firefox or Edge extensions. However, Edge is catching up slowly.
Edge has compatibility for specific useful productivity extensions like Grammarly. It is not likely that Edge will ever have the same number of extensions available for Chrome, but it's for a good reason. Microsoft wants its extensions to be safe and secure.
Privacy and Security
Hands down, Edge has more privacy, safety, and security settings than Chrome. Which makes sense if you think about the nature of Google and how its software works. Microsoft is much more a fan of privacy and security as those features are what its clients are looking for.
Google, on the other hand, gives its software awareness almost specifically as data collection devices. For Windows users, Edge's security features along with Windows Microsoft Defender and SmartScreen are just better for user safety.
The image featured at the top of this post is ©Wachiwit/Shutterstock.com.