Keeping fit has never been more of a priority than it is today. New advanced digital tools make tracking your health easier than ever, and the Fitbit sits at the pinnacle of wearable fitness devices. If you use a Fitbit regularly, you need to know how to keep it clean for prolonged good service. Follow our three easy steps to clean your Fitbit regardless of the model you wear to keep it and you healthy and in top working condition. 
What Is a Fitbit?
Eric Friedman and James Park envisioned a wearable product that could track a person's fitness in real time to boost healthier living. The Fitbit was birthed in 2009 and changed how we approach personal fitness forever. While smartwatches already included some fitness applications, the Fitbit was a great leap forward in state-of-the-art activity and health tracking.
More than merely counting steps or heartbeats, the Fitbit helps wearers monitor calorie burning, heart rate, sleep, and a host of other vital health metrics. Newer models also include GPS tracking and smartphone notifications. The Fitbit app introduced in 2012 became a robust platform for fitness monitoring and goal setting that allows sharing your progress and holding connected users accountable.
Chances are, if you spy a trendy wearable device on a person's wrist today, it is some model of Fitbit. Google acquired Fitbit in 2021 because of its great success.
Popular Fitbit Products
Fitbit has expanded its product line to include models that offer special features to attract a wider audience. Fitbits are known for their exceptional battery life, clear displays, trendy aesthetic features, and notable range of fitness-tracking applications. Plus, they can be paired with your favorite Apple or Android smartphone for extended capabilities. Various Fitbit bands also raise the level of personalization for your wearable device, making them even more popular.
Charge 6
The new Fitbit Charge 6 includes the fullest range of fitness tracking applications and Fitbit's most accurate heart rate monitor to date. In addition, users can enjoy Google Maps and Wallet, plus YouTube Music controls. 
Best for Fitness Enthusiasts
Fitbit Charge 6
Water-resistant up to 50m

40+ exercise modes

1.04-inch screen

ECG and irregular heart rhythm notifications

7 days of battery life
We earn a commission if you make a purchase, at no additional cost to you.
Sense
The Fitbit Sense is a combination smartphone and fitness tracker with an astounding six-day battery life and loads of sophisticated health applications. Users can enjoy an EDA scan that detects stress levels, an atrial fibrillation detector, a sleep tracker, a menstrual cycle tracker, and much more.
Best Women's Fitbit Smartwatch
Fitbit Sense Advanced Smartwatch
EDA Scan app helps detect stress
Assess your heart for atrial fibrillation
On-wrist skin temperature sensor tracks your sleep each night
6+ days of battery life
Menstrual cycle tracker
Compatible with Apple and Android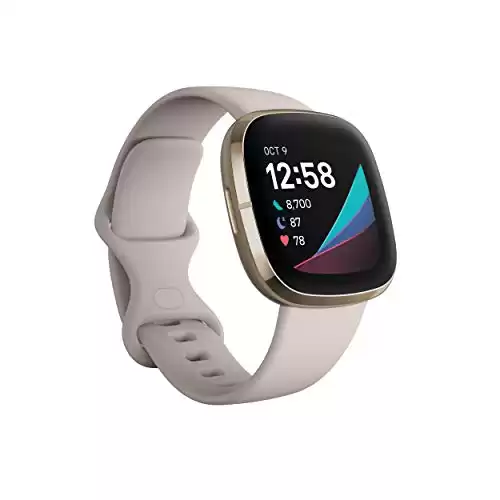 We earn a commission if you make a purchase, at no additional cost to you.
Versa
The newest Fitbit Versa 4 provides sophisticated guidance for when you need to exercise or rest and a host of high-end fitness tracking applications, plus over 40 modes. It is water resistant to 50 meters and even provides users with a Sleep Score and Stress Management Score for regular comparisons.
Best for Health Tracking
Fitbit Versa 4
1.69-inch screen

Health metrics dashboard

Water resistant up to 50 meters

Daily Stress Management Score

Includes a 6-month Premium membership
We earn a commission if you make a purchase, at no additional cost to you.
Luxe
The Fitbit Luxe is the designer "luxury" wearable fitness tracker that doubles as fashionable jewelry while providing all the fitness tracking essentials. It is available in three color combinations or a Special Edition Gorjana Soft Gold Stainless Steel Parker Link Bracelet that displays understated elegance.
Best Design
Fitbit Luxe Fitness and Wellness Tracker
Vibrant color display
Sleep tracking and Sleep Score in the Fitbit app
Get an alert when you reach your target heart rate during exercise
24/7 heart rate tracking
Stress management features
Black/Graphite
One size
We earn a commission if you make a purchase, at no additional cost to you.
Inspire 3
The Fitbit Inspire 3 is a minimalist model of wearable fitness tracker that includes all the essential health applications you expect from a Fitbit. It includes stylish colors and sophisticated Wellness Management and Tracking tools to help you get and stay fit while looking good. The five-day battery life and synchronization with the Fitbit app keep you exercising on pace for extended periods.
Best Budget-Friendly Option
Fitbit Inspire 3 Health & Fitness Tracker
20+ exercise modes with automatic exercise tracking
Heart rate and SpO2 monitors
Automatic sleep tracking
Color touchscreen with customizable clock faces
Water resistant to 50 meters
Up to 10-day battery life
We earn a commission if you make a purchase, at no additional cost to you.
Ace 3
The Fitbit Ace 3 is the ultimate tool for helping kids stay healthy and fit, making fitness fun for the entire family. Kids enjoy the animated clock faces and bright colors as they enjoy exercise and tracking their own health metrics. Parents can monitor progress in the Fitbit app to encourage progress and celebrate successes.
Best for Kids
Fitbit Ace 3 Activity Tracker
Black/Racer red

8 days of battery

All-day activity tracking shows how healthy habits add up to a healthier life

Water-resistant to 50 meters

Kids can earn virtual badges and fun on-screen celebrations when they reach their goals
A family account lets parents manage their kid's Ace 3 and their own watch or tracker from one easy place
For kids 6+
We earn a commission if you make a purchase, at no additional cost to you.
Why Should I Clean My Fitbit?
Wearable devices like the Fitbit endure extended use while exercising, so you can expect them to get dirty and sweaty. Even wearing your Fitbit while sleeping can cause it to gather foreign substances and allow bacteria to multiply. The silicone and plastic materials of the device can be difficult to clean effectively. Moreover, the popular silicone and woven bands can absorb sweat and moisture, creating a breeding ground for harmful bacteria.
Fitness trackers and other exercise equipment have been found to harbor Escherichia coli, Staphylococcus aureusn, and Streptococcus pyogenes, which can cause serious infections. Using your Fitbit outdoors can allow it to collect dust, dirt, pollen, and other allergens that can trigger breathing difficulties.
Easy Steps to Clean Your Fitbit
Experts recommend cleaning your Fitbit wearable fitness tracking device in three phases or steps to keep it clean. Here are our three easy steps to clean your Fitbit:
1. Clean the Band
Remove your Fitbit's band for easier cleaning. Avoid using body soap, dish soap, hand sanitizers, or household cleaners, as these could damage the band material and irritate your skin. Use a soap-free cleanser and fresh water to scour your band thoroughly. You should also avoid direct contact with sunscreen or insect repellent with the band; these can damage the silicone or woven material. Set the band aside and allow it to fully dry before reattaching it to your Fitbit device.
2. Gently Clean the Screen and Rear of the Tracker
While the band is disconnected, clean the tracker device, including the rear and screen. Avoid using water or cleaners. They can damage the finish or get inside and cause problems with the electronics. Using a cotton ball or swab and rubbing alcohol, gently scrub the entire tracker. Use small amounts of alcohol to avoid getting it inside the device. Remove all leftover moisture with a clean microfiber cloth. Avoid drying your Fitbit with paper towels or glass cleaning products. Allow the device to dry completely before reattaching it to the band.
3. Scour the Electrical Charging Contacts
Your Fitbit has bronze or gold-colored charging contacts on the back of the device. Using a soft-bristle toothbrush and water, gently clean these contacts. Dry them with a microfiber cloth. Do not use a paper towel. You should also clean the pins on your charging cable with alcohol and a cotton swab. Ensure no cotton fibers are left on the pins. Any small holes should be cleaned during this process with the toothbrush fibers. Never insert any items into these holes.
How Often Should You Clean Your Fitbit?
Fitbit users are as different as the exercise routines they embrace, so cleaning needs will vary accordingly. Those who regularly engage in sweat-inducing exercise like cycling or running will obviously need more frequent cleaning than those enjoying an occasional walking course. Most experts recommend following these three easy steps to clean your Fitbit at least weekly.
Fitbit also recommends these important safety and care tips:
Keep your Fitbit clean.
Keep your Fitbit dry.
Don't wear your Fitbit too tight.
Rest your wrist for an hour after extended exercise.
If you notice any skin irritation, remove your Fitbit for a while.
Discontinue using your Fitbit if you encounter any numbness, tingling, burning, or stiffness.
Never use abrasive cleaners to clean your Fitbit.
Do not attempt to charge your Fitbit while it is wet.
Do not expose your Fitbit to extremely cold or hot temperatures.
Remove your Fitbit if it feels warm or hot.
Refer to your specific Fitbit product's manufacturer documentation for other care instructions. Violating any care or maintenance tips can void your Fitbit's warranty.
Our 3 Easy Steps to Clean Your Fitbit
1. First clean the band.
2. Then, clean the screen and rear of the tracker.
3. Finally, clean the electrical charging contacts.
The image featured at the top of this post is ©A. Aleksandravicius/Shutterstock.com.