If you are shopping for an autonomous vacuum cleaner, you've probably heard of the two high-end brands, Dyson and Roomba. These two are among the leading names in the autonomous vacuum industry, providing top-notch cleaning solutions.
Today, iRobot's Roomba products are renowned for their ability to clean and vacuum homes with minimal human intervention while disposing of dirt, dust, and grime. These intelligent robots can navigate through a home and define no-go areas. Besides, Dyson manufactures vacuum cleaners in various categories, including cordless, upright, and canister vacuums.
So, which is the better vacuum option? Below, we highlight key similarities and differences between the two robotic vacuum brands. Let's dive into them.
Dyson vs. Roomba: Side-by-Side Comparison
| | Dyson | Roomba |
| --- | --- | --- |
| Manufacturer | Singaporean tech company, Dyson | American tech company, iRobot |
| Model Focus | Wide range of vacuums: stick vacuums, handheld vacuums, robotic vacuums, upright vacuums, and wall-mounted vacuums | Cordless autonomous vacuums |
| Mapping Accuracy | Intelligent AI mapping | Intelligent AI mapping |
| Navigation | 360° vision system | 3D sensors |
| Run Time | Up to 70 min | Up to 75 minutes |
| Self Docking? | Yes | Yes |
| Self Emptying? | No | Yes |
| Control Methods | Google Home, Amazon Alexa, Siri | Proprietary apps, Alexa, Google Home |
| Pet Function? | Yes | Yes |
| Filters | Pre-motor filters, HEPA filters | Standard filters, HEPA filters |
| Launch of Robot Vacuums | 2014 | 2002 |
Smart Technology
iRobot Roomba i7+ (7550) Robot Vacuum with Automatic Dirt Disposal
The Clean Base automatically disposes of dirt and allows the i7 to empty itself.
75 minutes runtime
3-Stage cleaning system with powerful suction
vSLAM navigation lets the i7 learn your home's layout to build personalized Smart Maps (accessible on the iRobot App)
Alexa and App enabled.
We earn a commission if you make a purchase, at no additional cost to you.
Powerful Suction
We earn a commission if you make a purchase, at no additional cost to you.
(Please note that as of July 18th, 2023, the Dyson 360 Heurist Robot Vacuum (Nickel Blue) – Automated Vacuum – International Version is currently unavailable on Amazon. Please check back later.)
Dyson vs. Roomba: What's the Difference?
Both brands are designed with thoughtful intelligence to tackle tough messes on your floors and integrate seamlessly into your home. However, as innovative as these two brands of vacuums can be, they differ in several key aspects. Let's break them down below.
Products
iRobot's Roomba only focuses on making cordless automated vacuum cleaners. In contrast, Dyson manufactures and sells vacuum cleaners across several categories, from stick to handheld, robotic, upright, and wall-mounted vacuums. The company also manufactures other products, such as air purifiers, hair dryers, hair stylers, and humidifiers.
Technology
Roomba vacuums use the iAdapt® 1.0 Navigation Technology that allows them to navigate the surface with the help of a responsive algorithm. The more they clean a room, the smarter the vacuum becomes. They also have four sensors on the bumper that allow for efficient room mapping and cleaning. These sensors constantly send infrared signals to the floor surface, expecting them to be bounced back, and if no signal is received, the vacuum avoids that direction. Additionally, wall sensors enable the vacuum to detect walls and clean along their parameters instead of retreating. On the other hand, cliff sensors prevent the vacuum from falling down stairs or balconies.
Dyson robot vacuum cleaners use advanced navigation computer mechanics that integrate complex probability theory, mathematics, geometry, and trigonometry to map a room. The 360° vision system allows the vacuum to understand and interpret its surroundings. Their ability to map individual rooms and adjust their settings makes Roomba vacuums stand out. The 3D sensors allow the vacuums to avoid obstacles at least 2.5 cm away.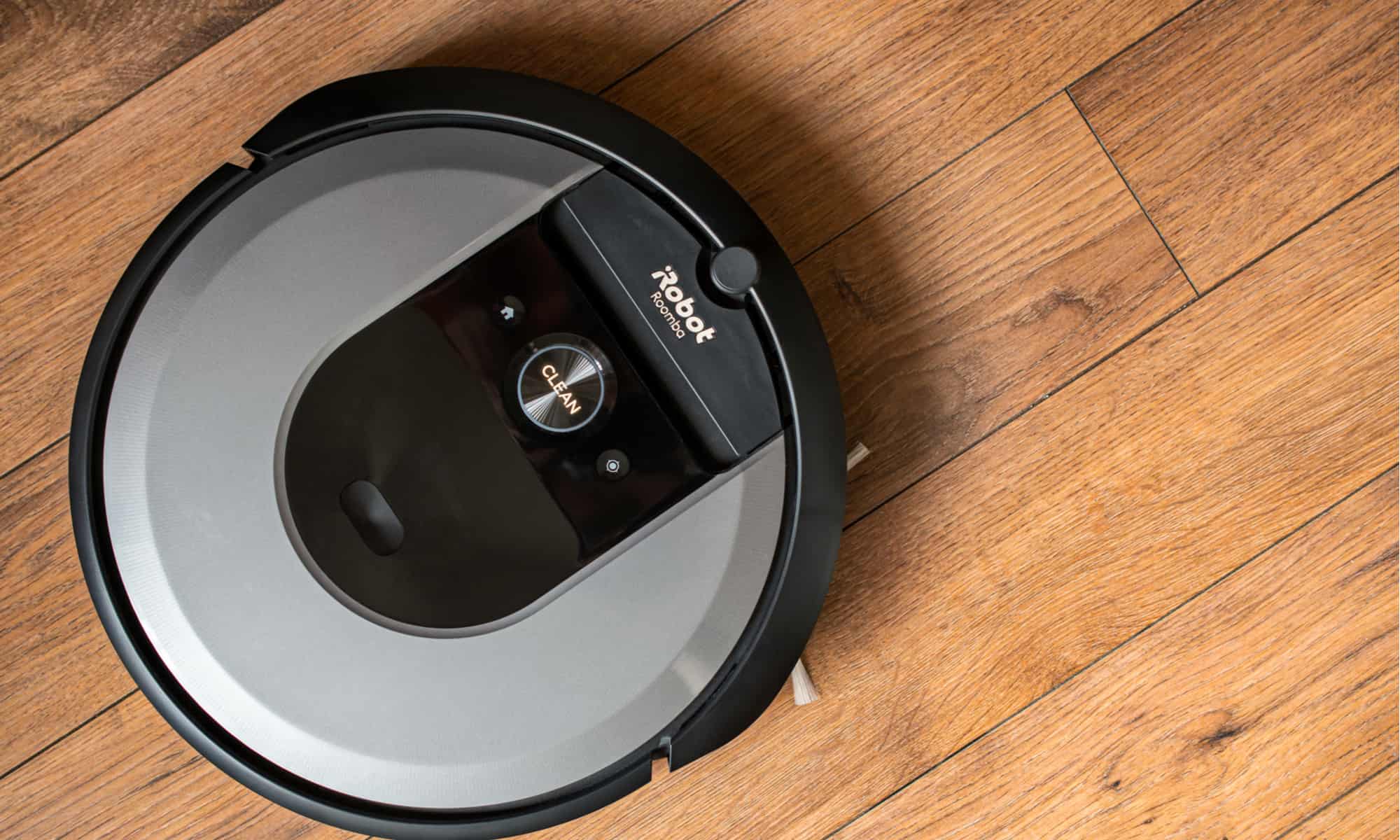 Price
Generally, Dyson vacuums are more expensive than Roomba. For example, the Dyson 360 eye mid-range vacuum costs about the same price as Roomba's top model, the S9+. Roomba also has cheaper automated vacuum cleaner options like the Roomba 675, which retails at about $241. The features of these low-priced vacuum cleaners are lacking compared to the high-priced Roomba models. If you are on a tight budget, Roomba has got you covered. Besides, if you need a vacuum cleaner by Dyson that's in the price range of cheaper Roomba vacuums, you'll have to settle for a regular vacuum cleaner, not a robot.
Best Budget
iRobot Roomba 675 Robot Vacuum
Cleans in three stages with its multi-surface dual brushes.
Voice and App controlled (Alexa, Google Assistant)
90 minute run time per charge
Warranty: 365 days
We earn a commission if you make a purchase, at no additional cost to you.
Deep Cleaning
We earn a commission if you make a purchase, at no additional cost to you.
Filtration
Roomba manufactures vacuum models that use standard and HEPA filters, while Dyson vacuums use pre-motor filters that make the vacuums ideal for pet owners. It is worth noting that some Dyson vacuums are compatible with HEPA filters, such as the Dyson V15 Detect Absolute cordless vacuum.
HEPA filters are more efficient as they can capture particles of up to 0.3 microns. While the vacuum cleans your floors, your air quality improves significantly as the filter captures 99.97 percent of particles from the air, including animal dander, dust, smoke, mold, and other allergens. Therefore, we recommend getting a vacuum with HEPA filters, especially if you have a child or pet at home.
Best Cordless Option
Dyson V15 Detect
Laser reveals microscopic dust
Optimizes suction and run time based on dust level and floor type
Piezo sensor
Dyson DLS technology
LCD screen
We earn a commission if you make a purchase, at no additional cost to you.
Models
Roomba launched its first robot vacuum in 2002, which gave it a head start. Therefore, there are more vacuum models under Roomba than under Dyson. Some of Roomba's available vacuums include Roomba j7 Robot, Roomba i4 Robot Vacuum, Roomba i3+ EVO, and Roomba S9+.
On the other hand, Dyson automated vacuums include Dyson 360 Heuristic and Dyson 360 eye. However, it is said that Dyson plans to launch a new robovac model soon.
Best for Larger Homes
iRobot Roomba i3 EVO (3150) Wi-Fi Connected Robot Vacuum
iAdapt navigation maps your home and utilizes sensors to avoid obstacles and prevent accidents
Features the Clean Base Automatic Dirt Disposal system
High-efficiency filter can capture up to 99% of pollen, dust particles, and other allergens
Compatible with voice control assistants like Alexa or Google Assistant
The powerful motor provides ten times more suction power
We earn a commission if you make a purchase, at no additional cost to you.
Dyson vs. Roomba: 6 Must-Know Facts
Roomba vacuums are manufactured by the American technology company, iRobot, while Dyson is a Singaporean company.
Roomba focuses on manufacturing cordless robot vacuums, while Dyson manufactures a wide range of vacuums and other products.
Roomba vacuums are integrated with iAdapt® 1.0 Navigation Technology, which uses a responsive algorithm to interpret and map its surroundings.
While Roomba vacuums make noise, they are quieter than traditional upright vacuums. The Quiet Drive feature reduces the vacuum's noise output when it isn't actively running.
Dyson has only two robotic vacuums and several ones that aren't automated.
Both Roomba and Dyson have vacuums with HEPA filters that capture up to 99.97 percent of particles in the air, ultimately improving air quality in your house.
Dyson vs. Roomba: Which is Better?
Considering that both Dyson and Roomba manufacture quality vacuum cleaners with innovative features, it is difficult to decide which option is better. To narrow down to one, you will have to get down to the nitty-gritty.
If you are on a budget, Roomba is an obvious option, as they offer several cheap robot vacuums. While these cheaper options do not offer what pricier models do, they get the job done. However, if you do not mind the traditional upright vacuums, you can find a cheap vacuum cleaner from Dyson.
Generally, Roomba provides affordable, high-quality vacuum cleaners with thoughtful intelligence that will integrate well into your home. Either way, you're in good hands with a model from either brand because they both produce excellent vacuums.
The image featured at the top of this post is ©grandbrothers/Shutterstock.com.