Key Points
The LG C1 OLED TV offers impressive color richness and contrast with HDR support, AI Picture Pro, and AI 4K Upscaling features.
The audio performance of the LG C1 includes 2.2-channel speakers, AI Sound Pro, and support for Dolby Atmos.
The LG C1 is equipped with smart features such as webOS, voice assistants, and LG ThinQ AI for seamless navigation and smart home integration.
The LG C1 is an excellent gaming OLED TV with a 120Hz refresh rate, Nvidia G-Sync, variable refresh rate, and auto low latency mode.
Despite being released in 2021, the LG C1 remains relatively pricey compared to newer OLED TVs.
OLED TVs are arguably the best TVs one can find when it comes to picture quality, smart features, and audio performance. However, sifting through the numerous OLED TV offerings can be daunting because every OLED TV manufacturer advertises their products as the best. Usually, manufacturers sensationalize their devices' strengths but downplay their limitations.
One such brand is LG Electronics, which often states they are the market leader in the manufacture of OLED TVs. One of LG's most celebrated OLED TVs is the LG C1. The manufacturers invested significantly in marketing and rolling out the TV. Consequently, the LG C1 has a substantial number of supporters, but it also has some critics. This article provides a review of the LG C1 so that you can understand its popularity and what it offers before you make any financial commitments.
LG C1: The Basics
| | |
| --- | --- |
| Manufacturer | LG Electronics |
| Product Type | OLED Television |
| Release Date | April 2021 |
| Screen Sizes | 48", 55", 65", 77", 83" |
| Screen Resolution | 4K Ultra HD (3840*2160) |
| Operating System | webOS |
| Picture Processor | Alpha 9 Gen 4 AI Processor 4K |
| Response Time | Over one millisecond |
History of the LG OLED TVs
We cannot have a review of the LG C1 and leave out the history leading up to the device's design, manufacture, and rollout. Many people still consider OLED technology to be fairly new. Kodak developed the technology in 1987 to add it to its digital camera. Though the technology has existed since the 1980s, TV manufacturers started mass-producing OLED TVs around two decades ago.
It took another decade or so before consumer electronics companies understood the potential applications of OLED technology. After this realization, companies like Sony, Samsung, and Toshiba quickly began developing OLED TVs to exploit the existing demand for smart TVs. However, though these companies are considered the pioneers of OLED TVs, they experienced some developmental issues in the early stages.
LG's Market Entry
LG Electronics was relatively late to the party; about five years after its revivals began researching OLED applications. Given the lost time LG had to recover, the company decided to catch up to its rivals through acquisition instead of spending several years in the research and development stages.
Therefore, LG Electronics purchased Kodak's OLED division for $100 million in December 2009. This was a stroke of genius as many technology enthusiasts can confirm today. The move instantly elevated LG to the top of the OLED technology race. The company would release its first OLED display, a 15-inch flat-screen TV, in 2010. This marked the beginning of LG's unrivaled dominance in the OLED TV market niche.
Two years later, LG released the world's first 55-inch OLED TV, further signaling to its competitors its intention to dominate the OLED TV market. Competitors like Sony, Samsung, and Panasonic would later restructure or abandon their OLED developments allowing LG to become the undisputed market leader in OLED TVs.
LG did not get comfortable; the company continued investing in the development of OLED technology. It introduced the world's first OLED dedicated processor, the Alpha 9, in 2018. As if that was already not enough show of might, LG quickly followed up with the release of its first 8K OLED TV in 2019 and its first rollable OLED TV in 2020. At this point, it was clear that LG would retain its crown as the OLED TV market leader.
Releasing the LG C1
2021 saw LG introduce a new OLED panel called the OLED Evo. That same year, LG introduced the LG C1, the mid-range OLED TV that would help redefine the brand and other products in the 2021 lineup. Although the C1 did not have the OLED Evo panel, it featured a new picture processor and features for avid gamers, such as a variable refresh rate. Many TV enthusiasts consider the LG C1 to be the icing on LG's cake regarding OLED TVs.
What's Included When You Buy an LG C1
Before we delve into the LG C1's specifications, let us look at the accessories accompanying the TV's package. Aside from the TV, buyers should expect a Magic Remote, double A (AA) batteries, a power cable, and a quick start guide in the box. The TV also has a limited warranty. Unfortunately, the C1 does not have a wall mount. You will be expected to buy the mount separately or place the TV on a stand.
LG C1 Hardware
Dimensions Without Stand
48" – 42.2″ x 24.3″ x 1.8″
55" – 48.3" x 27.8" x 1.8"
65" – 57.0″ x 32.7″ x 1.8″
77" – 67.8" x 39.1" x 2.2"
83" – 72.9″ x 41.8″ x 2.2″
Weight Without Stand
48" – 32.8 lb.
55" – 41.7 lb.
65" – 52.9 lb.
77" – 58.9 lb.
83" – 71.2 lb.
Picture Processor
Alpha 9 Gen 4 AI Processor 4K
Speakers
2.2 Channels
Connectivity
4 HDMI ports
3 USB (v2.0) ports
1 Ethernet port
1 Optical output port
1 Headphone out port
LG C1 Software
Operating System
webOS
Picture Processing
AI Picture Pro, AI 4K Upscaling
Audio Processing
AI Sound Pro
Cinematic Experience
High Dynamic Range (HDR)
Gaming
VRR (Variable Refresh Rate)
ALLM (Auto Low Latency Mode)
Voice Assistants
Amazon Alexa, Google Assistant
App Store
LG Content Store
Streaming Services
Netflix, Disney+, Apple TV, Hulu
Reliable Choice
LG C1 65-Inch Class OLED
Self-lit OLED pixels with deep black and rich colors
Stunning pictures and excellent sound
Cinema HDR, Dolby Vision IQ, and Dolby Atmos
Fantastic gaming monitor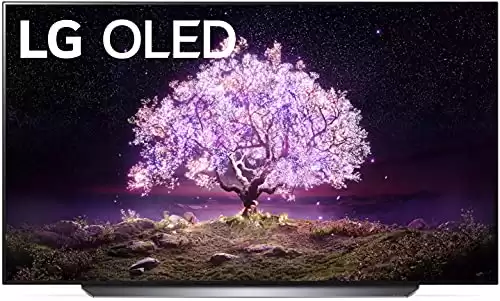 We earn a commission if you make a purchase, at no additional cost to you.
Review of the LG C1
The LG C1 has a lot of features and specifications one would expect from a mid-range OLED TV. However, before committing your money, read the following review of the LG C1 to know its specifications, performance, appearance, and pricing. Otherwise, your risk spending your money on a TV that doesn't match your expectations.
Design
The first thing one notices when you look at the LG C1 is its unique stand. Most flat-screen TVs have two legs attached to either end of the TV's bottom. However, the LG C1 breaks away from that trend and uses a single long silver bar attached to the TV's base as the stand. The stand's design is quite stylish and offers better support than most TV stands because its weight varies between 8.9 and 20.5 lbs depending on the C1 model.
Other favorable design details present in the LG C1 include its minimalistic exterior. The TV barely has any decorative elements to reduce distractions when enjoying your favorite show. The front consists of mostly a flat OLED display and thin bezels, while its lower back has a slightly thick panel that hosts the device's connectivity ports and power cable. As a result, the LG C1 blends in perfectly into most environments while occupying minimal space.
Picture Quality
As noted earlier, LG released a new OLED panel called the OLED Evo in 2021, the same year of release as the LG C1. The OLED Evo panel introduces new features to LG OLED TVs, such as Brightness Booster. Unlike previous LG models that did not have the technology, this panel boosts brightness levels to improve viewing experiences, especially in well-lit environments.
Many prospective buyers will be disappointed that the LG C1 does not have the OLED Evo panel, especially for a TV of its stature. Instead, it uses an older display technology. That notwithstanding, the C1 provides relatively acceptable brightness levels thanks to its ability to adjust brightness levels automatically to counteract its surrounding light exposure.
Now focusing on more positive news the LG C1's color richness and contrast are impressive. Thanks to the high dynamic range (HDR) feature that supports HDR10, HLG, and Dolby Vision, the C1 pushes color and contrast capabilities beyond those of similar products from its competitors. Viewers will enjoy rich tones from numerous colors and deep contrasts between dark and bright colors.
In addition, the AI Picture Pro and AI 4K Upscaling features supported by the Alpha 9 Gen 4 Processor help HD video content resemble 4K quality videos. Therefore, despite some brightness limitations, the LG C1 has near-excellent picture quality for its price range. This quality should offer great relief to consumers who are disappointed that the LG C1 does not come with an OLED Evo panel.
Audio Performance
LG positioned this TV's speakers uniquely so that they are down or front-firing depending on whether you use a stand or not. For example, the speakers are front-firing when used with a stand and down-firing when not. The 2.2-channel speakers have an impressive output of 40W while the AI Sound Pro feature powered by the Alpha 9 processor offers additional sound output by upscaling the 2.2 channels to a virtual 5.1 sound.
Other sound features in the LG C1 include its support of Dolby Atmos, which allows the TV to produce immersive surround sound. Furthermore, the TV supports LG Sound Sync, facilitating wireless connections between the LG and LG soundbars. For buyers with non-LG soundbars, you can connect them to the TV via the HDMI ARC port that allows Dolby Atmos pass through. Overall, the LG C1 offers decent sound quality; however, it is advisable to add a soundbar to boost its bass.
Smart Features
It has been interesting to witness consumers gradually shift from basing their buying decisions solely on picture quality to other previously less-important features. Today, TV enthusiasts must account for a device's operating system (OS), making this section integral to our review of the LG C1 TV. An efficient OS ensures a TV's smart features work seamlessly to produce a captivating viewing experience.
The LG C1 uses webOS, a Linux-based OS that has powered LG smart TVs since 2015. webOS is one of the most straightforward TV operating systems to navigate. It has a simple but visually captivating user interface. For example, it has rows listing the channels and platforms LG smart TVs support, meaning you do not have to spend time searching for a particular service.
Some of the services supported by the webOS include Disney+, Netflix, Hulu, YouTube TV, Peacock, Apple TV, and Amazon Prime. The platform also supports music streaming services like Spotify, Amazon Music, and Apple Music. The LG C1 also supports casting and Apple Airplay for those who frequently stream content from their devices.
In addition, users get to experience voice assistants such as Amazon Alexa and Google Assistant. The services help guarantee a hands-free viewing experience. The TV's Magic Remote further improves the experience, as it has a built-in microphone meaning you do not have to shout for the TV assistant to receive your commands. You only need to speak close to the remote.
Lastly, the LG C1 has LG ThinQ AI, which improves navigation by providing a home screen that lists your recently visited and frequently used platforms. ThinQ AI also helps create a smart home environment by connecting to other smart devices in your home, such as the refrigerator, oven, and air conditioner.
Gaming
The LG C1 is arguably one of the best gaming OLED TVs. LG stacked the device with features meant to enhance consumers' gaming experiences. For instance, the C1 has a refresh rate of 120Hz. This is coupled with the Nvidia G-Sync function to ensure the LG C1 can adjust to your gaming console's frame rates, thereby preventing screen tearing.
The C1 also has a variable refresh rate (VRR), yet another feature that helps prevent screen tearing by consistently adjusting the TV's refresh rate. Moreover, the LG C1 has auto low latency mode (ALLM), which turns off the TV's processing functions and allows the gaming console to take over processing. This feature reduces lag time when playing games with heavy graphics.
Price
The LG C-Series of OLED TVs is the company's mid-range product line. As such, it is relatively affordable compared to the flagship LG G-Series. However, expect to cough up a few extra hundred dollars more than your would for A-Series and B-series TVs.
It is disappointing that despite being released in 2021, the LG C1 is still considerably pricey. One would expect the C1 to be cheaper than present rates, given new OLED TVs are on the market. On the other hand, the current LG C1 prices indicate the TV retains value well and can keep up with newer OLED TVs in terms of performance. Below is a table comparing the LG C1's release and current prices.
| | Release Price | Current Price |
| --- | --- | --- |
| 48" | $1,499 | $1,299 |
| 55" | $1,799 | $1,399 |
| 65" | $2,499 | $1,499 |
| 77" | $3,799 | $2,299 |
| 83" | $5,999 | $3,999 |
Should You Buy an LG C1?
The LG C1 is a fantastic device meticulously designed and built to serve the needs of different kinds of consumers. In terms of performance, you will be hard-pressed to find a better OLED TV released in the same year as the C1. It is the best mid-range OLED TV of 2021.
However, buying the device is a personal preference, as other OLED TVs released after the C1 offer better experiences. Moreover, despite being a great device, the C1's prices are not considerate to the consumer. Ultimately, the LG C1 will not disappoint you if you decide to buy it; however, consider more recent TV models to get the most value for your money.
Self-lit OLED pixels with deep black and rich colors
Stunning pictures and excellent sound
Cinema HDR, Dolby Vision IQ, and Dolby Atmos
Fantastic gaming monitor

Buy Now on Amazon

We earn a commission if you make a purchase, at no additional cost to you.

10/03/2023 07:59 am GMT
The image featured at the top of this post is ©Eric Broder Van Dyke/Shutterstock.com.