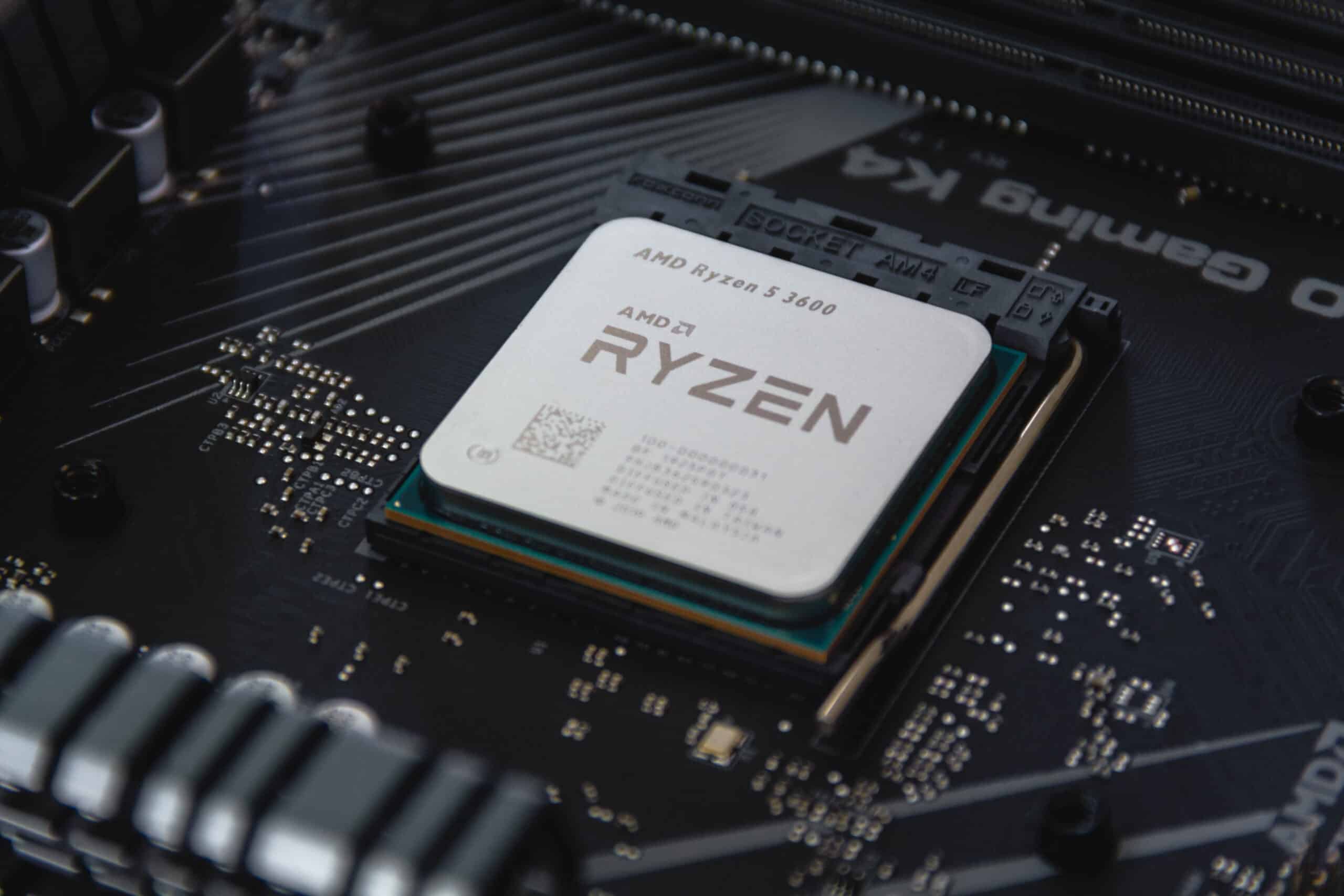 The Ryzen 5 3600 is known for being one of the best value processors on the market. You might be eyeing the Ryzen 5 3600 but want a clearer idea of the pros and cons of this processor. Does the CPU hold up for modern games? Are there any downsides you need to know about? Continue reading our Ryzen 5 3600 CPU review to learn exactly what to expect from this product.
You might have noticed that the price of the Ryzen 5 3600 has dropped significantly over the years. You may be hesitating to buy it because it seems a little too cheap. There's a reason for that. I'll talk about it later on in this review.
Ryzen 5 3600: Overview
Best Overall
AMD Ryzen 5 3600
AMD's Wraith Stealth cooling ensures temperatures no higher than 95°C
Boost Speed: 4.2GHz
PCIe 4.0 support (x570 motherboards only)
Up to 100 FPS gaming support
We earn a commission if you make a purchase, at no additional cost to you.
Features
As far as features go, the Ryzen 5 3600 doesn't offer much besides raw processing power. It has 6 cores and 12 threads with a base clock speed of 3.6 GHz (4.2 with boost). However, it does not have integrated graphics or any other special features.
Release Date
The Ryzen 5 3600 was released on Jule 7, 2019, and it was designed as an entry-level CPU. While the product targeted the entry-level market, it manages to deliver impressive performance.
Specifications
When it comes to specifications, it's hard to find an equivalent CPU from Intel for the same price.
| | |
| --- | --- |
| CPU Cores | 6 |
| Threads | 12 |
| TDP | 65 Watts |
| Base Clock | 3.6 GHz |
| Boost Clock | 4.2 GHz |
| Memory Support | DDR4, 3200 MHz |
| Internal Graphics | No |
| Cache | 32 MB L3 |
Ryzen 5 3600 Review
The Ryzen 5 3600 is still one of the best value CPUS on the market. It's capable of keeping up with modern PC requirements and will continue to do so for several years. Whether you need a processor for video editing or intense gaming, the Ryzen 5 3600 can generally keep up with the demands. There are still some important points to keep in mind, however.
Wraith Stealth Cooler
The Ryzen 5 3600 comes with a cooler by Wraith Stealth which provides enough airflow to prevent overheating under basic usage. However, if you plan to overclock the CPU or you just want lower temperatures (and quieter fans), it's recommended to buy a separate cooler. Plenty of great CPU coolers will keep the Ryzen 5 3600 much cooler than its stock fan.
Overclocking
Speaking of overclocking, the Ryzen 5 3600 can be overclocked, assuming your motherboard also supports it. As we noted, the 5 3600 has a base clock of 3.6GHz and a max boost of 4.2GHz. If you really want to squeeze out more performance from the processor, overclocking is an option, but keep the cooler in mind.
Lack of Integrated Graphics
The main downside to the Ryzen 5 3600 is the lack of integrated graphics. What that means is won't be able to get a video signal from your motherboard's display output. To get a video signal, you need an external graphics card. Most gamers will put most of their budget towards a graphics card but not everyone needs a PC for gaming purposes.
Many people simply need a computer for office tasks, where an external graphics card isn't really needed. Granted, you can always use an old external graphics card for the video signal. However, you could also buy a CPU with integrated graphics and avoid a graphics card altogether. If you need a PC for basic office tasks, we recommend getting a CPU that has integrated graphics. Keep reading for a few alternatives with integrated graphics.
Ryzen 5 3600 Variations
There's only one other variation of the Ryzen 5 3600 which is the Ryzen 5 3600X. The Ryzen 5 3600X has a 200 MHz faster clock speed than the base model. The 3600X also costs about $50 more than the base model. While the Ryzen 3600X is slightly faster than the Ryzen 5 3600, most PC enthusiasts agree that it's not worth the extra price.
To give you an idea, the Ryzen 5 3600 has a 1557 Geekbench score, while the Ryzen 3600X scored 1603. That's about an increase of 2.95% which is not a lot. You may see a slight performance increase on certain tasks such as video games but it's not very noticeable.
A common misconception is there's a Ryzen 5 3600G but that's not the case. The G series is found in other Ryzen products, such as the Ryzen 5600G. The G means the CPU includes integrated graphics.
Why Is Ryzen 5 3600 So Cheap?
The Ryzen 5 3600 can be found on Amazon and other marketplaces for around $100 or even lower. It might seem a little strange that a CPU that offers this much raw power has such as low price, but there are a few good reasons for that.
It's Dated
Since the Ryzen 5 3600 series launched in 2019, AMD already released four new series of CPUs. While it still can keep up with most tasks, there are lots of better options on the market. Most people aren't interested in buying a CPU that is a few years old. The demand is lower.
During the crypto-boom and supply chain shortage of 2019-2021, when this processor was released, the price for PC components was quite high.
Release of AM5
AMD recently released its new AM5 socket which offers support for PCIe 5.0 and DDR5 RAM with speeds of up to 6,000 MHz. The AM5 products are still in the high-end category and not many people can afford to move to it at the moment.
AM4 will continue to be supported but it makes sense to shift the focus to the newer products and platforms. Most AMD sockets receive support for around 4 years and it has already been longer than that since AM4 was released, in 2016. AM4 is not obsolete and will still receive support but it will take a step back.
Ryzen 5 3600 Pros and Cons
Pros:
Excellent performance with 6 Cores and 3.6 GHz clock speed
Cost-efficient; Best for budget builds
PCIe 4.0 support
Includes a stock cooler
Overclockable
Support for DDR4 3200 MHz
Backward compatible with AM4 motherboards (some motherboards require a BIOS update)
Cons:
Slightly dated
Single-thread performance is a little slow (when compared to equivalent CPUs)
No integrated graphics
Weak stock cooler
Limited overclocking
AMD Ryzen 5 3600: Should You Buy It?
While the AMD Ryzen 5 3600 is a solid CPU, it has been surpassed by other processors. We only recommend this CPU for extremely budget PC builds. Granted, it will still keep up with all tasks, even triple-A games, but there are better options on the market. If you're planning to build an entirely new PC, we would recommend a faster CPU with integrated graphics that can future-proof your build.
Having integrated graphics is important because it makes it easier to troubleshoot your computer, especially when your external graphics card is having issues. In other words, it's easier to fall back to integrated graphics than it is to replace an external GPU.
An equivalent CPU with integrated graphics would be the Ryzen 5 5600G:
Best Budget CPU
We earn a commission if you make a purchase, at no additional cost to you.
Or consider an Intel equivalent, such as the i5-10400, which also has 6 cores. (All Intel CPUs have integrated graphics). If you're curious about the differences between the brands, our Intel vs. Ryzen article will help you. For a full list of alternatives, you can also read our Ryzen 5 3600 alternatives article.
Best Premium
We earn a commission if you make a purchase, at no additional cost to you.
AMD's Wraith Stealth cooling ensures temperatures no higher than 95°C
Boost Speed: 4.2GHz
PCIe 4.0 support (x570 motherboards only)
Up to 100 FPS gaming support

Buy Now on Amazon

We earn a commission if you make a purchase, at no additional cost to you.

05/26/2023 08:06 pm GMT

Enjoy 1080p gaming with no graphics card required
AMD Wraith Stealth cooler included
Unlocked to allow overclocking up to 4.4GHz
Supports DDR4-3200

Buy on Amazon

We earn a commission if you make a purchase, at no additional cost to you.

05/26/2023 08:19 pm GMT

Boost speed: 4.3GHz
Comes with included cooler
Supports Optane memory from Intel
Power: 65W

Buy Now on Amazon

We earn a commission if you make a purchase, at no additional cost to you.

05/26/2023 08:28 pm GMT