If you're a fan of DJI's drones, you're in for some exciting news. DJI drone enthusiast Jasper Ellens recently posted on Twitter a set of images of what appears to be the non-Pro version of the DJI Mini 3 drone. In reply to the Tweet, another fan posted a picture of the drone in a Best Buy store in New Jersey, suggesting that the Mini 3 is already in the market.
By December 5, 2022, DJI had yet to release any information about the upcoming drone, so we took this with a grain of salt. However, the Mini 3 non-Pro will be a welcome addition to their range of popular drone models. At the cost of $559.99, it's a steal for budget-conscious drone lovers, but not all enthusiasts agree.
The DJI Mini 3 Pro is currently $759, and the non-Pro version will be without some of the DJI Mini 3 Pro features. So, it's easy to see why some think it may not be worth the price. However, what we have seen so far is enough to tell us that it won't be a slouch either.
DJI Mini 3 Pro, Lightweight Foldable Camera Drone with 4K/60fps Video, 48MP, 34 Mins Flight Time, Less than 249 g, Front, Rear and Downward Obstacle Avoidance, Return to Home, Drone for Beginners
Care-free Creation - Weighing less than 249 g, Mini 3 Pro doesn't require registration in most countries and regions. The foldable and compact design also makes it easy to carry on any...
Seriously Pro Shots - Capture your world in remarkable detail with 4K/60fps video and 48MP photos. The advanced camera system supports dual native ISO and f/1.7 aperture for high-quality imagery,...
Perfect Portraits in a Tap - The redesigned DJI Mini 3 Pro offers True Vertical Shooting for portrait shots, ideal for social media. The gimbal rotates 90, so you don't have to compromise image...
Sweet Air Time - Enjoy an extended flight time of up to 34 minutes and capture and explore more of your surroundings. Upgrade to the Intelligent Flight Battery Plus (sold separately) and enjoy...
Fly with Confidence - DJI Mini 3 Pro features tri-directional obstacle sensing and APAS 4.0, bringing unrivaled safety to the Mini series.
We earn a commission if you make a purchase, at no additional cost to you.
Expected Features of the DJI Mini 3 Drone
A popular UK store, Drones Direct, updated its catalog to include the DJI Mini 3 Drone. We can safely assume it's already in production because of the four weeks set delivery time. It's a good indication that the drone will be released soon, and we can't wait to get our hands on it.
Below are some of the features as highlighted in the listing.
Lightweight Design
It seems like DJI will maintain its below 250g weight limit for the Mini 3 drone. The weight helps to keep it within the US and some other countries' restrictions against heavier drones. The Mini 3 will also maintain the foldable design of the Pro version. Thus, it will fit in a smaller space and travel more conveniently.
Longer Flight Time
Forget about the short-lived batteries. The listing boasts a battery life that can last up to 38 minutes, which is pretty impressive for a drone of this size. The standard intelligent flight batteries will ensure all the juice you need for a full day of outdoor flying.
4K HDR Camera Quality
Like the Pro version, the Mini 3 will feature a 4K HDR 12mp camera. It will capture stunning cinematic-quality videos and images day and night. Thanks to the 1/1.3-inch CMOS sensor and the chip-level HDR technology, we can expect superior clarity and low noise even in challenging lighting conditions.
True Vertical Shooting
DJI has been pushing the boundaries when it comes to creative aerial footage. The Mini 3 will feature a unique vertical shooting mode. This innovative gimbal design will let you capture true vertical shots, allowing seamless transitions between scenes. A casual shot of your favorite spot can now become a work of art.
Wind Resistance
At 38 kph, the wind resistance of this drone is nothing to worry about. We should expect a smooth and steady flight even in winds up to 10.7m/s. Coupled with DJI O2 video transmission and GPS positioning, you can rest assured that your footage will be rock solid.
Intelligent Features
As with most DJI drone models, the Mini 3 will come with advanced intelligent features. The listing indicates the drone will feature Auto Takeoff and Auto Landing features to make your flying experience worry-free. Additionally, it will come with Return to Home (RTH) and Low Battery Return Home (LBRH) features for added safety.
These features, including the Failsafe RTH, will allow it to return home or land safely in the event of signal interference. The drone will also combine a downward vision system, GNSS, and infrared sensing systems to maintain high precision in Positioning and Obstacle Avoidance.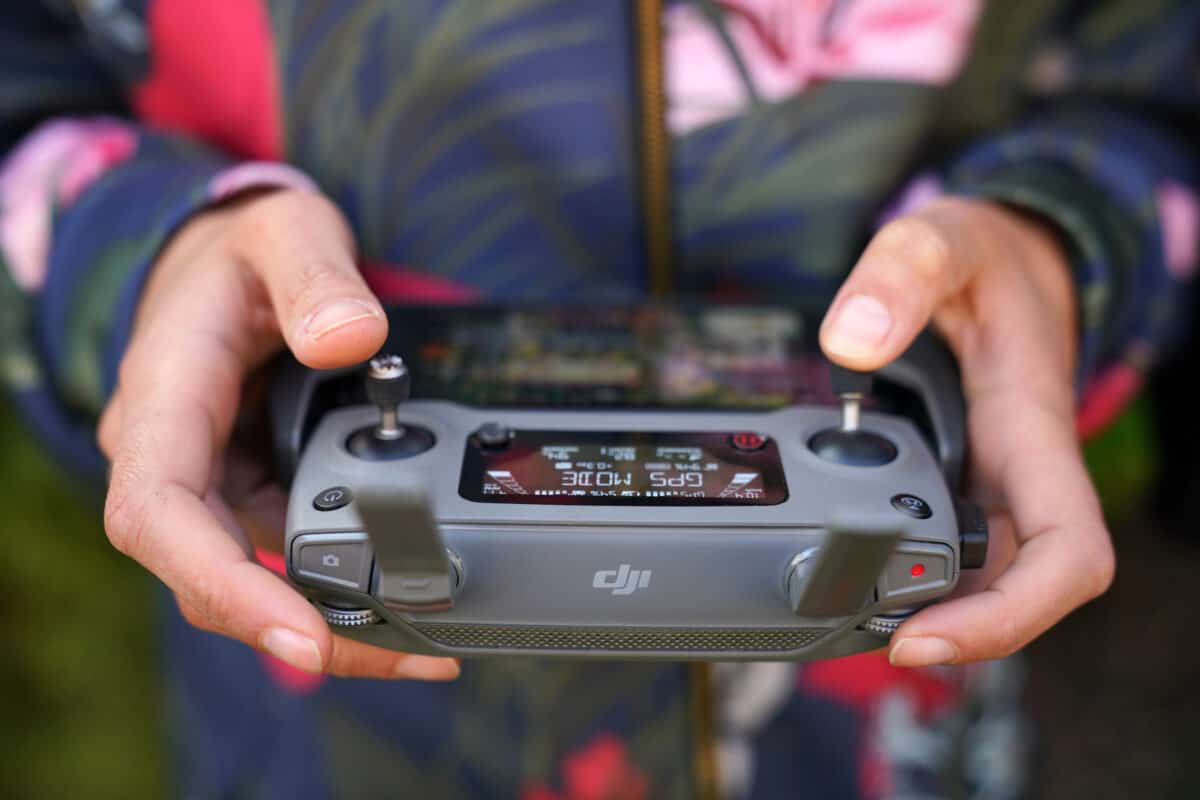 Why the DJI Mini 3 (Non-Pro) Will Be Cheaper
The big selling point for the non-Pro version will be its price. What makes it so much cheaper, though? Of course, the most obvious difference will be its lack of some features found in the Pro version.
Let's start with what won't be included.
The Mini 3 Won't Have Front and Back Facing Obstacle Sensors
Images shared by DealsDrone, a reliable source for drone information, show that the Mini 3 non-Pro may not have the front and back-facing obstacle avoidance sensors that the Pro model does. The public outcry is understandable, as this feature is vital for beginners.
With no obstacle sensing, the drone requires a higher skill level for flying and may pose more risks to property and people in its vicinity. However, it's also an expensive feature to include. So, DJI may have decided to leave this out as a cost-cutting measure.
We still think it shouldn't be a deal breaker, mainly because you still get the down-facing obstacle avoidance sensors. We don't think it will be as reliable as the Pro model, but it should still provide a decent level of safety when flying.
The DJI Mini 3 Will Support a Shorter Range
The Pro model has a range of up to 12 km (7.4 miles), while we expect the non-Pro version to have a maximum range of 10km (6.2 miles). That's still plenty of distance to explore, but the shorter range on the cheaper model may disappoint some.
Update: The DJI Mini 3 Drone is Already on the Market
After several leaks and rumors, it appears the DJI Mini 3 Drone is already on sale. The drone is available from the DJI store on Amazon. It comes with all the anticipated features from earlier reports, including the 1/1.3-inch CMOS sensor and 4K HDR 12mp camera, plus all the intelligent features previously mentioned.
The drone also features an automatic Quickshots feature, a shooting mode comprising pre-programmed flight paths that let you quickly capture stunning footage. While it won't have the obstacle avoidance feature as expected, the Mini 3 still has many impressive features that make it an excellent choice for those looking to get into aerial photography.
The Standard Intelligent Battery will give you juice for about 38 minutes, but if you opt for the Intelligent Flight Battery Plus, expect about 51 minutes of flight time. All the intelligent features anticipated by Drone Direct, including Auto Takeoff and Return to Home, are included in this release.
Best Vertical Shooting
DJI Mini 3
Lightweight and compact
Up to 38 minutes of battery life
Film in 4K HDR Video
Comes with True Vertical Shooting
We earn a commission if you make a purchase, at no additional cost to you.
Official Pricing
The drone alone costs $469, while the drone plus the DJI RC-N1 controller goes for $559 or $699 when paired with the DJI RC controller. The Fly More Combo, which includes the remote controller, a shoulder bag, intelligent flight batteries, and a Two-Way Charging hub, sells for $858.
If you want to capture stunning aerial shots and videos, then the DJI Mini 3 may be just the drone you're looking for. With a lower price tag than the Pro version, it's definitely worth considering. You may find more affordable drones in the DJI lineup, but the Mini 3 is worth considering if you're looking for a high-quality drone experience.
We expect more reviews and feedback from drone pilots as the Mini 3 continues to make its presence known in the market. So far, reports are positive and give us hope that this will be an excellent addition to the DJI lineup.
Conclusion
No need to anticipate any longer because the Mini 3 is already out in the market. The drone may not have all the features of its Pro version, but it still packs plenty of punch for a lower price tag. With its lightweight design, improved camera capabilities, and intelligent flight modes, this device can help you get the perfect shot. Whether you're a professional photographer or just starting out, the DJI Mini 3 Drone is worth checking out.
The image featured at the top of this post is ©photoschmidt/Shutterstock.com.