When it comes to action cameras, two names come to mind as the best of the game, and that is DJI and GoPro. The latter is almost a verb when thinking about the action camera industry as a whole, but DJI is continuing to build on its strengths and release competitive products to eat away at GoPro's market share.
Nowhere is this more true than with the DJI Action 2 and the GoPro 10 as these two action cameras are the peak of the field and ready to go anywhere with you to capture just about anything.
So, how do these two cameras match up and which one is the better option for you? Let's take a look at these two action camera all-stars and see which one is the best of the bunch.
DJI Action 2 vs. GoPro 10: Side-by-Side Comparison
DJI Action 2
GoPro 10
Release Date
October 1, 2021
September 16, 2021
Camera Type
Digital
Digital
Pixel Count
12MP
23.35MP
Sensor Size
1/1.7"
1/2.3"
ISO Range
Photo: 100-6400
Video: 100-6400
Photo: 100-3200
Video: 110-3200
Video Resolution
4K @ 120Hz/60 FPS
2.7K @ 120/60 FPS
1080p @ 240/60Hz
5.3K @ 60Hz
4K @120Hz
2.7K @ 240Hz
Touchscreen?
Yes
Yes
Battery Life
70 minutes
1.5-2 hours
Weight
56 grams
158 grams
Storage
32GB built-in plus expandable microSD storage
No built-in storage, expandable microSD storage
Waterproofing
10 meters without waterproof case, 60m with waterproof case
Waterproof up to 33 feet
Dimensions
39 x 39 x 22.3mm
71 x 50.8 x 33.6mm
Best Performance
GoPro HERO10 Black
Powerful new GP2 engine
Upgraded to 23MP photos and 5.3K video resolution
8x slo-mo at 2.7K
HyperSmooth 4.0
Better low-light performance and horizon leveling with a higher tilt limit
Unlimited cloud storage with hassle-free auto upload
We earn a commission if you make a purchase, at no additional cost to you.
DJI Action 2 vs. GoPro 10: What's the Difference?
Let's break down these two action cameras' main differences.
Design
The first thing you notice as soon as you look at both the DJI Action 2 and GoPro 10 is how different both of these action cameras are in size. As small as the GoPro 10 is, the DJI Action 2 is much smaller. At 56 grams in weight, the DJI is also three times as light as the GoPro 10 which is also twice as thick as the DJI model. Add in the body of the GoPro 10 that is 85% longer, which means there is little question which action camera is for you if size is the biggest factor.
Size aside, GoPro cameras have been recognizable for years because their design has been the same for the last eight or so iterations of the camera. A front-facing display was introduced with the GoPro Hero 9, but outside of that, most of the hardware changes for the GoPro 10 have been pretty minimal.
While GoPro is staying tried and true with its design, DJI took a different path with the Action 2 opting for a squared-off shape. The front of the camera is all sensor while the screen fills up the rear. To call the DJI Action 2 pocket-friendly would be putting it mildly as you may even place it in your pocket or bag and forget it's there. Perhaps most important about the design is that the DJI Action 2 just looks more fun to use. GoPro's style isn't bad — on the contrary — but DJI's different take on the action camera format is something to admire.
On the downside, the small size of the DJI camera means no USB port, so charging requires attaching a power module which isn't ideal for every situation. This is the tradeoff for extreme portability. The GoPro 10 uses a USB-C cable, which is the most common cable format these days, so you will likely always have an extra cable lying around. Where the DJI Action 2 redeems itself is as a modular action camera, so you have the main unit but you can also attach a battery to the back or a front display module for selfies just in case you have moments where either of those two accessories will come in handy.
Price
When it comes to price, the DJI Action 2 has the GoPro 10 handily beat. At $299 MSRP, the DJI is quite a solid package for the price and includes the camera unit, power module, magnetic lanyard, magnetic adapter mount, and a power cable. You can up the price to $399 if you want the dual-screen combo, though the DJI regularly hits under $300 on Amazon.
The GoPro 10 runs for an MSRP of $399 and as it only goes on sale infrequently, this is the price you should expect to pay. Unlike DJI, GoPro isn't throwing in any extras, so the $399 price tag is just for the camera hardware plus one battery. This isn't unusually high pricing for a new GoPro unless you are okay waiting for up to a year after its release, which is when retailers start generally discounting as a new model is available.
Video
DJI Action 2
As one of the most important aspects of the action camera experience, video quality is hugely important. In this space, the DJI Action 2 performs really well with video quality capping out at 4K at 120 frames per second. This is as high quality as the DJI can capture and, for most users, it's more than good enough. The choice by DJI to use 1/1.7-inch sensor positions it as 35% larger than the GoPro 10 but with only 12 megapixels, it's not as high of a resolution as the GoPro 10's 23.6 megapixel chip.
Now, most videographers and photographers know that megapixels are not everything and the reality is that 12MP is more than good enough for 4K video. The result of the DJI Action 2 is that you get a more cropped view of the action than you would with the GoPro 10. If you consider something like slow motion, both cameras perform well, but the GoPro 10 is more capable as it wins out by being able to capture at 2x speed in its full 5.3K resolution.
When all is said and done, video quality for the DJI Action 2 is great and it offers similar digital stabilization as the GoPro with Rocksteady 2.0. It will work best in well-lit (bright) environments so that's how you are going to see its best work. The DJI Action 2 also offers a higher ISO count, so you have that going for the DJI if this is something you want to take advantage of.
GoPro 10
Where the GoPro 10 immediately pulls away from the DJI Action 2 is that it can shoot in 5.3K resolution at 60 frames per second. This means you'll see a wider view of the action, which is a huge plus. Add in Hypersmooth 4.0 and the GoPro 10 offers some of the most effective stabilization on the market. The GoPro 10 also has the more powerful processor even if it has the smaller 1.2/3-inch sensor size which, while smaller than the DJI Action 2, is optimized in such a way that it feels like it more than holds its own against the competition.
GoPro also finds its own edge for slow-mo capturing where it can tackle 4K resolution at 120 FPS or 2.7K at 240 FPS. The GP2 processor of the GoPro 10 is to thank for these improvements and for anyone who values slow-mo capturing, the GoPro 10 holds the edge here.
Battery
Using an action camera is one of the easiest ways to drain the battery on an electronic device. The DJI Action 2 pays a bit of a price for its small size by only being able to offer up to 70 minutes of battery under optimal conditions. If you are constantly shooting in 4K, you can expect lower battery life than that, which means you need a second power module to match a single battery of the GoPro 10.
Under equally optimal conditions for the GoPro 10, you'll find around 1.5-2 hours of battery which is still a lot less than a regular camera or a smartphone, but it's a pretty admirable number for an action camera. As you can buy all of the extra batteries you want for the GoPro 10 at a lesser cost than that of another DJI Action 2 power module, battery life is an easy win for the GoPro 10.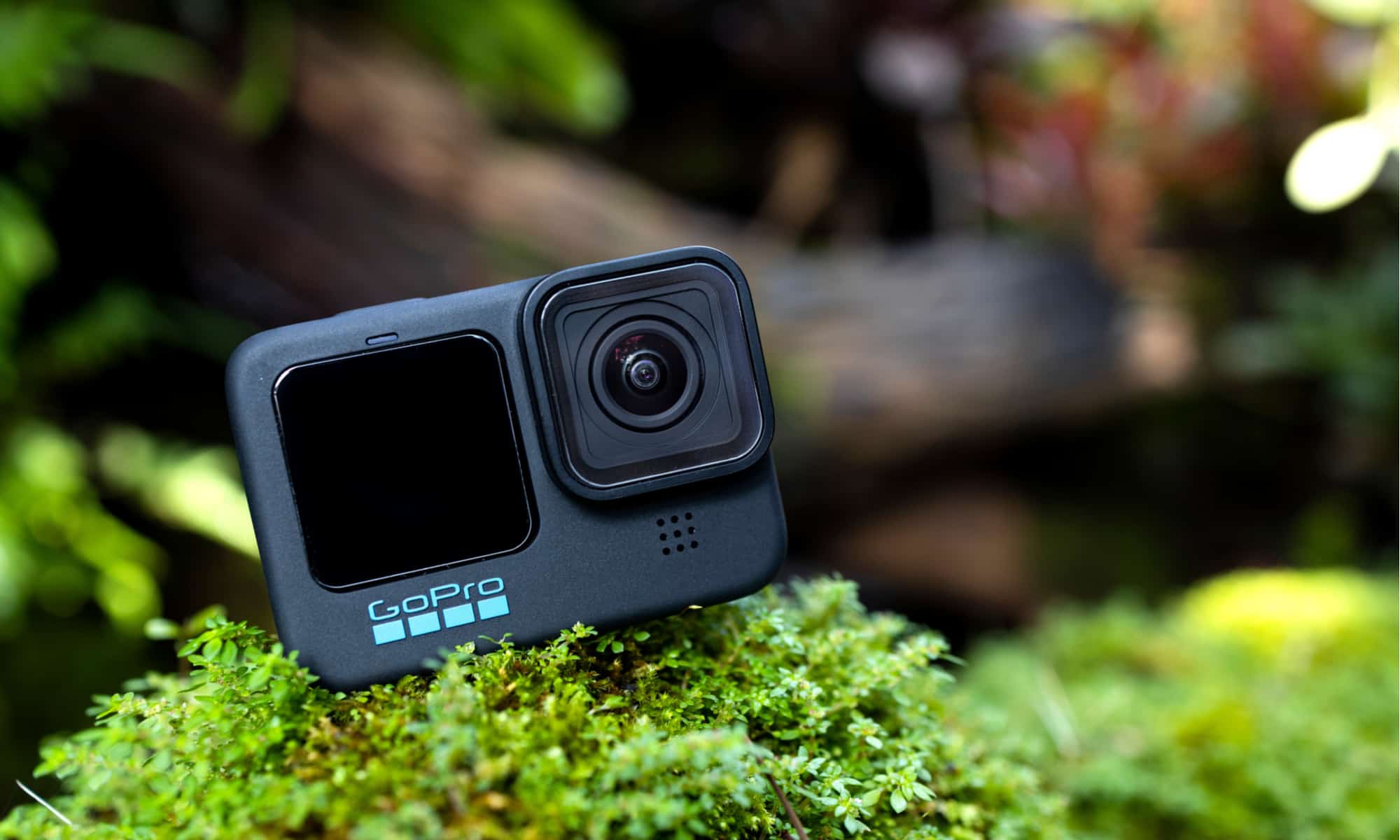 Storage
Storage is one the categories where DJI and GoPro took very different paths with these two action camera products. For the DJI Action 2, the camera comes with 32GB of storage on board with around 22GB of that available for capturing video and photos right away. To add more space, you can pick up a microSD card of any size up to 1TB and plug it right into the camera. As microSD cards become less and less expensive, this is not really a deal breaker.
What is interesting is that GoPro 10 opted once again to not offer any internal storage with the camera and instead asks its customers to start using the camera with a previously purchased microSD card. The reality is that this decision hasn't negatively impacted GoPro sales and you'll need a microSD card anyway to capture more than a short amount of video on the DJI Action 2 internal storage anyway. We'll consider this a draw between the two cameras.
Usability
The best part about both the DJI Action 2 and GoPro 10 is that, immediately upon startup, you are taken right to video capture. Once you are on these screens, taking videos is as easy as pressing the record buttons on each device. All totaled, you should be able to turn both action cameras on and be video recording (assuming you have preset your preferred quality) within a few seconds.
Using the various interfaces between the two cameras is pretty much a personal preference. With more screen real estate on the 2.27-inch screen on the GoPro 10, it's more enjoyable to navigate the menu structure and select what you need. Navigating on the 1.76-inch DJI Action 2 isn't necessarily worse, it's just more cramped overall, but DJI did a great job of making it as functional as they can.
You can safely assume that both the DJI Action 2 and GoPro 10 will start to heat up if you are using it for more than a few minutes of time. Just as a smartphone does, the more use each camera gets, the more the system responds, but neither gets hot enough to be a concern.
Out of the box, the DJI Action 2 microphone felt more accurate overall and blocked more ambient noise. Again, this isn't to say the GoPro 10 was worse, but one was definitely better. However, given that there are literally hundreds of microphones you can use as add-ons for the GoPro 10, finding the right way to perfectly capture sound isn't going to be too much of an ask.
DJI Action 2 vs. GoPro 10: 5 Must-Know Facts
One of the primary differences between these two cameras is that the DJI Action 2 comes with internal storage while the GoPro 10 only captures video after a microSD card is inserted.
Battery life on the DJI Action 2 is, at best, up to 70 minutes while the GoPro 10 can hit up to two hours.
You can easily replace the GoPro 10 battery for longer capturing and at a much smaller price than adding in an additional power module for the DJI Action 2.
The GoPro 10 offers up to 5.3K video shooting while the DJI Action 2 tops out at 4K.
Both the GoPro 10 and DJI Action 2 offer outstanding image stabilization and horizon leveling.
Best Performance
GoPro HERO10 Black
Powerful new GP2 engine
Upgraded to 23MP photos and 5.3K video resolution
8x slo-mo at 2.7K
HyperSmooth 4.0
Better low-light performance and horizon leveling with a higher tilt limit
Unlimited cloud storage with hassle-free auto upload
We earn a commission if you make a purchase, at no additional cost to you.
DJI Action 2 vs. GoPro 10: Which One is Better?
Asking the question of whether the DJI Action 2 or GoPro 10 is better is a question of whether you prefer the most portable option versus slightly higher video quality. Ultimately, you cannot go wrong with either action camera, but with 5K recording and a wider angle of capturing (because of 5K), the GoPro 10 has the advantage.
As both action cameras are very polished overall, you can expect strong video quality, stabilization, and horizon leveling from each one in a way that will look great to most users. Where the GoPro 10 sets itself apart is better low-light quality, replaceable batteries, more battery life overall and a robust series of accessories available for just about any purpose. Whichever of these two you pick you will be happy, but the GoPro 10 is the better buy overall.
The image featured at the top of this post is ©Mauricio Graiki/Shutterstock.com.