What's the difference between DisplayPort 1.2 vs. 1.4? Should you care, or should you purchase the latest DisplayPort version? The latest technology is always the best technology…isn't it?
The DisplayPort is a computer monitor digital display interface. The DisplayPort replaced the Video Graphics Array (VGA) and the Digital Visual Interface (DVI). Today, computer users can select graphics cards or computer monitors compatible with Displayport 1.2, DisplayPort 1.4, or DisplayPort 2.0.
In this article, we'll unpack the difference between DisplayPort configurations and help you make an educated choice when it's time to purchase.
DisplayPort 1.2 vs. DisplayPort 1.4: Side-by-Side Comparison
DisplayPort 1.2 vs. DisplayPort 1.4: What's the Difference?
To understand the difference between DisplayPort 1.2 and Displayport 1.4, we'll take a quick look at the history of DisplayPort. It's quite interesting!
DisplayPort History
2006 ushered in the era of DisplayPort. Gone were the days of cumbersome monitor connections. (Unless you worked in a corporate environment, surrounded by hundreds of other computer monitors.)
DisplayPort functionality has come a long way since the early days.
Our Pick
Amazon Basics DisplayPort 1.2
Ideal for video streaming, gaming, or extending a workstation

Gold-plated connectors

Supports bandwidth up to 21.6Gbps

Supports video resolutions up to 4K/60Hz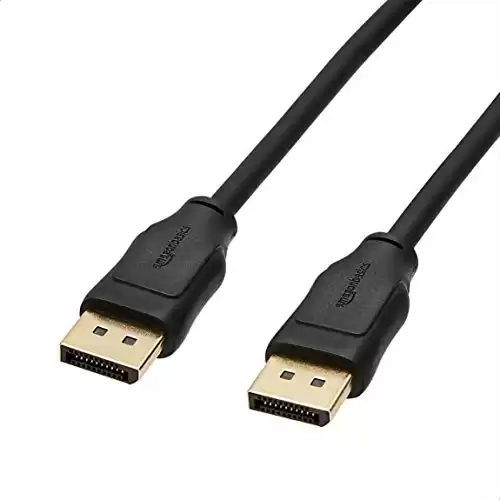 We earn a commission if you make a purchase, at no additional cost to you.
2010 brought us Displayport 1.2 with many improvements over the previous version of DisplayPort. The notable enhancements from V1.1 were higher refresh rates, improved resolutions, and an increased data rate of 17.28 Gbps.
March 2016 brought with it the introduction of DisplayPort 1.4.
DisplayPort 1.4 was the only "go-to" port for PC gamers wanting to maximize desktop gameplay with 4K resolution. HDMI 2.1 is now available, but Display Port 1.4 remains a PC desktop gaming preference.

Fun fact! Initially, DisplayPort had much faster speeds than HDMI. Today, the playing field is much more equal. Some applications are faster on HDMI, and others are faster on DisplayPorts.

DisplayPort 2.0 was released in June 2019 and had three times the bandwidth of DisplayPort 1.4. The total data rate is 77.37 Gbps.
Total Bandwidth
Both DisplayPort 1.2 and DisplayPort 1.4 have four lanes to transmit signals.
The DisplayPort 1.2 transmits a signal at 5.4 Gbps per lane.
The DisplayPort 1.4 transmits a signal at 9.1 Gbps per lane.
The higher signal transmission rate of the DisplayPort 1.4 equates to higher performance. The improved performance demonstrates itself in several different categories. Let's dig in and take a look at them.
Resolution
The DisplayPort 1.4 provides the capability to stream a 4K Ultra High Definition (UHD) at 120Hz. The DisplayPort 1.4 can handle a 5K display @60Hz, or even an 8K display up to 30Hz. DisplayPort 1.2 isn't able to take any of these resolutions. Higher resolution equates to better image quality.
Display Screen Compression
DisplayPort 1.4 introduced us to Display Screen Compression (DSC). DSC is a lossless encoding algorithm that compresses the data by approximately 3x before transmission. The "compression" and subsequent "unpacking" are considered to be "lossless." Our human eyes don't notice a difference in the displayed image following the DSC process.
Improved data packaging and transmission in smaller data packets equal the ability to transmit more data faster than allowable on DisplayPort 1.2. The DSC functionality included in DisplayPort 1.4, combined with a display that supports DSC, allows 4K up to 120Hz and HDR-enabled, or an 8K, display up to 60Hz.
Audio
DisplayPort 1.4 provides a maximum audio sampling rate of 1,536 kHz, compared to DisplayPort 1.2's maximum sampling rate of 768 kHz.DisplayPort 1.4 has 32 channels compared to DisplayPort 1.2s eight channels.
Our Pick
Amazon Basics DisplayPort 1.4
Creates

multi-monitor configurations

Dynamic HDR and 3D

Up to 1536 kHz audio sample frequency

FEC forward error correction and 32 audio channels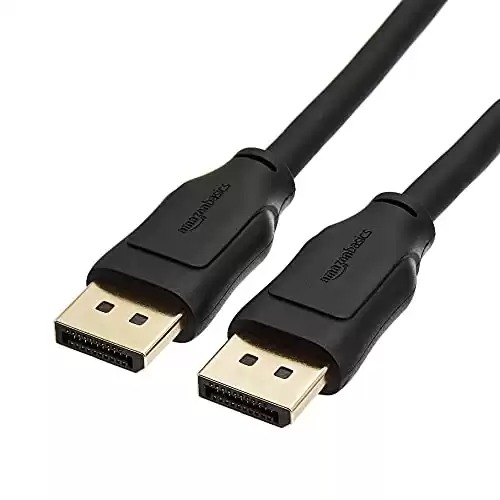 We earn a commission if you make a purchase, at no additional cost to you.
More channels provide a richer, more robust listening experience. It may be most noticeable with surround sound and less noticeable with earphones.
High-Bandwidth Digital Content Protection (HDCP)
That's a mouthful! To explain how HBDC impacts us, we must first look at what and how it functions. (Don't skip this section!!!)
What Is HBDC?
DCP is software that prevents users from inserting a device to copy content transferred between a source (DVD player) and the display (like a TV). The TV will exchange a code with the DVD player. When the authentication is correct, the content will display. If the authentication fails, the content won't display correctly.
Why Should You Care About HBDC? 
It would be best to verify (before you make a purchase!) that ALL your equipment is HDCP 2.2 compliant. A wireless transmitter, splitter, tuner, audio-video receiver, or tuner. You may find out that you don't have a device compliant when you attempt to stream 4K content from Netflix, Amazon Prime, Warner Brothers, or Disney.
HDCP 2.2 wasn't available on DisplayPort 1.2. It's an issue to be aware of when selecting a 1.4 device. For all components to work together seamlessly, you'll need all parts to be HBDC V2.2 compliant.
DisplayPort 1.2 vs. DisplayPort 1.4: 5 Must-Know Facts
Stick with DisplayPort 1.4 instead of DisplayPort 2.0. The newest DisplayPort may take some time to become widely integrated into display monitors and Graphics Processing Units (GPU).
DisplayPort 1.2 periphery hardware does not equal DisplayPort 1.4 periphery hardware. You'll need to purchase cables that are 1.4 compliant. Same for a splitter, GPU, display monitor, etc.
DisplayPort 1.4 hardware is reverse compatible. Reverse compatibility means that if you purchase DisplayPort 1.4 cables, they will work on your DisplayPort 1.2 graphics card.
V1.2 Mix 'em up! You can mix and match DisplayPort 1.2 hardware and still have the functionality to display a nice image. Match monitor, source, and cable.
V1.4 Don't mix 'em up! All components need to be DisplayPort 1.4 compliant.
DisplayPort 1.2 vs. DisplayPort 1.4: Which One Is Better? Which One Should You Use?
DisplayPort 1.2 vs. DisplayPort 1.4 isn't a topic restricted to subject matter experts of desktop gaming, video editing, or photo editing. DisplayPort V 1.2 vs. DisplayPort 1.4 impacts casual users too. Which is better? Which should you use? The answer is individual for each user and depends on how you want to use your system.
If you have a max display resolution of 1440p on your gaming computer, we recommend DisplayPort 1.2. If you want to watch (up to) 8K resolution content, or 1440p content at a 240Hz refresh rate, we recommend DisplayPort 1.4. The DisplayPort 1.4 provides good future compatibility, but you need to verify that any/all peripheral equipment is DisplayPort 1.4 HBDC V2.2 compliant.
Ideal for video streaming, gaming, or extending a workstation

Gold-plated connectors

Supports bandwidth up to 21.6Gbps

Supports video resolutions up to 4K/60Hz

Buy Now on Amazon

We earn a commission if you make a purchase, at no additional cost to you.

03/21/2023 10:31 am GMT

Creates

multi-monitor configurations

Dynamic HDR and 3D

Up to 1536 kHz audio sample frequency

FEC forward error correction and 32 audio channels

Buy Now on Amazon

We earn a commission if you make a purchase, at no additional cost to you.

03/20/2023 03:50 pm GMT