Unlike Netflix, HBO Max, Paramount+, and other top contenders in the Streaming Wars, Disney has two contenders in the mix instead of just one. Disney+ and Hulu are direct competitors, to be sure, but they're also owned by the same parent company: The Walt Disney Company.
This makes things a little more interesting than your usual streaming comparison, but it also raises an important and pressing question: which is the superior streaming service between Disney+ and Hulu? Let's take a look at the facts in order to come up with a winner.
Disney+ vs. Hulu: A Side-By-Side Comparison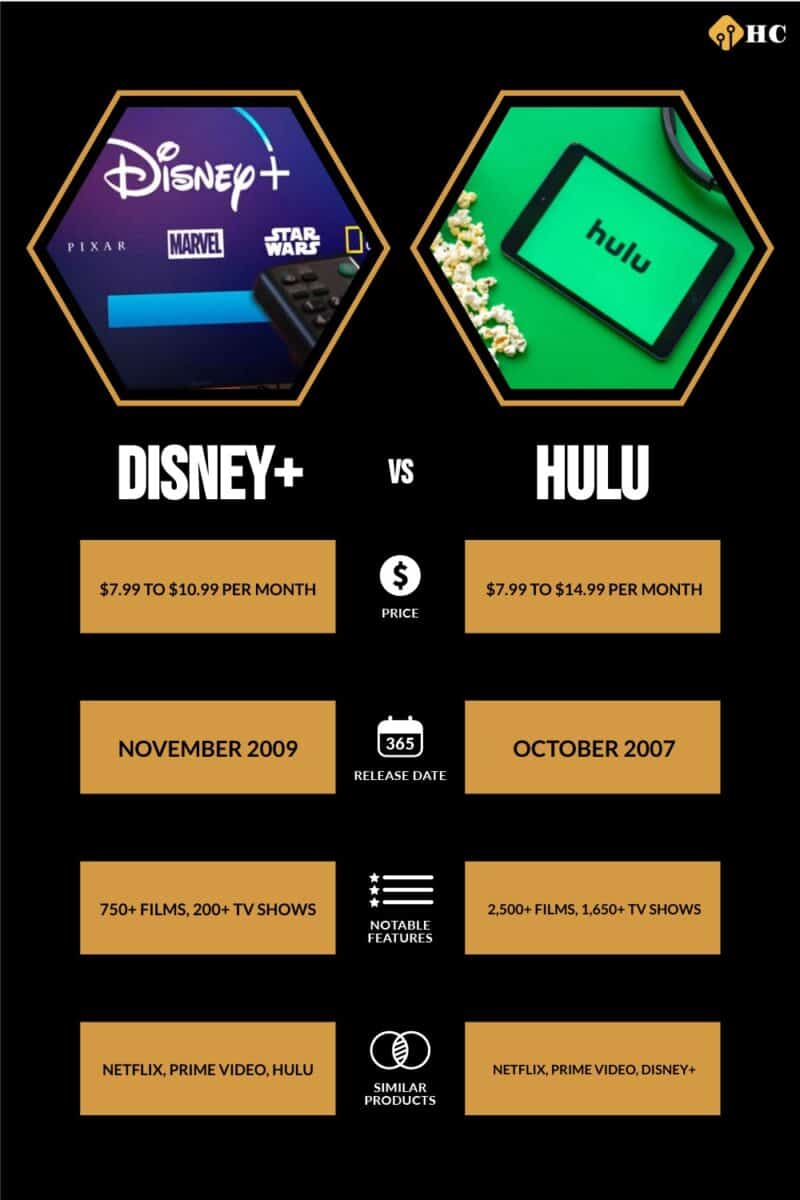 Disney+
Hulu
First Launched
November 12th, 2009
October 29th, 2007
Price Per Month
$7.99/month (ads)
$10.99/month (no ads)
$7.99/month or $79.99 a year (ads)
$14.99/month (no ads)
Available Bundle(s)
Disney Bundle Duo (Disney+ and Hulu for $9.99/month)
Disney Bundle Trio (Duo plus ESPN+ for $12.99/month)
Disney Bundle Duo (Disney+ and Hulu for $9.99/month)
Disney Bundle Trio (Duo plus ESPN+ for $12.99/month)
Number of Titles
750+ films, 200+ TV shows (including more than 80 original movies and shows)
2,500+ films, 1,650+ TV shows (including numerous original movies and shows)
Most-Awarded Title(s)
The Mandalorian (2019 – ), WandaVision (2021-2021)
The Handmaids Tale (2017- ), Only Murders In the Building (2021- )
Number of Subscribers
Approx. 165 million
Approx. 48 million
Yearly Revenue
$5.2 billion (2021)
$9.5 billion (2021)
Upcoming Projects
New exclusive Star Wars and Marvel projects; New Goosebumps and Percy Jackson TV shows
New Alien TV show, new Futurama episodes, TV adaptation of book series A Court of Thorns and Roses
Disney+ vs. Hulu: Key Differences
Now that we've laid out these side-by-side specs of the Disney+ versus Hulu debate, it's well worth taking a closer look at the key differences between the two. Understanding the importance of these primary distinctions will help underline the rightful winner of the Disney+ and Hulu showdown.
Price Per Month
Firstly, we need to think about the actual cost to use each service each month. This is undoubtedly one of the most pressing matters when picking a winning streamer, as you need to know how much you're going to spend in order to use the thing in the first place. Disney+ costs $7.99 a month to use with ads. That price increases to $10.99 a month for an ad-free plan. Hulu, by comparison, is also $7.99 a month to use with ads. However, their ad-free plan is $14.99 a month — a good four dollars more than Disney+'s.
With that being said, both Disney+ and Hulu offer a number of bundles to help subscribers save a dime or two. Because both streaming services are owned by the Walt Disney Company, they're able to offer a money-saving alternative. The Disney Bundle Duo gives subscribers Disney+ and Hulu for $9.99 a month (with ads, of course). Likewise, the Disney Bundle Trio gives subscribers everything in the Duo plus ESPN+ for $12.99 a month (again, with ads). You can pay more for ad-free alternatives, but prices vary depending on whether you're going with the Duo to the Trio.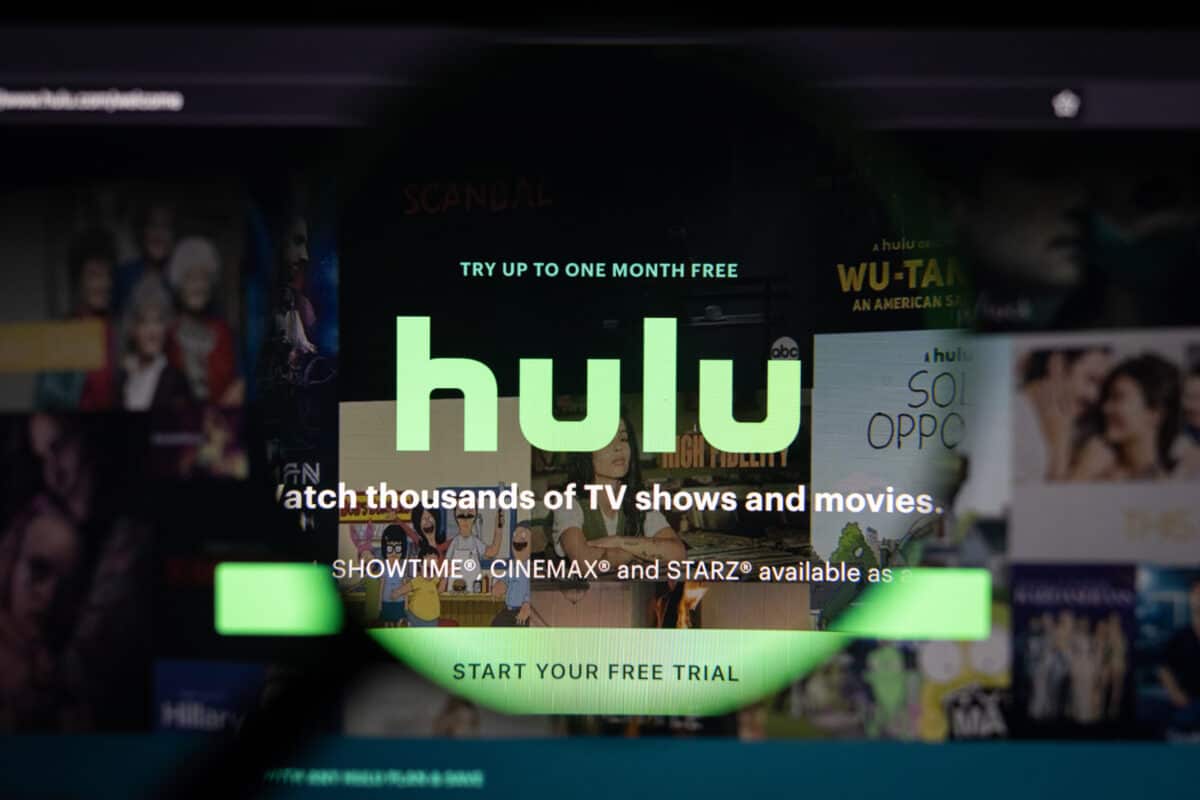 Yearly Revenue
Because Disney owns both of these streamers, all that matters to the higher-ups is that both Disney+ and Hulu are earning billions of dollars annually. Nevertheless, the actual differences between these yearly revenues are worth looking into for us subscribers. Yearly revenues are a good indication of whether or not price hikes are in the streamer's future — as well as a good benchmark of the streamer's overall success. Still, in its infancy, Disney+ brought in an impressive $5.2 billion for 2021 alone. (Netflix, by comparison, made $30 billion in 2021).
Hulu, on the other hand, brought in $9.5 billion for 2021. How can this be? Well, despite having a mere fraction of Disney+'s total subscribers — only around 48 million compared to 165 million — Hulu relies on far more ad revenue than Disney+. Though Disney+ just announced a new (cheaper) tier with ads, Hulu has long relied on ads for the bulk of its revenue. It ends up putting them ahead of the curve in this regard, nearly doubling Disney+'s annual revenue in the process. As a result, there's less of a chance of Hulu raising prices than Disney+.
Available Titles
Thirdly, it's worth considering the kind of titles and content available on each streamer. Disney+ currently offers around 750 films and more than 200 television series. This number includes around 80 original films and series made exclusively for the streamer. In addition, Disney+ is the exclusive streaming home for a majority of Disney films and television shows as well as the place where the newest titles are sent after they play in theaters. However, a vast majority of their content is PG-13 or TV-14 or below, putting a major emphasis on family friendliness.
Hulu, on the other hand, excels in this respect. More than 2,500 films, more than 1,650 television shows, countless original shows and movies, and plenty for adults, families, teens, and children alike. Because Hulu was formed in collaboration with various studios and production companies, the streamer is truly massive and quite varied. Not to mention, Disney treats the streamer as the place for adult-oriented entertainment — such as R-rated films and TV-MA shows. If Disney+ is the studio's family-friendly streamer, then Hulu is the place for adults to stream.
5 Must-Know Facts About Streaming Services
Americans subscribe to four streaming services on average. This comes out to an average of around $47 a month on streaming services alone.
While we might not think of it as a streaming service, YouTube is indeed a streamer. (And a free one, at that.) As a matter of fact, it's the most popular streaming service on the planet with 2.5 billion annual active users and yearly revenue in excess of $30 billion for the 2021 fiscal year.
Netflix makes more money and has more subscribers than any other paid streamer. They boasted 210 million subscribers and reported a yearly revenue of $30 billion for the 2021 fiscal year.
Music streaming is just as big of an industry as streaming films and television. Truth be told, nearly 86% of all revenue in the music industry came from streaming services in the 2020 fiscal year.
The value of the streaming industry is estimated to reach $330 billion by 2030. (For context, it recently sat at $60 billion for 2021.)
The History of Disney+
Disney+ parent The Walt Disney Company has one major advantage over the competition. Though the Disney+ streaming service is barely older than three, the studio will be turning 100 years old in 2023. Not only does it represent a carefully constructed and meticulously designed streaming service to compete with the top names in streaming, but also a century-long effort on Disney's part to be the best in the biz. As a matter of fact, Disney+ is something of a finish line for Disney's decade-long series of particularly large power moves.
This included everything from the purchase of Star Wars, Indiana Jones, Willow, and all other LucasFilm properties to the rich and storied catalog of 20th Century Fox. The official debut of Disney+ did more than just bring the global powerhouse company to the front lines of the streaming wars — it gave them a serious chance at winning it. Prior to the service's launch, Disney content was licensed out to various other streamers (i.e. Netflix, Hulu, and Starz). To fill the shelves of their virtual streaming library, Disney pulled titles from Netflix, Hulu, Starz, and even the infamously secretive Disney Vault.
Disney+ was in the works since as early as 2015. For the next four years, Disney kept their head down and worked tirelessly to re-possess all of their streaming films and television shows throughout the internet's top streamers. By 2019 (and tens of billions of dollars later), Disney's new streaming service, Disney+, was ready to launch. It was an instant success, thanks in part to increased streaming during the Covid-19 pandemic. In just three short years, Disney+ has racked up countless Emmys and nearly 165 million subscribers in all — not far off from Netflix's 223 million subscribers gained over 15 years.
How Hulu Competes
Weirdly enough, the Disney+ versus Hulu debate could appropriately be labeled in-fighting. In addition to Disney+, the Walt Disney Company has 67% ownership of Hulu, as well. This makes their direct competition a little bizarre, because — at the end of the day — Disney wins either way. The other 33% belongs to NBCUniversal (which, in turn, is owned by Comcast). Still, as the majority owner, Disney gets to use Hulu as a platform for more mature, more adult-oriented content that wouldn't fit in on Disney+. It wasn't always this way, however.
At Hulu's start, back in October of 2007, Disney had nothing to do with the streamer. Furthermore, the streamer had no original content of its own. Shared between 21st Century Fox, NBCUniversal, Providence Equity Partners (and eventually the Walt Disney Company), Hulu was a place for television studios to place recent episodes of each company's latest TV shows. Essentially, it was like an on-demand service for a slew of top television networks. Then, in 2010 — not long after Netflix had paved the way for streamers — Hulu launched Hulu Plus.
This would become the place for Hulu's original content as well as unfettered access to select full television series. In other words, Hulu had entered the streaming wars in full swing. When Disney bought 21st Century Fox in 2019, they became the new majority owner of Hulu — effectively inheriting a successful streaming service along with a library of hugely important classic films and television shows from throughout history. Soon after, Disney and Comcast struck up a deal that will give them 100% ownership in 2024. It remains a place for new TV episodes, classic films, and original series and films.
Disney+ vs. Hulu: Pros and Cons
Disney+
| Pros | Cons |
| --- | --- |
| The one and only place for countless Disney shows, movies, and original content | Disney clearly saves their best stuff for theaters, leaving fewer quality films for the streamer |
| The majority of content is geared toward families and younger viewers | Not many films or television shows are made for adult viewers |
| Costs less than rivals such as Netflix or HBO Max | Some Star Wars and Marvel shows on Disney+ are critiqued for their middling quality |
| Plenty of money-saving bundles to choose from | Less of a focus on older, classic films |
Hulu
| Pros | Cons |
| --- | --- |
| Offers a live TV add-on for cheaper than cable | Ad-free subscription cost is pretty pricy |
| Uploads new TV shows from top networks soon after they air | The number of ad breaks and length of ad breaks can get tiring fast |
| Lots of award-winning films and TV shows for adults | Focuses more on television than on films, which is a downside for cinephiles |
| More films and TV shows than Disney+ | The library has lots of crossover with other rival streamers such as Amazon Prime Video |
Disney+ vs. Hulu: Which is Best?
So, when all is said and done, which streaming service is superior between Disney+ and Hulu? Because Disney+ has the iconic Walt Disney name attached to it, you might instinctually assume it's the better streamer. This isn't exactly true, though.
While Disney+ is not bad by any means (and has plenty to offer for younger or family viewers), Hulu actually wins this debate. It has more content, better add-on options such as live TV and premium cable networks, and gears more of its film and television toward adults rather than children. In the end, though, the Walt Disney Company is the ultimate winner because it owns both platforms.
The image featured at the top of this post is ©Photo by Glenn Carstens-Peters on Unsplash.