The Streaming Wars are no joke. While Netflix is largely viewed as the number one streaming service around, it's far from the only contender. This is especially true these days, when many of Netflix's most popular shows have left the service in favor of other, newer streamers.
The Office, That 70s Show, Parks and Recreation, Gossip Girl, The West Wing… the list goes on, as does the number of rival streamers. HBO Max, Hulu, Disney+, Apple TV+… let's compare and contrast these last two in an effort to see which is best. Which streamer takes the lead between Disney+ vs Apple TV+?
Disney+ vs Apple TV+: Side-by-Side Comparison
Disney+
Apple TV+
First Launched
November 12th, 2019
November 1st, 2019
Price Per Month
$7.99 a month with ads
$10.99 a month without ads
$6.99 a month, no ads
Available Bundle(s)
Disney Bundle Duo (Disney+ and Hulu for $9.99 a month)
Disney Bundle Trio (Duo plus ESPN+ for $12.99 a month)
Apple One (Apple Music, Apple TV+, Apple Arcade, and iCloud storage for $16.95 a month)
Apple One Premier (Apple One plus Apple News+ and Apple Fitness+ for $32.95 a month)
Number of Titles
750+ films, 200+ TV shows (including more than 80 original movies and shows)
30+ films, 50+ TV shows (a majority of which are originals)
Most-Awarded Title(s)
The Mandalorian (2019 – ), WandaVision (2021 – 2021)
Ted Lasso (2020 – ), CODA (2021)
Number of Subscribers
Approx. 165 million
Approx. 40 million
Yearly Revenue
$5.2 billion (2021)
Approx. $1-2 billion (2021)
Upcoming Projects
New projects from the Star Wars and Marvel cinematic universes; New Goosebumps and Percy Jackson TV shows
New movies from Martin Scorsese, Steve McQueen, and Ridley Scott; New seasons of Ted Lasso, The Morning Show, and Severance
Disney+ vs Apple TV+: What's the Difference?
Now that we've laid out their specs side by side, let's take a closer look at what really sets Disney+ and Apple TV+ apart. From their types of original content to their number of award-winning titles to their overall prices and bundle options, these are the key differences between Disney+ vs Apple TV+.
Types of Original Content
Firstly, there's a big difference in the types of original content made for Disney+ vs Apple TV+. For one, the former is far more family-friendly than the latter. Disney+ has very little mature content, with the number of newly acquired Netflix Original Marvel series and R-rated X-Men films being the only truly "adult" content.
For the most part, Disney+ is focused on movies and television shows intended for all ages. It's a PG-rated service through and through, which is an accurate reflection of the company's values as a whole.
While Apple TV+ is not the place to find anything truly shocking or controversial, the service is nevertheless unafraid to put the focus on R-rated or TV-MA films and television shows. (Though they do have children's programming, such as Peanuts and Fraggle Rock.)
From adult comedies to tense thrillers, and workplace dramas to action-packed blockbusters, Apple TV+ has carved out its own unique corner of the streaming market. Not to mention, the vast majority of the titles they release are commissioned in-house. This differs from the other streamers focused on acquisitions.
Number of Award-Winning Titles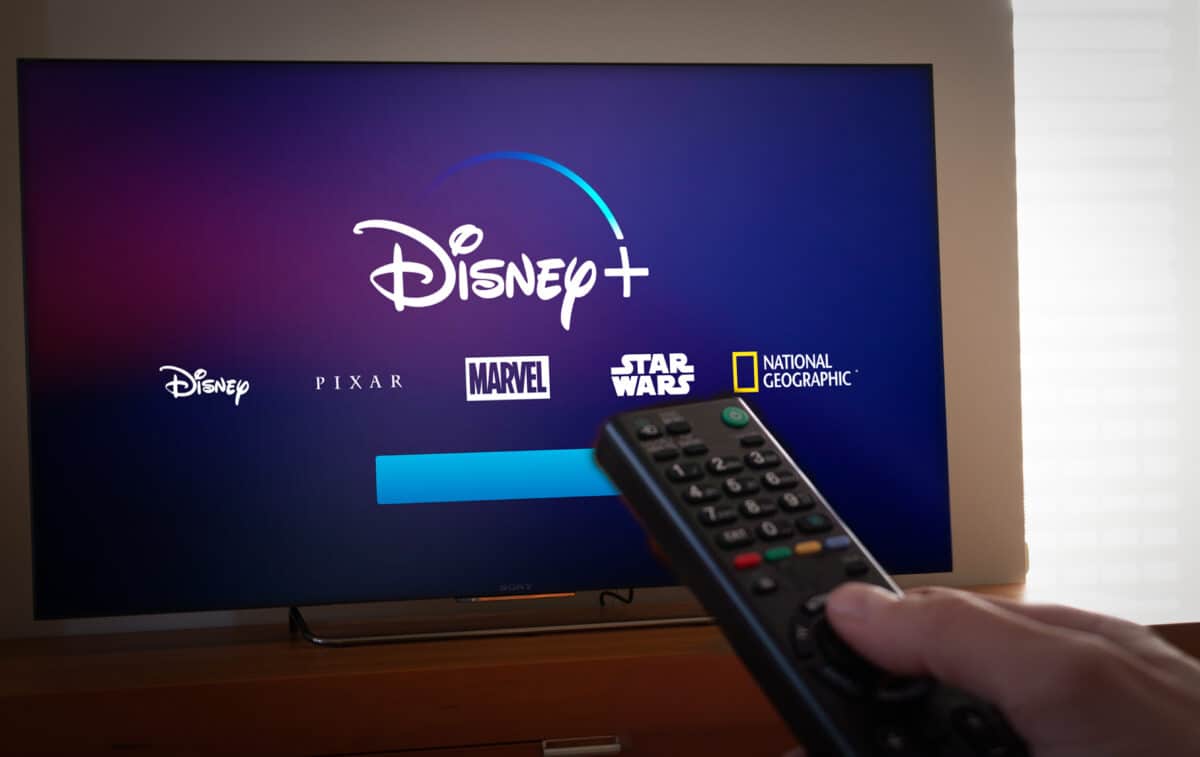 A mark of a streamer's true success is how many award-winning titles they've managed to put out. For the longest time, this manifested itself in the pursuit of a Best Picture win at the Oscars. Now that Apple has done this, it's a race to see who can do it second.
Disney+ is unlikely to win itself a Best Picture, however. The majority of their award-winning titles score their wins at the Emmys. From The Mandalorian to The Book of Boba Fett, from WandaVision to Loki, Disney+ has far more award-winning television than film.
Apple TV+, as we know, was the first streamer to win Best Picture with its drama CODA. This isn't the only major win for the streamer, however. Its sports comedy Ted Lasso always does remarkably well at the Emmys, helping the service earn hundreds of Emmy noms each awards season cycle.
Their new hit show Severance is likely to be a similarly impressive award-winner. While Apple TV+ doesn't have many Oscar contenders this awards season, their upcoming original films already have a buzz from their directors' names: Scorsese, Scott, McQueen, and so on.
Subscription Prices
Thirdly — and, for many, most importantly — there are subscription prices to consider. Neither Disney+ nor Apple TV+ are as pricy as their competitors, which is a major win for both contenders. Netflix and HBO Max are undoubtedly the most expensive of the bunch, so Disney+ and Apple TV+ have nothing to worry about in that regard.
Disney+ is currently priced at $7.99 a month for the ad-supported version of the service. Subscribers can pay $10.99 a month for the service without ads. Apple TV+, by comparison, is a flat rate of $6.99 a month, ad-free.
Interestingly enough, both Disney+ and Apple TV+ can be bundled with other services. The Disney Bundle Duo gets you Disney+ and another Disney-owned streamer, Hulu, for $9.99 with ads. You can pay an additional three bucks for the Disney Bundle Trio, which adds ESPN+ to the mix for $12.99 total. (Ad-free is $19.99.)
Comparatively, Apple One gives you Apple Music, Apple TV+, Apple Arcade, and 50 GB of iCloud storage for $16.95 a month. You can get all this plus 200 GB of iCloud storage for $22.95 a month. For these, plus 2 TB iCloud storage, Apple News+, and Apple Fitness+, it's $32.95 a month.
The History of Disney+
While the studio will be celebrating 100 years since the founding of the Disney Brothers Studio in 2023, Disney's streaming service is just over three years old. One of the final parts of Disney's decade-long string of power moves (which included the acquisition of LucasFilm, 20th Century Fox, and various other key strategic moves that grew the company tremendously in the 2010s), the launch of Disney+ officially brought the entertainment conglomerate into the Streaming Wars.
Previously, their content was spread across various streamers such as Netflix, Hulu, and Starz. In development since 2015 at the earliest, Disney worked hard in the back half of the decade to take stock of where all their movies and TV shows were kept.
From Netflix to Hulu to the elusive Disney Vault, Disney made strategic moves to restore old content and re-acquire the rights to the stuff on their soon-to-be rivals' services. By the time 2019 rolled around, Disney had spent tens of billions of dollars on content and development for their new streaming service, Disney+. Equipped with original films, original television shows, and exclusive Disney titles, the service was a bona fide hit.
This only became more true with the launch of shows such as The Mandalorian and WandaVision, which proved Disney+ had value as a tool to boost their theatrical slate. When the Covid-19 pandemic forced Disney to debut films on the service, it only became more valuable an asset for the studio.
Where others floundered without theatrical distribution, Disney found a way to use Disney+ to keep itself afloat. It proved a worthy strategy, as it helped the studio understand the value of putting original films both in theaters and on streaming. Today, the service has over 165 million subscribers.
How Apple TV+ Competes
What do Jennifer Aniston, Oprah Winfrey, and Steven Spielberg all have in common? (Apart from insanely large net worths, of course.) The three were brought out in March of 2019 to announce Apple's latest and greatest offering: an original streaming service.
Dubbed Apple TV+, the service couldn't have come at a more perfect time. The result of years and years of research and development dating back to 2015 (not unlike Disney+), Apple TV+ officially launched in November of 2019 for the nice, affordable price of $4.99 a month.
Already, Apple TV+ was disrupting the streaming space. Not only was it far cheaper than the ever-increasing prices of rivals such as Netflix and Hulu, but it was also available for free for one whole year for anyone with a new, eligible Apple product.
Another disruptive strategy from Apple TV+? The fact that their streaming library put a focus on new, original content over pre-existing acquisitions or back catalogs. Apple TV+ put Apple Originals in the front seat. It was a strategy that proved worthy, as Apple became the first streaming service to win Best Picture at the Oscars for 2021's CODA.
This major and historic Oscar win was something Netflix and other streamers had been trying to do for nearly a decade. Naturally, it came as a major upset for them and a huge victory for Apple TV+. It effectively marked a new era for streaming services: one that actually showed that streamers could compete with the big studios.
Today, despite a slight price increase, Apple TV+ continues to rack up Emmy and Oscar nominations (as well as score deals with the industry's top creatives, including Martin Scorsese, Sofia Coppola, Steve McQueen, Steven Spielberg, Ridley Scott, and more).
Disney+ vs Apple TV+: Pros and Cons
| Pros of Disney+ | Cons of Disney+ |
| --- | --- |
| Exclusive streaming home for most of Disney's most popular and successful films, shows, and franchises | The overwhelming majority of content is geared toward children and families, leaving little for adult viewers |
| Plenty for kids and younger viewers to enjoy | A limited selection of good new original films |
| Low price compared to Netflix and HBO Max | The overall quality of Disney+'s Marvel and Star Wars shows varies from show to show |
| Easy to bundle with Hulu and ESPN+ | Prioritizes newer films over older ones |
| Pros of Apple TV+ | Cons of Apple TV+ |
| --- | --- |
| More Oscar- and Emmy-winning titles than many rival streamers | Very little is offered apart from Apple Originals |
| Appealing collaborations with today's top Hollywood and international talents | Poor web and app interfaces, especially on Android devices and gaming consoles |
| Cheaper than nearly every other paid streaming service, and ad-free to boot | Extremely limited streaming library |
| Puts a focus on releasing its Originals theatrically, unlike other streamers | The prices of Apple TV+ bundles are higher than rival bundles |
Streaming Services: 5 Must-Know Facts
The average American now subscribes to as many as four streaming services.
Of all the paid streamers out there, Netflix comes in first place for subscribers and revenue. (That's nearly 210 million subscribers and more than $30 billion in revenue for 2021 alone.)
Free streamers are practically as mighty as paid ones, with YouTube boasting more than two and a half billion active users annually and nearly $30 billion in revenue in 2021.
At one time, Amazon Prime Video actually had more active users than Netflix. However, Netflix surpassed them in 2021 and 2022.
In addition to film and television, music is another major draw for streaming services. As a matter of fact, it's estimated that nearly 85% of all music industry revenue came from streaming in 2020.
Disney+ vs Apple TV+: Which One Is Better?
So, who takes the cake between Disney+ vs Apple TV+? Is there a clear winner between the two? Well, let's consider what we've discussed thus far. Disney+ has a huge streaming library with plenty for families to love, but offers little for adults or those looking for great new films.
Apple TV+, on the other hand, has a much smaller library, but one that is geared primarily toward adults. Both have a relatively low price point compared to their rivals, and both offer convenient bundles that lower the prices of their services. But, in the end, who takes the top spot?
Between Disney+ vs Apple TV+, the overall winner has to be Apple TV+. It's cheaper, it has more award-winning content, and its future looks bright. Disney+ is nevertheless a great streaming service for families, but it's not going to be winning the hearts of any serious-minded adult looking for something that seriously grapples with mature, real-world ideas and themes.
If you don't care for Marvel, Star Wars, or Pixar films, then there's nothing for you over on Disney+. Apple TV+ is definitely the winner of the two.
The image featured at the top of this post is ©Top_CNX/Shutterstock.com.