Mobile phones have come a long way since the days of the first handheld Motorola DynaTAC 8000X. Over the years, new technologies have emerged with incredible features and specifications, leading to this list of the most expensive phones in the world.
Smartphone technology has significantly evolved, bringing new devices with incredible functionalities. Mobile phone brands constantly update their releases with newer features to keep up with evolving technological advancements.
All these phones come at different prices depending on the brand, feature, and capabilities. Companies like Apple, Samsung, and Xiaomi have dominated the smartphone market with high-quality phone lineups with superior capabilities.
But what is the most expensive phone in the world? In this comprehensive guide, we will explore the most expensive phones you can find. Most importantly, we'll delve into the key features and specifications that justify their hefty price tags.
#10: Vertu Signature Cobra — $310,000
If you think of beauty, artwork, and outstanding design Vertu Signature Cobra has it all. Coming in the tenth position of the most expensive phones in the world, this phone is a beauty to behold. The luxury brand Vertu released the phone in 2006, and it was designed in collaboration with French jeweler Boucheron. The phone was artistically assembled by hand in the UK, highlighting the detail and aesthetic appeal.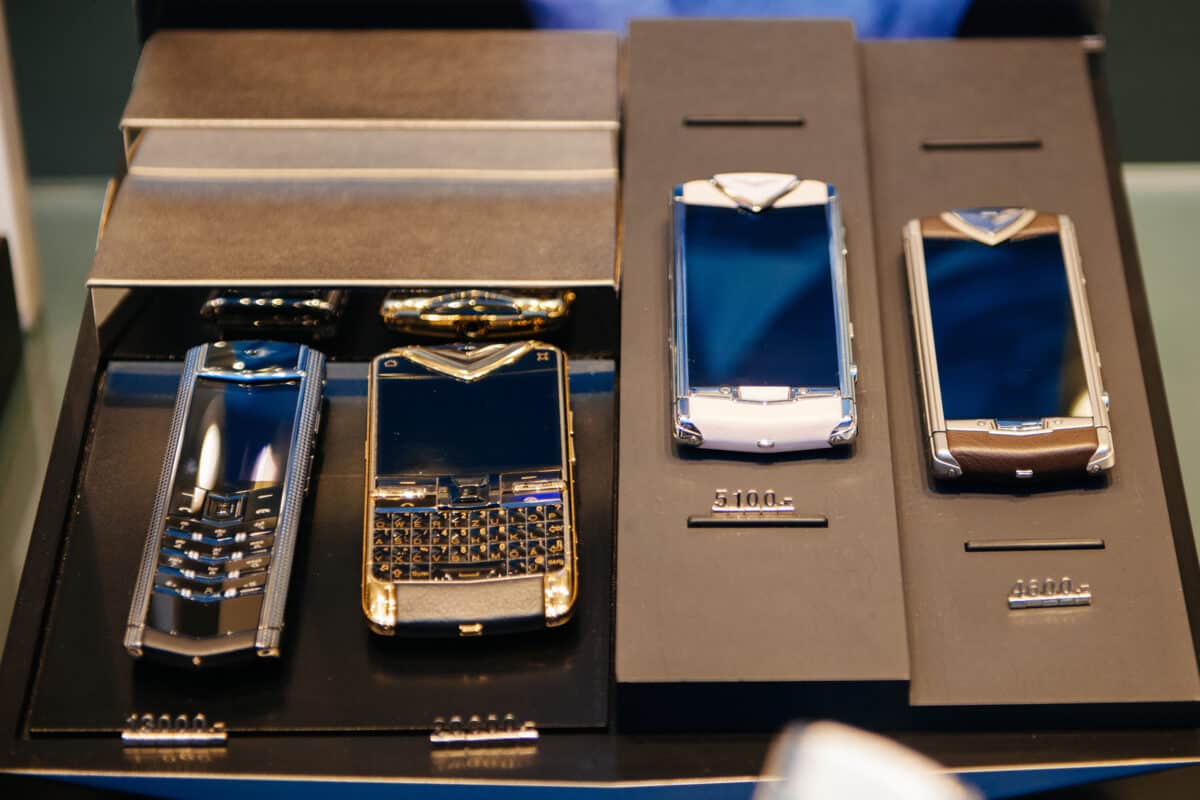 Its stunning design sets the Vertu Signature Cobra apart from other luxury phones. The phone is encased in 18-carat gold and features a cobra made from diamonds and emeralds. The cobra is wrapped around the phone and is a testament to the level of detail and craftsmanship that went into creating this device.
The phone is just one of the eight series editions in the world. Although its specifications are not particularly impressive, its unique design, symbols, and quality build reflect class and status. Therefore, its limited availability and design make it a highly sought phone by luxury enthusiasts.
#9: Goldvish Revolution — $488,150
The Goldvish Revolution is a true definition of luxury and class. Its unique design and shape explain why the phone is a highly sought masterpiece. This special phone is created by Swiss luxury phone producer Goldvish and has a price tag of $488,150, making it one of the most expensive phones in the world.
It is made of 18-carat white gold and covered in leather, sapphire glass, and diamonds. While the Goldvish Revolution is obviously not a phone for everyone, it has found a niche market among the ultra-rich and collectors of luxury things.
The phone's stunning design and unique features make it a true work of art, and its limited availability only adds to its exclusivity. Finding one is difficult because there are only 32 pieces on the planet. But if you have $488,150 to spare, you can treat yourself to this elegant item.
#8: Gresso Las Vegas Jackpot — $1 million
As the name suggests, this phone is truly a jackpot, made from a combination of the finest materials, including 45.5 carats of black diamonds and gold. The phone's rear panel is crafted from wood sourced from a 200-year-old African tree, adding natural beauty to this luxurious device. The keys are also a work of art, featuring 17 laser-etched sapphires polished by hand.
There are only three Gresso Las Vegas Jackpot phones worldwide, a testament to the phone's rarity. All three have a unique number to identify them at the back of the wooden panels. The phone frame is thin, measuring 12 mm, and contains 180 grams of gold. For lovers of class and elegance, the Gresso Las Vegas Jackpot is worth every penny.
#7: Goldvish Le Million — $1.3 million
By now, you know that Goldvish is associated with luxury phones for those who can pay the price. Goldvish Le Million is a million-dollar phone in every sense of the word, warranting a place in the Guinness Book of World Records as a one-time world's most expensive phone.
Although another brand emerged with better features and it lost its top position with time, it still features as the seventh most costly phone worldwide. Its dagger shape makes it unique, with an 18-carat white gold body encrusted with diamonds. There are only three units of this phone worldwide.
It comes in gold, white and yellow colors and has a 176×220 pixel resolution. Other specifications include a 2G network, 198 grams weight, USB connectivity, and 2GB RAM. While these are not quite impressive features, their elegance, beauty, and unique design are worthy for those who appreciate the finer things in life.
#6: Diamond Crypto Smartphone — $1.3 million
Diamond Crypto Smartphone is an elegant phone with an incredible design and build quality. It was designed by Peter Aloisson, an Austrian designer and accessories maker. Upon its release, the phone was the most expensive worldwide and held the title until other costly brands emerged.
The phone's body is platinum and it has some golden rose parts, including the logo and home button. On the side, there are panels made of Macassar Ebony. In case you are wondering, Diamond's name is not a mistake, there are 50 diamonds encrusted in its body,10 of which are rare blue diamonds. Additionally, it has a unique military-grade encryption for securing information.
#5: iPhone 3G King's Button — $2.5 million
iPhone 3G King's Button is another of Aloisson's popular design works. The phone is a unique artwork featuring 18 rose, yellow, and white gold carats. In place of the iPhone's standard plastic home button, this phone features a unique 6.6-carat diamond. There are 138 diamonds encrusted on the white gold strip, making it a sight to behold.
In addition to its beautiful aesthetic, the iPhone 3G King's Button is also a practical mobile phone. It operates on the iOS operating system and has all of the basic features found on the original iPhone 3G, such as a touchscreen display, a camera, and access to the App Store.
#4: Goldstriker iPhone 3GS Supreme — $3.2 million
The $3.2 million Goldstriker was created in Liverpool by British designer Stuart Hughes. It has similar features to the King's Button; however, most of its features are more advanced, warranting the high price point.
It features a 22-karat golden body encased at the edges with 136 diamonds. There are additional 53 diamonds used to create the Apple logo. In place of the home button Stuart Hughes follows Aloisson's diamond design but with an additional 0.7 carats to make it 7.1.
The phone box, which is also distinctive, was crafted from a single piece of granite and is decorated with leather and Kashmiri gold. Clearly, this is not a phone for a typical user but rather for people looking to spend large sums of money on luxury items.
#3: iPhone 4 Diamond Rose Edition — $8 million
iPhone 4 Diamond Rose Edition is another Stuart Hughes creative work. Its design is no different from its predecessor, although there is a significant improvement in quality and design. The diamond button comes with 7.4 carats, higher than the previous two models. iPhone 4 Diamond Rose has a rose gold rear, encased with 100 carats of 500 diamonds at the bezel.
There are only two units of this phone in the world. Again, it comes in a distinctive box created from a single piece of granite and lined with Nubuck top-grain leather. Everything about this phone oozes luxury, elegance, and class, making it a good fit for the wealthy, for whom money is not a problem.
#2: iPhone 4S Elite Gold — $9.4 million
By now, Stuart Hughes is not a stranger. From his previous two luxury and expensive phones, his quest for the luxury iPhone market was clearly unstoppable. Designing the world's number two priciest phone is no mean feat.
After acing it on the design, Hughes went for the quality and aesthetics. His 4S Elite Gold is truly a masterpiece. With a 500 diamonds bezel, a 24-carat golden rear panel, and the Apple logo, the phone has a unique appeal of luxury and elegance.
The logo also has 53 diamonds, and the home button takes things a notch higher with 8.6-carat diamonds. Unique to this phone is the additional 7.6-carat diamond, which serves as a 'spare' home button.
The packaging box is also a piece of art. It's composed of platinum and topped with polished Tyrannosaurus Rex bone and a slew of rare gemstones, including pietersite, charoite, and opals.
#1: Falcon Supernova iPhone 6 Pink Diamond — $48.5 million
You might not believe it, but this phone costs a whopping $48.5 million! The Falcon Supernova iPhone 6 Pink Diamond represents luxury at its best. It was released in 2004 by the British luxury goods company Falcon Luxury Group.
The Falcon Supernova iPhone 6 Pink Diamond is made from 24-carat gold and features a bezel adorned with rare pink and blue diamonds. The phone's rear panel is 18-carat gold and features a large pink diamond in the center.
Besides its incredible design, the phone's 8-megapixel camera will make you question its hefty price, considering there are affordable phones with better cameras. However, the camera takes stunning photos and works well in low-lit areas.
Its 1.2-megapixel selfie camera is not the best, but still serves luxury buyers' purpose. The 1810 mAh battery capacity can sustain a charge for a full day, but that varies depending on use. Other features include 750 x 1334 pixels,128 GB of internal storage, a 4.7-inch screen, and a built-in fingerprint scanner for unlocking the phone.
Final Thoughts
There is more that goes into choosing a phone for daily use. Most people consider the specifications, brand, prices, design, and size. Everyone wants a functional phone with up-to-date features like a quality camera, large storage, long battery life, and durability.
However, if you consider the features of the world's most expensive phones, none comes close to what modern devices offer. In fact, most of them run on older versions of operating systems with limited capabilities.
Surprisingly, we have phones with incredible features and performance at way lower prices than these most costly phones. This tells you their prices are informed by other things, such as build quality, design, and rarity instead of performance.
Most of these phones were released in only a few editions, finding their way only into rich people's collections. However, if you have a few million dollars to spare, you can treat yourself to the world's most iconic phones.
The image featured at the top of this post is ©Africa Studio/Shutterstock.com.