If you work in an office, where you spend most of your day sitting, you know how important it is to have a comfortable office chair. Most office workers sit for an average of six hours — a long time to spend in discomfort. The best and most expensive office chairs are designed in different shapes and use materials to accommodate different body sizes and preferences.
They also come in different prices for all budgets. If you need optimum comfort, you can consider investing in luxurious chairs that help provide a better working experience. These are no ordinary office chairs; they are a testament to exquisite craftsmanship, exceptional materials, and unparalleled design.
Investing in an executive luxury chair proves to be highly advantageous. It elevates productivity, promotes good posture, and protects the health of one's back. Moreover, the chair's upscale appearance improves the overall visual appeal of any workspace.
Join us now as we explore the 10 most expensive office chairs that redefine sitting in style. Prepare yourself for a fusion of lavishness mixed with comfort and sophistication that will leave you yearning to taste refined elegance again.
#10. Herman Miller Aeron Chair — $1,750
The Herman Miller Aeron chair has earned its reputation as a standout among the most expensive office chairs on the market today. With a price tag of $1,750, it delivers unparalleled comfort that blends well-designed ergonomics and aesthetics.
One of its standout features includes adjustable lumbar support, providing excellent support. The breathable mesh backrest ensures proper ventilation and comfort throughout the user's workday. Meanwhile, an innovative suspension system ensures it adapts flawlessly to each user's movements, creating a seamless working experience.
Our Pick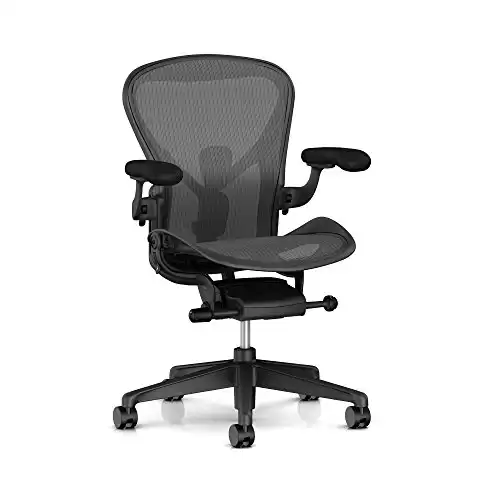 We earn a commission if you make a purchase, at no additional cost to you.
Customization is also highly valued with the Aeron chair. Users can choose from various materials and color options, finding the perfect look and feel for their individual preferences.
Selecting from various sizes ensures each user is comfortable based on their body type. Materials used in creating each Aeron chair are eco-friendly and have been crafted to be durable long term.
And so, the Herman Miller Aeron chair is synonymous with both elegance and usefulness. Investing in this comfortable office chair will leave no room for regret.
#9. Eames Soft Pad Management Chair — $3,695
For those seeking luxury from the most expensive office chairs, the Eames Soft Pad Management chair is a true masterpiece. It exudes elegance and sophistication while offering unparalleled comfort. Charles and Ray Eames have designed this chair as an icon of mid-century modernism.
Crafted with incredible attention to detail, the sleek minimalistic silhouette takes center stage along with its plush padded leather cushions, providing a luxurious seating experience. Ergonomically designed for optimal support during long hours of work, this chair stands out in terms of versatility too.
It blends seamlessly into any office space environment — be it CEO offices or studios, adding refined style. There's a swivel base feature and adjustable elements, including height adjustability, attribute cohesion, and personalized seating positions.
#8. Aston Chair — $ 4,041
The Aston chair is undoubtedly one of the most exquisite chairs on offer today — characterized by its lavish price point and unparalleled comfortability. Its stunning design highlights both sophistication and modern innovation, making it quite irresistible for those searching for more than just functionality from their chairs.
Crafted from sumptuous materials with advanced ergonomic properties, this chair effortlessly embraces your body with velvety soft cushioning. Thus, promoting optimal support while eliminating strain or discomfort during extended working hours.
Its sleek contours are matched by premium upholstery material that is finished to perfection, making this seat stand out as a luxurious piece of furniture suitable for any workplace setting. Beyond aesthetics lie several adjustable options, such as personalized armrest heights or various reclining positions.
This gives users flexibility when customizing their comfort level according to their preferences. Meanwhile, they can ensure maximum productivity levels by following the appropriate ergonomics setup.
#7. Fritz Hansen Oxford Chair — $4,043
Crafted by the renowned Danish designer Arne Jacobsen, the Fritz Hansen Oxford chair is an exceptional piece of office furniture that exemplifies luxury and sophistication in every sense possible. Although priced at an astonishing $4,043, there's no doubt it's worth every penny.
That's because it boasts timeless design combined with impeccable craftsmanship and unparalleled levels of comfort. With its sleek silhouette, featuring a high backrest for optimum upper body support, this chair's frame is constructed using only high-quality materials.
Covered elegantly in premium leather upholstery with generously cushioned seat cushions providing added refinement, you won't find anything quite like it on the market today!
What really sets this chair apart, though? Its ergonomic excellence. Every curve and angle has been well thought out so as to offer superior comfort during long working hours.
User-friendly features like height adjustments or tilt mechanisms only serve to promote productivity as you work. Beyond mere function, the Oxford chair from Fritz Hansen is a status symbol that instantly elevates any office's atmosphere.
#6. Vitra Grand Executive Highback — $4,800
Enter into ultimate luxury with the Vitra Grand Executive Highback office chair — a masterpiece priced at $4,800 that redefines elegance and comfort in office seating. Its design blends sleek aesthetics with exceptional functionality for a sophisticated feel from every angle.
Every detail is meticulously crafted with precision, creating a refined silhouette using only the finest quality materials available out there. Wrapped in sumptuous leather upholstery available in numerous rich colors, it exudes luxury and refinement unlike any other option available today.
Furthermore, every curve and contour has been sculpted specially for ergonomic comfort throughout the workday. The high backrest cradles your spine while giving excellent lumbar support. Additionally, its adjustable headrest adds an extra touch of luxury, so you can relax optimally during brief moments of respite.
This particular office chair not only delivers stunning aesthetics but also comes equipped with intuitive controls that enable you to customize aspects. These include seat height, recline tension, and armrest position to your liking.
Attention to detail is evident even in the tiniest elements of this chair, from its polished aluminum base to its casters that ensure both stability and mobility. Though it may seem hefty at $4,800, the Vitra Grand Executive Highback more than lives up to its value with unparalleled craftsmanship and an uncompromising commitment to quality.
Tailor-made for individuals who cherish all things extravagant in life, this office chair serves as a sanctuary of comfort amid daily corporate demands.
#5. Arne Jacobsen Egg Chair — $9,174
The Egg chair, designed by Arne Jacobsen back in 1958, defines luxury and exclusivity within office furniture design circles today. Costing an exorbitant $9,174, this chair stands out amongst many others due to its iconic design features that ooze sophistication and elegance.
Craftsmanship and meticulous attention to detail are seen throughout every inch of its unique egg-shaped silhouette. Hand-sewn upholstery adds more than just visual appeal.
Fine-quality materials and high-quality leather or fabric covers are available in varying hued options that can be customized according to individual preferences to make the chair stand out.
Ergonomics also takes center stage here since the Egg chair features great lumbar support features that are built-in. These make it ideal for work sessions lasting extended periods while promoting proper posture to avoid any discomfort.
This chair is a must-have item for anyone seeking relaxation and exceptional design quality. It epitomizes form-follows-function by flawlessly blending amazing aesthetics with practical usability making it an extraordinary piece of functional art.
#4. Wegner Swivel Chair — $11,200
The Wegner Swivel Chair is a marvel of impeccable craftsmanship that effortlessly captures attention with its timeless design. It epitomizes refined elegance merged seamlessly with comfort that will spoil you instantly.
Renowned Danish furniture designer Hans J. Wegner created this masterpiece from his distinctive signature style blending form and function impeccably, which is reflected in every aspect of this office chair.
Its exceptional detailing showcases clean lines and organic curves, making it truly unique in today's market. It has been constructed using only the finest materials, such as polished wood and leather. You can tell at first glance that this chair exudes luxury and sophistication.
This chair has more than just good looks. Its swivel mechanism enables effortless movement around your workspace while the ergonomic design ensures optimal support and comfort. Owning the Wegner Swivel Chair signifies possessing a piece of history that is unparalleled in its elegance and quality.
The Wegner Swivel Chair isn't just another office chair; it's more than that. It's an investment piece symbolizing sophistication, high-end quality craftsmanship, and exclusivity.
No matter where you place it, be it your corporate office or personal study, this stunning piece will add to the ambiance and leave behind an indelible impression. But such luxurious seating comes at a considerable cost; only those who appreciate exceptional artistry will find themselves drawn toward this masterpiece.
#3. Elysium R Chair — $26,000
The striking Elysium R Chair is the epitome of luxury seating, redefining comfort and extravagance altogether. With its whopping price tag of $26,000, this masterpiece combines state-of-the-art technology and sophisticated design for an unparalleled seating experience.
This chair's sleek and minimalist appearance does more than just catch your eye. It also incorporates an ergonomic design for optimal posture support. Say goodbye to discomforts or strains often associated with prolonged sitting.
The revolutionary "Zero Gravity" mode provides unmatched levels of relaxation by creating a sensation of weightlessness while balancing your body weight perfectly. Incorporating advanced audio technology allows for complete immersion in sound while you work or unwind.
This technological blend mixed with luxurious comfort makes every moment on the Elysium R Chair truly exceptional. Akin to artistic masterpieces, the Elysium R Chair boasts luxury at its finest by relying on cutting-edge materials, such as carbon fiber and high-quality leather for crafting purposes.
#2. Kennedy Cabinet Chairs — $146,500
The Kennedy Cabinet Chairs are the epitome of luxury with a staggering price tag of $146,500 each. These chairs have been created with elegance and sophistication in mind down to every single detail. They pay attention to the precision of the highest standard manufacturing process using only the finest quality materials available.
Constructed from solid wood frames displaying intricate carvings and ornate embellishments that reflect timeless craftsmanship, these chairs showcase nothing short of grandeur in design elements. The upholstery options leave nothing to chance.
Luxurious fabrics or sumptuous leather add refinement to any environment by conveying a plush texture that provides unmatched comfort. Each cushion has been meticulously padded, ensuring a regal seating experience designed for kings.
With ergonomics leading consideration, support and posture have not been compromised but rather customized straight down-to-seat height adjustments, backrest angle choices, and armrest positioning customization tailored around personalized preferences.
#1. Aresline Xten — $1.5 million
The Aresline Xten office chair stands as the benchmark for luxury furniture pieces and embodies extravagance in every sense of the word. At a staggering cost of $1.5 million, this masterpiece redefines what it means to experience true comfort with a touch of refinement that only a select few can appreciate fully.
What distinguishes the Aresline Xten from other chairs is its exceptional craftsmanship coupled with uncommon materials used during production — resulting in an unparalleled seating experience.
At first glance, one can see its sleek lines infused with excellent attention to detail; all testaments to high-end Italian design combined with cutting-edge technology. Moreover, the chair offers excellent ergonomics that guarantee nothing short of optimal comfort.
For anyone seeking unparalleled comfort coupled with undeniable luxury look no further than the Aresline Xten chair. This exceptional piece features opulent materials like premium leather and precious metals, making each one a true work of art that exudes elegance and refinement.
Though the price tag may seem extravagant, it's a small price to pay for those who value indulging in the pinnacle of comfort and style. An Aresline Xten isn't just a chair — it's a status symbol. Especially for those who appreciate superior craftsmanship and aren't afraid to showcase their love for exceptional quality.
The Most Expensive Office Chairs: Bottom Line
Office chairs have come a long way from their clunky unappealing predecessors. Today's designs offer both comfort and refinement with companies like Herman Miller and Steelcase, displaying exceptional skill in crafting luxurious chairs for discerning customers.
Their creations provide an unparalleled experience that caters to individual needs while pushing the boundaries of productivity and well-being. Though they may be expensive, these remarkable chairs represent a wise investment in the long run as they bring a sophisticated touch to any office space.
Whether you're seeking an extravagant throne or simply want the best in high-end office furniture, these 10 most expensive office chairs demonstrate how design can create truly extraordinary seating experiences worth embracing.
The image featured at the top of this post is ©ImageFlow/Shutterstock.com.