Key Points
The most expensive car in the world today is the Rolls-Royce Boat Tail, priced at around $28 million dollars.
The Bugatti Chiron is the fastest production car ever built, with a top speed of 261 mph.
The Lamborghini Aventador S offers a powerful 740 horsepower engine and customizable LED lighting system.
The Ferrari SF90 Stradale is Ferrari's first-ever plug-in hybrid electric vehicle, offering all-wheel drive and practical driving dynamics.
The Rolls-Royce Phantom is known for its opulence and personalized craftsmanship, with a starting price of $460,000.
For as long as cars have existed, there have always been varying prices among different manufacturers. Between cars that feel like they are faster than airplanes or cars that are the pinnacle of luxury, you can rest assured if someone is willing to pay, there is an expensive car available.
While these cars might not be ideal for driving kids to and from soccer matches, they are perfect for someone who values vehicles as an investment that will grow or just wants to have the absolute best driving machine possible. There is no doubt that some of these vehicles are only available to the top 1% of the top 1%, but that's okay as they are incredibly fun to see driving down the road, assuming they get driven at all.
Let's look at the most expensive cars you can purchase per day.
What is Considered an Expensive Car?
If money is no object, the most expensive car in the world today is the Rolls-Royce Boat Tail, which can be purchased for around $28 million dollars. The thing is, there are only approximately four of these in existence, so while it is expensive by monetary standards, it's not also available for anyone who wants to walk into a showroom. Given that, any list of the most expensive cars should ideally focus on those models that can be purchased off the street by anyone with deep enough pockets.
Bugatti Chiron
When it comes to the most expensive car you can purchase today, the Bugatti Chiron stands alone.
As rare as it is to see this car driving down the street thanks to its $3.3 million dollar base price tag, the last set of orders for the Chiron closed in early 2022. The fastest car Bugatti has ever produced, the Chiron is a performance dream that offers a distinctive style that can only be recognized as a Bugatti. Everything from Bugatti's signature horseshoe grill to the interior glass roof that enables a full view of the sky, the Chiron is a pure masterclass in what the hypercar truly can be.
Capable of hitting a top speed of 261 mph, it's arguable the Chiron is the current record holder as the fastest production car ever built. The 1500-horsepower engine is nothing short of remarkable and propels the car down the road at speeds only experienced drivers can handle. As of July 2023, all 500 Chiron models have been purchased but that does not mean Bugatti won't attempt another sales run down the road.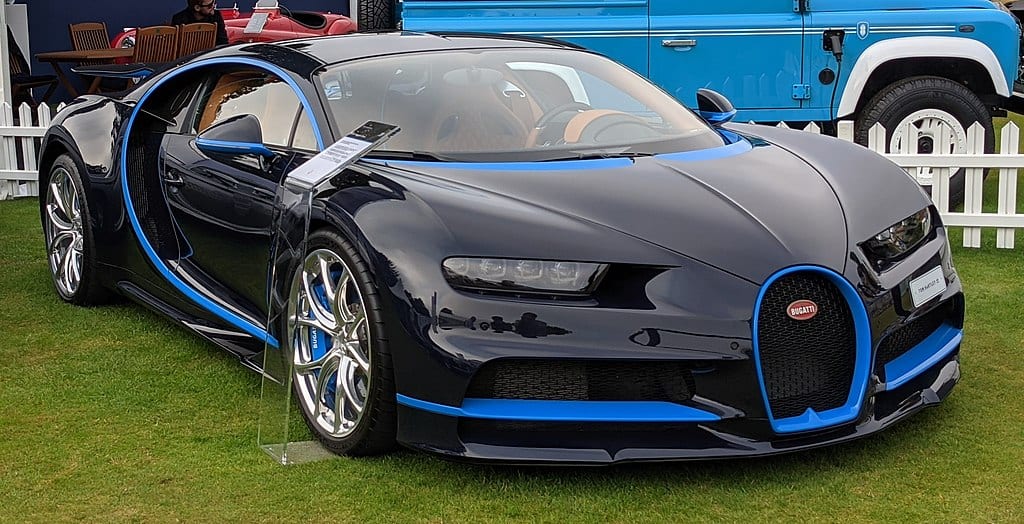 Lamborghini Aventador S
Like Bugatti, Lamborghini is another name that needs no introduction in the supercar space, and this truth extends to the Lamborghini Aventador S.
Starting at a price of $789,809 for the Coupe Aventador S, there is just something truly iconic about the look and feel of a Lamborghini. This is a car that screams performance, which has long been at the heart of the Lamborghini design as one of the premier sports cars of all time. Everything from the carbon-fiber frame to Lamborghini's best interior technology in history helps justify the quarter million dollar asking price. Unfortunately, the Avendator was discontinued as of early 2023 so this is the last opportunity for you to own part of Lamborghini history.
If you can get your hands on one, expect the 740 horsepower to propel you like a rocket from 0-60 mph in 2.9 seconds. Best of all, driving the Aventador S is an incredible pleasure as you manage the vehicle from an instrument panel made out of liquid crystal with a TFT display. This is on top of the customizable LED lighting system that really helps personalize your driving experience. Add in four-wheel steering for outstanding control and it's easy to see why the asking price of the Lamborghini is so demanding.
Ferrari SF90 Stradale
Ferrari is a name that needs little introduction in the supercar market, but even the Ferrari SF90 Stradale is turning more heads than usual.
Highlighted by a 2.5 second 0-60 mph, the Stradale marks Ferrari's first-ever foray into the electric space as a plug-in hybrid electric vehicle. Ferrari opted to go with a standard combustion engine plus three independent electric motors, which all come together to deliver some of the best performance Ferrari has ever produced. For anyone who is looking to purchase a Ferrari, driving dynamics are ideally top of mind and with all-wheel drive, there is more confidence in the Stradale's ability to perform either on a track or around town.
As is typical with Ferrari, the SF90 Stradale is all about practicality as you won't find big infotainment screens here. Instead, the interior of the Ferrari Stradale is designed to keep you focused on the road with all critical buttons close to the driver including a small navigation map on the driver's dashboard. For buyers who want the strongest performance the Stradale can offer, you can opt for sportier specifications all for a starting price north of $516,800.
Rolls-Royce Phantom
With a base MSRP of around $460,000, the Rolls-Royce Phantom is in a class of its own as a four-door sedan.
Whether you are being chauffeured, or the driver, there is no doubt the Phantom is all about opulence. What's most important to know is the base price of $460,000 is really just a starting point as buyers can personalize the vehicle to their liking, or opt for the extended wheelbase trim, which can push the starting price point up approximately another $100,000. Regardless of which trim you choose, you can expect nothing but the best artisanship, which is a Rolls-Royce trademark as part of owning one of their vehicles.
The illuminated grille is a signature part of the Phantom, showing the world that this car is a masterpiece. As beautiful as the exterior is, the interior is where Rolls-Royce shines with attention to detail that is second to none. Everything from the Shooting Star Headliner that lives as part of the top part of the vehicle to the finest leathers in the world, there is just something about the Phantom that screams luxury at every single turn.
Ferrari 812 GTS
With a starting price of $433,765, the Ferrari 812 GTS is a fantastic combination of the speed and thrill you expect from the Ferrari name.
Something of a revisit to previously used designs for Ferrari, the 812 GTS produces up to a maximum of 789 horsepower, allowing the car to hit upwards of 211 mph. Equipped with a new generation of components, the 812 GTS is among the best-handling Ferrari models ever. Systems like Electric Power Steering help the driver get the maximum potential out of the car whether it's on winding roads or down Main Street. Most importantly, the Ferrari 812 GTS marks what is likely to be the company's last naturally aspirated V-12 model before it moves into hybrid and electric models.
Seating for two is all Ferrari provides but within the interior of the 812 GTS, you will find ideal driving ergonomics to make you feel comfortable as you rocket down the road. However, there are only 18 cubic feet of cargo volume in the non-convertible trim, so you'll want to think ahead if you need a vehicle to carry more than a small piece of luggage. Limited cargo space aside, the Ferrari 812 GTS shines with seven years of complimentary scheduled maintenance.
Rolls-Royce Ghost
Considered a sportier version of the Phantom, the Rolls-Royce Ghost is an elegant car that feels like it's nothing short of true luxury.
Starting with a price right around $340,500 for the lowest trim in the four-door sedan with AWD, the Ghost is truly a vehicle that says you have your life in complete control. As soon as you sit inside, it's like a whole other world. Anything not inside the car is a forgotten memory as you take in the opulence and pure luxury that envelopes you as soon as the doors close. The interior is whisper quiet, as in you won't hear any road noise as you drive. The coach rear doors are typical Rolls-Royce style and they are just incredibly fun to use as well as reminding you this isn't your everyday ride.
The AWD system helps give the Ghost excellent handling for a vehicle that is traditionally larger than most modern sedans. Even so, there are unique technologies like a dedicated camera that helps scan for potholes so you can keep your expensive purchase as safe as possible on the road. As you drive, expect the finest in wood and leather materials plus the starry-night ambiance to take over. Rear-seat passengers have a similar level of luxury as the driver with their own entertainment system, plenty of legroom, and massage seats.
Rolls-Royce Cullinan
The presence of another Rolls-Royce on a list of the most expensive cars should come as no surprise as the Cullinan is the most expensive SUV available today.
As the most expensive SUV around, you can expect a price tag of $348,500 to greet you with the Rolls-Royce Cullinan in its four-door AWD trim. Powered by a V-12 engine that delivers 592 horsepower, you might expect the Cullinan to make plenty of noise, but the opposite is true as this is a whisper-quiet ride. As is the signature Rolls-Royce approach, coach doors for the rear passengers are present, which you must pass through before sitting on what is essentially the most comfortable leather couch ever designed.
Inside the vehicle, typical Rolls-Royce luxury is here and Rolls-Royce has finally moved away from its analog gauges to make way for a more advanced digital gauge cluster for the driver. Beyond the already large infotainment system for the driver and passenger, those sitting in the rear seats have access to their own 12-inch infotainment system all for themselves. Plus, everyone in the car can take advantage of the built-in Wi-Fi hotspot, so you can do the work needed to afford the Cullinan while you are letting someone else drive.
Aston Martin DBS Superleggera
As the vehicle that has had a not-so-insignificant presence in numerous James Bond movies, the Aston Martin DBS Superleggera is as fun to drive as it is to look at.
Don't let yourself be fooled, James Bond didn't afford the Aston Martin with its $330,600 starting price, but it sure makes for a good action moment in movies. The reason why Bond loved this car is because it can hit a top speed of 211 mph and a 0-60 of 3.4 seconds, which makes it the ideal escape car. While it might be easy to confuse the DBS with a sports car, it's something far more as this car is more elegant than its similarly priced supercar rivals. The interior of this car is all about luxury whereas Lamborghini and Ferrari are more about practicality with a sprinkle of luxury.
The DBS is filled with beautiful wood trims, carbon fiber, and chrome, all of which combine to scream this is a car that was made to thrill. The standard 8-inch infotainment display won't win any awards for screen size, but you aren't in this car to stare at a screen. Instead, you use it to navigate the menus, change the radio to tune up the available Bang & Olufsen radio or enter your destination for navigation. As you drive, allow yourself to live in the moment and pretend you are in a 007 world, minus the car chases.
McLaren 720S
One of the most expensive cars over the last few decades, the McLaren 720S is a fantastic way to part with over $300,000.
One of the fastest and most iconic production cars on the road, the McLaren hits 0-60 mph in 2.8 seconds thanks to the 710 horsepower engine. McLaren says the 720S is "ferociously fast" and that truly is a fantastic way to describe the feel of the McLaren 720S as an everyday driver. The 720S is the ideal understanding of what a sports car should look like with an aerodynamic shape that begs you to put the pedal to the metal. McLaren is a company that understands racing and brings its knowledge to its street-legal cars, and this extends to just how well the 720S can grip the road.
As outstanding as the exterior of the McLaren 720S is, the interior is something else entirely for its driver and passenger. This is a vehicle that doesn't want to match the Aston Martin DBS with elegant luxury as it instead wants to give you all that you need to drive and nothing more. A 7-inch touchscreen, Bluetooth, and USB ports are a few of the amenities available but you aren't in the car for its features, just its speed.
Wrapping Up
When it comes to the most expensive cars you can buy today, you should expect nothing less than opulent luxury or screaming fast speeds. Between Rolls-Royce, Ferrari, Lamborghini, Aston Martin, and McLaren, this list is a who's who of the best cars available to drive today. Whether you want to drive or enjoy being driven, there truly is something for the obnoxiously rich on this list as they part with a small portion of their net worth.
Summary Table
| Car | Starting Price |
| --- | --- |
| Bugatti Chiron | $3.3 million |
| Lamborghini Aventador S | $789,809 |
| Ferrari SF90 Stradale | $516,800 |
| Rolls-Royce Phantom | $460,000 |
| Ferrari 812 GTS | Not specified |
| Rolls-Royce Ghost | $340,500 |
| Rolls-Royce Cullinan | $348,500 |
| Aston Martin DBS Superleggera | $330,600 |
| McLaren 720S | Not specified |
The image featured at the top of this post is ©Toni Granados/Shutterstock.com.