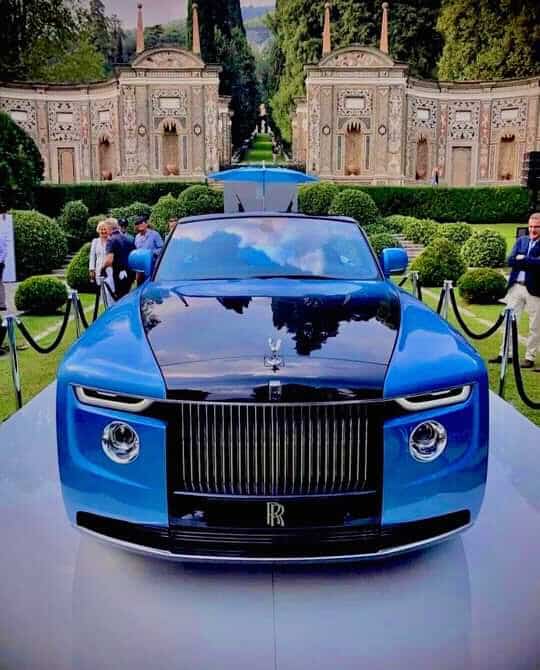 When you think of expensive things you can buy, for most people, it's usually a home or a car. As two of the most expensive items you will own in a lifetime, purchasing a new home is pretty infrequent but a new car can happen every several years. Owning one of the most expensive cars on the road is just a dream for some, but for others, it's a reality. 
In the case of the most expensive car in the world, it's a very small group of people with the means to own such wildly expensive (and luxurious) automobiles. All too often we think expensive means Bentley or Lamborghini, but in the case of the most expensive car, you have to think even bigger. As Rolls-Royce is another name that is synonymous with expensive cars, it's no surprise to see their name at the very top as they have recently retaken the title as the most expensive car in the world. 
Let's discover the world's most expensive wheels!
Luxury Driving at Its Finest
Ever since Rolls-Royce was first founded in 1998, they have been making some of the world's most luxurious and expensive automobiles. Their name conjures up visions of Lifestyles of the Rich and Famous as well as the once-viral Grey Poupon commercials.
Today, they remain one of the most recognizable names in automotive and with the release of an ultra-exclusive new model, the Rolls-Royce Boat Tail, they have recaptured the title as the most expensive street-legal car in the world. 
Cost
Try to stay in your seats as you read this, but the price of the Rolls-Royce Boat Tail is a whopping $28 million dollars. Yes, that's $28 million, as in dollars. Unfortunately, monopoly money doesn't apply here.
Everything about this car oozes luxury and, as such, there is a cost to acquire such a fine hand-made vehicle that consists of 1,813 total parts. As surprising as the price is for a street-legal luxury vehicle, Rolls-Royce only made three of these vehicles. 
For the price, buyers of the Rolls-Royce Boat Tail receive a pair of Bovet Fleurier 1822 watches. What makes these watches so special, other than their price tag, is that they include a tiny sculpture of the car inside the dial of the watch. The watches can also be used as a desk clock or pocket watch or, because this is a Rolls-Royce and they think of everything luxury, you can add the watch face to the dashboard of the car and use it as a standalone clock. Last but not least, Rolls-Royce also added a Montblanc pen inside a beautifully hand-crafted car inside the glove box of the Rolls-Royce Boat Tail. 
As it stands today, only three Rolls-Royce Boat Tails have been built and each one was done in close partnership with the buyer. One buyer even presented Rolls-Royce with a collection of pearls that helped influence the design and were later incorporated into their Boat Tail vehicle. All totaled, the Rolls-Royce Boat Tail was designed and built over the course of 18 months from start to finish. 
Design
When Rolls-Royce says you are getting a lot of car, they mean a lot of car, as the Boat Tail is a gorgeous 19 feet in total length. First making its debut in late 2021, the car has wowed audiences all over the world since its first preview. Inspired by the look of 1920s yachts, Rolls-Royce focuses on calling the Boat Tail a vehicle with a bespoke body that invokes a new level of interior finishes unlike any other car on Earth. 
Aside from the body of the vehicle itself, one of the most intricate aspects of the Boat Tail is the rear of the car. Designed to feel like a wooden boat deck from a 1920s yacht (hence the Boat Tail name), it's a very elegant design that gives the Rolls-Royce a vibe unlike any other luxury vehicle to ever exist. 
True Luxury
More importantly, the rear of the vehicle has another luxury touch with a fixed canopy roof that comes out of the rear car so you can sit under the shade while enjoying a bottle of Armand de Brignac champagne. Two collapsible stools will allow the three Boat Tail owners to feel comfortable while watching the latest Polo match as this is how you tailgate in style. Just press a button and the rear of the vehicle butterflies open to show off a cocktail table and double refrigerator. 
The interior of the vehicle is crafted in close consultation with the buyer including the cognac and oyster leather while royal walnut veneer graces the dashboard. All of the gauges and knobs are home to mother-of-pearl inlays and perhaps most notable is that the signature of every Rolls-Royce, the hood ornament, is, for the first time ever, finished in rose gold, which is something the company has never done in its history. 
Power
Backed by a 6.75-liter V12 engine with 563 horsepower, there is more than enough power to push you down the road. This is a car that was made not just for showing off in front of a restaurant but to drive and be the center of attention. It's also true that buyers of this vehicle are not worried about 0-60 speeds as they likely have a dozen other supercars when they really want to hit the open road. 
Where to Buy
Unlike the LEGO Millennium Falcon, which has broad availability at every major retailer, the Rolls-Royce Tail Boat has been specifically designed and made for only three buyers. As of March 2023, there is no indication when or if Rolls-Royce will consider making more of the Boat Tail model in the future. Whether someone else with enough money wants to commission another Rolls-Royce Tail Boat is unknown, but surely there is someone out there who wants bragging rights as owner of one of the most expensive vehicles ever made. 
Second Place: Bugatti
The recent usurping of the most expensive car in the world by the Rolls-Royce Tail Boat was a loss for one supercar in particular. Up until the release of the Boat Tail, the title of the most expensive car belonged to the Bugatti La Voiture Noire, which costs a whopping $18 million dollars, and there are only nine of them worldwide. While not quite as rare as the Rolls-Royce, that only nine exist of this rarest of rare Bugattis is a testament as to why the company believes they can command such a price tag.
Sporting four turbochargers, 1,500 horsepower, 1,180 pounds of torque, and 16 cylinders in total, this is a car that demands heads turning as you drive by. More likely, though, this car only gets driven a few miles out of the year and is more of a showpiece than an everyday car. Built to celebrate Bugatti's 110-year anniversary, La Voiture Noire means "the black car," hence why each of the nine models is all black. 
Final Thoughts
There is no shortage of expensive cars throughout the world. By comparison, there are a few dozen cars that start with an MSRP over $100K, but only a handful that can claim to be priced well into the millions. The Rolls-Royce Boat Tail is not just a fancy car, it's an experience, something that has to be driven to be believed and is as much of a showoff piece than anything else. The likelihood that we'll ever see any of these cars shopping at a local grocery is close to zero, but still, it's a fun thought to think that one day you too can be parked next to a 19-foot-long Rolls-Royce.