There is no question that as an industry, the video game world has always been driven by numbers. This might include the number of consoles sold, how many video games have been shipped, or how many consoles are on the market at any given point. Today, in an industry worth a projected $106 billion (2023) in the United States alone and $372 billion worldwide, the industry is as ever focused on sales.
When you think of sales, you like to think of games, so it begs the question of which games are the best-selling of all time. In a field where bragging rights can matter, taking a look at the most successful video games of all time, by units sold, is an opportunity to see not just where the video game industry has been, but also where it might be headed.
Let's take a look at the 10 most successful video games of all time.
#10: Terraria
Immersive and Fun
Terraria NSW
Nintendo Switch
Fight for survival, glory, and fortune
Construct your own city or test your combat skills
The choice is yours with what you do in Terraria's sandbox style of creativity
We earn a commission if you make a purchase, at no additional cost to you.
Perhaps a surprising entry on this list, Terraria isn't the first video game name many might think of when looking at the list of the best-selling video games worldwide.
Selling more than 44.5 million copies since its release in 2011, Terraria was a hit right from the jump as it sold more than 200,000 copies in its first week and, by the end of its first month, sold over 432,000 copies.
Terraria's gameplay heavily centers around a 2D sandbox style of game that is somewhat reminiscent of Minecraft in that you must build, craft, battle, and survive. Offering a very retro vibe with its 16-bit looks, players start in a procedurally generated world where they have to immediately interact with the basic tools they are provided.
As a sandbox game, the sky's the limit in how you interact with NPCs, tweaking your character's look, as well as how you approach the environment around you. It's this takeaway that helps Terraria succeed in that the game is almost never the same play-through twice.
#9: Pokémon Red/Green/Blue/Yellow
Classic for a Reason
We earn a commission if you make a purchase, at no additional cost to you.
Released in 1996 for the original Game Boy, Pokémon Red and Blue Versions were some of the first installments in the Pokémon video game series, and it would take another two years until Pokémon Green and Yellow versions would release in North America.
The first two titles, Pokémon Red and Blue, are both played from a third-person point of view with different screens in which the player controls a battle and the menu with a third screen focused on character style.
Pokémon Yellow is considered a second iteration of the first game and was designed to add additional value beyond the original game in the form of a new starting character, Pikachu. Regardless of which color you purchased, this full Pokémon series would go on to sell a massive 47.5 million units across the original Game Boy and Game Boy Color.
#8: Red Dead Redemption 2
Incredible Graphics
Red Dead Redemption 2
PlayStation 4
From by the creators of Grand Theft Auto V and Red Dead Redemption, Red Dead Redemption 2 is an epic tale of life in America's unforgiving heartland
The game's vast and atmospheric world will also provide the foundation for a brand new online multiplayer experience
Developer: Rock Star Studios
Publisher: Rock Star Games
We earn a commission if you make a purchase, at no additional cost to you.
Arguably one of, if not, the greatest open-world video games of all time, 2019's Red Dead Redemption 2 is nothing short of a masterpiece.
As one of the highest-ranked games on Metacritic with a 97, it's not at all surprising to see that Red Dead Redemption 2, or R2D2 for short, has sold over 50 million titles across the PlayStation, Xbox, and Windows and took developed Rockstar Games more than eight years to create. The result is one of the most visually engaging video games ever released.
Gameplay focuses on the main protagonist, Arthur Morgan, as you are transported back to the old West during the turn of the century in 1899. It's during this time that the Wild West begins to tear itself down in favor of more modern-day advancements. While watching his world crumble, Arthur is forced to deal with robberies, hunting, riding on horses, and shootouts, all interacting with hundreds of characters.
#7: Super Mario Bros.
Ultimate Classic
We earn a commission if you make a purchase, at no additional cost to you.
If there is a more iconic video game for the original Nintendo Entertainment System besides Super Mario Bros., it would be news to millions of gamers worldwide.
The console that helped reset the video game industry to the world we know today, Super Mario Bros. was actually a sequel to an arcade title, Mario Bros. Released for the NES in October 1985, Super Mario Bros. is the game that has the honor of being one of the first video games millions of players would discover.
Playing as Mario, your goal is to jump, collect, and move constantly to the right, all in the hopes of defeating the evil Bowser and his forces all while looking to save Mario's beloved, Princess Peach. Super Mario Bros. bulldozed a path that has led to dozens of sequels, two movies, and a theme park.
Selling more than 58 million units on the NES, Super Mario Bros. is just pure nostalgia.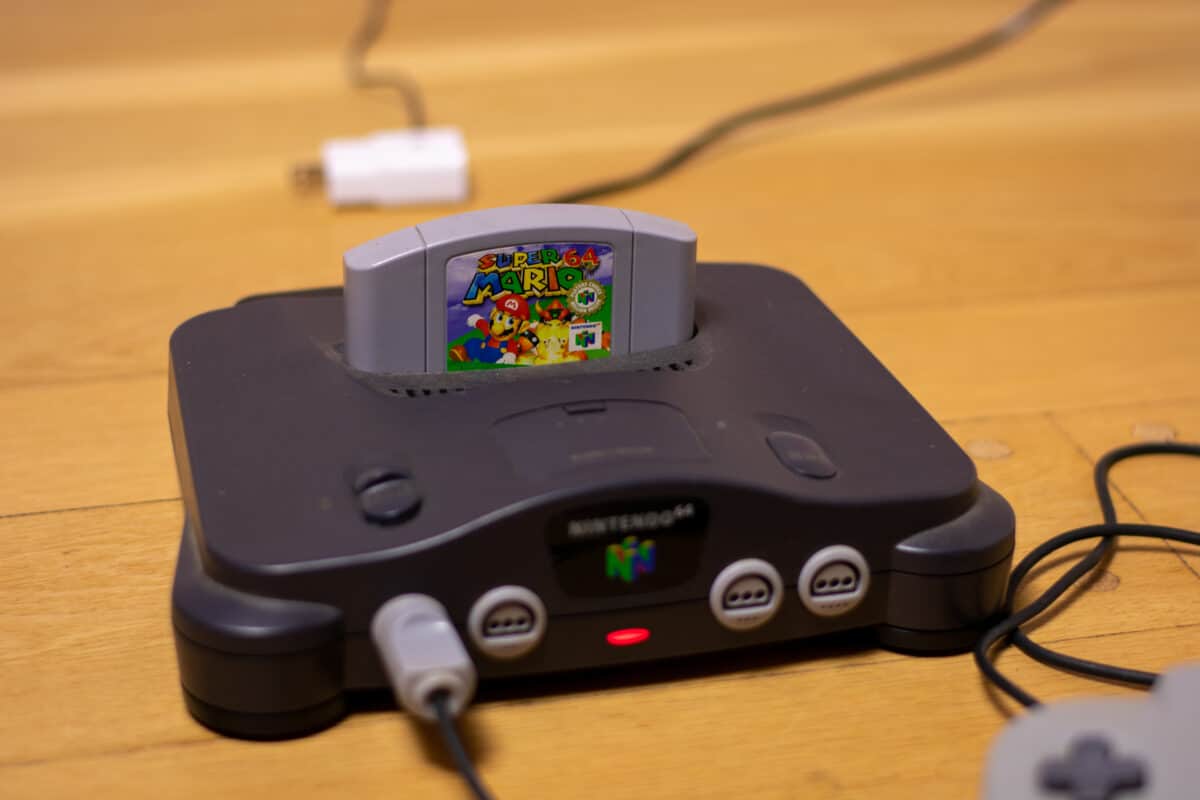 #6: Mario Kart 8/Deluxe
Compatible with Motion Controls
Mario Kart 8 Deluxe
4-player multiplayer in 1080p while playing in TV Mode
Every track from the Wii U version makes a return, including DLC
All-new guest characters, along with returning favorites, such as King Boo, Bowser Jr., and Dry Bones
Choose a new Smart Steering feature that makes driving and staying on the track easy for anyone
We earn a commission if you make a purchase, at no additional cost to you.
Released on the Nintendo Wii U as Mario Kart 8 and Mario Kart 8 Deluxe on the Nintendo Switch, this is Nintendo's greatest kart racing game of all time.
Released in 2013 for the Wii U, Mario Kart 8 was an instant hit as customers flocked to continue the exciting kart racing experience they had enjoyed with previous Nintendo consoles. Available with both single-player and multiplayer game modes, across four different difficulty settings, Mario Kart 8 can handle up to 12 racers at once for both single-player and multiplayer races.
The upgrade to Mario Kart 8 Deluxe on the Nintendo Switch included all of the downloadable content for the original game plus the addition of more characters, new courses and vehicles. What helped make Mario Kart 8 Deluxe an instant hit was that all of the game's courses could be unlocked right from the start.
Combined with the huge popularity of the Nintendo Switch, Mario Kart 8/Deluxe has sold more than 60.4 million units and counting.
#5: PUBG: Battlegrounds
Every Weapon to Choose From
PLAYERUNKNOWN'S BATTLEGROUNDS
PlayStation 4
Develop into a powerful soldier as you explore, and gear up for intense combat across a variety of maps featuring different environments
Uncover a wide variety of weapons and armor for an authentic and visceral combat experience
Number of Players: 1 Player, 2-100 Network Players
Spawn into the world alone and rely on your own tactics and skills or team up with up to 3 other players in duos or squads
We earn a commission if you make a purchase, at no additional cost to you.
One of the mainstay titles in the battle royale genre, PUBG: Battlegrounds has been around since December 2017 and was an instant hit across mobile, Windows, and home consoles.
Played from either a first or third-person perspective, PUBG: Battlegrounds pits you against 100 players and the last person standing is the winner. The goal is to stay alive, eliminate your opponents, and gather as much health and weapons as possible, all while keeping an eye on the game map, which periodically decreases in size.
Upon its original release in 2017, PUBG: Battlegrounds was available for purchase across Windows and Xbox One before coming to mobile as a free-to-play title in 2018. Today, versions for the PlayStation 4 are also available and the game has been made free-to-play for all players as of January 2022.
With tens of millions of daily users, PUBG: Battlegrounds has sold more than 75 million units worldwide.
#4: Wii Sports
Play Your Favorite Sports
We earn a commission if you make a purchase, at no additional cost to you.
A truly iconic title and name as part of the Nintendo Wii release in 2006, Wii Sports was actually packaged with the console at launch in every territory but Japan.
While the game was also available to purchase separately, the inclusion of the game was a huge part of both it and the overall success of the Wii console. Featuring five sports simulation games, Wii Sports quickly became a big hit thanks to Nintendo's use of motion-sensing technology that enabled console owners to mimic the action of the games they were playing.
Selling 82.9 million units over the life of the Wii console, Wii Sports is highly regarded as one of the best video games of all time. Across tennis, baseball, golf, boxing, and bowling, Wii Sports was a wonderful experience for families, friends, and parties. In fact, Wii Sports was so successful that Nintendo would follow up with Wii Sports Club for the Wii U and Nintendo Switch Sports on the Nintendo Switch.
#3: Tetris
Nostalgia at its Finest
We earn a commission if you make a purchase, at no additional cost to you.
Tetris is one of the best-known titles in all of video game history and for all the right reasons.
Now the subject of a movie on Apple TV+, Tetris was originally developed in 1984 and would go through a period of licensing uncertainty before it really picked up steam and hit its stride once Nintendo purchased the rights to the game in the late 1980s. The rest, as they say, is history, as one of the world's most famous puzzle games has been ported to more consoles than any other video game in history — with a total of 65 different consoles in all since its release 35 years ago.
Currently, based on video game console sales alone, Tetris is believed to have sold more than 100 million units but that number is potentially much higher when you factor in close to 200 million units sold on mobile devices. Not bad for a title that essentially consists of how many horizontal lines can you break out of a series of differently shaped blocks.
#2: Grand Theft Auto V
Hands Down, Best Open-World
Grand Theft Auto V
Premium Edition
PlayStation 4
Discover an ever-evolving world of choices and ways to play as you climb the criminal ranks of Los Santos and Blaine County in the ultimate shared Online experience
The Criminal Enterprise Starter Pack is the fastest way for new GTA Online players to jumpstart their criminal empires with the most exciting and popular content plus 1,000,000 dollars bonus cash to spend in GTA Online
We earn a commission if you make a purchase, at no additional cost to you.
Like Red Dead Redemption 2, Grand Theft Auto V has helped redefine the idea of what an open-world game can be.
Also earning a 97 Metascore, Grand Theft Auto V has one of the longest shelf life in the video game industry and has survived not one or two but three console generations and counting.
This is a game that earned $800 million dollars during its first day on store shelves. Those eye-popping numbers have tapered off slightly, but not so much as to slow the sales down as it's currently sitting at 175 million units sold and counting.
Played from a third or first-person perspective, you bounce three main protagonists in one of the most expansive open-world environments ever created. Not only can you ignore the main storyline for weeks on end, but you can do things like go and watch a movie, play a round of golf, pick up tennis, or do nothing but trade stocks.
#1: Minecraft
Build Your World
Minecraft
Nintendo Switch
Explore randomly generated worlds
Build your own world to enjoy and explore

Play in Creative Mode with unlimited resources or mine deep into the world in Survival Mode
We earn a commission if you make a purchase, at no additional cost to you.
At the end of the day, even with the huge number of video games released and sold over the last 40 years, there can only be one most successful game by units sold. Minecraft, with over 238 million units sold since its release in 2011, still counts more than one hundred million monthly players monthly with no signs of slowing down.
Very much the textbook definition of a sandbox game, like Terraria, you work within a procedurally generated 3D world without any worries like running out of space or resources.
As a Minecraft player, you are responsible for making sure you have the right materials to continue building, which requires crafting new items or building new structures. Handily chosen as one of the greatest video games of all time, Minecraft became so successful so fast that Microsoft would buy the game for $2.5 billion in 2014, all while maintaining widespread availability across PC and macOS as well as consoles like Xbox, PlayStation, and Nintendo.
Wrap Up
Over the course of video game history, there have been some incredible titles to hit our consoles, many of which appear on this list. It's also unfortunate that many games couldn't make this list that deserve to be here like Animal Crossing: New Horizon with 41.5 million copies sold or The Witcher 3 with 40 million.
Still, in an industry where numbers count for a whole lot, it's interesting to wonder if there is a game out right now that might eventually replace one of these as one of the ten best most successful video games of all time.
The image featured at the top of this post is ©Anton27/Shutterstock.com.