3D printing encompasses building three-dimensional objects layer-by-layer using designs generated by a computer. It varies in several ways, including the materials used, the nature of the finished surface, manufacturing cost, and speed. There are several types of 3D printing, from cheap to cutting edge, and we can categorize them in terms of material used, dividing them between polymer 3D printing and metal 3D printing. Before choosing the right type of 3D printing, it is essential to understand how it works and its pros and cons. In this article, we will discuss 12 types of 3D printing and see what applications they are best suited for.
Polymer 3D Printing
In polymer 3D printing, polymers are the primary materials used for creating three-dimensional objects. Let us examine its subcategories:
Stereolithography (SLA)
SLA
We earn a commission if you make a purchase, at no additional cost to you.
SLA is an industry-based 3D printing process. The method results in parts having impeccable detailing, smooth finishes, and high tolerance. SLA printers use mirrors positioned on the x-axis and y-axis to aim the laser beam toward the resin vat. This allows the object's cross-section to cure and solidify layer-by-layer inside the building area selectively.
The cured layers then move up, pulling up the hardened resin layers and creating space for other layers set to be cured by the laser. Thanks to the final build's smooth, high-quality surface finishes, the parts make assembly easy since they fit well. We mostly used SLA parts in the health industry for microfluidics and anatomical models.
Selective Laser Sintering (SLS)
Selective Laser Sintering (SLS) creates 3D objects by melting plastic powders using lasers. In the printer, the powder is heated to almost the polymer's boiling point before the wiper/re-coating blade deposits extra-thin layers of the polymer to the build platform. A laser then sinters the powder to solidify cross sections of the object as per its digital design.
SLS parts are made from thermoplastic materials, making them durable. The parts can withstand functional testing from snap-fits to living hinges. SLS finishes might be rougher than SLA finishes, but their rigidity eliminates the need for support structures, making the printing suitable for even bigger builds.
Fused Deposition Modeling (FDM)
FDM
Voxelab Aquila X2 3D Printer
Maximum printing size: 220*220*250cm
Completely open source
Accepts PETG, ABS, and PLA materials (sold seperately)
Includes a lifetime of technical assistance
We earn a commission if you make a purchase, at no additional cost to you.
FDM is a type of 3D printing method used to develop plastic parts. In fused deposition modeling, we load the printer with one or more filaments, then we feed these to the printer nozzle in the extrusion head. The printer usually heats the nozzle to melt the filament for easy layering to create the 3D part.
The printing process follows the digital design fed to the printer by the computer. The extrusion head moves across the instructed coordinates to create cross-sections until it fully builds the object. Some designs require support structures to hold the models during the printing process, with most support structures being dissolved in water and other solutions after the printing is complete.
FDM is a relatively quick and affordable method of printing models. The parts, however, have rough surface finishes and lack structural integrity, thus limiting their applications in functional testing.
Digital Light Processing (DLP)
Our Pick
ANYCUBIC Photon D2
DLP projector that has a lifespan of 20,000 hours

Printing volume reaches 130.5mm x 73.4mm x165 mm/5.13 in x 2.88 in x 6.49 in

Double light uniformity algorithm

Printer power: 15W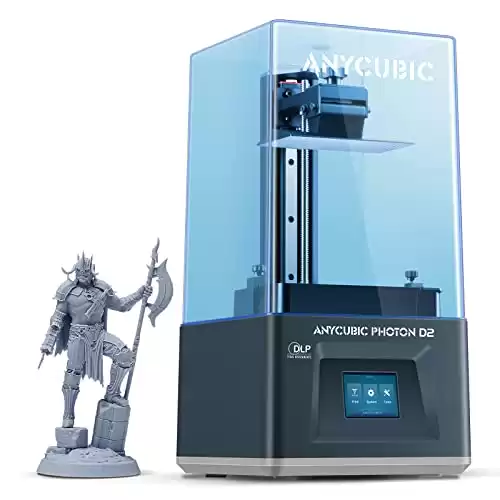 We earn a commission if you make a purchase, at no additional cost to you.
In Digital Light Processing, the printer cures liquid resin using light. The process is similar to SLA. However, DLP uses a digital light projector screen, while SLA cures the resin using UV light.
DLP will enable you to produce large builds at once, with each layer flash taking an equal time regardless of the parts of the build. We commonly use digital Light Processing in rapid prototyping. Since DLP printing has a high throughput, the method is perfect for low-volume plastic builds.
Multi Jet Fusion (MJF)
Multi Jet Fusion uses polymer powder to build parts. The process is similar to SLS, with a minor difference. While SLS uses a laser to sinter the powder, MJF applies fuse agents to the polymer powder bed using several inkjets. Afterward, an infrared heating unit heats the polymer powder bed, fusing each layer. The fusing agent is applied according to the desired geometry, and the areas without this agent remain as powder. As a result, the powdered parts shed off, leaving the build intact. This method does not require support structures for bigger builds since the lower powder layers provide support.
The final process involves transferring the entire powder bed to another processing station, where a vacuum sucks off all the loose polymers for reuse. MJF builds have better mechanical properties than SLS. The surface finish is also finer than in SLS, and the cost of production is lower since printing takes a shorter time.
PolyJet
PolyJet, or Plastic Binder Jetting, involves a powder and a liquid binding agent, just like in MJF. The process is the same, but the builds have different properties and applications. Designers can fabricate parts having different colors and various materials.
Since the final builds lack structural integrity and durability, consider strengthening the parts with other materials. The multi-colored parts produced using this process are mainly used for product prototypes and medical modeling.
Metal 3D Printing
Metal 3D printing allows for builds involving metallic parts. Let us take a look at some of these methods.
Direct Metal Laser Sintering (DMLS)
Direct Metal Laser Sintering helps reduce metal assemblies into a single build. The method also uses internal hollowing and channels to reduce the models' weight. DMMS suits prototypes and functional parts since the builds are similar to metal parts produced using traditional methods.
In DMLS, the printer directs a laser beam toward a metal powder bed of fused metal particles. The method makes creating parts with complex geometry easy, making it viable for health applications where the printed parts should correspond with the actual organic compound.
Electron Beam Melting (EBM)
In Electron Beam Melting, electromagnetic coils power an electron beam that melts the metal powder. The process occurs in a vacuum chamber, producing clean, high-quality metal builds. The temperature used for the printing bed depends on the type of materials used. These builds are of good surface quality, but the process takes longer.
Wire-Directed Energy Deposition
Wire-Directed Energy Deposition uses plasma and wire arc energy to melt metal in wire form before it is deposited layer-by-layer to the building surface. The robotic arm deposits the metal to form the desired shape fed to the printer by the computer.
Wire-Directed Energy Deposition does not require a closed chamber and uses metals similar to traditional welding, making the process highly preferred. The method is also cost-effective, and the builds have excellent tolerance and good surface finishing. Always consider subjecting the printed parts to heat treatment to relieve any stress.
Cold Spray
In Cold Spray, the printer sprays metal powder at a supersonic speed which bonds it without melting. The resulting builds have no thermal stress commonly associated with melt-based methods.
Most companies adopt this method since it requires no vacuum chambers and is extremely fast compared to other 3D metal printing methods. Despite the surface finishing quality and detailing not being great, most parts built using this method can be used right off the printer, since aesthetics aren't always a priority with such parts.
Molten Direct Energy Deposition
Molten Direct Energy Deposition uses heat to melt or soften metals before depositing them on the built plate layer by layer. The method uses pure metal, mostly aluminum, in the printing process.
Using heat to melt metal deposits is beneficial in several ways. First, the process uses less energy than other metal 3D printing processes. Second, you can use recycled metals instead of highly processed metal wires and powders.
Sheet Lamination
Sheet Lamination entails stacking thin sheets of a laminating material on top of each other and cutting them to the desired shape using a laser. Depending on the material in question, heat or sound is used to join the material sheets. Metals, papers, and polymers are commonly used materials.
Sheet Lamination is commonly used for producing non-functioning and cost-effective prototypes when time is of the essence. Sheet Lamination also works best for composite, multi-colored builds since the designer can readily swap the materials around during the building process.
The downside of Sheet Lamination is that it leads to much wastage after we cut the laminated parts off. Materials such as paper and polymers are also impossible to reuse under this method.
Factors to Consider When Choosing the Best Type of 3D Printing
3D printers use complex technology to give you the best results. Choosing the proper 3D printing method can be a hurdle with so many options available. However, there are factors to consider before printing in 3D. Let's examine some of them:
Budget
Consider the price if you're venturing into the 3D printing business or looking to buy a printer. The buying and operating costs must fall within your budget. Several factors can determine the price of a 3D printer. The machine's cost varies with the size and need of the machine. Usually, Fixed Deposition Modeling (FDM) printers are cheaper compared to Selective Laser Sintering (SLS) printers. However, it is important to note that expensive does not always mean better.
Resolution
Resolution in 3D printing is the thickness of each material layer applied. Thinner layers give more perfect results by reducing surface ridges. It all depends on the printing technology used. You get a smoother face pre-processing when you use high resolution.
Thin layers give you more defined details but take longer to manufacture. Stereolithography (SLA) technology is advised for high-resolution objects with a layer thickness of up to 25 microns. SLS technology offers higher resolutions reaching 100 microns. Low resolutions are best suited for those looking to manufacture larger objects at lower costs quickly.
Orientation
How you place the object on the printing platform affects the results. Orientation, as used in 3D printing, refers to how a part is placed on a platform. You can place it at an angle, lay it flat, or vertically place it. The final product is greatly affected by orientation during fabrication. It will determine the geometric dimensions and error tolerance.
The technology used is also a factor affecting orientation. 3D printed parts have high elastic force on the horizontal axis and are weaker in vertical directions when you use FDM. The aesthetics of the 3D printed part are affected if you are not keen enough. We use different orientations for different shapes. The orientation is more effective if they overhang the surface.
Material selection
We have different materials for 3D printing, each with merits and drawbacks. Poly Lactic Acid (PLA) materials are the most preferred ones. They are versatile, cheap, and among the safest to use. They are the best printing material for entry-level printers.
PLA does not release a lot of fumes when printing and the materials are long-lasting. The lower melting point of the material makes it perfect to use. Consider knowing your preferred material of use before getting a 3D printer.
Geometry
It is crucial to consider the geometry and scale of your item before printing. Each printing technology has optimum dimensions, and some are larger than others. The FDM machine can print up to a maximum of 16 x 14 x 16 inches. If printing something more extensive, you can section it before fabrication and glue it back professionally later. More significant parts take more time to build and use more material, making them expensive.
When Is It Appropriate to Use 3D Printing?
There are common denominators that dictate whether you need a 3D printer or not. Let's take a look at some of them:
Quantity of Parts – 3D printing is among your best options if you need fewer parts. Manufacturing is the best option for you when you need parts in large quantities, usually more than a hundred units.
Complex Design Features and Geometry – 3D printing can be your only option when your object has complex design and geometry. It's much easier to print the object than curve it from scratch.
When the cost of part acquisition is higher – Buying a new part is expensive. 3D printing is cheaper when the part has a complex design and high buying costs.
Saving Time – 3D printing requires no tooling; hence, manufacturers can use it to reduce the production time for parts. The technology is cost-effective when producing parts with complex geometry.
Making custom designs – The application of 3D printing is extensive. There are applications in the medical field when printing custom parts, like the crown in the dental department. Doctors use 3D printing technology to make parts that precisely match their patients.
Types of 3D Printing: Bottom Line
As you can see, there are several 3D printing technologies, each with its pros, cons, and applications. Choose the method that suits your needs, budget, and timeframe. 3D printing is slowly advancing, and in a few years, most components will be 3D printed instead of being made by traditional manufacturing. With the final products' impeccable quality, 3D printing technologies are worth considering.
Maximum print size: 7.08*6.45*4.03 inches
Resin printer (resin sold seperately)
Resolution: 4K
Speed: up to 50mm/h

Buy Now on Amazon

We earn a commission if you make a purchase, at no additional cost to you.

11/29/2023 04:15 am GMT

Maximum printing size: 220*220*250cm
Completely open source
Accepts PETG, ABS, and PLA materials (sold seperately)
Includes a lifetime of technical assistance

Buy Now on Amazon

We earn a commission if you make a purchase, at no additional cost to you.

11/29/2023 04:15 am GMT

DLP projector that has a lifespan of 20,000 hours

Printing volume reaches 130.5mm x 73.4mm x165 mm/5.13 in x 2.88 in x 6.49 in

Double light uniformity algorithm

Printer power: 15W

Buy Now on Amazon

We earn a commission if you make a purchase, at no additional cost to you.

11/29/2023 04:15 am GMT
The image featured at the top of this post is ©Olga Ilina/Shutterstock.com.