Rivian, a Michigan-based electric vehicle (EV) manufacturer, is swiftly becoming a significant player in the industry. The company was founded in 2009 and continues to scale up regardless of having faced financial challenges.
.The past two years have been eventful for the company, marked by partnerships, large investments, and even significant losses. Regardless, the company is staying the course and appears to be on track to becoming an influential player in the EV industry. But why is this EV automaker attracting the notice and attention of consumers and the media?
Rivian's Progress: Why It Matters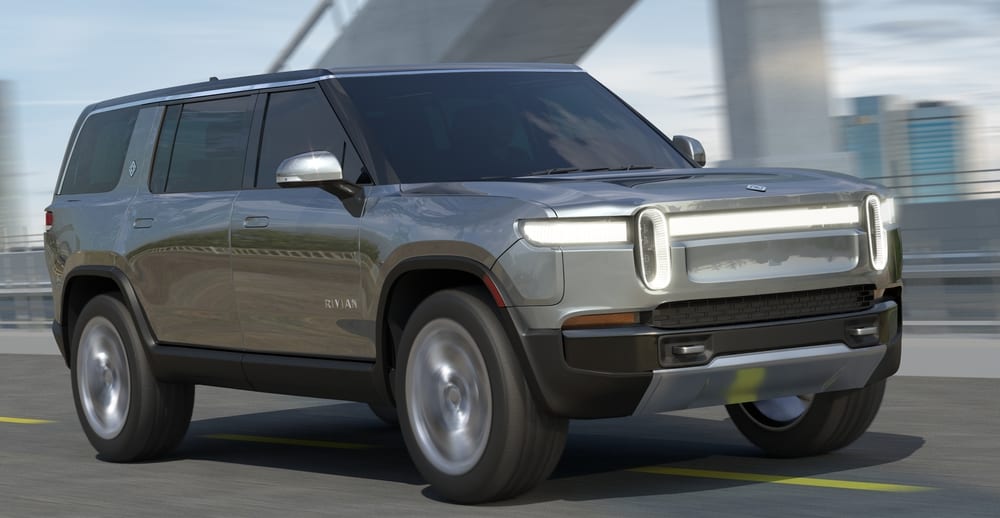 Rivian could be on the right path to becoming a top electric vehicle maker. Since 2009, the company has been designing and manufacturing its powertrains and forging partnerships with leading automakers. In 2021 it made great strides, introducing the R1T pickup truck and the R1S SUV
These cars have been designed from the ground up with range, performance, and sustainability in mind. The R1T and R1S are powered by Rivian's powertrain technology, which employs four electric motors to deliver up to 750 horsepower and 826 lb-ft of torque. This powertrain can accelerate from 0 to 60 mph in 3.2 seconds and travel up to 300 miles on a single charge.
Rivian has also improved its manufacturing skills. The company opened its first assembly plant in Normal, Illinois. This facility can produce up to 250,000 automobiles per year. It also has modern robotics and automated systems, allowing quality control and increased efficiency.
Overall, Rivian has made good progress over the recent years and is now a market leader in the development of self-driving technologies and electric cars. This EV maker is well-positioned to capitalize on the expanding demand for autonomous driving systems and electric vehicles. Its success thus far demonstrates its dedication to sustainability and innovation.
But it's said no great success without failure. Rivian has experienced money problems but still keeps going on!
What Kind of Losses Has Rivian Experienced?
Rivian began 2021 with a $2.5 billion round of fundraising from investors, including T. Rowe Price, Amazon, and Ford. This was the largest investment ever made by an electric car firm, and it was viewed as proof that Rivian was making progress in the market.
Despite the investment, the car maker recorded $1.75 billion in losses for the first quarter of 2022, up from $ 1.3 billion in the same time the previous year. It was a big setback for the corporation, which had been on a successful path.
In 2022, the firm projected a period of fast development, intending to produce 500,000 electric vehicles by the end of the year. However, the firm dropped its projected output totals to 25,000 and slashed its personnel by approximately one-third.
Furthermore, Rivian has had to make delays in launching its flagship electric pickup truck, the R1 and its electric SUV, the R1S. This has resulted in the firm losing its potential sales and money, further deteriorating its financial status.
The losses were ascribed to increase R&D investment as well as greater costs related to the firm's first electric car launch. Rivian also attributed the losses to considerable manufacturing and supply network expenditures.
These losses have dealt a significant blow to the electric car sector. It has secured extra capital, but it is uncertain if it can recoup these losses on time. If it manages to ramp up its production, it may achieve its target, and its revenues could hit $12.4 billion by 2024. But will the EV maker stick to its plan? We can only wait and see!
What Is Rivian's Strategy for Staying the Course?
Despite the challenging economic climate, Rivian has responded favorably and continues pursuing its ambitious future vision. It is still focusing on long-term growth and making strategic investments.
Its strategy for staying the course is focused on three key areas:
Investing in technology
Expanding its lineup
Leveraging its partnerships
To continue innovating and developing new products, the company has announced plans to double the size of its engineering team and expand its product portfolio, including the recently unveiled R1S electric SUV and R1 electric pickup truck.
Technology Investment
Rivian plans to continue investing in its manufacturing operations and EV technology to stay ahead of its competitors. It is expanding its production capacity, including labor, machinery, and new factories. This includes developing a new platform that enables the production of multiple EV models and the development of the new battery technology.
Acquisition
Rivian has also acquired some companies to bolster its product portfolio. In April 2022, the company purchased a majority stake in Boston-based startup Auto grid, which specializes in developing software for electric vehicles. It also purchased a majority stake in European EV maker, InMotion, in July 2022. This investment has allowed Rivian to expand its reach into the European market.
Partnerships
Finally, Rivian has maintained several strategic partnerships to help build out its EV ecosystem. The company has also secured a partnership with Amazon to continue developing a custom electric delivery vehicle. Additionally, Rivian has partnered with major automakers like Ford and Volkswagen. These partnerships allow Rivian to leverage the manufacturing capabilities of larger automakers and the distribution network.
What is Rivian's Future Outlook?
Rivian is making a bold move toward production. The company's flagship R1T and R1S electric pickups and SUVs have helped establish a name for itself in the EV market today. To keep up with the ever-rising demand for its vehicles, the company is currently attempting to speed up its production.
It aims to produce 150,000 units annually. This includes standard consumer vehicles, such as the R1T and R1S pickup trucks and SUVs, and commercial delivery vans.
Currently, it has 50,000 pre-orders for its consumer vehicles and an agreement with Amazon for 100,000 commercial delivery vans to be delivered by 2030. However, it expects to deliver all the vans by as early as 2025.
Rivian expects to have delivered its annual target of 150,000 EVs, a pre-order backlog of 50,000 R1Ts and R1Ss, and half of its 100,000 commercial delivery vans by the end of this year. The EV maker may need to expand its production facilities to meet this ambitious goal. It will likely begin setting up new production facilities in the coming years to help meet future demands.
Will Rivian Be Successful?
This is the main point of contention as the American electric vehicle (EV) is yet to recover its losses. However, whether the company will record success depends on various factors, but there are six main reasons why Rivian is poised to become a significant player in the EV industry.
Experienced Leadership
Rivian has tapped experienced automotive executive RJ Scringe as its CEO, who brings a wealth of knowledge from his previous role at Toyota and other companies. Scringe's leadership and experience in the automotive field will be instrumental in the company's success.
Cutting-Edge Technology
The company has developed several innovative technologies that make its vehicles attractive for personal and commercial use. The vehicles feature a skateboard-like chassis, which allows for better weight distribution. They also sport a lower center of gravity and a range of up to 300 miles per charge.
Financial Backing
Rivian has secured funding from several investors, including Amazon and Ford. This financial backing gives the company the necessary resources to move forward with its plans.
Customer focus
The company's vehicles are designed to meet the needs of its customers. It has incorporated features such as an intuitive and easy user interface and a range of customizable options that make its vehicles stand out.
Environmental Focus
Rivian is focused on developing environmentally friendly technology. Its vehicles are designed to be efficient and generate fewer emissions, making them a more sustainable option.
Rivian has hit roadblocks, but its strong lineup of products gives it a head start in the utility vehicle niche. With the right strategic partnerships and investments, it could become a leader in the EV industry.
The image featured at the top of this post is ©Tada Images/Shutterstock.com.