If you're looking for server upgrades for your business or want a home lab setup, you might have considered the Dell PowerEdge R610. Some of the biggest tech companies in the world, like Amazon, Facebook, and Google use this type of Dell PowerEdge server. In this article, we explore the Dell PowerEdge R610, with full specs, features and pricing. We hope you'll have all the vital information to decide whether this server is up to the tasks for your business.
Dell PowerEdge R610: 5 Must-Know Facts
The Dell R610 is part of the 11th generation of PowerEdge servers.
The PowerEdge R610 is a 1U rackmount form factor.
This server is offered in multiple CPU configurations.
The Dell R610 is widely compatible with multiple operating systems.
The Dell PowerEdge R610 is designed to be modular and hot-swappable.
Dell PowerEdge R610 Specs
SpecsStandard ConfigurationProcessorIntel Xeon 5500 or 5600Max CPU Configuration2Processor FrequencyUp to 3.00GHzProcessor CoresUp to 6Processor TDP (each)80wMaximum Memory (per CPU)192GBMemory TypeDDR3 SDRAMMemory Slots12x DIMMMemory Clock Speed1333MHz
Dell PowerEdge R610: Where to Buy
Dell has held a 15% market share for all servers sold worldwide, thanks to successful products like the PowerEdge R610. It might be difficult to find the R610 in physical retailers due to its age and proprietary design. Your safest bet is to shop online. Amazon and other leading stores have deals on refurbished or new products.
Quick Facts
Release Date

01/01/2009

Original price

$3000

Discontinued

10/10/2016

Units Sold

N/A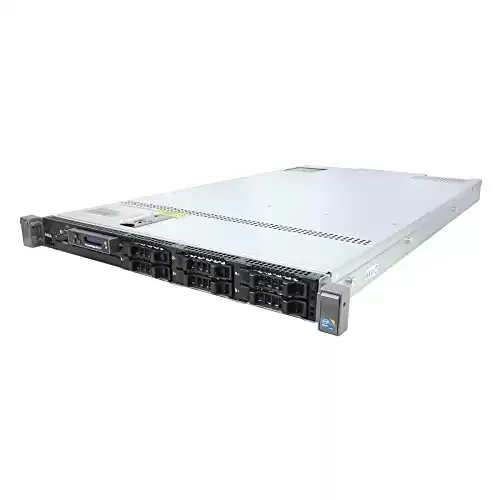 We earn a commission if you make a purchase, at no additional cost to you.
The History of Dell PowerEdge R610:  What to know
Dell has been making computers since 1984, and they have become an industry leader. When the first Dell PowerEdge servers came on the scene in 1996, nobody could have foreseen that they would take over the market. Today, Dell PowerEdge servers are used worldwide in data centers and businesses.
The PowerEdge R610 was released in 2009 and was an upgrade over the PowerEdge R300, which was released a year earlier. The new model had a higher maximum RAM capacity and upgraded chipset and processor support.
Servers are usually measured by their form factor. R610 is available in three form factors: 1U, 2U, and 4U. The number represents how many "units" the server occupies in a server rack. The Dell PowerEdge R610 is a 1U server, so it only takes up one unit. Additionally, there are larger servers available from Dell, but the R610 is designed for compact use cases.
Dell PowerEdge R610 Versions: Each Edition
The Dell PowerEdge R610 was available in a few different configurations, although they were all the same model. Depending on your specific needs, you could buy the R610 from the factory with your choice of processor.
Dual-Core CPU Version
For those on a budget, the dual-core model is sufficient for most uses. Although not as powerful as the quad-core or the 6-core R610s, the dual-core model is still good enough to handle web hosting and setting up file servers. Additionally, the biggest advantage of the dual-core model is the lower cost.
Quad-Core CPU Version
If you need more power than the dual-core version offers but don't want to stomach the cost of the 6-core model, then the quad-core model is for you. This PowerEdge R610 is loaded with a powerful Intel Xeon 5600 processor, great for demanding workloads.
Six-Core CPU Version
The ultimate Dell PowerEdge R610 is the 6-core model with a powerful Xeon 5600 processor. It's ideal for more intensive workloads. The only downside to this version is the price.
Dell PowerEdge R610: Processing Power
Like other servers in Dell's lineup, PowerEdge R610 allows you to install one or two processors. Each processor increases the overall computational abilities of the server. If you need to run more demanding applications, get a second processor.
You can increase your processing capabilities by stacking multiple servers together, as these systems are designed to do. However, a dual-CPU unit will give you much more processing power than a standard desktop.
Dell PowerEdge R710: Memory Configuration
With twelve DIMM slots, the PowerEdge R610 could support an incredible 192GB memory. Running at a maximum frequency of 1333MHz, you could configure your RAM to run in single or dual-channel mode.
Most Dell PowerEdge R610 systems originally shipped with between 24GB to 48GB of RAM. Luckily, you could upgrade later, thanks to the inexpensive memory. Additionally, with the "error-correcting" nature of the Dell R610's memory, your system would have a much higher fault tolerance.
Dell PowerEdge R610: Storage Configuration
One area you should give particular attention to when configuring a server is storage. If you are setting up a file server or using your server to host websites or media files, having a lot of storage is vital. The Dell PowerEdge R610 is designed with a secure storage capacity in mind.
With six 2.5" hot-swappable drive bays, you can install up to 12TB of total storage in the R610. Additionally, thanks to the versatile design, you can use either SAS or SATA hard drives or solid-state drives.
Dell PowerEdge R610: Software and Management
Once you have configured your hardware, the next step is to install your software. The Dell PowerEdge R610 makes it easy to load your favorite operating system. With built-in USB ports, you can load an operating system from your boot media or load the software over your network. 
Dell also includes embedded management software for remotely deploying and managing your server. Additionally, the embedded controller makes it easy to configure other settings of your system's hardware, similar to a "BIOS" system on a standard desktop. 
Like any other computer, you can install Windows Server, Ubuntu, or Red Hat Linux, depending on what you plan to use your server for.
Dell PowerEdge R610:  What was the Public Response?
Dell has always had plenty of competition, and the PowerEdge R610 was no different. IBM and HP have been making servers for decades, but they never got to Dell's level of success. Overall, the Dell PowerEdge has won the title of best server, and that's why it's widely used in data centers and businesses worldwide
Additionally, Dell has received recognition for the reliability of its servers from testimonials and press releases. The Dell PowerEdge R610 is a great example of a server that has stood the test of time. Although it may be a little old for mainstream use today, there is no doubting the long-lasting quality of these servers.
Check out the Dell PowerEdge R610 on Amazon.