Blackmagic Design aims to challenge the most prominent program on the market, Adobe Premiere Pro, with an affordable professional-grade video editor. However, the decision in Blackmagic's DaVinci Resolve vs. Adobe Premiere Pro isn't so clear-cut. The programs are significantly different in design and approach, making them hard to compare. Still, we did our best to give you the information you need to make a choice. Let's examine these two programs in detail.
DaVinci Resolve vs. Premiere Pro: Side-by-Side Comparison
| | DaVinci Resolve | Premiere Pro |
| --- | --- | --- |
| Developer | Blackmagic Design | Adobe |
| Price | Free-to-Use; $295 Commercial License | $22.99/month (annual plan, single app); $31.49/month (monthly plan, single app); $59.99 (monthly plan, all apps); $659.88 (annual plan, all apps) |
| Platforms | Windows, macOS, iPadOS, Linux | Windows, Android, macOS, iPadOS, iOS |
| Additional Program Integrations | Fusion, Fairlight | No in-workspace integrations; integrations for Adobe Creative Cloud standalone programs |
| Motion Graphics Engine | Fusion | No in-workspace motion graphics engine |
| Audio Engine | Fairlight | Proprietary |
| Timeline Format | Freeform | Non-Linear |
Powerful Color Grading Tool
Blackmagic Design DaVinci Resolve Studio
Professional video editing program
Perfect for colorists
Features 8K editing
Compatible with Mac, Windows, and Linux
NLE editing tools
Compatible with Resolve Studio 16
We earn a commission if you make a purchase, at no additional cost to you.
DaVinci Resolve vs. Premiere Pro: What's the Difference?
DaVinci Resolve and Premiere Pro might operate in the same field, but they're wholly different animals. Blackmagic Design and Adobe take unique approaches to the video post-production process that show strongly in their final products. Let's examine the differences.
Timeline Format
From the outset, the design of the timeline in Premiere Pro and DaVinci Resolve is exceptionally different. DaVinci Resolve uses a multi-track freeform timeline, while Premiere Pro uses a more standard non-linear timeline.
Additionally, DaVinci Resolve aims to replicate a nostalgic feeling of tape editing. The video and audio track starts at 01:00:00 instead of 00:00:00, like in modern digital workspaces. The old-fashioned design can leave more modern users up the creek learning how the program works from the ground up. If you've never worked with tape, you'll see many things you don't recognize.
Premiere Pro uses a much more modern-looking, non-linear timeline, comprising visual and audio media clip sequences. You can rearrange and splice the sequences, making the workspace much more streamlined. It's generally considered more accessible for new users to pick up and learn since it's similar to other NLE video editors.
Audio Editing Engine
Premiere Pro has a basic audio editor that allows you to make minor, simple adjustments to your sequences' audio tracks. However, the in-workspace audio engine leaves much to be desired. If you need to make more extensive changes to your audio, you're expected to purchase Adobe Audition to edit the audio in your videos.
DaVinci Resolve takes audio editing to the next level. With Blackmagic Design's Fairlight engine, you can make professional-grade audio changes. Fairlight isn't a standalone program; you can only access this workspace through DaVinci Resolve. However, it's a powerhouse in audio editing, especially considering it's just a tab in a different program.
Not only does Fairlight offer in-depth audio editing, but it's also compatible with many hardware-level audio interfaces. Blackmagic Design even develops specific audio equipment designed to be used with Fairlight. So, if you want to do significant audio editing along with your video post-production, you'll want to check out DaVinci Resolve.
Motion Graphics Engine
If you want a video post-production suite that allows you to do motion graphics, you'll need to use DaVinci Resolve. Premiere Pro doesn't have a built-in motion graphics engine. If you want to do motion graphics and serious compositing work, you must purchase the entire Creative Cloud suite and use Adobe After Effects in conjunction with Premiere Pro.
DaVinci Resolve comes prepackaged with an in-workspace version of Fusion — which you can also get as a standalone product from Blackmagic Design. Fusion is a full-fledged node-based compositing suite with a motion graphics engine. It allows you to create stunning and unique visual effects from the clips and images in your timeline.
While the standalone Fusion program is paid software, you can also access the program from the Fusion window in DaVinci Resolve. The tab in Resolve isn't a massively underpowered and restricted version of Fusion. It features all of Fusion's principal elements and capabilities.
Video Compositing
Premiere Pro is a compositing program on a small scale since it technically takes multiple clips and forms them into one clip. However, that's not what professionals mean when they talk about compositing. Professional compositing in the video post-production world is a branch of VFX. It doesn't refer to simply splicing two clips and a quick preset transition.
Premiere Pro has some light compositing tools like chroma keying, but you'll have to do any actual compositing work in a separate workspace. Adobe offers integration with its After Effects workspace, the absolute powerhouse compositing program in its suite. You must purchase the entire Adobe Creative Cloud suite to get this program.
DaVinci Resolve uses its Fusion engine as its compositor, offering a similar amount of technical power to Adobe After Effects without needing to leave the Resolve program. If you want even more power than the Fusion tab provides, you can purchase the standalone Fusion program, which offers increased VFX and compositing power. However, if you're not a professional compositor, you'll likely not need all the extras the paid Fusion program provides.
Color Grading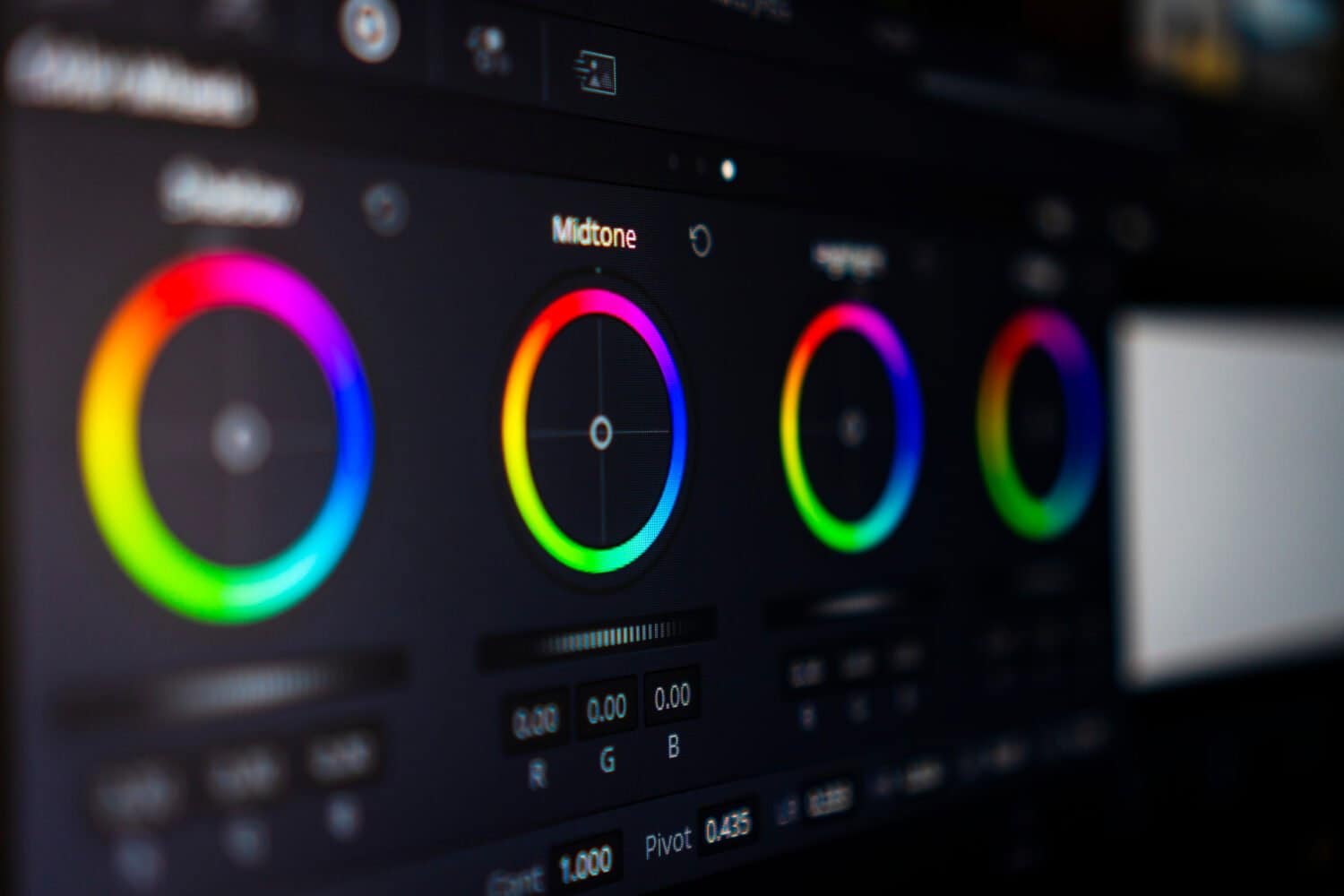 Colorists are usually responsible for color correction and grading in professional workspaces. However, home users don't have a whole team of specialists to perform each task in the video editing process. DaVinci Resolve's Color workspace provides many advanced color grading and correction tools. Premiere Pro also offers some essential color tools. However, those tools are nowhere near as powerful as DaVinci Resolve.
DaVinci Resolve was originally a color correction program. So, you can expect its color studio to be divine, and it does not disappoint in the slightest. It's widely celebrated as one of the most robust color tools. So, if you want to do professional-grade color work with your videos, DaVinci Resolve is an excellent choice.
Premiere Pro does offer some basic color correction and color grading tools. However, its selection and implementation is limited. You'll have to purchase and learn Adobe After Effects if you want to do heavy-lifting color grading, like most of the other advanced video post-production tasks.
Price
There's no contest between DaVinci Resolve and Premiere Pro in a price comparison. Blackmagic Design has made DaVinci Resolve free, with a few advanced tools walled behind the commercial license for $295. Premiere Pro is a paid software marketed using a Software-as-a-Service (SaaS) model.
As we mentioned, DaVinci Resolve is free to use. You can download it directly from the Blackmagic Design website without spending a cent. If you like the program and want to support the developers or access the few advanced tools walled behind the license (like camera tracking), you can buy the Studio license for $295. The commercial license gives you access to the current version of DaVinci Resolve and all future updates and upgrades.
Premiere Pro is a SaaS model. If you want the Adobe Creative Cloud suite, you must pay monthly or yearly for the rest of your life. You will never own the software. They did away with that after Creative Suite 6.
Adobe Creative Cloud is $20.99 monthly, but only if you pay annually, totaling $251.88 plus taxes and fees. If you want to pay monthly, it's $30.49 or $365.88 yearly. That cost may or may not go up after we post this article. (Who are we kidding? It will eventually go up.)
Platform
DaVinci Resolve has an edge in the desktop platform market, while Adobe has an edge in the mobile platform market. DaVinci Resolve is available for Windows, macOS, iPadOS, and Linux. Premiere Pro is available on Windows, Android, macOS, iPadOS, and iOS.
If you want to edit on your mobile phone, Creative Cloud is your only option from this list. However, you could also use the CapCut video editor with its rich mobile environment and a fully free-to-use version.
However, if you want to use a Linux computer, you must use DaVinci Resolve. Former Adobe Principal Scientist Dov Isaacs clearly stated that Adobe has no plans to branch out and provide native Linux applications. So, don't hold your breath.
Popular with Video Production Companies
We earn a commission if you make a purchase, at no additional cost to you.
DaVinci Resolve vs. Premiere Pro: 5 Must-Know Facts
DaVinci Resolve is a complete post-production workspace, incorporating a compositing and motion graphics engine and a digital audio workspace.
Many video production companies use Adobe Premiere Pro, giving it a 16.0% market share.
DaVinci Resolve has about 2 million users worldwide.
Premiere Pro doesn't have a motion graphics engine or digital audio workspace.
Adobe has no plans or intention to support Linux systems with their programs.
DaVinci Resolve vs. Premiere Pro: Which One Is Better?
DaVinci Resolve is the better option if you're looking for a program to provide a wholesome, complete video post-production environment. DaVinci Resolve is free and includes access to compositing, VFX, and a digital audio workspace.
Premiere Pro is a more popular program, but its functionality relies strongly on integrating with Adobe's other post-production programs. Without paying for the entire Creative Cloud suite, your abilities as a video editor will be harshly impaired. However, there are some notable use cases you'll want to consider.
Mobile Editing
If you want to edit on the fly, Adobe Creative Cloud is a better option since it has native Android, iOS, and iPadOS applications. DaVinci Resolve is available for iPadOS, but users without a compatible iPad won't be able to edit on anything besides a desktop or laptop.
Linux Users
Only DaVinci Resolve has Linux compatibility. Not only does Adobe Creative Cloud not support Linux, but they have stated several times they will never support Linux machines. So, Linux users will want to choose DaVinci Resolve since it already has native support for the operating system.
Running Adobe Creative Cloud in a virtual machine in your Linux environment is possible. However, you'll need a powerful computer to run the virtual machine since the environment depends on the host machine.
The Windows Subsystem for Linux is a compelling option for users who want to run programs without native Linux support. However, many longtime users are wary of Microsoft's sudden "acceptance" of Linux due to their past actions of producing add-ons for non-Microsoft programs to impair the host's use without the add-on. Once the users depend on the Microsoft add-on, they'll acquire the host and cease its production in favor of their own software.
Professional video editing program
Perfect for colorists
Features 8K editing
Compatible with Mac, Windows, and Linux
NLE editing tools
Compatible with Resolve Studio 16

Buy on Amazon

We earn a commission if you make a purchase, at no additional cost to you.

11/29/2023 04:15 am GMT

Compatible with PC and Mac
12-month subscription with auto renewal
Video editing software app lets you edit for film, TV, and online content
You can edit footage in any modern format, including 8K and virtual reality

Buy Now

We earn a commission if you make a purchase, at no additional cost to you.

11/28/2023 07:22 am GMT