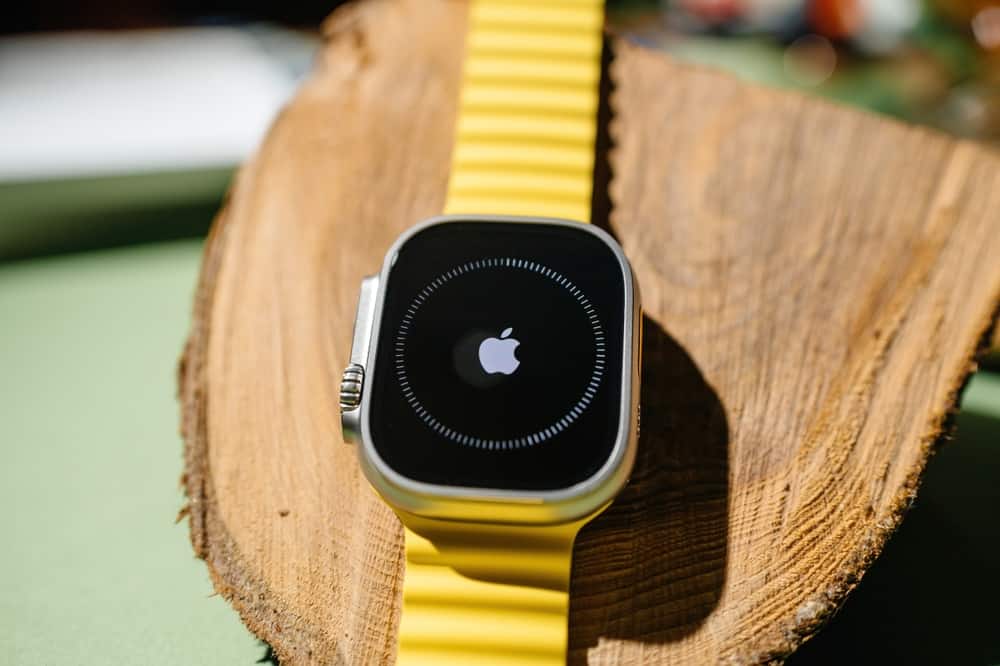 Rugged smartwatches are becoming more commonplace as consumers look for wearables that can handle any environment. The Apple Watch Ultra has gotten a lot of attention for its durability, but Coros is an interesting alternative. We're going to take a look at both watches in our Coros Vertix 2 vs. Apple Watch Ultra review, so you can decide which of these premium wearables is best suited to your needs.
Coros Vertix 2 vs. Apple Watch Ultra: Side-by-Side Comparison
| Specs | Coros Vertix 2 | Apple Watch Ultra |
| --- | --- | --- |
| Manufacturer | Coros | Apple |
| Released | August 17, 2021 | September 23, 2022 |
| Sizes | 50mm | 49mm |
| Display | 1.4-inch | 1.92 inches |
| Resolution | 280 x 280 | 502 x 410 |
| Processor | Unknown | Apple S8 |
| Memory | Unknown | 1GB |
| Storage | 32GB | 32GB |
| Sensors | ECG, Heart Rate, SpO2, Temp | ECG, Heart Rate, SpO2, Temp |
| Water Resistance | ATM10 | IP6X |
| Battery Life | 20 to 140 hours | Up to 36 hours |
| Operating System | Coros Proprietary | WatchOS |
| Weight | 72 grams | 61.3 grams |
| Price | $699 | $799 |
Coros Vertix 2 vs. Apple Watch Ultra: What's the Difference?
Some smartwatch manufacturers follow the same path when it comes to design or features. Well, that's not the approach Coros or Apple took with these wearables which only have a handful of things in common.
Design
Smartwatches come in all shapes and sizes, but the Watch Ultra and Coros Vertix 2 are two of the larger wearables on the market today. Each company handles the size in a different way, as the Ultra Watch still looks like an Apple Watch while the Vertix 2 has an industrial, but athletic feel.
The Apple Watch Ultra is large, but still relatively light at 61 grams. It could be worn in casual settings with a leather band and the right face. You won't get the same third-party selection for the Vertix 2, which comes with a choice of a nylon or silicone band. Both watches are chunky, but Apple's watch is around 10 grams lighter.
The weight of the smartwatches comes from large batteries and the materials used in the housing and bezels. Apple used aerospace-grade titanium for the Watch Ultra which keeps it light and corrosion-free while increasing duality. Sapphire glass protects the display, and the company put just as much detail into the design and build quality as you would expect.
Coros uses sapphire glass as well but went with Grade 5 titanium alloy on the bezel and titanium alloy for the case. Both are covered with a PVD coating for an additional layer of protection. The Vertix 2 and Watch Ultra are more durable than other smartwatches, and style is a personal preference so we consider this area a draw.
Displays
A rugged smartwatch is definitely a bonus if you bike, hike, or even travel given the fragile nature of some wearables. Durability is important, but so is the display considering it provides you with key information no matter where you roam.
Apple hasn't changed the overall design of their smartwatch much over the years, but they increased the size of the display on the Watch Ultra dramatically. It's a big, bold 1.92-inch OLED Retina display with a peak brightness of 2,000 nits. You won't have trouble viewing it outdoors, and the resolution is fantastic at 502 x 410.
The display on the Coros Vertix 2 is smaller at 1.4 inches but with a more traditional round profile. Its display is also bright and has plenty of colors, although it's not as sharp or vibrant as Apple's panel. While it is bigger than the one on the original Vertix and has a higher resolution, it's not in the same league as Apple's Retina display.
Performance
Many manufacturers tout their tech specs as a way to lure consumers in. It's a great way to show that your gadget has the latest hardware and something we see from smartwatches produced by Samsung, Apple, and others. Coros doesn't fall into that category, unfortunately.
We were not able to dig up much information on the processor that powers the Coros Vertix 2 or how much memory it has under the hood. The company claims it's 20% faster than the previous model and we know it has 32GB of onboard storage, which is the same amount you'll get from the Apple Watch Ultra. By comparison, Apple's watch sports the company's dual-core S8 mobile processor and has 1GB of RAM.
It has more pop than the Coros Vertix 2, but comparable sensors. They include a heart rate sensor, SpO2 monitor, and a temperature sensor that works with your body or water. There's also an electrical heart rate sensor or ECG that makes use of the digital crown. Apple's watch has Bluetooth 5.3, and Wi-Fi and supports all of the key GPS networks as well.
Coros's smartwatch allows users to take their heart rate or check blood oxygen levels, but their ECG sensor isn't on par with Apple's. It doesn't take readings in the same way, something DC Rainmaker explains in their Coros Vertix 2 review. It's a handy feature, and so is the temperature sensor. With that in mind, Apple has the edge with an FDA-approved ECG and more accurate sensors.
Software
When people purchase a product from Apple, they expect a smooth experience whether playing a game on a MacBook Air or shopping from an iPad. The UI of the Apple Watch fits perfectly within Apple's ecosystem and has improved with each generation.
The Apple Watch Ultra provides access to Apple's suite of health & fitness apps along with Siri functionality. It feels fluid, and they have some of the best smartphone apps on the market today. The experience is different with Coros. The crown is the main means of navigation despite the touchscreen display.
The Coros Vertix 2 doesn't feel as intuitive as the Watch Ultra or smartwatches from Samsung. Access to third-party apps is limited as well. That may make Coros Vertix 2 seem inferior, but it can do something the Apple Watch Ultra can't. You can use the Vertix 2 with Android or iOS-powered smartphones, whereas Apple's durable smartwatch will only work with an iPhone.
Features
Coros and Apple's smartwatches can measure a number of health metrics through their sensors, but both have distinct features unique to their wearables. Apple has more of them although the Vetix 2 has some cool bells & whistles adventurers will appreciate.
If you own an Insta360 action cam, you can use the Vertix 2 to control the camera. This results in shots you couldn't take otherwise whether you're hanging out on a mountain peak or riding the waves. Mapping and GPS features are major perks, and the Coros Vertix 2 has full global landscape maps ready to go out of the box.
As a watch designed for adventurers, connectivity is key on the Vertix 2 and an area that doesn't disappoint. It syncs up to GPS, GLONASS, Galileo, Beidou, and QZSS and is a dual-frequency system that provides amazing accuracy. Strava, Apple Health, Final Surge, and other third-party apps add more utility to the watch. You can load music to listen to, but you can't use the watch for contactless payments – there's no NFC.
How Smart is Your Smartwatch?
Outside of using the watch for notifications or to find your phone, it's not nearly as "smart" as the Apple watch or other wearables. You don't have to sideload music onto the Watch Ultra, which supports streaming through the most popular services. All the fitness apps and health metrics have more pop on the Ultra, which is also rated for diving thanks to a dive computer and depth gauge.
Ultra has NFC for portable payments, and adds Crash Detection which can sense a car crash and connect users with assistance if needed. It can track fitness or ovulation cycles just as well as it can keep track of its users outdoors. Apple also uses multiple GPS systems to pinpoint your location, and their watch has all the key smartwatch features.
You can send texts or take phone calls from the Ultra, which has dual speakers. It can also be set up to use as a digital key for certain door locks and has a loud 98dB siren built in for emergencies. Basically, it's a pint-sized version of the iPhone from a feature standpoint. The difference is you can leave your phone behind when you're wearing the Apple Watch Ultra.
The Coros Vertix 2 feels like a work in progress when it comes to features outside of tracking. That's understandable given the company's age, but it allows Apple to take this category with ease.
Battery Life
Apple clearly beats the Vertix 2 with features and has a larger display, but battery life is where things being to even out. You can wear either for a full day without needing to recharge in most cases, but Coros designed their smartwatch around battery life and durability instead of features.
Coros promises their watch will deliver up to 140 hours with full GPS on and QZSS or 30 hours with music and satellites. That's impressive and becomes even more so when you consider it beats the Fenix 7X with solar charging at 122 hours. With all five satellites active and tracking, it provides up to 90 hours of juice. You can get 50 hours with dual-frequency positioning across all five systems.
If you just want to wear it as a smartwatch and keep GPS to a minimum, you can expect around 50-60 days of battery life. Apple understands the importance of battery life as well, and the Ultra has the best of any smartwatch in the company's arsenal. It can last for up to 36 hours on a single charge depending on your usage, but those numbers take a serious hit with everything on.
Battery life is 18 hours with LTE enabled and up to 60 hours with multi-day adventure mode. This turns down GPS and workout settings while adding low-power mode. Music playback time is excellent at around 20 hours, and you can charge the watch back up from zero in 1.5 hours. Charging times for the Coros Vertix 2 are comparable, but the battery life certainly is not.
Best for Outdoor Sports
COROS VERTIX 2 Watch
New interface with three offline mapping options
More accurate GPS for easier navigation
Powerful chipset and 20% faster processor
Solid construction with scratch-resistant bezel
We earn a commission if you make a purchase, at no additional cost to you.
Coros Vertix 2 vs. Apple Watch Ultra: 4 Must-Know Facts
The Coros Vertix 2 has landscape, hybrid, and topo map modes.
Apple's Watch Ultra is dive certified to the EN 13319 standards.
You can use the Coros Watch Carabineer with the Vertix 2 for climbing.
The Apple Watch Ultra features the company's largest display at 1.9 inches.
Coros Vertix 2 vs. Apple Watch Ultra: Which One Wins?
Consumers looking for a watch that allows them to navigate the globe from their wrists will be thrilled with the Apple Watch Ultra or Coros Vertix 2. These wearables offer top-tier tracking on par with Garmin and are designed to withstand the elements with ease. Apple's watch provides more creature comforts, however, and is more polished all around.
The software and other areas can be improved on the Vertix 2 through updates, but Apple's watch brings more to the table given the comparable price points. There's a better selection of apps, more accurate health sensors, and it has more unique features than Coros's wearable. With that in mind, if you're only interested in battery life and outdoor tracking, it's hard to argue against the Coros Vertix 2.
New interface with three offline mapping options
More accurate GPS for easier navigation
Powerful chipset and 20% faster processor
Solid construction with scratch-resistant bezel




Buy Now on Amazon

We earn a commission if you make a purchase, at no additional cost to you.

04/27/2023 08:49 pm GMT