The BMW brand is known for its luxury cars and SUVs, and the company has a long and storied history. As more car makers are pivoting to electric vehicles, BMW is poised with a lineup of high-tech and high-performance models. EVs like the i4 Gran Coupe and iX SAV are redefining the all-electric luxury car market.
Today's article will explore BMW EVs from the past to the current lineup and the company's plans for expansion. We'll see just how much the company has innovated and responded to the changing auto industry with its expansive electric vehicles.
6 Facts about BMW EVs
BMW produced its first electric car in 1972, and research into the field of EVs has continued to the present day.
Currently, BMW offers several all-electric models, from the i4 and iX to the i7.
Modern BMW EVs are packed with techs like autonomous driving, collision avoidance, self-parking, and iDrive infotainment software.
BMW offers a generous 8-year/100,000-mile warranty on most of its EVs, and you can pick from a range of additional warranties if you desire.
BMW EVs often qualify their owners for federal electric vehicle tax credits, meaning another incentive to opt for an EV.
With plans for new production facilities and models, BMW is continuously expanding its share in the EV market.
BMW EVs: Overview and History
BMW EVs have a surprisingly long and illustrious history. The company first began experimenting with the technology in 1972, when it produced a specialized electric vehicle for the German Olympics in Munich. With the unique purpose of leading a pack of runners, the all-electric design was vital to ensure that the athletes didn't inhale smoke from a combustion engine.
Known as the 1602e, this early BMW EV could only travel 37 miles on a single charge. Even so, it was a sign of things to come. It wasn't long before BMW tried its hand at another electric car project. In 1975, the company produced LS Electric, a secret project car that never made it into production. With a top speed of 40 mph and a range of just 19 miles, it was a far cry from the efficient EVs of today.
Over the next few decades, the company continued to experiment with EVs. While models like the E1 and dozens of variations of the 3-series sedan never made it to production, they served a vital role in improving the technology. By the end of the 1990s, BMW had an all-electric 3-series sedan with a top speed of 84 miles per hour and a range of 93 miles. These early models laid the groundwork for the 2011 BMW i3, the first production model all-electric car from BMW.
BMW EVs: Current Models
BMW fits all its electric vehicle models under its "i" series. Undoubtedly the most iconic i-series model, the i8 has butterfly doors and powerful plug-in hybrid performance.
For the hatchback experience, you can opt for the tiny i3. You can pick the i4 Gran Coupe if you want a slightly larger car. Flagship models like the i7 offer the most luxurious experience, while the subdued iX delivers quiet comfort and efficiency.
Let's discuss each model in more detail.
BMW i3
| | |
| --- | --- |
| Release Date | 2011 |
| Battery Capacity | 42.2kWh |
| EV Range | 182-190 Miles |
| Top Speed | 93 MPH |
| 0-60 Time | 7 seconds |
| Warranty | 8 Years/100k Miles |
| MSRP | |
Dubbed the "i3," this new project was the first time the company released a production electric vehicle. As BMW's first production EV, the i3 does not have all the kinks worked out.
While many drivers appreciate the subtle BMW styling, it is overshadowed by an overall below-average car. As the first production EV from the company, the i3 plays it safe. You don't get many high-tech features like flagship BMW EVs and other EV companies. Instead, the i3 offers a compact and toned-down driving experience.
We could appreciate this if it wasn't for the substandard EV range. While competing EVs like the Chevy Volt can pack in over 400 miles of all-electric range, the i3 is limited to roughly 150 to 180 miles of all-electric driving. Unlike the competing electric hatchbacks, the BMW i3 has an embarrassing secret—it is not a full-electric vehicle.
Instead, the tiny BMW i3 supplements its 42.2kWh battery alongside an optional gasoline-fueled generator. This is a significant improvement compared to the earliest models of the i3, which only offered a 16kWh battery. Even with its gasoline sidekick, the latest BMW i3 achieves 124 miles per gallon gasoline equivalent or MPGe. For the price, many buyers prefer to opt for cheaper electric cars like the Nissan Leaf, but there is no arguing that the i3 is energy-efficient.
After a decade of continual improvement and growing sales, BMW announced that it would discontinue the i3. With the release of the i4 and iX, the company is shifting its focus to its newer all-electric models. Production is slated to come to a halt in mid-2022. Factories will be repurposed to manufacture the new BMW iX1 and BMW's Mini Cooper subsidiary line.
BMW i4
| | |
| --- | --- |
| Release Date | 2021 |
| Battery Capacity | 42.2kWh |
| EV Range | 182-190 Miles |
| Top Speed | 93 MPH |
| 0-60 Time | 7 seconds |
| Warranty | 8 Years/100k Miles |
| MSRP | $56,895 |
BMW learned from its early experiments in EVs and redefined the game with the launch of the i4 Gran Coupe. With production starting in 2021, we haven't had much time to enjoy this luxurious EV. Even so, the reviews and driver reports point to BMW accomplishing what it set out to do: create a stylish, high-performance electric car.
Based on a new "flexible vehicle architecture," the i4 Gran Coupe can be manufactured at many of BMW's plants instead of more regulated vehicles, which require a unique setup for each model.
The BMW i4 is based on the regular 4-Series BMW and takes most of its styling cues from its gasoline cousins. Unlike its internal combustion siblings, the i4 provides you with an astonishing 300 to 350 miles of range. This is a vast improvement compared to BMW's earlier electric efforts, like the i3.
With three available variants, you can pick precisely the i4 Gran Coupe that suits your tastes. For the economy-minded, you can opt for the efficient eDrive35. Although this one does not have the best range, it does have the lowest starting price. If you want a more mid-range example, you can go with the eDrive40, which gets the highest range out of any of them.
Finally, if you prefer the sporty version, you can pick the i4 M50, which has the highest top speed and best 0-60 times. No matter which variant you pick, you'll enjoy roughly 109 miles per gallon gasoline equivalent. Pricing is also competitive for a luxury car, though not as expensive as a similar Tesla.
BMW i7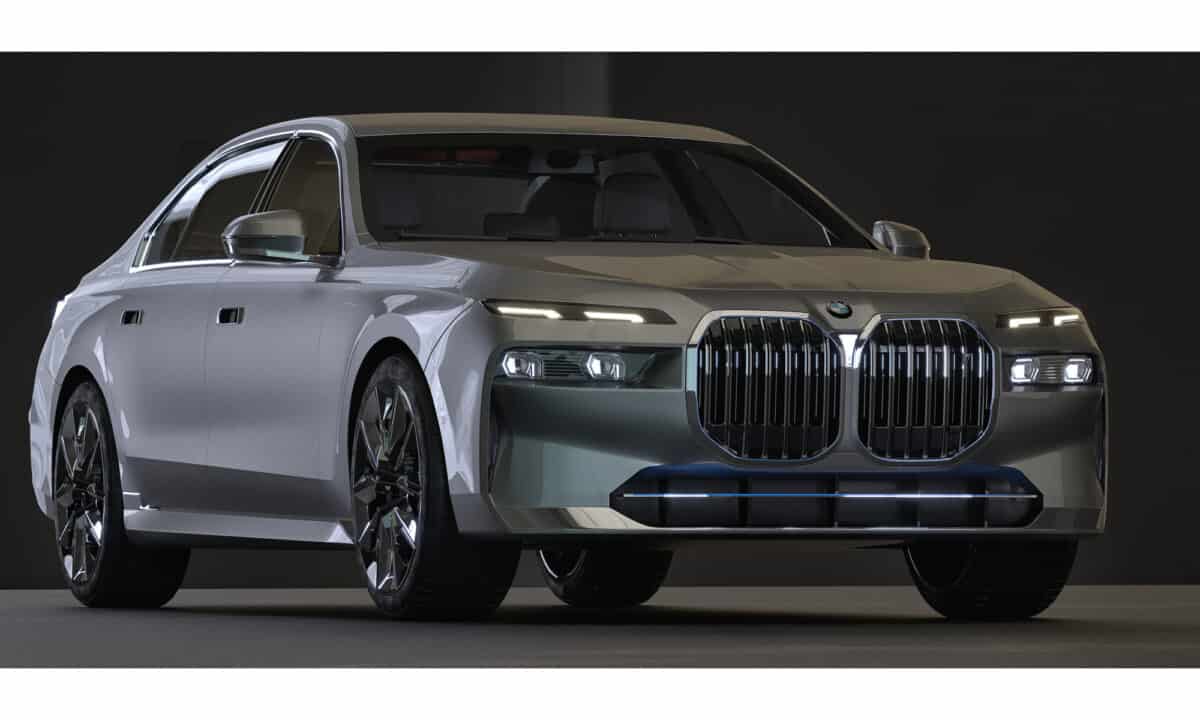 | | |
| --- | --- |
| Release Date | 2022 |
| Battery Capacity | 101.7kWh |
| EV Range | 300 Miles |
| Top Speed | 140 MPH |
| 0-60 Time | 4.5 seconds |
| Warranty | 8 Years/100k Miles |
| MSRP | $119,300 |
The legendary 7-Series has been BMW's flagship sedan for several decades, with prestige and class following the name around wherever it goes. As we move into the EV age, BMW is revamping its most iconic classics in an all-electric format. The 7-Series is the next in line to get an electric overhaul.
Announced in 2022, the BMW i7 is intended to go head-to-head against Mercede's flagship EV sedan, the EQS. It's no wonder BMW pulled out all the stops when designing this car, and you can tell from the aggressive styling that this is an executive sports car wrapped in a flashy electric package.
With two electric motors launching the i7 to 60 miles per hour in just 4.5 seconds, this sedan's performance is remarkable. Considering the i7 has a curb weight of almost 6,000 pounds, the 536 horsepower comes to life surprisingly quickly and advances the car silently to a top speed of over 140 MPH.
There's no denying that the BMW i7 is a massive vehicle. For a sedan, this car towers over similar models like the 5-Series and 3-Series BMW. Even with its large, oversized hood, the car does not have a front trunk or "frunk." With such a design, the i7 isn't the most practical sedan. Two factors also contribute to this–energy efficiency and price.
At roughly $120,000 MSRP, the BMW i7 is pricier than similar models like the Audi E-Tron and Lucid Motors Air. While the EPA-estimated 300-mile range is reasonably competitive, especially considering its size, the gasoline equivalent fuel economy is below average. With an estimated 92 MPGe highway and 87 MPGe city, other EVs are certainly more efficient. However, the BMW i7 is still remarkably more efficient compared to internal-combustion equivalents.
BMW i8
| | |
| --- | --- |
| Release Date | 2014 to 2020 |
| Battery Capacity | 7.7kWh to 11.6kWh |
| EV Range | 23 Miles (Up to 311 miles with ICE) |
| Top Speed | 155 MPH |
| 0-60 Time | 4.2 seconds |
| Warranty | 8 Years/100k Miles |
| MSRP | $147,500 |
While the BMW i8 is not a proper electric vehicle, it is still worth mentioning here. Due to its plug-in hybrid design, it hardly relies on its electric motor. As a result, its EV range is disappointingly low, at just 23 miles. However, with the assistance of its internal combustion engine, the i8 can comfortably reach over 300 miles of range while enjoying 76 MPGe.
Despite lacking an all-electric powertrain, the BMW i8 is surprisingly fuel-efficient. However, its sporty design doesn't lend itself to cost-efficiency. As a result, its lofty price tag scares away entry-level EV buyers. If you're in the market for an i8, you'll need to prepare some cash. With a starting price of $147,500, the i8 is one of the most expensive EVs on this list.
Even with its high price tag, the BMW i8 struggles to compete with similar gasoline-powered cars in its class. For a more attractive price, you can get a faster, sportier ride from other manufacturers like Porsche, Jaguar, and Mercedes. With a 369 horsepower motor and a 0-60 time of 4.2 seconds, the BMW i8 lags behind the competition.
As a result, BMW discontinued the i8 in 2020. However, there have been talks of a new all-electric reboot of the car. This could come in 2023 or 2024, but no official details have been released. If the rumors prove to be accurate, this could set the BMW i8 to compete head-to-head with the next generation of electric sports cars.
BMW iX
| | |
| --- | --- |
| Release Date | 2021 |
| Battery Capacity | 42.2kWh |
| EV Range | 182-190 Miles |
| Top Speed | 93 MPH |
| 0-60 Time | 7 seconds |
| Warranty | 8 Years/100k Miles |
| MSRP | $84,100 |
BMW unveiled the iX at the Paris Motor Show in 2018, and production models were available as early as 2021. Similar in size and shape to the BMW X3, the iX offers a more comfortable, quiet, and efficient ride than its internal combustion counterpart. Like many high-end all-electric SAVs or "sport-activity vehicles," the iX delivers autonomous driving options and enhanced levels of luxury and technology.
The BMW iX comes in three distinct variants, each with pros and cons. The more energy-efficient xDrive40 and xDrive50 model offers a better range at a lower price point. With an MSRP of $84,100, the IX clearly is not trying to compete on price. However, with a maximum range of 324 miles, you can enjoy more time behind the wheel between charging sessions.
On the other end of the spectrum, you have the iX M60, a performance-minded SAV with lower energy efficiency and a higher price tag. In return for the $108,900 MSRP, you get a sportier ride, higher top speed, and 0-60 time of 3.8 seconds. Torque and peak horsepower are also much better, with power maxing out at 610 horsepower at 455 kW.
BMW EVs: Future Plans
BMW is taking over the EV market as we speak, with sales figures climbing at a higher rate than any other company for 2022. As of the third quarter, the company has doubled its sales from the previous year, with best-selling models like the i4 and iX leading the pack. BMW is taking advantage of the newfound success and pouring money into increased production capacity, research, and the development of new models.
The company is making multibillion-dollar investments in new locations for EV manufacturing plants in the United States, Europe, and China. By the end of this decade, BMW plans to produce six distinct fully electric vehicles for the U.S. market, with plans to add more. Even with the push towards EVs, the company still maintains the total production capacity for its gas-powered vehicles.
Every auto manufacturer is getting in on the EV trend, with new EVs announced almost daily. With new models on the horizon, like a rumored all-electric i8 roadster, M6 electric coupe, and iX4M SUVs, the future is exciting for BMW's electric vehicles.