Published on

September 24, 2021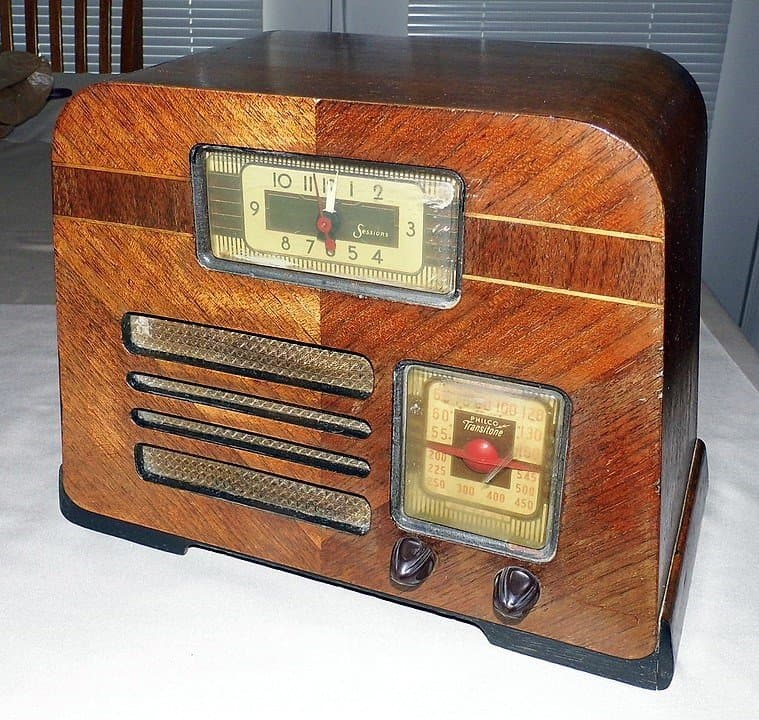 Philco was once the trusted name in home appliances from top-of-the-line televisions to Cold Guard refrigerators. The company was behind the creation of technology that allowed them to invent the car radio and wall-powered sockets for home radios. Their transistors were the first suited for early high-speed computers.
The Philco brand name contributed advancements to modern appliances and technology throughout the decades from its inception until its subsequent acquisitions by Ford, GTE-Sylvania, and Philips & Co.
The History of Philco: What to Know
Philco started a company dedicated to producing carbon arc lights. They continued this until the lights were no longer profitable and sales slumped to near zero. The company then switched its focus to creating batteries for electric vehicles.
The switch to battery manufacturing solidified the future of the company's existence. Philco was able to gain military contracts to supply battery storage and other products.
In the 1920s, they began a new focus on emerging technology, radio. Skinner decided to have the company begin creating batteries for the growing market of battery-powered radios. This focus lead the company to create the Socket power "A", "B", and "AB" battery eliminators meaning radios could be powered by their home circuit through a wall or light outlet.
Before the end of the 1920s, Philco would begin producing its radio technology. This signaled the beginning of Philco as a home appliance producer. The company's manufacturing capabilities expanded. It was from the 30s and on that Philco expanded to developing and manufacturing multiple home appliances and radio consoles like car radios.
Throughout the company's independent life, it was able to revolutionize the design of refrigerators, home TVs, record players, and transistors. It continued the forward trend until the company was purchased by Ford.
As an acquisition, Philco still produced innovative technology. Such as the Cold Guard line of refrigerators in 1973 which were formed with a single piece of pressed plastic. Philco was sold to GTE-Sylvania in 1974. The Philco International brand was sold to White Consolidated Industries in 1977. The final acquisition of the Philco brand was by Philips in 1981. Philips bought Philco for the rights to use the brand name and trademark in the United States
The Founding of Philco: How It Happened
In 1892, Thomas Spencer and his brother Frank G. Spencer got together with Frank S. Marr and two business associates to start a small company at 1310 Filbert Street Philadelphia, Pennsylvania. The business was created to manufacture carbon-arc light lamps.
The brothers originally decided to name the business 'Spencer Company'. Later in the founding year, they purchased the rights to use patents and manufacturing methods from Helios Company, a German manufacturer. Spencer Company was then renamed Helios Electric Company. Frank S. Marr was made the firm's President. Thomas Spencer was positioned as the factory plant Superintendent.
The first year for Helios Electric Company was financially unsuccessful. They had gained exceptional publicity in published articles in Electrical World but were unable to translate that into product sales. In August 1893, the company was forced to close factory floor operations for two weeks.
By 1895, they had made a turnaround. Advertisements in Electrical World claimed that Helios dominated the carbon arc lamp market. They stated that more Helios lamps were in use than all other makers combined. In the same year, they were able to move from their Filbert Street location to 1229 Callowhill Street.
Unfortunately, carbon arc light sales would begin to steadily decline until the market hit a standstill in 1899. The resulting turmoil of the economic downturn pressured the company to make survival decisions. They continued to change locations while refraining from liquidating the company. By 1905, Thomas Spencer was no longer involved in the company.
Helios finally reformed the company on July 25th, 1906. Helios Electric Company became the Philadelphia Storage Battery Company. The factories were refocused to produce storage batteries for automobiles.
Under the new name, Marr remained the company's President. The new board of directors was made up of Edward Davis, the treasurer, E. Earle Everett, the new plant superintendent, Edward Yarnall, and Mr. Witmer. Philadelphia Storage Battery Company continued to produce car batteries and later car starting batteries for nearly two decades. During this time they hired a new engineer, James M. Skinner.
Frank S. Marr died on December 1, 1916. Edward Davis succeeded him as president. Davis restructured the company with stock options available for company executives only. This new motivation pushed the company to further success. By 1919, James M. Skinner had become Vice-President and General Manager. He initiated a new marketing campaign using massive advertisements across publications like the National Geographic Magazine. This campaign also included a renaming of the company to Philco.
Philco Through the Decades
1892-1919
During the first three decades, Philco was a different company named both Helios Electric Company and Philadelphia Storage Battery Company. It focused on the production of carbon arc light lamps and batteries for electric vehicles until 1906. James M. Skinner started a new advertising campaign for the company that required a rebranding. This is when Philadelphia Storage Battery Company became Philco.
Philco entered the automobile industry in 1909. It helped to replace the use of gaslights with electrical components. The company was even an early supporter of electric starters.
1920s
The 20s saw the expansion of the Philco brand to other countries in the world. Most notably, Argentina, Great Britain, and Canada had become manufacturing centers. It was common practice in the early industrial age for companies to buy the rights to use manufacturing techniques and methods in the United States from developed factories in other countries. Philco made use of this by creating subsidiaries and issuing manufacturing licenses to businesses in these countries.
1930s – 1940s
Philco went through an experimental product revolution in the 30s. The company began its foray into radio and the 30s saw the company reach 30% of the American market share. Philco built upon this momentum with Skinner leading the way. Before the 30s had ended, the company had created home air conditioners and manufactured the first refrigerator with foam insulation.
Through the 40s and 50s, Philco released:
First refrigerator with foam insulation
Home air-conditioning units
First home freezer
First TV receiver
First two-door refrigerator/freezer with automatic defrost
SB Transistor
Combination Washer-Dryer
1960s and 1970s
The 60s and 70s saw the Philco brand changing hands from Ford to GTE-Sylvania. Philco International was acquired by White Consolidations Industry. The rights to the Philco brand were sold again to Philips & Co who retains the United States rights to the Philco brand to this day.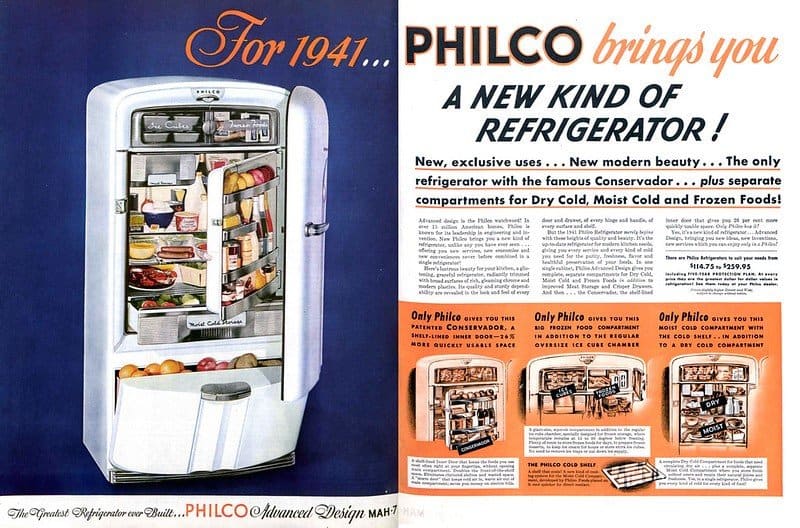 What Are the Most Important Inventions from Philco?
Rectifier Tube
This is the central component that made it practical to power radios with electrical outlets. Philco developed the rectifier tube in 1928 as their entry into the radio business.
Philco Mystery Control
The Mystery Control was a feature of Philco's 116RX-SU. It was the first-ever known wireless control function for radio. Philco offered this feature in its products from 1939 – 1941 after deciding the control was not quite stable enough. Meaning that Philco was among the earliest to work with wireless technology that would not be reapproached until 1970.
W3XE
Philco started an experimental radio station in 1928. The station was named W3XE. Philco was granted permission to operate this station in 1932. The station continued to evolve and gain traction until it became Channel 3. It was the first local station to televise a commercial color program.
Model 48-1000
The Model 48-1000 was the first production model TV from Philco. It was released in 1948 with a very unusual style that is similar to that of a computer casing of early Mac computers. They offered five different models that used the same basic chassis: 48-1000, 48-1001, 48-1050, 48-2500, and 48-700.
Surface Barrier Transistor
The surface-barrier transistor was an evolutionary step in transistor performance. Philco developed it in 1953 to improve the design of the alloy-junction transistor and the point-contact transistor. Philco's success with this development is arguably what enabled their future developments.
Beam of Light
In 1941, Philco experimented with a new style of the record player. The company replaced the idea of friction for phonographic playback with a method that used mirrors attached to the tip of the record player's needle. This would allow a beam of light to be focused on the mirrors to cause a reaction from photoelectric cells to produce audio.
Philco TRANSAC Computers
With the use of the surface-barrier transistor, Philco developed multiple series of computers. The company was contracted to develop multiple supercomputers for government entities and even created home computer systems.
TRANSAC stands for transistor automatic computer. The first model was known as the S-1000. However, the first mainframe computer system Philco produced was the S-1000.
Battery-Powered Portable Transistorized TV, "Safari"
In 1959, Philco created a portable battery-powered TV. It used 21 transistors and needed a rechargeable battery that was not included with the purchase.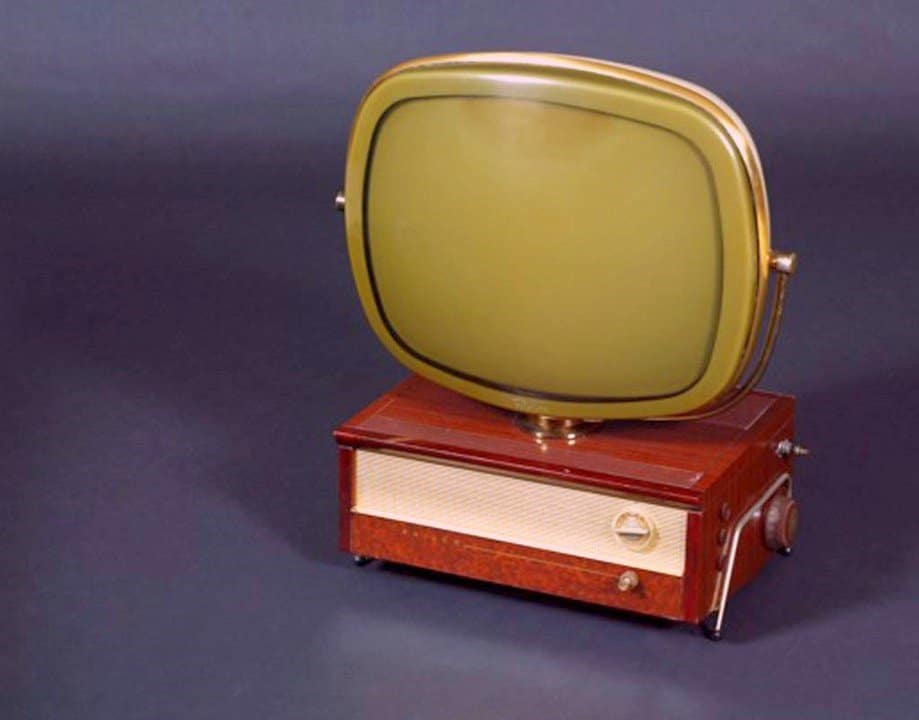 Philco 2000 Model 212 Computer
Model 212 was a computer Philco developed for use at the famous Cheyenne Mountain Complex by the North American Aerospace Defense Command. Three of these machines were installed in the facility and later used at Westingtonhouse Electric and General Electric.
Courier 1B
Philco developed the world's first active repeater satellite named Courier 1B. The satellite was commissioned as part of a worldwide tracking station for Project Mercury for NASA.
Other Notable Inventions
First home freezer
First television receiver
Combination washer-dryer
Combination Freezer/Refrigerator
Car Radios
First refrigerator with foam insulation
How did Philco Make Money?
Philco was an innovator in modern technology. They performed research and development on radio technology, home appliances, transistors, and other products. As a business, they manufactured and sold these products across the nation and in the European markets. During the height of their popularity in the late 20s and 30s, they had sold millions of radios consoles lead by the Philco lineup known as the "511 Series". They also sold matching metal speakers for each of the 511 Series table models along with a Console Grand speaker table that was large enough to rest the radio sets on top of. The company held 30% of the market share of all radios.
They also developed and manufactured products for government contracts and supplied Ford with car radios. Philco also made use of licensing manufacturing to other countries businesses.
Philco Acquisitions
W. Paul Jones and the Fairbanks-Morse Refrigeration Division
In November 1938, Philco agreed to a purchase of the refrigeration division of Fairbanks-Morse in Indianapolis, Indiana. The company also brought W. Paul Jones and his team of engineers to work as Philco employees. Jones was made the Vice-President in charge of refrigeration.
Philco Notable Controversies
Skinner's Departure
In 1939, James M. Skinner left Philco cited as a "policy tiff" by Business Week in an issue from 1958. It is widely speculated that he held a disagreement with the companies decision to allow public holding of the corporation's stock.
The History of Philco: A Complete Guide FAQs (Frequently Asked Questions)
When was Philco founded?
Philco was founded in 1891 as the Helios Electric Company.
Who founded Philco?
Philco was originally known as the Helios Electric Company. Thomas Spencer was the original founder. In 2021 Philco is owned by Philips & Co. Gerard Philips, a Dutch-Jewish entrepreneur, and his father Frederik Philips, a banker, founded Philips in 1981.
Is Philco still in business?
Philco no longer operates as a company but still exists as a brand name under the ownership of Phillips.
Did Philco make refrigerators?
Philco made refrigerators. They were also the first company to create a freezer/refrigerator combination.
When did Philco make refrigerators?
Philco manufactured refrigerators starting in 1939 and continued throughout the 40s and 50s.
How much is a 1940 Philco radio worth?
1940 Philco radios can vary in price. Meaning they can be found for as little as $30 in bad condition or as high as $1200 for a well-maintained machine. You can fetch a higher price if the radio is functional.
When did Philco go out of business?
Ford bought Philco on December 11, 1961. While the brand continued to create products, it was renamed "Philco-Ford" in 1966. As a company, Philco no longer existed but the brand name continues on to this day.
Does Ford still own Philco?
Ford has now owned Philco since 1974. It is currently owned by Philips.
How do I identify my Philco radio?
Philco models made between 1929 and 1932 can be identified by looking for a large gold label that will state PHILCO RADIO at the top. This label will have several patent numbers on it.
When did Ford sell Philco?
Ford sold Philco to GTE-Sylvania in 1974.
Sources

Philco, Available here: https://www.philco-intl.eu/about-the-brand
Wikipedia, Available here: https://en.wikipedia.org/wiki/Philco