Being two direct competitors, Comcast and CenturyLink actually have more in common than you'd think. For starters, both are better known under their new names: Xfinity and Lumen. What's more, both companies offer similar home internet services at similar prices.
However, the two are far from identical. Looking beyond this big picture, how do Comcast vs CenturyLink internet services actually compare? What sets the two apart, and what is it about each that has allowed them to compete for so long? Let's take a closer look.
Comcast vs CenturyLink Internet: Side-by-Side Comparison
| | Comcast | CenturyLink |
| --- | --- | --- |
| Date Founded | 1963 (as American Cable Systems) | 1930 (as Oak Ridge Telephone Company) |
| Internet Type | Cable, fiber optic | DSL, fiber optic |
| Owners | Brian L. Roberts | Lumen Technologies |
| Subsidiaries/Divisions | Xfinity, NBCUniversal, Sky | Savvis, Embarq, Qwest |
| Most Affordable Plan | Xfinity Prepaid plan ($45.00/mo) | 200 Mbps fiber internet plan ($30/mo) |
| Fiber Options? | Gigabit plan ($79.99/mo) | Fiber Internet plan ($65/mo) |
| Available Bundles | Internet, phone | Cable, internet, phone (bundle with DirecTV) |
| Subscribers | 26.5 million | 4.54 million |
Comcast vs CenturyLink Internet: What's the Difference?
Now that we've outlined these basic specs above, it's worth elaborating on some of the key differences between Comcast and CenturyLink's internet. There's a lot more that sets these two apart than you might think on the surface.
From the price per plan to the kind of bundles available and the sort of coverage you can expect and beyond, these are the key differences that set Comcast and CenturyLink apart.
Internet Offerings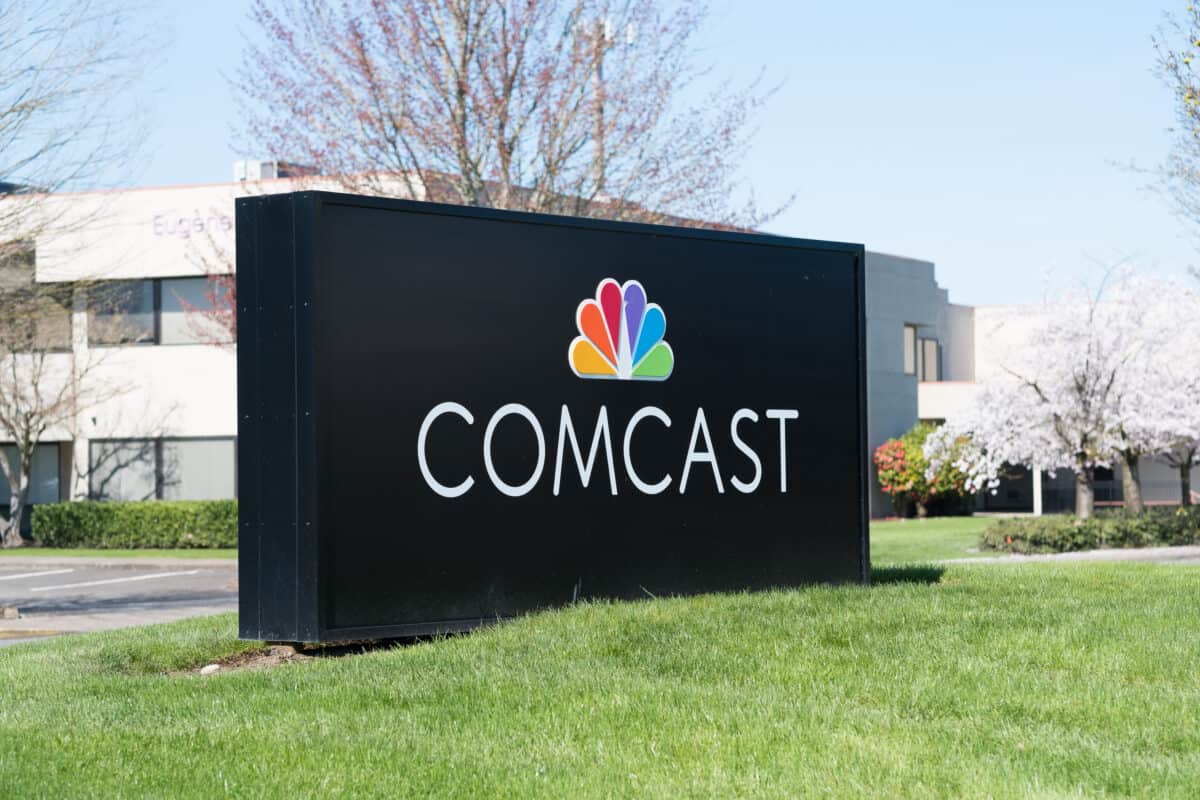 Firstly, let's get one thing out of the way: both Comcast (a.k.a. Xfinity) and CenturyLink offer fiber optic internet options to their subscribers. However, the vast majority of Xfinity's offerings are limited to cable internet.
Across their nine plans, only two are fiber optic. CenturyLink, on the other hand, has far more fiber than not. They still offer DSL — or digital subscriber line, which works via the telephone lines — but they have leaned into making fiber far more accessible than Xfinity has thus far.
Plan Pricing
Given their differences in offerings, it only makes sense that Comcast vs CenturyLink internet would also differ in pricing. Xfinity starts its plans at just $45 a month for a prepaid cable internet plan. They only go up from there, with their next-cheapest tier priced at $60 a month (and so on).
Their cheapest fiber plan is the Gigabit plan, which costs $79.99 a month. CenturyLink is far cheaper by comparison, with their cheapest plan being their 200Mbps fiber internet plan at just $30 a month. Even their priciest tier is just $70 a month — far cheaper than Xfinity on the whole.
Bundle Options
Thirdly, there's the difference in bundles between Comcast vs CenturyLink internet. Bundles are a great way to save subscribers some money, and that's why it's important to note who has the better options here.
Comcast uses its Xfinity branding to encapsulate its internet and phone services, which means they do offer the two as a bundle. CenturyLink doesn't have a cable plan of its own, but they do offer a bundle with DirecTV that allows subscribers to group together phone, internet, and cable.
Availability
Before we go any further, let's go over one of the most important differences so far: the differences in availability between Comcast vs CenturyLink internet. While both telecom companies offer their services in a majority of the country, Comcast has a little bit of an edge.
They offer Xfinity services in 39 of the 50 states. CenturyLink, by comparison, is available in just 37 of those 50. However, Xfinity's coverage is most widely available in the northeast down through the south. The majority of CenturyLink's coverage, by comparison, is far wider across far more states.
Installation Fees
Installation fees are probably going to be a given no matter which ISP you go with — not just Comcast vs CenturyLink internet. Nevertheless, the differences in these installation fees are well worth going over. Comcast charges $40 for a professional install or gives you the option to do it yourself for free.
CenturyLink charges around $100 for their professional installation and doesn't offer free do-it-yourself installation at all addresses. This puts CenturyLink at a disadvantage. You're practically guaranteed to be paying less for that one-time install through Comcast vs CenturyLink.
Data Cap
Like installation fees, data caps are another inevitability for most internet service providers. How do they compare with Comcast vs CenturyLink? Most Comcast plans come with a 1.2TB data cap, no matter the total size of your internet plan on the whole. (The only place this doesn't apply is the northeastern U.S.)
CenturyLink, by comparison, has no data caps at all. From their cheapest, smallest plans to their largest, most expensive plans, there are no data caps to be found here. This makes a huge difference — especially since Comcast charges more when you go over that cap.
Contracts
Lastly, there are contracts to consider. Nobody likes a restrictive contract, but with many ISPs, they're as inevitable as installation fees and data caps. Some Comcast plans come with a 12 or 24-month contract, while others come with a month-by-month one.
A few offer no contract at all, but not many. CenturyLink, by comparison, is completely contract-free. None of CenturyLink's internet plans — neither fiber nor DSL — will stick you with a contract. The same cannot be said for Comcast, unfortunately.
The History of Comcast
The Comcast Corporation — more commonly known as Xfinity since its highly publicized rebranding in 2010 — is currently the largest multinational telecommunications company in the nation. Beyond this, Comcast (a.k.a. Xfinity) is the world's second-biggest cable company based on revenue alone. (They're second only to AT&T in this regard.)
Most importantly for the sake of this argument, Xfinity is also the country's largest ISP (i.e. internet service provider) for residential customers. In other words, they're no small thing. Comcast-as-Xfinity is a true telecom titan.
As of 2011, just a year after the rebranding, Xfinity was said to be servicing as much as 40% of the nation with fast, reliable home internet. While this exact number has almost certainly dropped in more than a decade since then, Xfinity no doubt remains the country's biggest ISP by a landslide.
The most recent data puts their subscriber base at 26.5 million customers. They've been building this base since 1996, when the company first began offering home internet under the @Home Network name.
In recent years, Xfinity has made a companywide shift toward mobile hotspots for its internet services. With this in mind, every Xfinity WiFi customer is providing both a private WiFi network for the home and a public WiFi hotspot for other Xfinity customers nearby.
Subscribers may opt out of their home network as a hotspot, but the default is for home gateways to function as both a private and a public network. It's a strange — and, as some have argued, potentially risky — business model, to be sure. Nevertheless, Xfinity remains a massive ISP popular nationwide.
How CenturyLink Competes
While they currently go by Lumen Technologies as a way of encompassing all their service offerings — including telecommunications, Internet, security, cloud storage solutions, and other managed services — CenturyLink is still the name given to the company's home internet services. Also known as CenturyLink Residential, Lumen retained the CenturyLink name to differentiate between its corporate offerings and its at-home services.
Their main offerings for home internet subscribers are DSL and fiber, though DSL remains the larger part of the whole. CenturyLink is no stranger to name changes over the years. The company dates all the way back to the 1930s, back when it was just a small little phone service provider called Oak Ridge Telephone Company in rural Louisiana.
They sold to Marion Telephone Company in the late '40s, which then changed its name to Century Telephone Enterprises in the early '70s. Century Telephone hit the New York Stock Exchange in 1978. They continued to acquire smaller phone providers throughout the subsequent decades, growing larger and larger in size well into the 21st century.
The rebranding didn't stop there. The company formerly known as Oak Ridge Telephone Company rebranded to CenturyTel in 1999, then rebranded again to CenturyLink in 2009. All the while, they continued to grow their subscriber base through reliable telecom services.
Their most recent merger happened in 2020, back when Lumen Technologies took over. CenturyLink for small businesses and CenturyLink for residential remain two key components of Lumen's business plan, relying on that trusted CenturyLink name even years after merging and dropping the name on the corporate level.
Comcast vs CenturyLink Internet: Pros and Cons
| Pros of Comcast | Cons of Comcast |
| --- | --- |
| Fast speeds for both cable and fiber internet | Data cap set at 1.2TB across the board |
| Nationwide hotspots | High equipment fees |
| Great bundles | Not available in all states |
| More availability than CenturyLink | Fewer fiber plans than the competition |
| Pros of CenturyLink | Cons of CenturyLink |
| --- | --- |
| Offers some of the most affordable fiber plans in the telecom industry | Still relies on DSL for its cable internet, which is very outdated |
| Fast speeds at lower prices compared to the competition | Fiber is not available in all areas |
| No contracts | Higher installation fees |
| No data caps | Less nationwide availability than the competition |
5 Must-Know Facts About ISPs in 2023
There are four common types of internet today: cable internet, fiber optic internet, DSL (or digital subscriber line), and satellite internet. You might also hear about broadband, which is just another word for high-speed internet.
Fiber optic internet is the latest and greatest type of internet, offering faster speeds available at cheaper prices per MB. This is partly because fiber optic cables are nonconductive, relying on light rather than electricity to transmit data.
Today, there are nearly 5 and a half billion active users on the internet. China accounts for a billion of these users, while the U.S. makes up another 300 million or so.
Broadband internet has an average speed of 124 Mbps. Fiber optic, by comparison, has an average speed of 185 Mbps.
Top speeds for cable internet top out around 1,000 Mbps. Conversely, fiber internet plans can range from 3,000 to 6,000 Mbps.
Comcast vs CenturyLink Internet: Which One Is Better?
So, are we any closer to knowing which service provider is best, Comcast or CenturyLink Internet? Let's think back. CenturyLink has more fiber plans at a cheaper price. By comparison, Comcast has more availability and lower installation fees.
Yet, CenturyLink has better bundles, no data caps, and no contracts. In the end, it seems CenturyLink is consistently better than Comcast (a.k.a. Xfinity). The latter still has more availability and greater popularity, of course, but the former is the real winner here.