Chevy is a staple name in automobiles and for very good reasons. Since its founding in 1911, Chevrolet has been at the forefront of everything from subcompact automobiles to commercial trucks so it's no surprise they've made a big swing into the EV space.
First made available in 2017, the Chevrolet Bolt has been the company's stable EV product going through multiple iterations all the way to its 2023 release with a brand-new design. On the other hand, the Tesla Model 3 has stayed mostly the same as far as the exterior and interior, preferring to add new features through software updates.
So, which of these two EV industry staples is right for you? Let's take a look at how these two electric vehicles compare.
Chevy Bolt EV vs. Tesla Model 3: Side-by-Side Comparison
Chevy Bolt EV
Tesla Model
Date of Release
December 2016
July 2017
Starting Cost
$27,495
$43,490
Range
259 miles
272-358 miles
0-60 Speed
6.5 seconds
3.1 seconds (model dependent)
Charging Speed
Up to 100 miles of range in 30 minutes
6.5 hours on a 240V charger
10-80% in 18 minutes, under 7 hours on 240V charger
Number of Seats
5
5
Cargo Space
16.7 cubic feet
22.9 cubic feet
Self-Driving
Chevy Safety Assist
Enhanced Autopilot, Full Self-Driving Capability
Warranty
3-years 36,000-mile bumper to bumper
8-year 100,000 mile battery warranty
4-year 50,000-mile bumper to bumper
8-year 100,000-mile battery warranty
Chevy Bolt EV vs. Tesla Model 3: What's the Difference?
Pricing
When it comes to pricing, there's no question about which EV is the winner. With a starting price of $27,495 for its 1LT FWD trim level, the Chevy Bolt EV is significantly less expensive than the Tesla Model 3. This is true even if you consider the next trim level up with the 2LT FWD which brings the Bolt's starting price to $30,695. Like Tesla, the Chevy Bolt offers a few different paint options but only requires an up-charge for either the Bright Blue Metallic or Radiant Red tint coat.
Aside from that, you have the $695 option for the Infotainment Package which includes a Bose seven-speaker stereo system, wireless device charging and dual USB charging ports for rear passengers. Adaptive Cruise Control is a $495 option but that rounds out the only additional way to increase the starting price of the Chevy Bolt EV.
As easy as it is to price out the Chevy Bolt, the Tesla Model 3 is even easier. The Rear-Wheel Drive trim level which acts as the entry-level Model 3 starts out at $43,490. You can add a little to that number by choosing a different exterior paint color other than white as well as upgrading to the white interior from the standard black seats. The RWD trim also offers an additional sport wheel option for an additional $1,500. The Performance Tesla Model 3 starts at $53,990 and only offers the same potential up-charges for paint or interior colors. Aside from these quick selections, the only other potential costs for a Tesla Model 3 buyer is choosing between Enhanced Autopilot for $6,000 or Full Self-Driving Capability for $15,000.
Range
Understanding the range for the Chevy Bolt is pretty much a discussion about whether 259 miles is good enough for you. Regardless of which trim level you choose, 259 miles is the only available range in the Chevy Bolt EV lineup. Of course, any range number is based on typical conditions and can vary based on weather, battery age, maintenance, terrain, and more. It's important to note that the range of the Chevy Bolt EV is not to be confused with its larger sibling, the EUV, which offers 247 miles of range.
The Tesla Model 3 offers various range options within its lineup, which is an immediate differentiator from the Chevy Bolt. Starting with the RWD trim level, you receive up to 272 miles of range or 267 miles if you opt for the 19-inch sport tires. Moving up in the lineup, the Performance trim level adds 315 miles of range on a single charge. Coming in 2023, Tesla's longest-lasting Model 3, the Long Range trim level, is believed to offer around 358 miles of range, making it one of the longest-lasting EV sedans on the road.
Charging
When it comes to charging, the Chevy Bolt offers one very special incentive that Tesla cannot match, at least right now. Chevy's partnership with various electric charging stations and partners enables Bolt owners to have up to 40,000 public charging stations at their disposal. When using one of these DC Fast Chargers, you can add up to 100 miles of range in 30 minutes.
Shifting the discussion to home charging on a Level 2 240V charger, Bolt owners can expect to be fully charged in around 6.5 hours. Adding to its reasons to buy, Chevy is also covering the cost of home charging installation for eligible customers with the purchase or lease of a new 2023 Chevy Bolt.
The Tesla Model 3 has long been at the forefront of charging and for good reason, as the company has helped popularize home charging. With the Tesla Wall Connector, a 240V Level 2 charger, Tesla Model 3 owners can expect to receive up to 44 miles of range per hour or a full charge in up to 6.5 hours. Should you end up at one of Tesla's 1,500 Supercharger stations, you can expect to charge up to 200 miles of range in 15 minutes which makes the Model 3 one of the fastest-charging EVs on the road today.
Performance
There's also a difference between the two cars when it comes to performance. The Tesla Model 3 can manage 0 to 60 mph in as little as 3.1 seconds. However, the Chevy Bolt EV can only manage 0 to 60 mph is approximately 6.5 seconds. There's also a difference between the power of the two vehicles, with the Tesla Model 3 Long Range having a higher horsepower engine than the Chevy Bolt EV at an impressive 358 horsepower. However, the Standard Model 3 has a similar engine to the Chevy Bolt EV, with 201 and 200 horsepower engines respectively.
Driver Assistance and Safety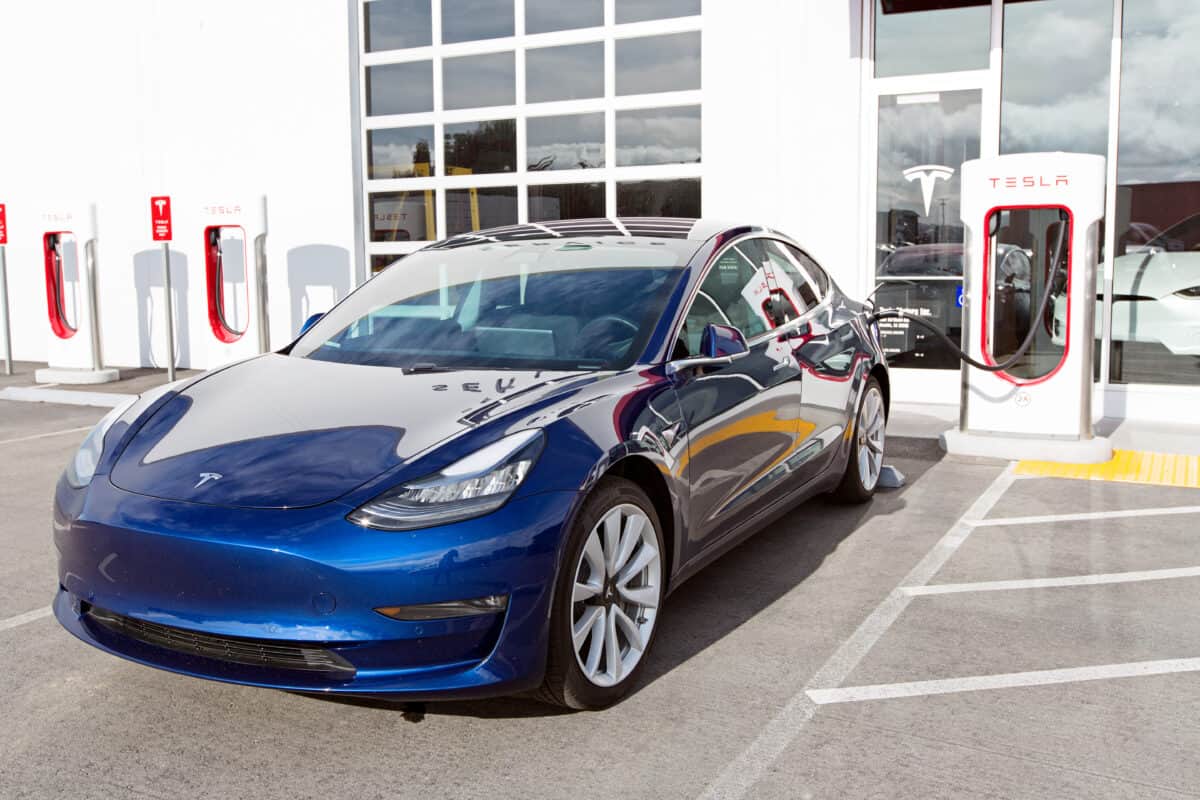 While Chevy isn't heavily focused on autonomous driving, at least not publicly, they are still outfitting the Chevy Bolt EV with Chevy Safety Assist . This includes some fairly standard features like front pedestrian braking that will help you quickly stop at speeds of less than 50 mph when the Bolt detects a pedestrian ahead of you. Add to this forward collision alert, lane keep assist, lane departure warning, blind zone detection, and alerts informing you on how far apart you are from the vehicle immediately in front of you.
One major difference between the Chevy and Tesla is that the former includes Teen Driver as a standard feature. This system limits specific vehicle features and enables all safety functions to encourage better driving behavior for new drivers, something that Tesla has not encouraged.
What the Tesla Model 3 has encouraged as far as driver assistance is the inclusion of two major benefits. Enhanced Autopilot offers Model 3 owners auto lane change assist, autopark assist, and a smart summon feature to bring your car to you from a parking lot space. The biggest cost of the Tesla Model 3 is undoubtedly the Full Self-Driving Capability feature which introduces all features from Enhanced Autopilot but adds traffic light and stop sign control essentially rendering the driver a passenger. On top of that, the Tesla Model 3 is already a Top Safety Pick+ from the IIHS thanks to its durable frame and airbag protection.
Technology
Looking at the technology of the Chevy Bolt EV won't impress nearly as much as the Tesla Model 3, but it's still good in its own right. Like the Nissan Leaf, Chevy has opted to retain much of what is familiar to current Chevy shoppers with a combination 10.2-inch touch screen and a host of buttons, knobs and dials for climate control, volume, and power. What the screen does provide for drivers is access to the Driver Information Center where you can learn instant information about the Bolt's current performance like energy use or charging status. Additionally, Apple CarPlay and Android Auto come standard.
The biggest difference technology-wise between the Chevy Bolt 1LT and 2LT trim levels is that the former only includes the HD Rear Vision Camera option which is a fancy name for a rear backup camera. The 2LT bumps up the technology by including HD Surround Vision which provides a 360-degree look around the vehicle while at low speeds which is helpful for parking.
As far as technology goes for Tesla, they have set the bar for what the future of EV cars should look like with a large 15-inch touch screen that controls just about every function of the vehicle. Aside from window control, gear shift, and dials on the steering wheel, Tesla is focused on pushing drivers to use the touch screen to change radio stations, play games while charging, and so much more. Tesla also stands out with its mobile apps on both Android and iPhone that can summon your vehicle, control climate preferences, locate your vehicle, close or open the panoramic roof, or update the software of the car whenever a new update is available.
Chevy Bolt EV vs. Tesla Model 3: 5 Must-Know Facts
No matter which of the two trim levels you choose with the Chevy Bolt EV, you have only one range option with 259 miles.
Tesla stands out with its technology including its advanced mobile app which controls just about every function of the vehicle including locking and unlocking doors.
Chevy will cover the installation of a Level 2 home charger with the purchase of any new 2023 Chevy Bolt EV for eligible customers.
The Chevy Bolt starts at a much lower starting price of $27,495 than the Tesla Model 3's introductory price of $43,990.
Both the Chevy Bolt and Tesla Model 3 offer limited upgrades that help keep the price low so there are no major surprises when looking to purchase.
Chevy Bolt EV and Tesla Model 3: What's new?
Chevy and Tesla have made some updates to their EVs. Here are some of the more notable updates made since February 2023:
Chevy Bolt EV:
New standard features: Automatic high-beams and front pedestrian detection are now standard features.
New infotainment system: There is a larger touchscreen display for the new infotainment system.
Optional features: Two optional features are the 360-degree camera system and rear cross-traffic alert.
Tesla Model 3:
New autopilot feature: The new autopilot feature allows the car to automatically change lanes on the highway.
New media system: More streaming services are supported in the new media system.
Tesla Theater: This new feature allows passengers to watch TV shows and movies on the car's infotainment system.
Chevy Bolt EV and Tesla Model 3: What's next?
Innovation is the name of the game, and Chevy and Tesla are two major players. We could see the following improvements to the Chevy Bolt EV and the Tesla Model 3 in the next six to 18 months:
New connectivity features. More connectivity features should be available in these vehicles. This could mean support for cloud-based navigation, Wi-Fi hotspots, and embedded cellular connection.
Advanced driver-assistance features: Driver-assistance features are a hot commodity in EVs. Both vehicles will most likely be updated with more advanced driver-assistance features in the coming months.
Improved battery technology: Batteries with a longer range and that charge faster are in demand. Because of this, we should see improved batteries in both EVs.
Chevy Bolt EV vs. Tesla Model 3: Which One is Better?
At the end of the day, the Chevy Bolt EV puts up a much stronger fight against the Tesla Model 3 than anyone might have thought possible. The Chevy, which might easily be shrugged off given Tesla's clear victory on paper, is a reliable and inexpensive EV that offers more than enough range for short road trips and running around town. More importantly, it costs thousands less and is available with free home installation of a Level 2 charger, making it a very attractive option.
However, in the end, the Tesla Model 3 is the winner for anyone who wants the best EV on the road today and the most trendy, but for anyone looking for practicality, the Chevy Bolt EV is a super solid choice.