Zebra, zombie, zigzag. Only a few words come to mind when you think of the letter Z., And it's almost the same situation when it comes to cars. Both standouts and less-known models exist. These include the Z series from Nissan and BMW or the highly-acclaimed designs from Zagato. As such, many cars that start with Z are in the luxury and supercar categories. However, many electric and hybrid vehicles are inspired by the last letter of the alphabet. Below we explore some cars starting with the letter Z.
7 Cars and Brands that Start with the Letter Z
1. Z4
BMW began its Z series in the 1980s with the BMW Z1. Designs have primarily centered around the classic two-seater roadster style, focusing on aesthetics and driving performance. This was followed by the Z2, Z3 and now the Z4. The Z4 is on its third rendition, which is still available today.
Performance
The Z4 has an eight-speed automatic transmission. The sDrive30i model contains a 2-liter four-cylinder engine with 255 horsepower and accelerates from 0 to 60 mph in 5.1 seconds. For the performance-conscious, the M40i model delivers more. This is courtesy of a 382 horsepower six-cylinder engine, which allows the car to go from 0 to 60 mph in around 3.8 seconds.
Features and Design
Z4's design is rather progressive and sure to turn heads. The headlights are LED, while OLEDs power the taillights. The exterior features dynamic lines for superior handling and refined air intake. Many interior color combinations are possible for a customized look. As well as voice control and a 10.3" infotainment touchscreen, the Z4 can be equipped with a Head-Up display. The roof can also be easily folded away with a button. All in all, the noise reduction is impressive for such a fast car.
2. Nissan Z
Nissan started producing their Z-series of cars in the late 1960s and has since gone through seven generations. Beginning with the Fairlady Z (or 240Z) released in 1969 and going through various numbered iterations of the Z moniker (280ZX, 300ZX, 240Z, 350Z, 370Z and now simply Z), this series of sports cars was designed to be affordable international cars. The biggest competitors come from rival brands such as Mazda, Toyota and Mitsubishi.
The latest model, the Nissan Z, launched in April 2022 and continues to be in production. However, the simple name and Z logo don't mean the car is simple. The style is retro, inspired by the 240Z, one of Nissan's most successful Z models. You can choose from a base model or an enhanced model.
Performance
Both models of the Z feature a 3.0-liter twin-turbo V6 engine with 400 horsepower and 350 pounds of torque per foot. Transmission-wise, you're looking at a six-speed manual or an optional nine-speed automatic. Whereas the manual has a rev-matching system called SynchroRev Match, the automatic has launch control and paddle shifters inspired by the Nissan GT-R.
As far as sports cars go, Z's power is impressive yet perfectly appropriate and comfortable for most public roads.
Features and Design
Both Z models feature LED headlights, taillights, and a touchscreen for infotainment, but the Performance model has some bigger perks. The screen is enlarged from 8 to 9 inches, the wheels from 18 to 19 inches, and the brakes are supersized. Add-ons include dual exhaust mufflers and a suspension designed for sports usage. It's also the first in the Z series to be compatible with Wi-Fi, which is a nice touch for a modern car. Like the others in the series, a triple pod is included, which features a voltmeter, turbine speed and turbocharger boost instruments.
While not the most practical or largest of road cars, the Nissan Z delivers an enjoyable experience for sports car enthusiasts, especially in an age where SUVs are becoming ubiquitous.
3. Zagato
As a coachbuilding company, Zagato is responsible for the framework of many renowned luxury and sports cars. It was founded in 1919 by Ugo Zagato, an aeronautical engineer. Zagato introduced some of these concepts into the automotive space. Before this, vehicles were very heavy. Taking a leaf out of the book of aerodynamics made these vehicles considerably more lightweight by incorporating aluminum structures.
From Bentley and Alfa Romeo to Maserati and Aston Martin, if it's a luxurious, high-performing vehicle with a striking design, there's a good chance Zagato had a hand in its production.
Performance
Some of the most famous vehicles with input from Zagato include the Aston Martin Vanquish Zagato, the Lamborghini 5-95 Zagato and the Ferrari 250 GT Zagato. These models are as spectacular as they are scarce. Only 99 units of the Vanquish and 10 units of 250 GT were produced.
All of these cars are impressive in performance. Both the Vanquish and 250 GT boast V12 engines. The 5-95 has a V10 engine but doesn't hold back with its power. With 562 horsepower, a top speed of 202 mph and going from 0 to 60 mph in 3 seconds, the 5-95 is well-matched against the Vanquish. The Aston Martin model takes half a second longer to reach 60 mph and falls behind slightly in top speed by a couple of miles.
Features and Design
Because of the innovation and aerodynamics inspiration, Zagato's designs tend to be impactful, often in an unusual way. Utilizing lightweight aluminum panels and interesting features, these models have smooth and distinctive lines that deliver beauty relatively uncommon to sports cars.
The 5-95 and Vanquish feature a double bubble roof, originally intended to provide space for a driver's helmet, a wraparound windscreen for visibility, and an aesthetic statement. Designed for performance and racing, these cars have a few nifty features and distinctive designs. Of the cars that start with Z, Zagato's are among the most memorable.
4. Zinoro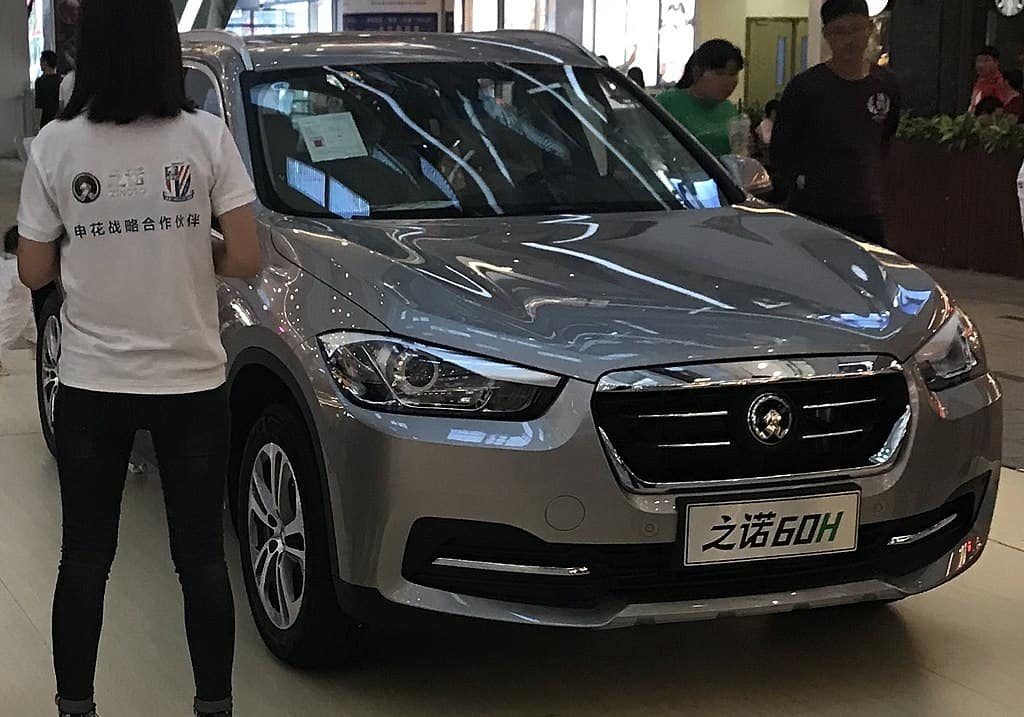 Introduced in 2013, Zinoro is a line of electric cars by BMW Brilliance. This joint venture is between the ever-popular BMW brand and Brilliance Auto, a Chinese auto manufacturer. As such, Zinoro mainly produces and distributes BMW cars in China.
Currently, only two models of the Zinoro brand exist, namely the Zinoro 1E and the Zinoro 60H. The former is an all-electric vehicle, whereas the latter is a hybrid vehicle. These are based on the BMW X1 and long-wheelbase versions of the BMW X1, respectively.
Performance
The Zinoro 1E featured a 125 kW electric engine with a range of up to 93 miles and a top speed of 81 mph. In contrast, the Zinoro 60H offers an electric range of 60 miles (hence the name), a 0 to 62 mph acceleration of just under 8 seconds and a 136 horsepower 1.5-liter fuel engine.
Features and Design
With a navigation system, Bluetooth, automatic A/C and adjustable heated seats, the Zinoro 1E was relatively advanced for its time. Coupled with a sizeable interior and luggage storage, the 1E was designed for comfort and practicality. The 60H, on the other hand, resembles the BMW X1 long-wheelbase. However, the appearance of the bumpers, lights and D-pillar is different. Designed for urban family lifestyles, the 60H boasts adjustable seats with memory function, abundant storage spaces and even a HEPA air filter to keep the interior air clean. Some features, such as the one-button engine start and automatic parking assist, aren't revolutionary these days. However, they are still handy features we've come to know and love.
5. Zeekr
Derived from Gen Z and the word "geek," Zeekr is marketed towards a younger generation passionate about electric vehicles. It's intended to take on Tesla and Nio in China. Zeekr plans to introduce an autonomous vehicle in the next few years.
So far, two vehicles have been produced by Zeekr – the Zeekr 001 and the Zeekr 009. Whereas the 001 is equivalent to a U.S. full-size car, the 009 is an all-electric minivan designed for luxury use.
Performance
The 001 has dual electric motors on the front and rear axle, giving 536 horsepower and 0 to 62 mph acceleration in under 4 seconds. The car can hit top speeds of 120 mph and has a reported range of 435 miles. As far as electric cars go, these specs are impressive, particularly the range. A special edition of the 001, with an even bigger battery and range of up to 621 miles, will launch in 2023.
Based on the same Sustainable Experience Architecture (SEA) 1 Platform as the 001, the 009 also sports two electric motors with 534 horsepower, a top speed of 190 mph and a range of 430 miles. Overall, the specs are very similar, apart from the significantly higher top speed. You'd be hard pressed to find another EV that starts with Z with a similarly impressive range.
Features and Design
009 features electric doors operated with a simple button or even from the touchscreen inside. Speaking of the screen, it's an impressive 15.4" size and is definitely eye-catching. The layered dashboard and Comfort mode and Dynamic driving mode options are other highlights.
The 009 brings style and luxury to the minivan design, with a grille reminiscent of Rolls-Royce and a simple interior with a steering wheel wrapped in leather. There's a 15.4" infotainment screen, 5G network capabilities, electrically adjustable seats, retractable tray tables and a configurable instrument display. Comfort and usability were the aims of the game here, without compromising on speed or range.
6. Zedriv
Another Chinese EV manufacturer, Zedriv, entered the market in 2017. They have produced three vehicles: the GC1, GC2 and GX5. All models began distribution in 2020.
Performance
Essentially, the GC2 is a variant of the GC1 with three doors instead of five. Both models have a range of 211 miles, a 36.2 kWh battery, a 74 horsepower engine, top speeds of around 74.5 miles and accelerate from 0 to 31mph in 4.2 seconds.
The GX5 has the same range but a 121 horsepower engine, a bigger 6.4 kWh battery, a top speed of 87 mph, and goes from 0 to 31 mph in 3.9 seconds.
Features and Design
GC1's suspension is relatively short on the front and back to increase the space on the interior. The steering wheel is three-spoke, and the design of the interior is largely square yet sleek. The GC2 is very similar in design to the GC1, with the same square elements and LCD control screen. The main difference is in the number of doors and overall size.
As an electric SUV, the GX5 is more rugged than its GC counterparts. Even still, the star-shaped headlights are an elegant touch. The rounded exterior design and square interiors echo the GC models, but an interaction system based on voice recognition and wireless charging is welcomed.
7. Zenvo
Zenvo is a Danish sports car manufacturer of sports cars, who has been around since 2007. Currently, the company produces four models, all part of the TS range. These are the Zenvo TS1, TS1 GT, TSR and TSR-S.
Performance
TS1 has a 5.8-liter V8 engine with a base horsepower of 1,163. This car can accelerate from 0 to 62 mph in 2.8 seconds and attain top speeds of 233 mph. The TS1 GT performs similarly but reaches 62 mph in 3 seconds.
The Zenvo TSR differs as it's a race-focused model, largely similar to the TS1 in many respects. The TSR sports an identical engine, but has a reduced top speed of 202 mph. The TSR-S is a road-legal vehicle, somewhere between the TS1 GT and the TSR. The V8 engine has been improved to be rated at 1,177 base horsepower. The top speed is unchanged, though. Some of the fastest cars that start with Z are courtesy of Zenvo.
Features and Design
Design-wise, the TS1 GT isn't winning any awards for innovation. The exterior is basically what you'd expect from a supercar. The interior features dog gears, primarily found in racing cars. There's also a seven-speed gearbox, which allows for considerably fast shifting between gears.
The TSR is very similar in terms of mechanics. Designed for the racing track, it weighs a lot less than the TS1 GT (around 551 lb). On the rear is a carbon fiber wing. They did away with the infotainment screen to make the car lightweight and race-ready.
The road-legal version, the TSR-S, is heavier than the TSR but still 187 lb lighter than the TS1 GT. This time, the carbon wing can rotate within two degrees of freedom, offering greater stabilization to the vehicle. The TSR-S is quite strange as it seems to be designed around a racing vehicle but intended for road use. But the option to add climate control and a sound system set it apart from its racing cousins.
Up Next…