The car world is pretty massive. As a car enthusiast, you may find it hard to remember the names of all car brands. While that's tough, alphabetizing them is even more challenging. So, if you're looking for cars that start with L, we have done all the hard work for you in this post. 
Surprisingly, many car brands start with L, including Lamborghini, Lexus, Land Rover, and many more. You may have heard about most of these cars, but some lesser-known vehicles start with the letter L. 
22 Cars That Start With L
If "L" is your lucky letter, here are all your options for upgrading your four-wheeler!
1. Laboratorio BEBI Quercianella
Laboratorio BEBI is a car company based in Sweden's city of Stockholm, famous for its supercars. The Laboratorio BEBI Quercianella was designed as a supercar with less weight but exceptional performance. The vehicle made its mark just a few days after its release.
With its powerful V8 engine and super light carbon fiber body, the Laboratorio BEBI Quercianella has everything a modern-day supercar must have. The engine offers 535 bhp, allowing the car to reach a top speed of 186 mph. It is also capable of reaching 60 mph in just 3 seconds!
2. Lagonda V12
Owned by Aston Martin since 1947, Lagonda is a British automotive company known for its luxury cars. It is famous primarily for its large cars, including Lagonda 16/65, Lagonda V12, Lagonda 14/60, and more. 
However, Lagonda V12 left the rest behind with its powerful 4480 cc 60-degree V12 engine. It offered 180 bhp at 5000 rpm, which was pretty impressive at the time of its launch—1940.
3. Lamborghini Huracán 
Lamborghini has been the toughest competitor of Ferrari since 1936. Ferruccio Lamborghini's company is the leading luxury sports cars and SUVs manufacturer worldwide. 
Of 8,500+ vehicles sold till 2019, the Huracán is Lamborghini's highest-selling car. Almost 20,000 road cars and 500 race cars have been sold since 2014. And why wouldn't it be? The vehicle has a 5.2-liter V-10 engine that produces 631 bhp. 
4. Lanchester Straight 8
Lanchester Motor Company was one of the leading car manufacturers in 1929 until it was sold to Daimler in 1930 due to the financial crisis. The company built over 100 cars, with Lanchester Straight 8 being the last authentic Lanchester car. 
This car features a 6-cylinder engine design that produces 23 bhp. The Straight 8's structure was considered the most handsome at its launch.
5. Lancia Aurelia
Lancia is one of the most popular cars that start with L. It was founded by an Italian automotive manufacturer, Vincenzo Lancia, in 1906. The company introduced many new technologies and specifications at that time. The Lancia Aurelia is the perfect depiction of it. 
Lancia Aurelia was the first vehicle with a front-engine rear transmission feature. This configuration was later adopted by Maserati, Porsche, and even Ferrari. This car also has a 2.5 L engine with 75 bhp at 4500 rpm.
6. Land Rover Range Rover Evoque
Everyone knows the most popular British car manufacturer: Land Rover. The company has been producing exceptional off-road and luxury vehicles since 1978. The recent Land Rover Range Rover Evoque perfectly embodies a modern car. 
This model features a 2.0-liter 4-cylinder engine that boosts 246 bhp and 269 lb-ft torque. It also has a nine-speed automatic transmission, which you'll surely love.
7. Laraki Epitome
Laraki Automobiles SA is a less famous Moroccan car manufacturer that delivers quality sports cars. Since 1999, the company has built only three cars—the 2002 Laraki Fulgura, the 2005 Laraki Borac, and the 2013 Laraki Epitome. 
The Epitome was developed by Abdesslam Laraki, a yacht manufacturer. He included twin-turbocharged V8 engines in the car that can generate 1,200 bhp. It also has an additional fuel tank that can hold up to 110-octane gas, allowing the vehicle to reach 1,750 bhp.
8. Lea-Francis 2½ Litre
Lea-Francis is a bicycle, automotive, and motorcycle manufacturer from England. It started building cars in 1903 for the Singer company but soon began manufacturing its own cars by 1919. 
The Lea-Francis 2½ Litre was their latest creation, produced from 1949 to 1953. The vehicle had a simple roadster design with an aluminum body and steel chassis. It also featured an inline-4 engine capable of offering 120 bhp.
9. Leblanc Caroline
Leblanc is a well-known street-legal race car manufacturer in Switzerland. The company has built several high-performing sports cars, but our eyes got stuck on the yellow-colored 1999 Leblanc Caroline. 
The vehicle has a twin-turbo inline-4 with 512 bhp of power output. It can reach a top speed of 216.2 mph, requiring only 2.7 seconds to reach 6 mph. The Leblanc Caroline was one of the best race cars at that time.
10. Lexus CT 200H
Lexus is a part of Toyota that was established in 1989. It is a luxury car product line consisting of many premium sedans, racing cars, hybrid vehicles, and concept cars that start with L. The Lexus CT 200H was launched in 2011 and instantly became one of the best hybrid electric vehicles (EVs). 
The CT 200H offered the same hybrid performance as a conventional 2L engine. It also came with different driving modes, including Sport, EV, Normal, and Eco, to suit every driver's preferences. This model also has stability control, a vehicle proximity sensor, and a telematics system. 
11. Lightning GT
Lightning Car Company is a British auto manufacturer that produces high-performing electric sports cars. Its first model, Lightning GT, became the center of attention at the Excel London Motor Show 2008 and even won the "Car of the Show" price. 
The vehicle features an in-wheel Hi-Pa drive electric engine with a power output of 700 bhp. The Lightning GT's design consists of a carbon fiber and kevlar body built over a tubular space frame. The car is even capable of reaching 60 mph in just 4 seconds.
12. Ligier JS3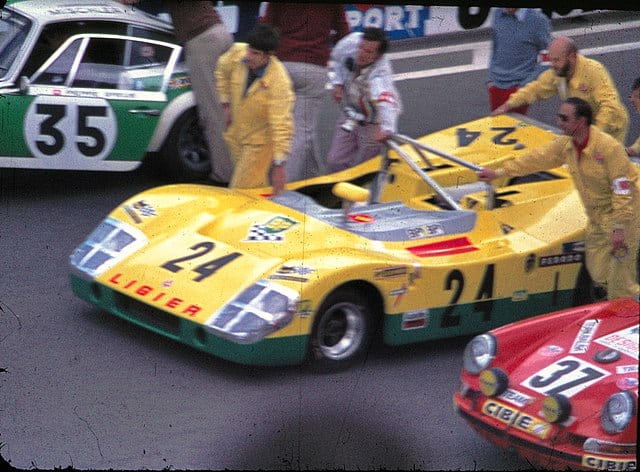 Ligier is a French automotive manufacturer owned by Guy Ligier. Its first vehicle was the Ligier JS2. The company then started building motorsport race cars and participated in Formula One from 1976 to 1996. 
The Ligier JS3 was revealed at the Le Mans 24 Hours Qualification race in 1971. It features a DFV Cosworth V8 engine with a power output of 450 bhp. No wonder Guy came second in the race!
13. Lincoln Aviator 
Lincoln is Ford's luxury vehicle line that introduced its first car in 1940: the Lincoln Continental. In 2014, the company released its next-generation Aviator, a car-based SUV. The vehicle's exterior consists of sporty lines and the iconic Lincoln design cues. It also features a glass roof, a lower tailgate, and a grille.
The Lincoln Aviator is one of those cars starting with L, which features a twin-turbocharged V6 3.0L gas engine. It produces 494 bhp and 630 lb-ft of torque, the same as any modern-day vehicle.
14. Lobini H1
Lobini is a famous Brazilian car manufacturer, notable for its sports car: Lobini H1. It was the first sports car by Lobini, released in 2005. The car became the talk of the town with its classic Audi and Volkswagen engine, fiberglass body, and carbon steel tubular chassis. 
The turbocharged 1.8L 20V engine offers a power output of 178 bhp at 5700 rpm.
15. Local Motors Rally Fighter
Local Motors designs open-source vehicles in different micro-factories. The Local Motors Rally Fighter is the company's first-ever car that start with L. It features an original, steel tubular space frame with carbon fiber body panels and lightweight thermoplastic. 
The vehicle has a BMW-like clean diesel engine capable of reaching 265 bhp and 425 lb-ft of torque. The best part? The Local Motors Rally Fighter only weighs 3,100 lbs!
16. Locomobile Model 48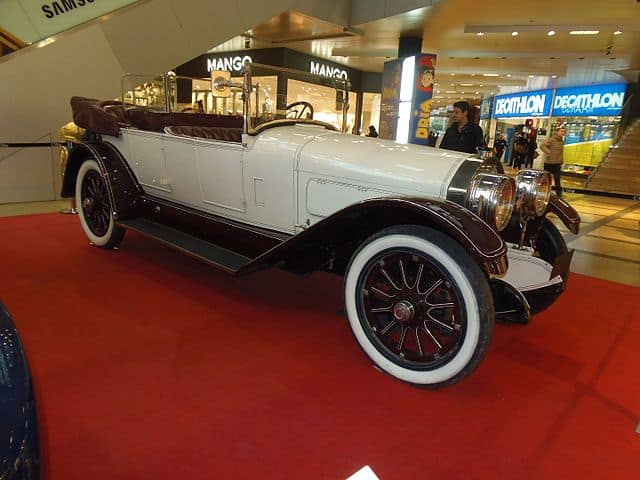 The Locomobile Model 48 came out in 1925 after almost 18 years of production. It is the creation of the Locomobile Company of America that was established in 1899. Initially, the company produced steam cars but shifted to combustion-powered luxury vehicles. 
The Locomobile Model 48 is an excellent combustion-powered car featuring a 525 ci inline 6-cylinder engine (side-valve). It produces 103 bhp of power output, which was remarkable in that era. 
17. Locus Plethore Prototype
Locus Technologies is a highly-regarded Canadian sport and supercar manufacturer. Its Locus Plethore Prototype stole every car enthusiast's attention at the Montreal International Auto Show. The vehicle was the first ever supercar in Canada, also known as the Quebec Bomb.
The car has the characteristics of modern supercars. It has a sturdy carbon fiber body powered by an efficient GM Racing V8 engine that produces 750 bhp and 565 ft-lbs of torque. It is also a pretty good-looking car.
18. Lohner-Porsche Hybrid
Lohner-Werke was an early 1900s luxury coach-manufacturing company in Vienna owned by Jacob Lohner. It was the first-ever electric car producer in Austria, with the Lohner-Porsche Hybrid being the first-ever hybrid car in the world. Lohner designed it with Ferdinand Porsche of Porsche, today's leading car manufacturer.
The Lohner-Porsche Hybrid was revealed at the 1900s Paris World Fair. It is one of those cars that start with L that instantly became the center of attention, all thanks to its wooden chassis and body. The vehicle features a potent rear single-cylinder and twin front inwheel electric engine that generates 14 bhp of power.
19. Loremo LS
Loremo was a German prototype car manufacturer that built vehicles with less air resistance, weight, and fuel requirement. The company's Loremo LS prototype was introduced as a turbo diesel car at the Geneva Auto Show 2006. 
The Loremo LS has thermoplastic body panels designed in a linear cell design that gives the vehicle an aerodynamic shape. It features a 2-cylinder diesel engine that generates 20 bhp and a top speed of 100 mph.
20. Lotec Sirius
Lotec is a German sports car maker from the 60s. The company started manufacturing race cars and switched to offering modifications to renowned automotive firms, such as Ferrari, Porsche, and Mercedes-Benz. 
The Lotec Sirius was a supercar launched in 2004. It is a concept/prototype car featuring a twin-turbo V12 Mercedes-Benz engine that offers 1334 bhp power at 6300 rpm and 958.8 lb-ft of torque at 3400 rpm.
21. Lotus Elise 2005
Lotus is a sports and racing car manufacturer in England. The company has built many Formula One cars, including Esprit, Europa, Elan, Evora, Exige, and Evija. The Lotus Elise 2005 has a 1.8-liter VVTL-i engine inspired by the Celica GT-S. It also has a 6-speed C64 gearbox.
The Lotus Elise can generate up to 190 bhp at 7800 rpm and 133 lb-ft of torque at 6800 rpm. The company claims the car can reach 60 mph in just 4.9 seconds and has a top speed of 141 mph. The Elise's prototype operated at up to 150 mph!
22. Lucid Air
The last entry in our "cars that start with L" list is the Lucid Air, built by American electric car manufacturers Lucid Motors. In fact, this was the first EV that the company released in 2020. Within a short period, Lucid Air became a tough competitor in the luxury vehicle market. 
This 4-door sedan features a 88 to 118 kWh battery, operating at 480–1,111 bhp of power and 443 lb-ft of torque. The Air's design is like any luxury sports car, such as the Tesla Model S, giving the vehicle the perfect modern aura.