Bentley, BMW, and Bugatti are famous cars that start with B. But other less-known brands and models like Bolwell, Borgward, Brabham, Bedford, and Bertone join the list.
While some are vintage vehicles, others are modern models with unparalleled design, performance, and beauty. Some brands, such as the BMW i3 and Buick Encore, make electricity-run vehicles. Meanwhile, others produce hybrid vehicles as the consumer demand for these builds rises.
Whether you are looking for a new car or want to learn more about cars starting with B, our simple guide will show you all cars starting with the letter B.
1. Buick Enclave 2023
Featuring three trim levels, the Buick Enclave is one of the most luxurious SUVs on the market. The Essence trim comes with a 3.6-liter V6 engine for a powerful performance.
It also has plenty of features, such as a hands-free Power Liftgate and wireless Apple CarPlay. The leather-appointed seating and a heated steering wheel further add comfort for the driver.
Meanwhile, the Premium trim that starts with B has the same features, complemented by a Bose Premium 10-speaker audio system, HD Surround Vision, and massaging front seats. The Avenir trim is the flashiest and costliest of the tree, featuring 20-inch aluminum wheels and a panoramic moonroof.
Performance
The 3.6-liter V6 engine and 9-speed automatic transmission are standard across three trims. The Buick Enclave also has automatic emergency braking, driver mode selector, E10 fuel capability, and stop-start system override.
With a maximum towing capability of 5,000 lbs, Buick Enclave is perfect for towing boats, trailers, and other large items. Plus, the 310 horsepower ensures a smooth ride in any terrain.
Features and Design
The Buick Enclave is a beautiful vehicle with stunning sculptural details in the headlamps, grille, and hood. On the inside, the car has plenty of infotainment features, such as Apple CarPlay and Android Auto, heated and ventilated front seats, and a head-up display. It is available in seven exteriors and two interior colors.
The safety features include seven airbags, automatic emergency braking, electronic traction control, a first aid kit, a forward collision alert, and a following distance indicator.
2. Bentley Flying Spur
A top luxury sedan, Bentley Flying Spur offers the highest level of sophistication and comfort. While the Flying Spur trim culminates in a spacious sedan and a high-performance tourer, the Azure trim takes it a notch further with innovative interior features.
Meanwhile, the Spur Speed has a sporty style with thrilling performance. The Bentley Flying Spur Mulliner adds a touch of luxury to the experience with exclusive design finishes and upholstery.
Performance
The Bentley Flying Spur offers three powertrains:
4.0 liter V8 petrol engine
6.0 liter W12 petrol engine
2.9 liter V6 hybrid with a 100kW electric motor
This car has an Active All-Wheel Drive, which provides improved grip and performance on all surfaces. While the V8 engine has a maximum torque of 568 lb-ft at 2000-4500rpm, the hybrid variant has a lower torque of 406 lb-ft.
Features and Design
On the interior, the Bentley Flying Spur has generous passenger space at the back and a spacious front cabin, offering an incredible driving and riding experience. The seats are available in multiple finishes, including engine-turned aluminum, carbon fiber, high-gloss wood, and contemporary open pore finish.
The car also has Apple CarPlay for infotainment, coupled with the company's Bentley Signature Audio system. If you opt for the Bentley Rear Entertainment, you can get removable touchscreens on the back of the front seats.
3. BMW 540i xDrive M Sport Touring
The BMW 5 Series Touring is a luxury station wagon that offers ample interior space, powerful and efficient engines, and the latest BMW technology. One of the models in the series is the BMW 540i xDrive M Sport Touring, featuring a 68-liter fuel tank with 2,998cc engine capacity and automatic transmission. The vehicle is available in seven metallic exteriors and one non-metallic variant.
Performance
Owing to its powerful engine, the BMW 540i xDrive M Sport Touring goes from 0 to 62mph in just 5.2 seconds. The 2998cc engine has an 8-speed gearbox with a four-wheel drive. The fuel economy is rated at 25 mpg in the city and 32 mpg on the highway.
Features and Design
BMW 540i xDrive M Sport Touring has 20″ Bicolour Jet Black Y-spoke alloy wheels with run-flat tires. The seats are upholstered and stitched in Black Nappa leather. Buyers can also opt for different packages, such as the Comfort Pack, with front comfort seats and extended storage contents.
The car's safety features include stability control, overhead airbags, front-impact airbags, and anti-lock brakes. As for infotainment, you get Android Auto, Apple CarPlay, wireless smartphone charging, and Bluetooth.
4. Bugatti Chiron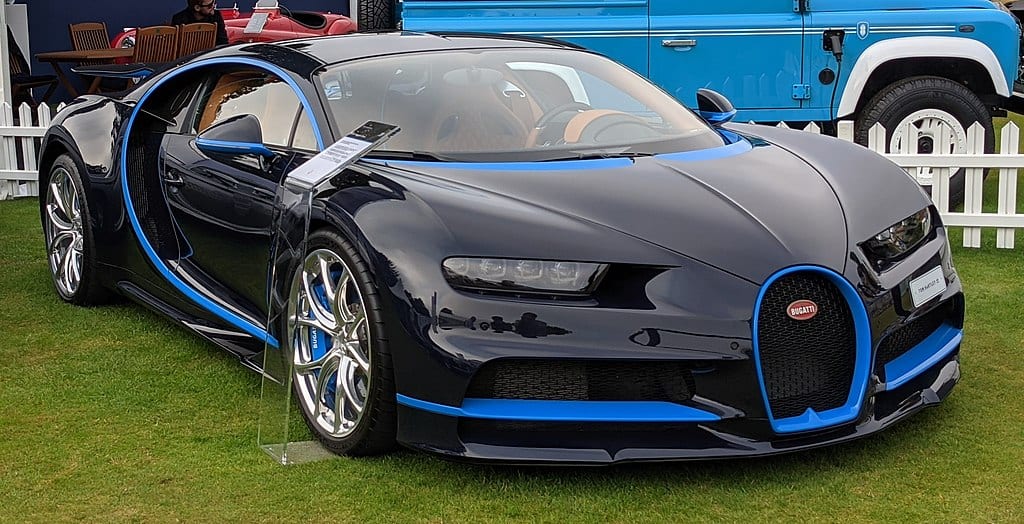 The Bugatti Chiron, Chiron Pur Sport, and Chiron Sport perfectly blend luxury and sporty performance. Chiron features the manufacturer's iconic W16 8-liter engine with enhanced aerodynamics that reduce drag and increase downforce for a more responsive and thrilling driving experience.
Performance
The car's W16 powerhouse is coupled with a seven-speed dual-clutch transmission and a 7.100 rev thrust. Simply put, you can go from 0 to 200 km/h in 5.8 seconds. The Super Sport variant accelerates up to 12% faster than its Chiron counterpart.
Moreover, the active suspension and steering software helps the driver react to the road surface quicker, making for a more precise and dynamic ride. The Michelin Pilot Sport Cup 2 tires have been designed for the Bugatti Chiron, providing immense stability at over 400 km/h.
Features and Design
The Chiron's cabin is made with the finest leather and carbon fiber to create a luxurious yet modern atmosphere. All the controls are within easy reach, so there's no need to take your eyes off the road.
Because the Chiron is more like a race car than your regular ride, the manufacturers have stripped the infotainment screen. Instead of the Android Auto and Apple CarPlay found on similarly priced cars, the Bugatti Chiron only has a trip computer and a sound system.
5. Bertone GB110
Bertone has a 400-year-long history of producing world-class car designs, and the GB110 is no exception. The beautiful grand tourer boasts an Italian-designed exterior and an elevated performance.
Performance
The Bertone GB110 features 1100 Nm of maximum torque with 1100 horsepower for a top speed of 236 mph and impeccable performance. Being a limited edition vehicle, only 33 units of the Bertone GB110 are up for sale in the market.
The car runs on plastic waste fuel – an initiative Bertone has begun with its partnership with Select Fuel. The said company has developed a technology that converts polycarbonate materials into a fuel almost as efficient as petrol.
Features and Design
The car's horizontal lines and soft surfaces highlight Italian design and craftsmanship. Meanwhile, the car's sides are wedge-shaped, similar to Stratos Zero and Carabo, whereas the rear has a bulging design meant to produce downforce at high speed.
Other notable features include five external cameras, LED headlight graphics, a 25-speaker system for entertainment, and 12 ultrasonic sensors.
6. Borgward BX7 TS
Powered by a six-stage automatic torque converter transmission system, the BX7 TS is a smooth and comfortable ride. The BX7 TS is equipped with a range of notable standard features, including intelligent security solutions, internet access, climate control, and more.
Performance
The Borgward BX7 TS has a four-cylinder build with 300 Nm maximum torque at 1,500 to 4,500 rpm. The electronically-controlled multi-plate clutch allows for smooth driving.
On the highway, this car can hit a top speed of 208 km/h. The urban fuel consumption is 14.2 liters per 100km, while extra-urban fuel consumption is 8 liters per 100km.
Features and Design
Available in Marble White, Titanium Grey Metallic, and Obsidian Black Metallic, the Borgward BX7 TS is a stylish and modern SUV. The exterior features a stunning design, sleek lines, and an aggressive front grille. Meanwhile, the 18-inch rims give the vehicle a sporty character.
The Borgward Connect App is available as standard, providing access to the car's settings and other features. The interior of the BX7 TS is designed with convenience and safety in mind. For example, the parking sensors on the rear and front end of the vehicle, combined with preventive driving assistance features, keep the driver alert and aware of their surroundings.
The BX7 TS also has a 12.3-inch touchscreen, climate control, voice control, online services, and a navigation system.
7. Bufori Geneva
The Bufori Geneva is a marriage between modern technology and contemporary classics. The sharp lines and smooth curves of this car that starts with B are reminiscent of timeless automotive design, while the soft-touch leather and wood veneer finish on the inside express modern luxury.
Performance
With a 6.4Lt V8 engine and a power of 470hp at 6,000rpm, the Bufori Geneva is a powerful and responsive car. The torque is 630 Nm at 4,200rpm, accelerating the car from 0 to 100km/h in just 5.4 seconds.
Bufori has incorporated plenty of useful features in the car to assist the driver. For instance, the Lane Departure Warning with Lane Assist helps you stay within the lane, while the Adaptive Cruise Control maintains a safe distance from vehicles in front of you. The car also features an advanced forward collision warning and an active braking system.
Meanwhile, blind spot monitoring and rear cross-path detection ensure that you are aware of any vehicles in your blind spot. The car that starts with B also has rear and front park assist ultrasonic sensors for easy parking and maneuvering.
Features and Design
The Bufori Geneva also has plenty of luxurious amenities to make your drive even more comfortable. The comfortable, leather-lined interior features a touchscreen infotainment system compatible with Android and Apple devices.
Moreover, the hybrid carbon fiber build keeps the vehicle lightweight yet strong. The carbon fiber is also infused with vinyl ester resin for additional strength.
The image featured at the top of this post is ©dencg/Shutterstock.com.