The Apple Watch can stream music, send texts, track your heart rate, and even pay for your groceries. But can it make calls?
If you have an Apple Watch 3 or later, you can make calls right from your wrist. But you need to ensure that the feature is turned on in settings.
This guide will cover making calls from your Apple Watch and a few other things you need to know.
Can You Make Calls with an Apple Watch?
Yes. You can make calls with an Apple Watch, and there are several ways to do so.
The Apple Watch supports two types of calls: FaceTime Audio and regular phone calls. FaceTime Audio is an Apple-created video chat app that lets you make audio-only calls to other iOS devices, Macs, and even Android phones over Wi-Fi or a cellular connection.
Phone calls can be made over Wi-Fi or cellular connections using your iPhone's number. Using a cellular link instead of Wi-Fi will cost you money unless you have an unlimited data plan for your iPhone.
With your Apple Watch, you can make calls using Siri voice commands or the phone app. When using Siri voice commands, you'll need to say "Call [name]" and wait until Siri finds them in its contacts list before proceeding with the call.
Suppose they're not on your contacts list yet. In that case, they won't appear in this menu, and you'll have to enter their contact information manually. This can be done by opening the Contacts app on your Apple Watch.
Can You Call on Apple Watch Without an iPhone?
Yes, you can make and receive calls on your watch without an iPhone. You only need an Apple Watch Series 3 or later and watchOS 5 or later. You'll also need to set up a Wi-Fi network or cellular connection for your watch.
When your iPhone is off or out of range, your Apple Watch can send and receive data over a Wi-Fi network. If your watch is a cellular model, it can also connect to a cellular network to send and receive calls.
There are many different kinds of Apple Watch, and here's a video we recommend to show you how to make calls from a Series 4 watch.
Setting Up Cellular on Your Apple Watch
With a cellular connection on Apple Watch, you can make calls, respond to messages, and receive notifications, even when you're away from your iPhone.
To use cellular on your Apple Watch, you must have an Apple Watch with cellular capabilities and an active service plan with your courier.
You can activate cellular when you first set up your Apple device. Look for the option to set up cellular during setup, then follow the onscreen steps.
How to Set Up Cellular on Your Apple Watch on Your iPhone
Open the Watch app on your iPhone and tap the My Watch tab at the bottom of the screen.
Tap Cellular under the settings section.
You will see two options: Activate Apple Watch Cellular and Configure Cellular Plan. You must tap Activate Apple Watch Cellular before configuring your plan because it will prompt you for your carrier's information if you don't do so first.
If your watch is connected to a cellular network, you can check the signal strength in the Control Center of your watch. You can open Control Center by touching and holding the bottom of the screen, then swiping up.
How to Make a Call on Your Apple Watch
You can use Siri or dial the number manually if you want to place a call on your Apple Watch. To use Siri:
Press and hold the Digital Crown until Siri appears.
Then, say, "Call [the person's name]" or "Dial [the phone number]."
If you have multiple contacts with the same name, Siri will ask you which one you want to call.
To make a call using the dial pad:
From the Home screen, tap Phone. If you don't see it at first, swipe up to find it.
Tap Contacts at the bottom right of the screen and tap the contact you want to call.
You can also search for a contact by typing part of their name or number in the search field that appears below the contacts.
In the list of contacts on your Apple Watch, tap the name or number of the person you want to call. If multiple numbers are associated with someone in your contacts list, tap their name, and then tap one of those numbers on their contact card.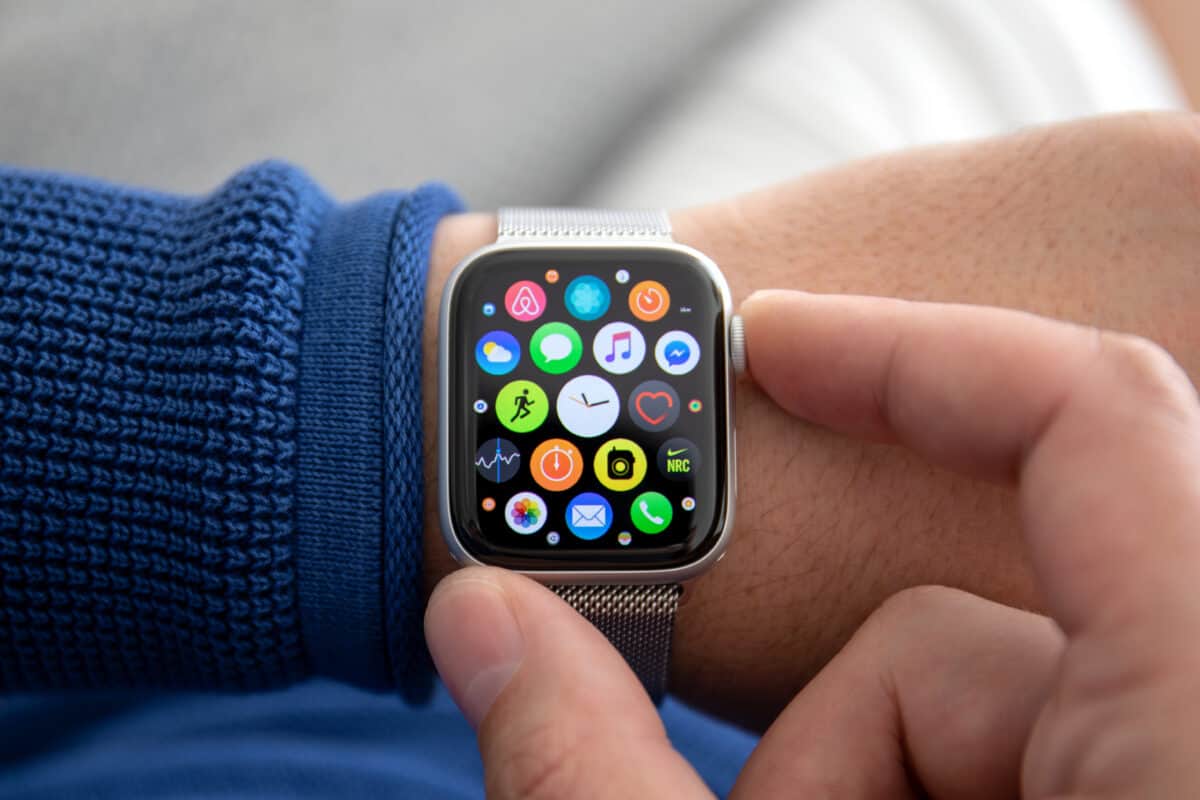 How to Receive Calls on Apple Watch
You need to set up call forwarding on your iPhone to start receiving calls on your Apple Watch.
Go to Settings then Phone on your iPhone and select the Allow Calls On Apple Watch option. You can also choose to have all calls ring on your watch instead of your phone.
You'll be asked for a forwarding number (and you can also add a voicemail message). Now, when someone calls you on your iPhone, that call will also ring on your Apple Watch.
To answer or end a call from your wrist, raise your wrist to your mouth and press the Digital Crown or side button.
How to Transfer a Call From Your Apple Watch to Your iPhone
You can transfer a call from your Apple Watch to your iPhone. This feature is useful when you're in a situation where you don't want to use your Apple Watch to answer the call and would much rather take the call on your iPhone.
To transfer the call from your Apple Watch to your iPhone, tap the green bar that says Touch to return to call at the top of your iPhone's display.
How to Turn Off Calls on Apple Watch
You can turn off the ability to take calls on your Apple Watch, but you can't turn off notifications.
If you don't want to be interrupted by calls on your Apple Watch, you can turn them off. You'll still receive text messages and other notifications on your watch.
To disable call notifications:
Open the Apple Watch app, then go to the My Watch tab, and then the Notifications section on your iPhone.
Tap Phone Calls.
Turn Call Notifications OFF.
How Good is the Apple Watch for Phone Calls?
While the Apple Watch is not an iPhone replacement, you can do many things with it. You can make and receive phone calls and text messages, get emails and notifications, play music, track your health, and much more.
But how good is the Apple Watch for phone calls? It's actually not that bad.
Although the Apple Watch isn't made for making phone calls at all, it's a convenient way to handle incoming calls. In addition to being able to answer or reject incoming calls from your wrist, you can also use the Apple Watch as a speakerphone for conference calls by placing your iPhone nearby.
How to Change the Call Volume on Your Apple Watch
The Apple Watch has several ways to control the volume of your iPhone. You can adjust it from the watch face, on your iPhone or iPad, or using Siri.
On the Watch
To change the call volume from your Apple Watch, swipe up from the bottom of the screen and then swipe left or right on the Digital Crown. The volume level will appear at the top of your screen.
In the Control Center
From the Control Center on an iPhone or iPad, tap Ringer and then drag up or down on the slider to adjust your call volume. You can also tap Mute to silence incoming calls or alarms.
Using Siri
To change your volume with Siri, you'll need to say "Hey Siri," then, "Turn down the volume." Siri will allow you to turn down the volume to your desired level.
The image featured at the top of this post is ©Ringo Chiu/Shutterstock.com.