With electric vehicles (EVs) dominating the market, many companies are joining the competition to gain a portion of this fast-growing industry. Among the most popular EV manufacturers are BYD and Rivian. Both companies are growing by offering unique, innovative electric vehicles with impressive features and capabilities. However, when choosing between these two automakers, there are several factors you should consider. This analysis will examine BYD vs Rivian and compare their strengths and weaknesses to help you decide your best pick.
According to recent market research by EV Volumes, BYD (Build Your Dreams) was the third-best-selling electric vehicle brand globally in 2021, with over 300,000 units. Rivian is a newer entrant to the market and has yet to release any sales data. However, Rivian has a lot of attention for its unique electric pickup trucks and SUVs, while BYD has a broader range of vehicles, including electric buses and trucks.
BYD vs Rivian: Side-by-Side Comparison
| Specification | BYD | RIVIAN |
| --- | --- | --- |
| | | |
| Founded | 1995 | 2009 |
| Production capacity | 800000 per year | 150 000 per year |
| Headquarters | Shenzen, China | Irvine, California, USA |
| Towing capacity | Up to 11,000 pounds | Up to 11,000 pounds |
| Charging Time (0-100%) | 8-11 hours | 11 hours |
| Range (miles) | Up to 373 | Up to 400 |
| Number of EV Models | 20 | 2 |
| Price Range | $22,000 – $70,000 | $67,500 – $77,500 |
BYD vs Rivian: What's the Difference?
Both BYD and Rivian represent distinct origins and electric vehicle (EV) manufacturing strategies. Hailing from China, BYD has been a key player in the EV market for some time, concentrating on various electric buses, cars, and trucks. Conversely, Rivian is an emerging American startup making waves with its forthcoming electric pickup truck and SUV offerings.
While both companies prioritize sustainability and innovation, they have varying strategies for achieving their goals. BYD focuses on building a vertically integrated supply chain to control costs and ensure quality. At the same time, Rivian emphasizes partnerships with other companies, such as Amazon and Ford, to scale up its production and distribution capabilities.
Here will cover distinctive features to help you better understand what makes them different. These are factors to comprehensively delve into and broaden our understanding of these two companies — BYD vs Rivian.
Features
Design
Performance
Target Market
Battery Technology
Driving Range
Acceleration
Compatibility
Price
Features
BYD manufactures various electric vehicles, encompassing passenger automobiles, buses, and trucks. The company is renowned for delivering cost-effective and functional vehicles with features like extended battery life, rapid charging, and environmentally friendly materials.
In contrast, Rivian focuses on producing high-end, luxury EVs. They offer features such as all-wheel drive, high torque, and impressive off-road capabilities. Their vehicles suit adventure and outdoor activities, including a built-in camping kitchen and gear storage. While both BYD and Rivian produce impressive EVs, their target markets and product offerings are different, catering to different needs and preferences.
Design
BYD and Rivian showcase distinct design aesthetics in their electric vehicle offerings. BYD's extensive electric vehicle lineup encompasses cars, buses, and trucks, with designs that prioritize practicality and value, emphasizing function over form. The BYD Tang SUV, for instance, features a boxy appearance characterized by sharp angles and linear contours.
In contrast, Rivian emphasizes luxury and adventure in its design approach, showcasing contemporary and elegant visuals that attract a youthful and affluent demographic. Their R1T pickup truck and R1S SUV from Rivian boast sleek contours and modern design elements, incorporating distinctive features such as a comprehensive LED light bar and an innovative "gear tunnel" storage area.
Both companies prioritize sustainability in their design choices, using recycled materials and eco-friendly manufacturing processes. However, the overall design approach differs based on their target market and brand identity.
Performance
Regarding performance, Rivian's vehicles are capable off-road and have impressive towing and payload capacities. Their R1T pickup truck and R1S SUV can tow up to 11,000 pounds and carry up to 1,760 pounds of payload. They also offer impressive acceleration and handling for their size.
On the other hand, BYD's electric vehicles are popular for their efficiency and reliability. They have been famous in China's public transportation system and have a reputation for being low maintenance. For example, BYD's Han electric sedan has a range of over 370 miles on a single charge and can accelerate from 0 to 60 mph in just 4.7 seconds.
Overall, the difference in performance between BYD and Rivian's electric vehicles reflects their different target markets and priorities. Rivian focus on adventure and off-road capabilities, while BYD emphasizes efficiency and reliability in transportation.
Target Market
A notable difference between BYD and Rivian is their target market. BYD primarily targets commercial customers, such as taxi companies and public transportation providers. In contrast, Rivian targets individual consumers who want to explore outdoor activities.
BYD manufactures various electric vehicles encompassing passenger automobiles, buses, and trucks. With a worldwide footprint, the firm creates cost-effective, dependable electric transportation options for individual consumers and commercial fleets.
On the other hand, Rivian produces high-end electric adventure vehicles, including the R1T pickup truck and R1S SUV. Its target market is adventure enthusiasts who want a vehicle that can handle off-road terrain and be environmentally friendly. While BYD produces affordable electric vehicles for a broad consumer market, Rivian produces premium electric adventure vehicles for a niche market.
Battery Technology
BYD and Rivian are electric vehicles (EV) manufacturers that differ in battery technology and design. BYD uses its proprietary blade battery technology. The blade batteries are safer than traditional lithium-ion batteries, with a lower risk of thermal runaway. They are also more compact, allowing for greater energy density and range.
Rivian uses cylindrical battery cells from LG Chem arranged in a modular block design. These batteries are similar to those used by Tesla and other EV manufacturers. Rivian's battery packs for easy replacement, allowing quick maintenance and repair.
Both companies offer impressive ranges and charging times in terms of battery performance. However, BYD's blade battery technology provides greater safety and reliability than traditional lithium-ion batteries, while Rivian's modular design allows for greater flexibility in battery pack configuration.
Both BYD and Rivian are making significant contributions to the EV industry, and their battery technology and designs offer unique advantages for consumers.
Driving Range
A primary distinction between the two businesses lies in their respective driving ranges. Rivian currently offers two models, the R1T pickup truck and R1S SUV, with a driving range of up to 400 miles on a single charge. On the other hand, BYD offers several electric models with driving ranges that vary depending on the specific model.
For example, the BYD Tang EV600 has a range of up to 373 miles on a single charge, while the BYD Han EV has a range of up to 376 miles. However, other models, like the BYD e2, have a range of only around 190 miles.
Overall, Rivian currently has a clear advantage in terms of driving range. Still, BYD has a more diverse range of electric models, which may appeal to a broader range of customers with different needs and budgets.
Acceleration
Both BYD and Rivian offer impressive acceleration performances. BYD's Han electric sedan can go from 0 to 60 mph in just 3.9 seconds, while Rivian's R1T pickup truck can achieve the same feat in just 3 seconds.
However, it is noteworthy that these vehicles have different purposes and target audiences. BYD's Han is suitable for the everyday driver, while Rivian's R1T is great for outdoor enthusiasts who require a rugged vehicle that can handle rough terrain. Therefore, the acceleration of these vehicles may be more or less critical depending on the driver's specific needs.
Compatibility
These two EV companies are compatible with the latest charging technologies, including fast charging. BYD has its charging infrastructure, which is popular in China, while Rivian is currently partnering with Electrify America to develop a network of charging stations across the United States.
BYD and Rivian are different companies with varying target markets, but both are compatible with the latest charging technologies. While BYD focuses on producing electric vehicles for the Chinese market, Rivian targets the American market with its electric trucks and SUVs.
Price
In terms of pricing, both companies provide various models at distinct price ranges. BYD's electric vehicles span from approximately $15,000 to $45,000, whereas their electric buses are priced at several hundred thousand dollars. On the other hand, Rivian's electric adventure vehicles, including the R1T truck and R1S SUV, have starting prices of roughly $67,500 and $70,000, respectively.
One thing to remember is that the prices for electric vehicles are often higher than for traditional gas-powered cars. However, electric cars can also offer long-term cost savings due to their lower operating and maintenance costs. Additionally, many governments give incentives and rebates for EV purchases, which can help offset the initial cost.
Generally, both BYD and Rivian offer different electric vehicle models at various price points. However, as with any major purchase, it is vital to consider the long-term costs and potential savings before deciding.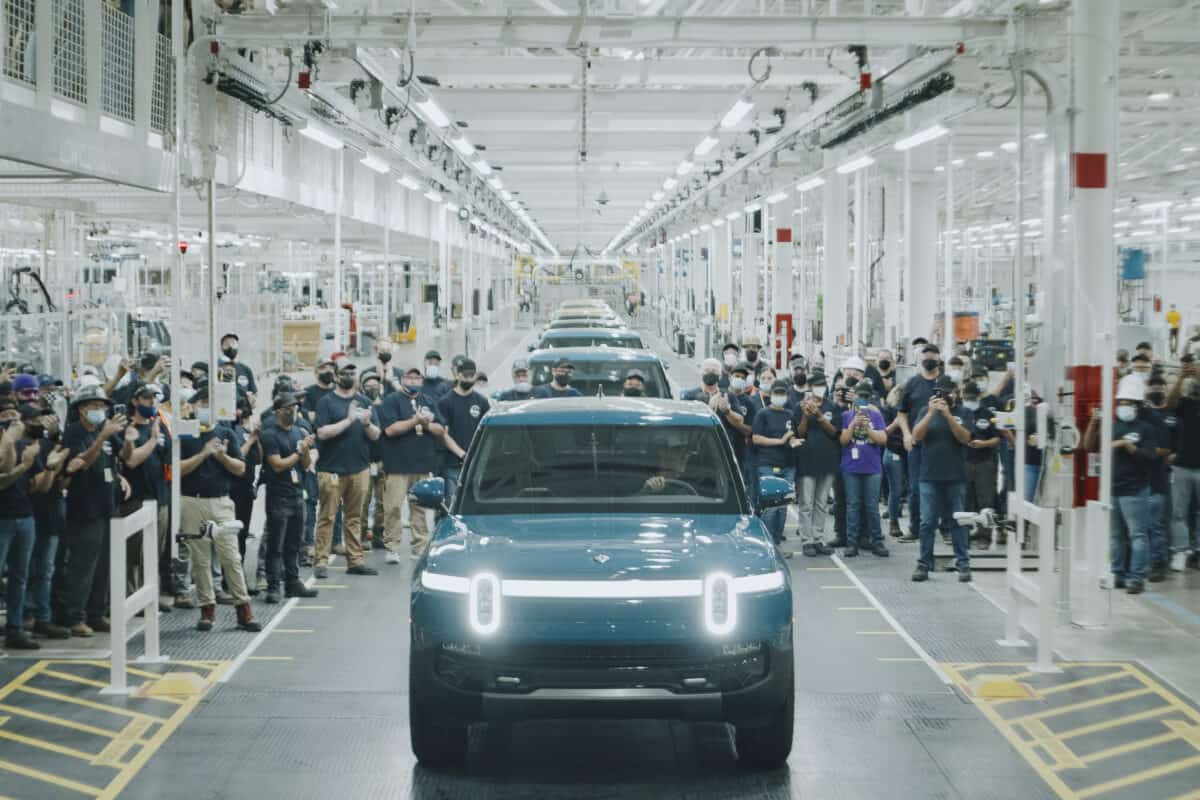 BYD vs Rivian: 7 Must-Know Facts
BYD is a Chinese automaker that produces electric cars, buses, and other vehicles, while Rivian is an American automaker specializing in electric adventure vehicles.
Warren Buffett's Berkshire Hathaway owns BYD, while Amazon and Ford back Rivian.
BYD began in 1995, while Rivian started in 2009.
BYD's electric vehicles include passenger cars, buses, trucks, and forklifts, while Rivian currently produces electric adventure vehicles.
BYD has a presence in over 50 countries, while Rivian is a relatively new company with a smaller global footprint.
BYD has partnerships with companies such as Toyota and Daimler, while Rivian has partnerships with Amazon and Ford.
BYD strongly focuses on current battery technology to produce its batteries, while Rivian sources its batteries from suppliers such as LG Chem and Samsung.
BYD vs Rivian: Which one should you Choose?
If you prioritize affordability and a diverse range of electric vehicles, BYD could be the better choice. They have a strong presence in the electric bus and truck market, with competitive prices and proven reliability. However, their cars may not have the same level of performance and luxury as Rivian's.
On the other hand, if you are looking for a high-performance adventure vehicle with luxurious features and cutting-edge technology, Rivian may be your go-to brand. Their R1T pickup truck and R1S SUV boast impressive off-road capabilities, long-range battery options, and advanced features like Amazon Alexa integration. Consider your particular needs and priorities when choosing between BYD and Rivian.
The image featured at the top of this post is ©VanderWolf Images/Shutterstock.com.