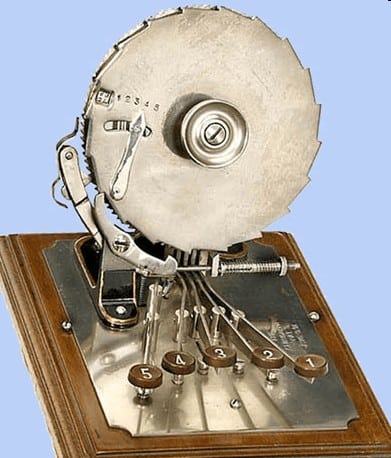 Key Points
Although he was born in Indiana, Brainard's love of adventure led him to California, where he decided to settle.
He occupied quite a few roles in his time.

He was a business manager, then an agricultural company manager, before starting

his own concern. In 1888, he became Folsom State Prison Secretary and worked at the institution for the rest of his life.
Brainard also obtained patents for two calculators and a pipe-smoking device.
Who Is Brainard Fowler Smith?
Brainard Fowler Smith is an American businessman who obtained three patents; the US360118, the US363972 ( with Arthur Shattuck) for adding machines, and the US596832 for a pipe-smoking device.
He was born on July 4, 1849, in Madison, Indiana, to Belvidere Roberts and Samuel Fowler Smith, a merchant and a Yankee school teacher from Vermont.
Quick Facts
Full Name

Brainard Fowler Smith

Birth

July 4, 1849

Death

August 30, 1908

Children

One – Caryl Leigh Smith

Nationality

American

Place of Birth

Madison, Indiana

Fields of Expertise

["Mathematics","Hardware","Business","Secretary"]

Institutions

Folsom State Prison, Preston School of Industry, San Quentin Prison

Contributions

Invented two adding machines and a smoking pipe.
Brainard was born with several health issues that affected his appearance. However, he didn't give up and worked hard until he achieved a lot throughout his life.
Early Life
Although Brainard's father died when he was just five years old, his father's superb career significantly influenced him and made him more passionate about business and inventions.
Brainard Smith completed one year of preparatory education at Knox College in Galesburg, Illinois, where his uncle, the Rev. Henry Curtis, served as president.
After that year, he spent his sophomore season at Wabash College in Crawfordsville, Indiana. He entered the first-year class at Yale College in 1866, and after his mother died, he returned home to complete his education in Indianapolis.
After graduating from high school, Brainard began working in his father's factory and stayed there until the following fall. However, his lust for adventure drove him to spend the winter in California, where he fell in love with the weather and decided to stay forever.
Career
Commercial Traveler and Business Manager (1871 – 1885)
In 1871, Brainard went to Sacramento with E. E. Ames, an agent for the Studebaker wagons and his father's patent wheels. 
Brainard remained with Ames as a commercial traveler and, afterward, as a business manager until 1879, when he went to San Francisco to manage a large agricultural house there.
In 1879, Brainard moved to San Francisco to head up a major agricultural company and remained in that job until 1883. After that, Smith returned to Sacramento and started his own house, Brainard F. Smith & Co., with George A. Davis of San Francisco as his partner.
However, this partnership didn't last long since Mr. Smith decided to close his firm in 1885 and devote all his time to settling his old accounts.
Folsom State Prison Secretary (1888 – 1908)
Smith served as secretary of the Folsom State Prison since August 1, 1888, and he was chosen secretary of the Preston School of Industry in Amador County on May 2, 1889. Until his death in 1908, he served at Folsom Prison and then at San Quentin Prison.
What Did Brainard Fowler Smith Invent?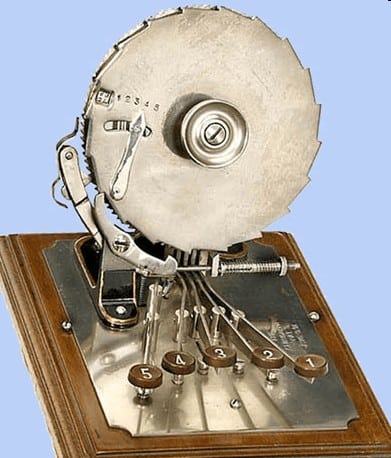 The US360118 key Adding Machine
The US360118 is a mechanical adder (a calculator that can only add numbers).
It's a single-column adder, meaning you add the ones, the tens, the hundreds, and so on. Every partial sum had to be written down and then eventually calculated. 
Instead of using 10 keys like normal adders (0-9), Brainard decided only to use 5 keys (1-5) and still get the same result. He explained that having only five keys will be easier and faster, as you don't need to use both hands to operate the machine.
For example, if you want to input "7", you just need to press the "2" key and the "5" key, or the "4" key and the "3" key consecutively.
The US360118 consists of five main components:
The 5 keys

The yoke (E)

The pawl (F)

The wheel (D)

The wheel (C)
It works as follows:
When you push any of the 5 keys, the key will make the lower end of the yoke (E) move, which in turn will cause the pawl (F) to proceed.
The pawl (F) is attached to the ratchet wheel (d), so whenever a key is pressed, the pawl will engage the ratchet wheel, causing the wheel (D) to turn forward.
On its periphery, the disk or wheel (D) is fitted with the digits from zero up to nine so that as the wheel turns, the appropriate digit appears in the aperture over the wheel.
Let's see an example to add:
3 6 7
5 8 4
9 7 1
Step 1: Set both wheels to 0.
Step 2: Enter the first column. Press 1, then 4, and then for 7, you can press the 2 and 5 keys consecutively.
After this step, figure 2 will appear at the aperture over the wheel (D), and figure 1 will appear at the aperture over the wheel (C), which resembles the carry.
Step 3: You now write down the 2 under the first column and have the 1 to carry. Before proceeding, you must set the two wheels again to zero. 
"I do this by touching enough of the keys to cause the wheel (D) to turn to the next 0, and then, with the thumb pressing upon the milled rim of the flange (c) of the wheel (C), turning said wheel back to 0." Brainard Fowler explained.
Step 4: Having 1 to carry, you enter the second column in the same manner as before. So you press the "1" key for the carry, then input the numbers 7, 8, and 6, which give us the result at the two apertures, the figures 22.
Step 5: You now write down the 2 under the second column and have the other 2 to carry.
Step 6: Again, you must set both wheels to 0, and do the same step for column three, where you input the carry, which is 2, and the numbers 9, 5, and 3. So you get Figure 19 appearing at the apertures in the casing. Write them down, and that completes the addition.
The US363972 Key Adding Machine
As mentioned above, every partial sum in the (US360118) had to be written down and then calculated, severely limiting these devices' usefulness.
Therefore, Brainard Smith and Arthur Shattuck worked together on the US363972, which was implemented later in the famous keyboard adder Centigraph.
The US596832 Smoking Pipe
In addition to his two patents for adding machines from 1886 and 1887, Brainard Smith had another patent for the smoking pipe (US596832) from 1898.
Brainard Fowler Smith Personal Life, Marriage, Children, and Tragedy
Parents
Mr. Samuel Smith, Brainard's father, was a remarkable man, born in Walton, Yorkshire, England, on December 22, 1808.
In 1835, he landed in New York and started working as a shoemaker since he used to work in a shoe shop as a shoemaker in England.
After that, he settled in Madison, Indiana, and set up a shoe business and a choir and singing school.
In 1844, he married Belvidere Roberts, a 24-year-old Vermont native. They quickly had three children, but only one of them, Brainard, survived, and he later endured everlasting health problems. In 1851, another son was added to the family: Charles R. Smith.
The family remained in Madison until 1855, when Smith moved to Indianapolis to enter into a partnership with Judson Osgood to make lasts and pegs for the shoe-making industry. Later, the family established a highly successful business for carriage wheels.
Smith married his second wife, Lizzie Sinclair, in 1866, after the death of his first wife. They had a single child, Samuel Smith, who died on March 12, 1879.
Personal Life
Brainard always tried to look his best, despite his deformities. He was known for his sense of style and always wore a silk hat.
Even though he was in a lot of pain, no one ever heard him murmur or complain, and he was the life of every party he attended.
Smith has been involved in politics his whole life. He is a committed Republican and has participated in many political movements. He also was generous with his money and gave a lot to charity.
Marriage & Children
On October 5, 1892, Brainard married Mattie Pinkham, and they had one son, Caryl Leigh Smith (born January 29, 1894; died September 2, 1959).
Tragedy
Although Brainard Fowler Smith had many accomplishments in his lifetime, he also suffered a great tragedy.
Brainard F. Smith suffered from life-long health problems that deformed his appearance. He was barely five feet tall, had one leg considerably shorter than the other, and used two canes to walk instead of crutches.
Up Next…
Interested in finding out about other influential individuals who changed our world forever? Read the following articles below: