Key Points
Bose is an American company that sells audio equipment, including high-quality speakers.
The 700 UC are great headphones for conference calls. They have a more modern design and touch controls.
The QC 45 are more comfortable, have a better battery life, and are less expensive.
The Bose QuietComfort collection has been around since the early 2000s, but they are not the only noise-reducing headphones in the company's lineup. The Bose QuietComfort 45 vs 700 UC are two comparable headphones. Let's see how they stack up in half-dozen areas, including audio quality, battery life, features, and pricing, and see which model comes out on top.
Bose QuietComfort 45 vs 700 UC: Side-by-Side Comparison
| | Bose QuietComfort 45Bose 700 UCStyleOver-ear headphoneOver-ear headphoneWirelessYesYesNoise CancellingYesYesNFCNoNoMultipointYesYesBattery24 hours20 hoursCharge Time2.5 hours2.5 hoursBluetooth CodecsSBC, AACSBC, AACBluetooth Version5.15.0Weight8.3 ounces8.8 ouncesWarranty1-year1-yearPrice$329$399 |
| --- | --- |
Bose Noise Cancelling 700 UC vs QC 45: 4 Must-Know Facts
The Bose QuietComfort 1 and QC1 were the first consumer headphones from Bose.
American Airlines was the first to provide its passengers with QuietComfort headphones.
Bose began researching noise-canceling tech after Amar Bose took a noisy flight in 1978.
The Bose 700 UC is the second version of the Bose 700 series headphones.
Best Travel
Bose Noise Cancelling Headphones 700 UC
Perfect for the home office, cubicle, open office
Adaptive 4-microphone system for clear calls
Bose app to personalize your environment
11 levels of notice cancellation
Easily switch between audio sources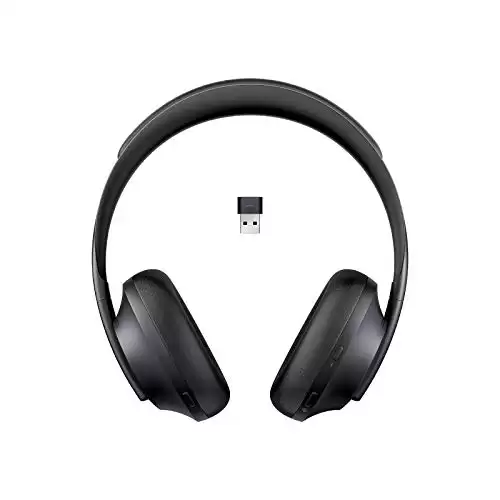 We earn a commission if you make a purchase, at no additional cost to you.
Bose QuietComfort 45 vs 700 UC: What's the Difference?
We previously broke down the Bose Noise Cancelling 700 UC Headphones by comparing them against the Sony WH-1000XM4s. In this showdown, two wireless headphones from Bose with ANC – QuietComfort 45 fares and 700 UC – go head-to-head.
Design
If you're familiar with the Bose QuietComfort 35 II headphones, you'll see more than a passing resemblance to the newer 45s. They are just as comfortable, although there are vents in the cups, and the pleats are gone. They are lightweight with a classic design, and the cups fold inward to take up less space on the go.
The Bose 700 UC wireless headphones have a more modern vibe with a streamlined design. The metal headband allows you to customize the length, while the cushioned cups provide comfort during extended listening sessions. While stylish, the cups fold flat, not inward like the cups on the QuietComfort 45.
Both models are available in two colors, Triple Black and Silver Luxe on the Bose 700 UC or Smoke White for the QC45 headphones. Style comes down to personal preference, although many users felt the Bose QuietComfort Q45s were more comfortable.
Audio Quality
You expect high-quality audio when you purchase a pair of headphones from Bose. Bose QuietComfort 45 and Bose 700 UC headphones have good sound quality. You won't be disappointed by the audio quality from either headset – even if one has a clear advantage.
The Bose Noise Cancelling Headphones 700 UC provide well-balanced sound that works great with a wide variety of music. They have enough bass for rap and dance tracks and provide access to an equalizer through the Bose app. This allows you to adjust the sound to better suit your needs.
Blues, rap, or country will sound fantastic through the Bose QuietComfort 45, which has comparable bass to the Bose 700 UC. However, they aren't quite as dynamic and sound brighter than the 700 UC across the board. There is a difference in sound quality between these premium wireless headphones, even if it's minimal.
We're giving this category to the Bose 700 UC, which we feel are more balanced and agreeable to wider musical tastes than the QuietComfort Q45 headphones.
Noise Cancelling
How these headphones sound is only half of the equation with audio quality. Both are marketed for their ability to drown out sounds from the outside world through active noise cancellation. It's a feature on many premium headphones in this class and an area close to the Bose QuietComfort 45 vs 700 UC headphones.
There are eight microphones inside the Bose 700 UC headphones, six of which work to cancel noise. The microphone array provides an impressive level of noise reduction along with a few easy-to-access presets, including Conversation Mode. You can adjust and set those levels with the Bose app, which has ANC levels ranging from 1 to 10.
While the Bose QuietComfort 45 headphones only have six microphones, they are newer and block out sound like the Bose 700 UC. Aware Mode allows outside sounds, but you don't get quite the same degree of customization with ANC. Despite that, many users feel the Bose QC 45 headphones are on par with or exceed the Noise Cancelling Headphones 700 UC with noise cancellation on some levels.
If you want more control over the types of sounds you allow in, the Bose 700 UC is the better option, thanks to the app. The QuietComfort headphones only have two modes but have excellent ANC.
Battery Life
Battery life and charging times are relatively close between the Bose QuietComfort 45 vs 700 UC. The company's numbers have proved accurate, although higher volume levels can drain batteries faster while leaving ANC off can increase them.
The Bose Noise Cancelling Headphones 700 UC will last for 20 hours before they need to be recharged. You can recharge them to full power in 2.5 hours. A quick charging feature provides 2 hours of playback from a 15-minute charge.
The Bose QuietComfort 45 headphones still take 2.5 hours to recharge, and a 15-minute charge gets you 3 hours of power. They provide 24 hours of battery life per charge, which is better than the Bose 700 UC and the older QuietComfort 35 II headphones.
The overall battery life and quick charging times are better on the QuietComfort 45 headphones, although a step behind comparable headphones like the Sony WH-1000XM4 at 30 hours.
Controls
We briefly touched on the different designs of these noise-canceling headphones, but we didn't mention the controls. The Bose 700 UC and QuietComfort 45 have completely different designs, affecting how you control the headphones.
Bose stayed true to the retro vibe of the QC 45s, so you'll find physical buttons on each ear cup. They haven't changed since the last version of the headphones, so there are four buttons on the right cup and one on the left for ANC.
Bose 700 UC headphones have a handful of buttons. You can use gestures on the touch-sensitive right cup to control your music. A simple swipe can adjust the volume and brings an air of familiarity to users fond of mobile devices.
Features
Considering these headphones are from the same company and are in the same class, they share plenty of common features. That includes Bluetooth Multipoint, which allows you to connect to more than one device simultaneously.
Both come with cables and support the same Bluetooth codes with SBC and AAC, although the QC 45 headphones have Bluetooth 5.1 compared to 5.0 on the 700 UC. Other features on these headphones are unlocked through the Bose Music app.
That's where you'll find the ANC settings on the Bose 700 UC and an adjustable EQ. The equalizer only gives you three bands to tweak, but you won't get to do that on the QC 45s, just the Bose 700 UC headphones.
While both have native voice assistants, only the Bose 700 UC has Alexa and Google Assistant built-in. You can also use Spotify Tap and get the Bose USB Link Bluetooth dongle. It's certified by Zoom, Google Meet, and Microsoft Teams. You can get it for $70 without the headset, a great value for the price when bundled.
Price
When you purchase a pair of headphones from Bose, you can expect to pay more than you would from other brands. Their products are competitively priced against Sony and others, although a step behind headphones from Sennheiser or Beyerdynamic in audio quality.
The Bose Noise Cancelling Headphones 700 UC arrived earlier, so you might expect them to be cheaper, given the QC 45's dropped in 2021. Well, that isn't the case, as the Bose 700 UC headphones are priced at $399 compared to the Bose QuietComfort 45 at $329.
The older model is more likely to see a price cut, however, and should see a new generation released before the next headphones from the QuietComfort collection. Both headphones are widely available through online retailers and stores worldwide.
Bose QuietComfort 45 vs 700 UC: Which is Better?
While this was close, we feel the Bose Noise Cancelling Headphones 700 UC are the best choice for consumers that need a great pair of headphones for conferences through Teams or Zoom. They have a more updated design, despite being older, with touch-based controls, and you'll get more functionality out of the app.
The price difference is nothing to scoff at, but they sound better out of the box and provide more customization than the QC 45 headphones. Alternatively, the QuietComfort 45 headphones are designed for comfort, have better battery life, and aren't quite as expensive. If you don't use these headphones for conference calls, the regular version of the Bose 700 is also an option.
Check out the Bose Noise Cancelling Headphones 700 UC on Amazon.
NEXT UP…
The image featured at the top of this post is ©RYO Alexandre/Shutterstock.com.