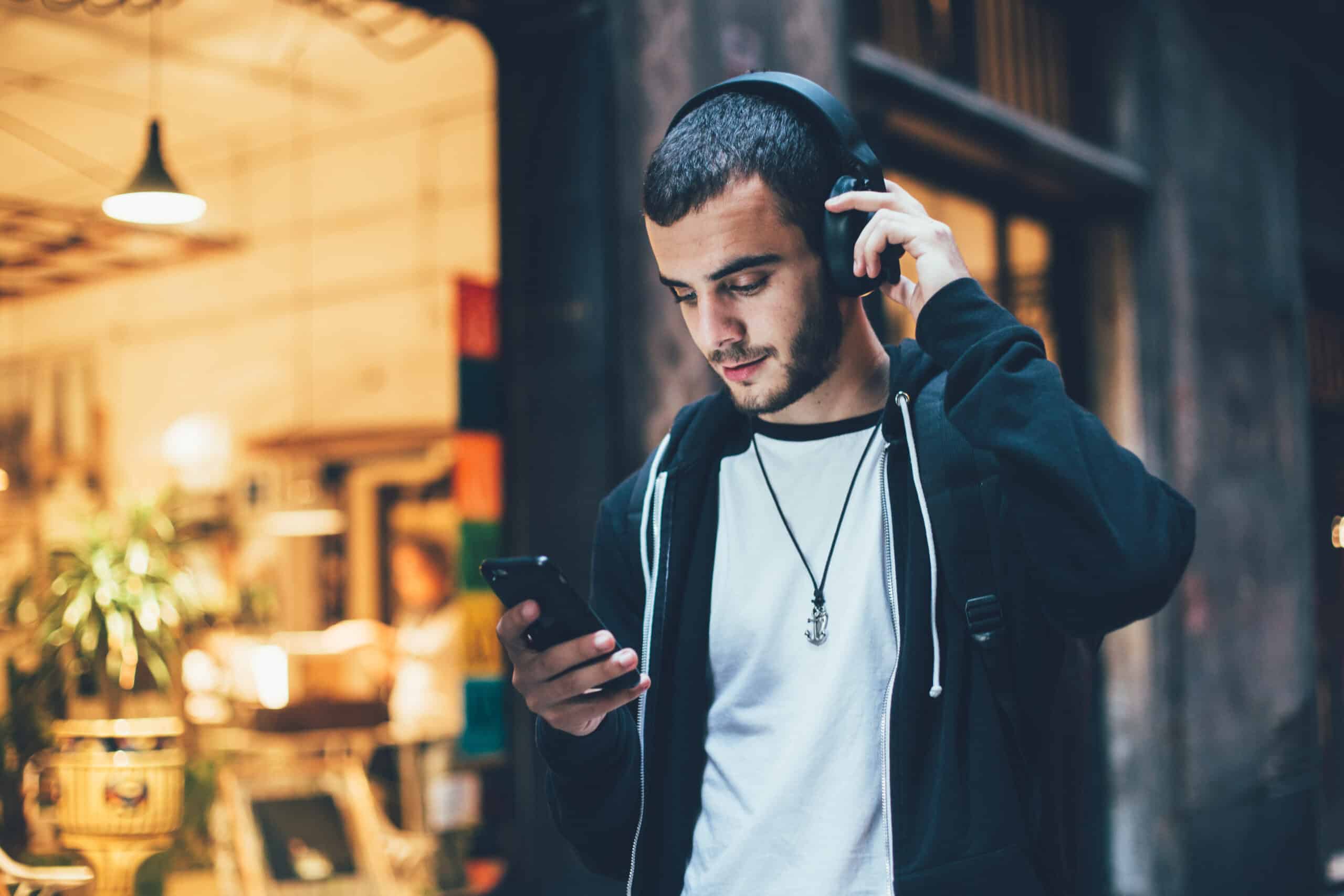 There are so many options to choose from when it comes to personal headphones. If you're in the market for noise-cancelling headphones, Bose produces some of the best available. The 700 model, released in 2019, has been their flagship product until the arrival of the Quietcomfort (QC) 45 model in 2021. In a nutshell, the QC 45 model has a longer battery life and boasts an even better noise-cancelling experience than its predecessors, but is that all there is to it? The short answer is no! Read on for a full side-by-side comparison of Bose QC 45 vs 700 so you can decide which fits your needs best.
Bose QC 45 vs 700: Side-by-side Comparison
| | QC 45 | QC 700 |
| --- | --- | --- |
| Price | $329 (Bose website) | $379 (Bose website) |
| Initial release | September 2021 | March 2019 |
| Battery life | 24 hours | 20 hours |
| Foldable? | Fold inwards | Fold flat |
| Weight | 240g | 250g |
| Available colours | Black, smoke white | Black, white, navy, soapstone |
| Noise-cancelling modes | Two modes: 'Quiet' and 'Aware' | Scrollable scale |
| Connectivity | Two devices | Two devices |
| USB-C support? | Yes | Yes |
| Touch controls? | No | Yes |
Bose QC 45 vs 700: 8 Must-know Facts
Bose QC 45 has a longer battery life and better noise-cancelling than the 700 model
The Bose 700 has a more modern look than the QC 45
The 700 model has 8 microphones compared to the QC 45's 6 microphones
Both have great noise-cancelling functionality, but the QC 45 is superior (although only has two modes rather than a scale like the 700 model)
Both models can connect to two devices at the same time
The 700 model has more colour options available than the QC 45
The QC 45s are slightly cheaper than the 700
Sound quality is superior with the 700 model
Sale
Bose QuietComfort 45 Bluetooth Wireless Noise Cancelling Headphones - Triple Black
Noise cancelling wireless headphones – The perfect balance of quiet, comfort, and sound. Bose uses tiny mics to measure, compare, and react to outside noise, cancelling it with opposite signals. Bluetooth range-up to 9 m (30 feet). Compatible App-Bose Music app
High-fidelity audio – The TriPort acoustic architecture offers depth and fullness. Volume-optimized Active EQ maintains balanced performance at any volume, so bass stays consistent when turned down and the music remains clear when turned up.
Quiet and Aware Modes – Choose Quiet Mode for full noise cancelling, or Aware Mode to bring the outside into the around ear headphones and hear your environment and your music at the same time.
Personalize your audio. Adjustable EQ allows you to set the bass, mid-range, and treble levels to your personal preferences or select one of several preset options.
Up to 24 hours battery life – Enjoy 24 hours of battery life from a single charge. A quick 15-minute charge offers 3 hours when you're on the go, or plug in the included audio cable to listen for even longer in wired mode.
Bose QC vs Bose 700: What's The Difference?
When it comes to noise-cancelling, you can't really go wrong with either of these models as both offer a great experience; however, the QC 45 model does outperform the 700 model with improved noise-cancellation technology. In terms of simplicity, the two noise-cancelling modes available with the QC 45 are easier to navigate and more user-friendly. Concerning sound quality, the difference is slight but noticeable with the QC 45 slightly edged out by the 700 model. Both models offer a sleek and modern design, but the battery life of the QC 45s is noticeably longer. The microphone quality of both models is good, suitable for either business or everyday calls.
Bose QC 45: A Closer Look
The QC 45 retails at around $329 (from the Bose website). Although more expensive than some of their alternatives, they come in cheaper than their predecessors. They were released in 2021 as the successor to the QC 35 II model, offering a sleeker design, longer battery life and improved noise-cancelling technology.
The battery life is around 24 hours with noise-cancelling and Bluetooth enabled. Adding to this, they fold completely inwards, meaning the QC 45 is perfect for long journeys and working away from the office. Offering USB-C support and quick-charge capabilities, these headphones are perfect for when you're short on time.
They feature two new noise-cancelling modes – 'quiet' mode blocks out all surrounding noise, while 'aware' mode lets in some noise, i.e. the sound of traffic so you can be more cautious depending on where you are listening.
The QC 45 boasts improved sound quality over its predecessors, with vents added to the earcups. The quality is better not only for music but for calls as well, with another built-in microphone added in comparison to the QC 35 II.
If you're after the reliability of physical buttons, you're in luck with the QC 45. Four buttons are found on the right ear (multi-function, action and volume control buttons) and one on the left ear (for turning noise-cancellation on and off).
Bose 700: A Closer Look
The Bose 700 comes in at $379 (from the Bose website), being one of the more expensive options from Bose. However, the 700 has lomg been their flagship model, and for good reason – unmatched sound quality. Even though they were released in 2019, Bose's newer models have yet to rival the 700 in this regard. With a modern design and range of four available colours, there's a 700 for everyone.
The 700 has a battery life of 20 hours, definitely long enough for most uses, and has quick-charge functionality. Like most Bose headphones, they're great for portability and are also capable of quick-charging via USB-C.
Noise-cancellation is excellent with the 700, and is controlled by an adjustable scale; levels from 1 to 10 mean you can change the mode to suit your individual preference and environment.
Touch controls are a feature of the 700, being used for the most common functions (playback, volume control and song selection), but buttons are still present. Power, noise-cancellation and voice-assistant are all controlled by physical buttons, but noise-cancellation can also be adjusted via the Bose Music App. Spotify Tap is also compatible with the 700, which is great for returning to your laast listening session just through a tap and hold of the right ear cup.
Bose Noise Cancelling Headphones 700,Bluetooth, Over-Ear Wireless with Built-In Microphone for Clear Calls & Alexa Voice Control,Black
Powerful noise cancelling headphones: 11 levels of active noise cancelling let you enjoy music, podcasts, videos & calls without distractions
Astonishing sound: Crisp, clear details. Deep, full bass. These wireless headphones produce exciting, lifelike sound that's full and balanced at every volume level
Unrivaled voice pickup: A revolutionary microphone system adapts to noisy and windy environments so your voice always sounds crystal clear on calls
Keep your head up and hands free: With easy access to voice assistants like Alexa and Google Assistant for music, navigation, weather, and more, and intuitive touch control on the earcups — you can stay connected without reaching for your phone
Premium design and comfort: With a lightweight stainless steel headband and earcups tilted for the perfect fit, you can comfortably wear these bluetooth headphones for hours
Bose QC vs Bose 700: Which One Should You Choose?
Your choice between Bose QC 45 and 700 depends on your usage and budget. If you're mostly using your headphones on the go, the QC 45 boasts a longer battery life and improved noise cancellation, so is the better option for travel and loud environments. When you're just looking for the model with the overall best sound quality, your choice is easy – go with the 700s.
After reading this article, you can probably see why they are still Bose's flagship product, and the best choice if you're in the market for a set of Bose headphones with the best sound quality on offer.
Last update on 2022-12-06 / Affiliate links / Images from Amazon Product Advertising API