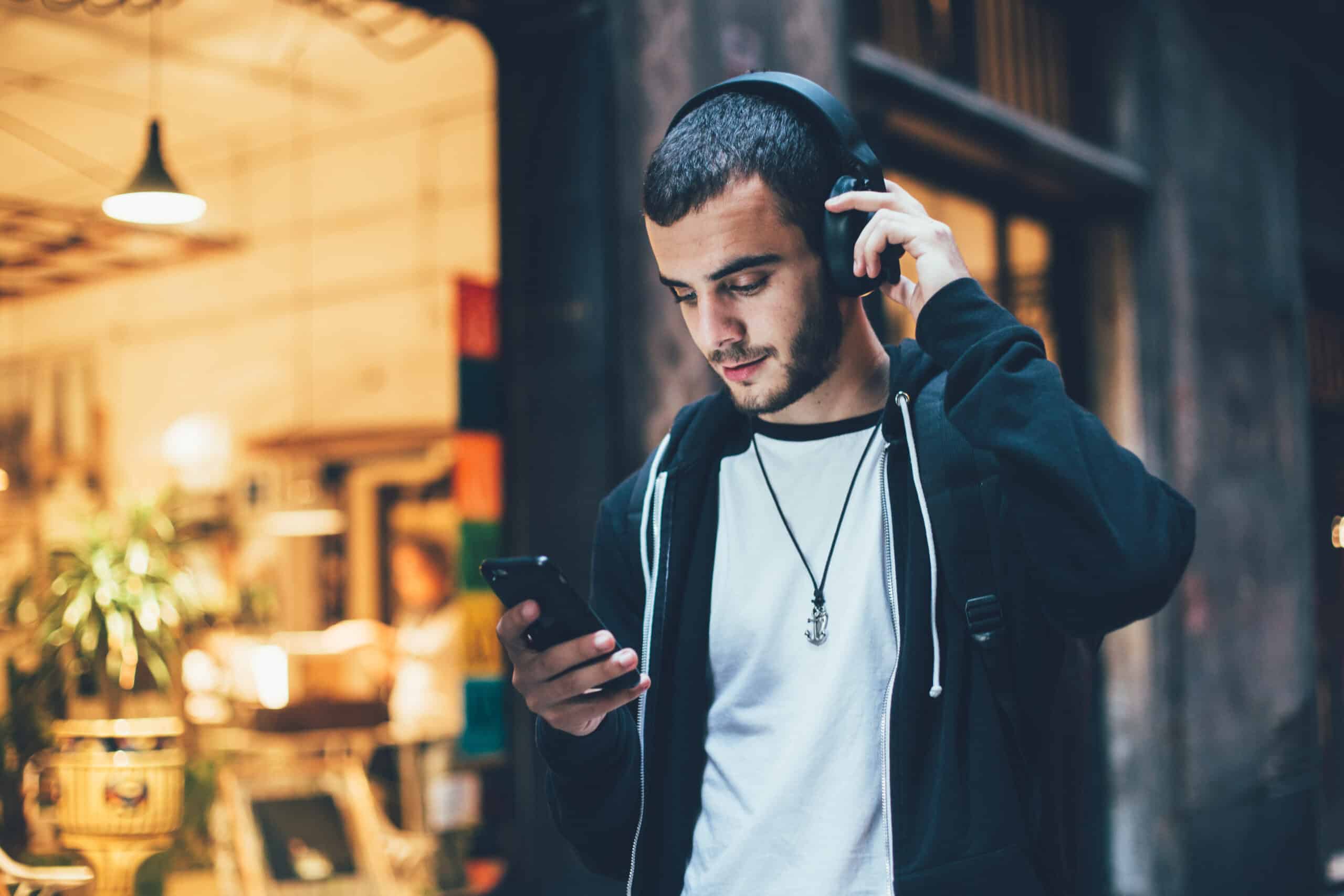 Bose is one of the first names consumers turn to when they want a pair of balanced headphones that can handle any type of music. They aren't without competition, so we're going to take a look at the Bose 700 and Sony 1000XM4, two wireless over-ear headphones that are consistently at the top of the charts.
These headphones have a comparable price and are designed for the same audience, which makes them instant competitors in most audiophiles' eyes. There are some distinct differences in the features and audio quality, however, which we'll break down in our guide.
Let's break them down below!
Bose 700 vs. Sony WH-1000XM4: A Side-by-Side Comparison
| | Bose 700 | Sony 1000XM4 |
| --- | --- | --- |
| Style | Over-ear, closed-back | Over-ear, closed-back |
| Wireless | Yes | Yes |
| Noise Cancelling | Yes | Yes |
| NFC | No | Yes |
| Multipoint | Yes | Yes |
| Battery | 20 hours | 30 hours |
| Charge Time | 2.5 hours | 3 hours |
| Bluetooth Codecs | SBC, AAC | SBC, AAC, LDAC |
| Foldable | No | Yes |
| Bluetooth Version | 5.0 | 5.0 |
| Weight | 8.8 ounces | 9 ounces |
| Warranty | 1-year | 1-year |
| Price | $379 | $348 |
Bose 700 vs. Sony 1000XM4: 5 Must-Know Facts              
Over the years, Sony has developed several new formats, including LDAC and SDDS.
Bose produced aviation headsets in the late 80s before moving into consumer headphones.
Sony released the first portable music player, the Walkman, in 1979.
MIT is the largest majority share owner in Bose.
Bose's first attempt at car audio was with the Cadillac Seville in 1983.
Bose 700 vs. Sony 1000XM4: What's the Difference?
Both of these companies are well known for their audio, whether it's nearly invisible in-wall speakers from Bose or one of Sony's 360 Reality speakers. The Bose 700 and Sony 1000XM4 are geared toward consumers in need of wireless headphones that work in a variety of conditions.  While there are a number of similarities between them, you'll notice differences starting with the overall design.
Design
The Sony 1000XM4 has a design that fits alongside other headphones in Sony's XM lineup. The XM4s have seen a few improvements over the previous generation, including a rubbery finish that keeps fingerprints and scratches at bay. The headphones definitely have a premium feel with a copper-colored logo and ports. Users found the synthetic leather Sony used in the cups comfy, as well.
You can swivel the cans on these headphones and fold them up for easy storage. The Bose 700 doesn't fold up, but they do have swiveling cups. The cushy pads are made from protein leather and the band is light but durable. Sony's headphones have a bit more "pop" in the design department and come in three colors, compared to only two hues from Bose. 
Bose's headphones are just a bit lighter than Sony's, although both are widely regarded as lightweight and comfortable for extended use. Both models come with a premium hard carrying case, and you don't have to worry about build quality from either manufacturer.  
Audio Quality
Simply put, the sound quality is fantastic from both the Bose 700 and the Sony 1000XM4. You won't be disappointed by the output if you're used to headphones from lesser brands, although there is a noticeable difference in the dynamics and clarity.
Bose's 700 noise-canceling headphones have a warm sound with excellent imaging. The mid-range is accurate and the bass is responsive. Out of the box, you can listen to a wide variety of music with no adjustments, but you won't get as much bass compared to Sony's headphones.
Sony's headphones are bass-heavy and have better highs than the Bose 700. They aren't as balanced but have more punch across the board with excellent timing. Considering you can adjust both to a degree through custom EQs, the audio quality is close between the Bose 700 and Sony 1000XM4.
That said, Sony's headphone app has more customization options and presets. You can also utilize Sony's immersive 360 Reality Audio platform.
Noise-Cancelling
One of the big draws of these wireless headphones is the fact they both have active noise-canceling. ANC uses a combination of microphones and a circuit to combat unwanted background noise. While helpful when listing to music in noisy environments, it's ideal for gamers and people that plan to take calls through their Bose 700 or Sony 1000XM4.
With the Bose 700 headphones, you can choose between full transparency mode, medium, or high ANC. The company's new chip allows for 11 total "levels" available through the Bose app, so there truly is a setting for everyone. Noise-cancelling is excellent, thanks to a combination of 10 microphones and the company's tech.
Sony uses the HD Noise-Canceling QN1 processor in the Sony 1000XM4. You won't get the same degree of customization with ANC, although most users feel it's an upgrade over the 1000XM3. The headphones don't have as many mics as the Bose 700, but they do have 20 levels of pass-through courtesy of Ambient Sound Mode.
While we feel that Bose has an edge with ANC on the 700 headphones, Sony isn't far behind. Both do an outstanding job of blocking out the outside world and you shouldn't have any issues with call clarity. The Bose 700 performs a little better in that regard, but the Sony 1000XM4 has better ambient sound modes.
Bose 700 vs. Sony 1000XM4: Battery Life
Bose promises around 20 hours of battery life per charge with the Bose 700 headphones. They recharge through a USB-C port and have a quick charge feature. It can bring the headphones back to life with 3.5 hours of battery life for a 15-minute charge.
User reviews put the battery life in this range, so you can get a couple of days' worth of power before you'll need to recharge the Bose 700 headphones. While that's a respectable mark, the battery life between the Bose 700 and Sony 1000XM4 is not particularly close.
You'll get up to 30 hours of power from Sony's headphones, which is outstanding. They also have faster quick charging as a 15-minute charge can provide 5 hours of playback on the Sony 1000XM4 headphones. ANC and other features can affect the battery life of the Bose 700 and Sony's headphones as well. Sony's headphones have better battery life, and battery quick charging capabilities.
Features and Formats
You'll find a wealth of features on both of these high-end headphones, including custom equalizers and mappable controls. They have Bluetooth Multipoint, so you can connect to more than one device, and support SBC and AAC through Bluetooth 5.0. Sony's headphones also support LDAC, however.
Controls are customizable through the Sony Headphones Connect app. You can set a button for voice assistant control and access noise-cancellation features, or the company's 360-degree Virtual Sound. It's also where you'll find the custom equalizer. A few of the profiles included are Excited, Relaxed, Speech, and Bass Boost, but this is where you can tweak the audio to suit your needs.
The Bose Music app also has plenty of features with a slick interface that's easy to navigate. From within the app, you can name your headphones, set the ANC level, or switch between saved devices you've paired with. Conversation Mode is a nice touch, and you can set up a personal assistant with only a few taps.
We found that both headphones have similar features, but Sony wins this category. Their headphones have NFC, a better equalizer, and modes like Speak to Chat.
Bose 700 vs. Sony 1000XM4: Which One is Better?
Some headphone comparisons are too close to call, but that isn't the case in our Bose 700 vs. Sony 1000XM4 showdown.  You certainly won't be disappointed if you purchase the Bose 700s, although we feel Sony's headphones provide a much better bang for your buck.
The Sony 1000XM4 headphones provide 10 to 15 more hours of battery life than you'll get from Bose's headphones and have punchier bass. Both pairs sound fantastic and have Bluetooth Multipoint and a premium design. The Sony 1000XM4s have noise cancellation on par with Bose but are more portable and affordable.
When using over-ear headphones is inconvenient or you simply need something smaller, consider a pair of the best wireless earbuds.
NEXT UP…