Now that the famed German automaker has joined the luxury EV market with the BMW i7, rival car manufacturer Mercedes finally has some competition. The BMW i7 showcases the company's commitment to innovation and sustainability.
Every aspect of the i7 has been carefully designed to offer a unique driving experience, from its sleek exterior with graceful lines and the signature BMW kidney grille to its spacious and luxurious interior.
The i7's all-electric drivetrain delivers impressive power with instant torque and effortless acceleration. It also has an impressive range, allowing for extended drives without the need to stop for fuel. Its touchscreens and assistive driving technology provide a technologically advanced driving experience. Has BMW hit a home run with this EV?
Whether you're driving to work or taking a long road trip, the BMW i7 will make every journey feel like a first-class experience. It is undoubtedly a game-changing vehicle for today's drivers. Let's dive deep into the specs and features of this luxurious new EV.
6 Facts about the BMW i7
BMW has equipped the i7 with a high-capacity battery back that supports DC Fast Charging.
It is equipped with the latest driver assistance and safety features, including collision and lane departure warning, cruise control, and automatic emergency braking, to name a few.
The air suspension system is adaptive, making the drive smooth in all conditions.
It comes with three driving modes: Sport, Comfort, and Eco Pro, each further divided into four levels: adaptive, low, medium, and high.
The top speed on the i7 is 149 mph.
It has a range of interior trim options, with more amenities and a better cinematic experience.
BMW i7 EV Specs
| Specs | BMW i7 xDrive60 |
| --- | --- |
| Starting MSRP | $119,300 |
| Max Range | Up to 318 miles |
| Battery | 105.0 kWh (nominal)101.7 kWh (usable) |
| Engine | Dual Electric Motor, AWD, 536hp |
| Transmission | Automatic, single speed |
| Weight | 7165Ibs (3250kg) |
| 0-60 MPH Time | 4.7 seconds |
| Top Speed | 149mph (240km) |
BMW i7 EV: Where to Buy
The 2023 BMW i7 xDrive60, or just the i7, is the 7 Series' first fully electric variant that entered the automotive world in November 2022. It competes with other luxury electric sedans, including the Lucid Air, Tesla Model S, and Mercedes-Benz EQS. While the other EVs are designed from the ground up to be electric, the i7 is merely one version of a car that also exists in gasoline form.
This traditional strategy, however, comes at a significant price premium. The i7 starts at $120,295. Compare that to $114,595 for the 760i xDrive, this generation's first gasoline 7 Series. Following the debut of the i7, BMW intends to offer a cheaper gasoline 740i for $94,295 USD.
Though these pricing differences may not seem significant, it is worth noting that the i7 is more expensive than its gasoline cousin. You can customize and order it from the official BMW website; a simple, secure, and hassle-free method.
The History of the BMW i7 EV: What To Know
BMW has a long history of research and development in the field of electric vehicles. The 1602e, the company's first major excursion into EVs, was used to lead a group of long-distance runners at the Munich Olympics because it did not generate toxic emissions.
BMW began the development of LS Electric in 1975. This was a prototype with a range of fewer than 19 miles and a top speed of 40 MPH. But it included luxuries such as a heated windscreen and rear window. BMW made more progress in 1991 with the BMW E1. This had an impressive range of more than 150 miles but was never produced.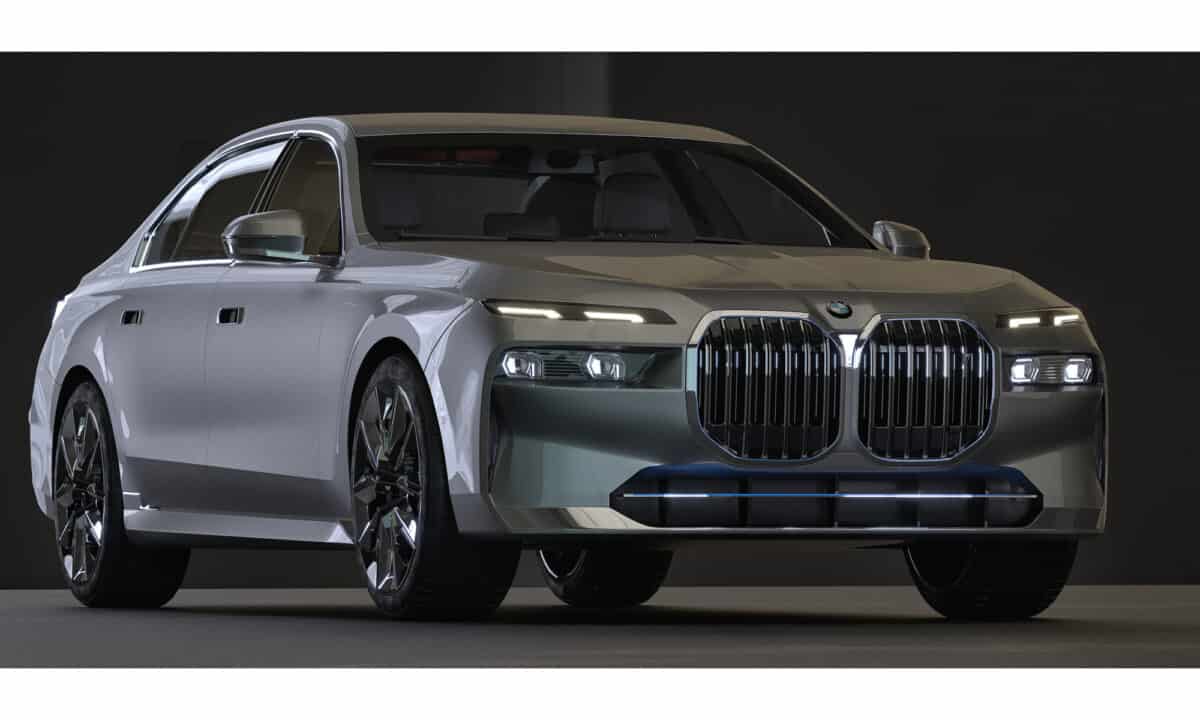 BMW tested the waters with the electric Mini in 2008, leasing out over 600 cars to the public for $850 per month. This included access to charging stations and insurance. With a remarkable range and charging for their time, these cars set the stage for things to come. These Minis had a range of approximately 100 miles and a charging period of approximately three hours.
The BMW i3, which started on sale in 2013 and is still available today, has a range of 114 miles without using a gasoline range extender. Finally, the i8 is BMW's high-end hybrid electric sports car. This beast can accelerate from zero to sixty in 4.2 seconds. It has a range of 330 miles when the gas engine is combined with the electric motor. The cost is the only downside at a whopping $140,000.
BMW i7 EV: Design and Construction
The new BMW 7 Series, along with the i7 electric version, has caused controversy with its bold front-end styling. The gigantic grille and unique style headlights have sparked internet memes and raised eyebrows. The design is further accentuated by an optional darkened front-end treatment, which gives the EV a unique road presence.
These styling elements are carried over from the internal combustion 7 Series models to the i7, as is the tall and bulky body shell. The shell requires indentations on the hood and rear bumper to blend with the oversized center area of the body. Additionally, the BMW i7 has an exceptionally long hood, which serves a purpose on gasoline models, to house the engine. It is simply an aesthetic feature of the electric version.
BMW asserts that the i7 will attract buyers who prioritize conventional luxury car features over electric power, and it is certainly more conventionally styled than the streamlined Mercedes-Benz EQS and Lucid Air, or the grill-less Tesla Model S.
When it comes to personalizing the appearance of your BMW i7, you have a wide range of paint colors and finishes to choose from. Options include classic non-metallic shades, highly reflective metallics, and exclusive frozen paints.
In total, there are 14 different colors available, so you make the most of the i7's sleek contours. If you're looking for even more customization options, you can also consider the virtually limitless selection of BMW Individual paints.
BMW i7 EV: Performance
i7 is an electric vehicle with a dual-motor powertrain that produces 536 horsepower and 549 pound-feet of torque. According to the automaker, this allows the i7 to attain a speed of 60 mph in 4.7 seconds when starting from rest. And reach a top speed of 149 mph.
While it may not be as quick as some of its electric rivals, such as the Mercedes EQS 580 4Matic sedan or the Lucid Air, the i7 prioritizes luxury over performance.
Its interior is impressively quiet. The air suspension that comes standard on this car ensures a smooth ride. BMW has also incorporated an active roll stabilization system to reduce body roll, lending a more sporty feel. The unique "road preview system" is BMW's innovative system which predicts and changes the car driving settings to match the road conditions.
Despite features like four-wheel steering intended to improve its handling, the i7 still feels quite large and may not be as sporty as the gasoline-powered 7 Series. Regarding braking, the i7 pulls ahead. This EV offers consistently better regenerative braking than other recent BMW EVs.
Additionally, the automaker has teased an M Performance version of the i7, which will be the most powerful 7 Series model yet.
BMW i7 EV: Range and Recharging
The BMW i7's range varies depending on which wheel size it is riding on. If you are rocking 19-inch wheels, expect to get a range of 318 miles. With the 21-inch wheels, you can expect a slightly lower 308 miles.
Meanwhile, the 20-inch wheels offer the least range, at just 296 miles. Since wheel size can notably impact your range, it is important to keep this in mind while selecting your trim level and options.
The i7 is equipped with an 11-kilowatt AC charger onboard that lets you charge up the battery in just 10.5 hours. This is in coherence with the fact that most people prefer to charge their vehicle overnight, at home. Just plug in your car when you pull into the garage, and you are good to go.
BMW has also equipped the EV with 195-kW DC fast charging that can add an impressive 80 miles to your driving range in only 10 minutes. ACCORDING TO BMW, fast DC charging can also fully charge the battery from 10% to 80% in 34 minutes. Have a snack while on a long tour, and BOOM, you're ready to cruise again. The car also comes with three years of fast charging at Electrify America stations.
BMW i7 EV: Interior
The BMW i7 is in a league of its own when it comes to the interior. BMW has made a spacious, comfortable, and luxurious interior, which is equally perfect for a long journey as well as daily commuting around the town. The seats are spacious, with generous padding to comfort your back.
Front seats are also power-adjustable, and the rear seats are equipped with a power recline and extra plush headrest. These features ensure maximum comfort to driver and passenger both. EV's interior is designed from high-quality materials, including leather, wood, and metal accents. It gives an overall premium and upscale feel.
The panoramic roof on the i7 floods the interior with natural light and makes the drive memorable on a sunny day. It gives a sense of openness and airiness. The trunk is overall spacious, and even the third row provides ample head and leg room. The cargo space offers plenty of areas for you to bring luggage, groceries, and other travel items with you.
BMW i7 EV: Technology
If you thought that the unique exterior, spacious and comfortable interior, and excellent range made this a formidable vehicle, you will be opening your wallets after reading this. BMW has by far outclassed all its competitors, and the company has officially referred to the interior by saying, "Welcome to your Lounge."
On the front end, we see a giant curved display, a 12.3-inch instrument cluster, and a 14.9-inch touch screen melted and molded into one piece of curved glass. It also includes BMW's signature iDrive infotainment system, with rotary control and an Interaction Bar.
Touchpads allow for easy management of various functions. BMW i7 also supports 5G connectivity along with wireless Apple CarPlay and Android Auto for even more convenience.
The Rear of the Car
Rear passengers can enjoy a luxurious infotainment experience with their own 5.5-inch door-mounted touchscreens and an illuminated roof. They can also make phone calls through the high-quality Bowers & Wilkins surround sound system.
Brace yourselves if you thought this could be all that BMW could pull off! The real showstopper at the rear is a huge 31.3-inch Theater Screen. Passengers can deploy it from the headliner, watch movies and TV shows, and even play video games.
You will definitely be thinking that BMW would have compromised on the resolution, then? Well, here is another fact to make our jaws drop. The screen comes with eye-piercing 8K resolution and multiple aspect ratios. The EV also comes with built-in Amazon Fire TV connectivity.
Driver Assistance Features
To top off all the discussed amenities, BMW has also introduced a variety of safety and driver assistance features. These include automatic emergency braking, forward-collision warning, and adaptive cruise control, to name a few. It also comes with a hands-free Highway Assistant for smooth driving at speeds up to 80mph.
The Parking Assistant Professional offers convenient remote parking and enhances its utility through sync capability and cloud connectivity. iPhone users can also take advantage of a digital key system that allows them to unlock and drive the car without taking their phones out of their pockets or bags. However, this feature is not available for Android phones.
The Public Response
BMW has won the respect of all car enthusiasts with the addition of the luxury i7 into their EV fleet. The Model has been well-received among the people due to its luxurious features, including a powerful dual motor and smooth, quiet ride, to name a few.
The overall structure and performance of the i7 hint that BMW has worked hard to create a well-rounded electric vehicle that prioritizes both performance and luxury.
In terms of future plans, BMW has demonstrated a commitment to electric vehicles and released several EVs apart from the jaw-dropping i7. BMW has hinted at keeping up with this trend. Their goal is to have half of the total sales be electric in the next 7 years. This indicates the strong focus and commitment of the famous automaker toward EV-olution.
The image featured at the top of this post is ©Guitar photographer/Shutterstock.com.