Today's 40V cordless mowers deliver gas-like performance in eco-friendly packaging. Yet, finding the best battery-powered lawn mower is often challenging. From battery capacity to cutting heights and waste management, you must decide what you want in a mower. Balancing money and value doesn't have to be complicated, though. This head-to-head between the Black & Decker 40V mower vs. Greenworks 40V cordless mower goes over their differences and might help you find the best mower.
Black & Decker 40V Mower Vs. Greenworks 40V Cordless Mower: Side-by-Side Comparison
| | Black & Decker 40V Mower | Greenworks 40V Cordless Mower |
| --- | --- | --- |
| Best for | Yards up to ¼ acres; residential use | Yards up to ½ acres; residential and light commercial use |
| Operation mode | Push | Push or self-propelled |
| Cutting width | 16", 20" | 14" to 21" |
| Cutting height settings | 6 to 7 | 5 to 7 |
| Cutting heights | 1-1/2" – 4" | 1-1/4" – 3-3/8" |
| Waste management | Mulch, bagging, side discharge | Mulch, side discharge; bagging available on some models |
| Battery | 2 x 40V 2.0Ah | 2 x 40V 4.0Ah or 1 x 40V 4.0Ah and 1 x 40V 2.0Ah |
| Runtime | Up to 40 minutes | Up to 70 minutes |
| Motor type | Brushless | Brushless |
| Material | ABS plastic | ABS plastic or alloy steel |
| Price | $329.99 – $349.00 | $218.26 – $529.99 |
Black & Decker 40V Mower Vs. Greenworks 40V Cordless Mower: What's the Difference?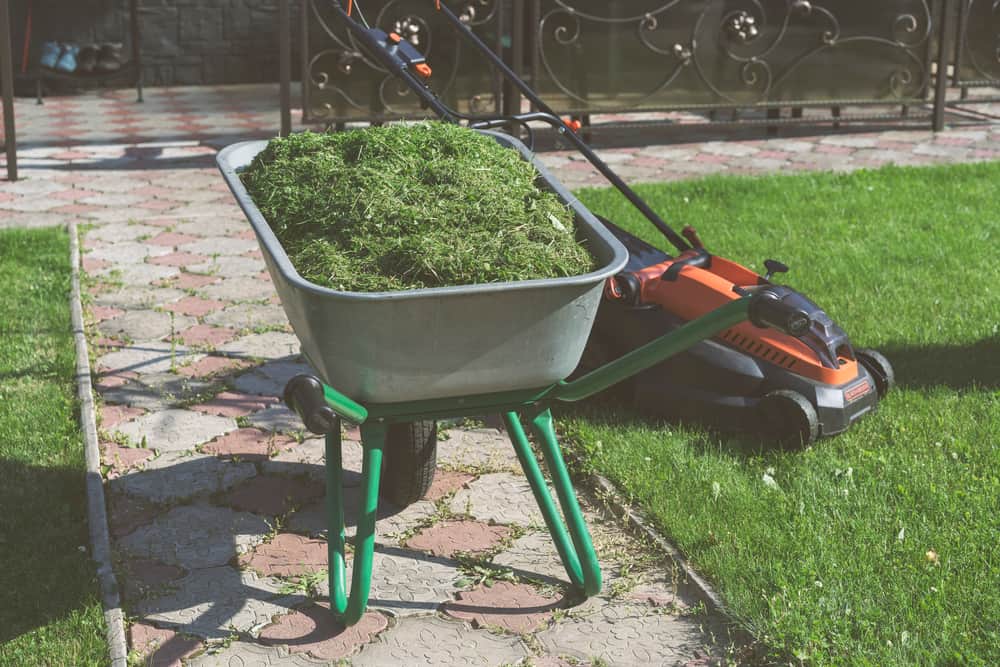 Ideal for small to mid-sized lawns, Black & Decker 40V and Greenworks 40V are two of the most popular cordless mowers. However, just because the max voltage of their batteries is the same, you shouldn't expect them to be similar.
Black & Decker offers its 40V mower in various sizes, but the lower amp-hours of the batteries limit runtime. Moreover, the brand's tools are famous for their attractive prices but aren't the most durable.
Greenworks comes with higher amp-hour batteries, which means extended runtime. The 40V mower – offered in several deck sizes – is made of various materials. Entry-level models are similar to Black & Decker in durability and performance. However, higher-end options are better for larger lawns or homeowners looking for the utmost durability.
Deck and Cutting
Matching the cutting swath to your lawn size and layout should be a priority when buying a new mower. However, a large cutting deck is not always better. If you have many obstacles on the lawn or need to fit the mower in narrower spaces, a smaller cutting deck is preferable. The Greenworks 40V wins.
This mower comes in multiple variants with cutting decks varying from 14 to 21 inches – and everything in-between. Depending on the model, you get five to seven height adjustments, making it easy to match the cutting height to the grass type. All 40V mowers from Greenworks allow you to adjust the deck height between 1-1/4 and 3-3/8 inches.
The Black & Decker 40V mower is available in two versions: a 16-inch cutting deck and a 20-inch swath. These sizes can suit most lawns, but if yours is really narrow, you might be out of luck. On the bright side, the larger model's cutting heights vary from 1-1/2 to four inches. While 5/8 of an inch isn't much of a difference, those who like mowing their grass high might prefer the Black & Decker over the Greenworks. This is particularly true if you want to avoid scalping and promote a larger, more drought-tolerant root system in cool-season grasses. Meanwhile, the smaller Black & Decker features six cutting height adjustments from 1-1/5 to 3-1/5 inches.
As for cutting performance, Greenworks might be better. Both mowers feature a single-blade cutting system. The self-propelled Greenworks and the smaller mowers from the brand have a single-blade system, too. However, the 20-inch push variant features a dual-blade system that effectively deals with tough grasses.
We earn a commission if you make a purchase, at no additional cost to you.
Power and Runtime
The runtime is a significant concern for homeowners when buying a cordless lawn mower. Too little of it, and you'll have to stop and recharge the battery – or potentially spend more and buy a backup battery.
In this aspect, both Black & Decker and Greenworks impress with their battery packs. Mowers from both brands come with two batteries and a charger. However, the battery types and how you can use them differ from mower to mower.
The Black & Decker 40V mower comes with one battery slot. The 40V Max batteries can output a maximum of 40 volts, but their nominal voltage is 36. Runtime is also affected by the amp hours, which is where Black & Decker is lacking. Its 2.0Ah batteries drain out in about 20 minutes, so you'll get about 40 minutes of runtime (in ideal conditions). To stay safe, you should calculate a runtime of no more than half an hour.
The various versions of Greenworks 40V cordless mowers can feature a 40V 4.0Ah and a 40V 2.0Ah or two 40V 4.0Ah batteries. In the first instance, the runtime is about five minutes longer than Black & Decker. In the latter, you get up to 70 minutes of runtime – enough for mowing a half-an-acre lawn on a single charge.
Another highlight is that the 20-inch push version features a dual battery slot with an automatic switchover. This means that you can load both batteries before starting the job. When the first one drains, the mower switches automatically from one battery to another, so you won't have to stop for a mid-task battery swap.
Waste Management
Mowing the lawn means more than just cutting grass. You must also decide what to do with the clippings. Whether you want to turn them into mulch, collect them in a bag, or discharge them, you can do it with any of the two Black & Decker 40V mowers.
Greenworks may or may not be equally versatile. The push models are only 2-in-1, meaning you can side discharge or mulch the clippings but not bag them. However, bagging is available on the self-propelled version of the mower.
Maneuverability
The Black & Decker 40V mower and the Greenworks 40V cordless mower are easy to maneuver. The main difference is that the former only comes in push-behind models. Greenworks 40V is a push-behind or self-propelled mower; the latter is better for larger lawns or owners who don't feel like pushing the machine.
A highlight of Greenwork's self-propelled model is the Smart Pace system. Instead of a pre-set or user-adjustable speed, the mower adjusts the self-propelling speed automatically to match your pace. This feature makes the mower suitable for all homeowners.
Maneuverability-wise, it goes without saying that the smaller versions of both brands are easier to maneuver around obstacles. However, all push versions are light enough to handle with ease.
Build Quality
Another significant difference between the Black & Decker and Greenworks mowers is their build quality. The former is made of ABS plastic. The lightweight casing sheds some weight and improves maneuverability, but the material is prone to cracking.
Greenworks also uses plastic for 40V mowers, but it feels sturdier than Black & Decker. Beyond plastic, most Greenworks mowers are constructed in alloy steel. Such a mower is better for light commercial applications, more extensive lawns, or fast-growing turfs like Bermuda or Ryegrass.
Storage-wise, you can expect the mowers from both brands to fold compactly. However, Greenworks folds neatly and allows for vertical storage, whereas Black & Decker is bulkier and can only be stored horizontally. Overall, Greenworks wins this round.
Best Overall
We earn a commission if you make a purchase, at no additional cost to you.
Special Features
Like everything else, cordless mowers are in constant evolution. Thus, it isn't surprising that both Black & Decker and Greenworks impress with unique features in their 40V mowers. As far as Black & Decker is concerned, the greatest highlight is the EDGEMAX deck on the 20-inch mower. This deck features a longer blade that cuts the grass closer to the lawn edge. Doing so reduces the need for trimming and post-mowing lawn manicuring.
The 16-inch variant from Black & Decker doesn't feature this revolutionary deck design but comes with Autosense technology. The machine can figure out what type of grass it's cutting and adjust the power accordingly to increase performance.
Proprietary technologies from Greenworks include the auto-switch innovative cut technology and the intelligent pace self-propelling system mentioned above. However, that's not it. A versatile highlight is the USB port on the batteries that allows you to transform them into portable power stations. You can use them to charge all portable devices, including your phone and tablets.
Price
Upfront costs can make or break the deal, especially if you have a small lawn and don't want to spend too much on a lawnmower. Unsurprisingly, Greenworks wins this round too. Mowers from the brand come in more sizes and variants. The simplest push-behind models can go as low as $218, and that's for a whopping 19-inch deck, with batteries and charger, included. You can save more if you don't need the battery pack.
If you love cutting lawns and want to splurge, a 21-inch self-propelled lawnmower from the brand can cost you around $530. However, this mower is made of alloy steel and packs all the innovative features we've come to expect from the brand.
Black & Decker is cheaper than Greenworks' top-of-the-line but more expensive than its entry versions. The newest 16-inch model can set you back $329.99, while the 20-inch mower costs around $349.
Black & Decker 40V Mower Vs. Greenworks 40V Cordless Mower: X Must-Known Facts
Black & Decker manufactures a range of entry-level 40V mowers ideal for lawns up to ¼ acres. All models are push-behind.
Greenworks' range of 40V cordless mowers suits lawns up to ½ acres. You can choose from push and self-propelled models.
Entry-level Greenworks mowers are made of plastic, the same as Black & Decker. However, Greenworks also manufactures alloy steel mowers that resist light commercial use.
Black & Decker's innovative technologies include an EDGEMAX system and automatic cutting speed adjustment.
The Greenworks 40V self-propelled mower features an innovative pacing system, while the auto-switch smart cut technology is available on mowers with two battery slots.
Both Greenworks and Black & Decker 40V mowers come with interchangeable batteries that can power a range of gardening power tools in their respective ecosystems.
Black & Decker 40V Mower Vs. Greenworks 40V Cordless Mower: Which One Is Better? Which One Should You Buy?
While Black & Decker is popular among homeowners, Greenworks 40V cordless mower is superior in almost every way. From higher build quality to self-propelled options, the 40V mowers from Globe Tool's brand are impressive.
That said, Black & Decker isn't a wrong choice either. Investing in one of their lawnmowers makes sense if you already own other tools and 40V Max batteries from the brand. You can interchange the batteries, while the 4-inch cutting height might help you leave certain grass types longer for better weed control and a more beautiful lawn.
The image featured at the top of this post is ©yackers1/Shutterstock.com.