Key Points
As a child, he hoped to be a lawyer like his father, but however, became avidly interested in computers.
He went to Harvard in 1973, but however, left following two years. In 1975, Microsoft was launched in partnership with Steven Ballmer whom he'd met at university.
By the age of 31, he became a billionaire following the release of the first version of Windows in 1985.
Who Is Bill Gates?
Bill Gates is an American businessman, inventor, and philanthropist. He is one of the co-founders of the Microsoft Corporation, the American computer conglomerate that is responsible for some of the most impactful innovations in the history and creation of modern computing and the internet, including products like Microsoft Windows, Office, and Internet Explorer.
Quick Facts
Full Name

Bill Gates

Birth

October 28, 1955

Net Worth

$132.1 billion

Awards

Turing Award
Presidential Medal of Freedom
Padma Bhushan award

Children

Two daughters, Jennifer and Phoebe, and one son, Rory

Nationality

American

Place of Birth

Seattle, Washington

Fields of Expertise

["Business","Computers","Philanthropy"]

Institutions

Microsoft, Harvard

Contributions

Co-founding of the Microsoft Corporation, Bill & Melinda Gates Foundation, and invention of numerous computer products
In his later life, as he amassed more and more wealth, Gates turned his attention to philanthropy with his now ex-wife, Melinda French. The two formed the Bill and Melinda Gates Foundation, which has invested billions of dollars in philanthropic efforts across the world.
Early Life
Bill Gates was born on October 28, 1955, in Seattle, Washington. He is the son of William Gates, Sr., and Mary Maxwell gates. Gates's father was a local lawyer, and his mother was active on a slew of local boards and banks. Gates has repeatedly discussed the positive results of his upbringing and noted that this helped with his success in life. Both also undoubtedly influenced his academic success and helped boost his extremely high IQ.
Gates comes from a family of five, with an older sister and younger sister. His family was described as relatively close growing up.
Gates showed an immediate proclivity for computers. As a young child, he initially wanted to follow in the footsteps of his Father and enter law, but that changed as he gained exposure to computing. This interest grew after the Mothers' Club at his prep school purchased computing equipment. Gates began to write programs in various computing languages, working with his friends to expand his knowledge of how computers worked.
Gates was small for his age, with a shorter height that resulted in him being bullied as a child. While his height would eventually grow to 5″10′, this presented many issues for Gates as a young child. He has later said that his small height – and subsequent bullying – helped to make him into the leader that he is today. Gates also attributed his bullying to his very high intelligence, both of which flowed from his above-average IQ.
Gates' first business venture was when he was only 17, working with a friend to start a company that made traffic counters. This, of course, was a preview of things to come.
Academic success came easily to Gates, and he enrolled in Harvard in 1973. Given his business success and extremely high IQ – reported to be at 160 – this was no surprise to anyone around Gates. While there, he met Steve Ballimer. The friendship between the two formed quickly.
Gates dropped out of Harvard after two years and never earned his degree from the school.
Career
Microsoft
Gates's entire business career has involved Microsoft in some way. The company was co-founded with Steve Ballimer in 1975 when Gates and Ballimer contracted with Micro Instrumentation and Telemetry Systems to develop a BASIC emulator for the MITS. Gates and Ballimer programmed the first emulator, but as the company grew, he became the company's Chief Executive Officer. Despite this, Gates remained intimately involved in the computing programming of the company, programing games as late as 1981.
Microsoft and Gates would next move into the creation of operating systems with IBM, working with the company to program and license 86-DOS, the main operating system for that program. This, eventually, would evolve into Microsoft's greatest commercial success: The development of Windows, a brand new, graphically-based operating system. The first version of Windows was released in 1985, and the operating system has now become an industry standard and the most popular of computer operating systems.
Microsoft's success propelled Gates into wealth beyond his wildest dreams. At the age of 31, he was a billionaire.
Microsoft would get intimately involved in a variety of other programs, including business programming, internet use, word processing, computer games, entertainment, and more.
Gates would step down as CEO of the company in 2000, paving the way for Steve Ballimer to run the company. However, he has remained actively involved with the company, stepping down from its board in March of 2020 to continue to focus on his philanthropy.
What Is Bill Gates Best Known For?
Microsoft Corporation
There is no question that Gates is best known for the founding of Microsoft, now one of the most profitable and impactful corporations in the world. Microsoft is responsible for a slew of computer innovations.
Microsoft Windows
Microsoft Windows is the most popular operating system in the world and standard to most commercially available computers. Its graphical interface has evolved considerably over time, becoming sharper and more intuitive. Windows was first invented in 1985.
Microsoft Office
Microsoft Office is a suite of programs designed for personal and business use. It includes word processing, spreadsheet software, presentations support, communications, and more. The first version of Office came out in 1995, and like most Microsoft products, the program has changed repeatedly over time.
Internet Explorer
Internet Explorer is one of the first graphics-based internet browsers. Some form of the program has been available since 1994, and its successor remains one of the most popular ways to browse the internet to date.
Bill and Melinda Gates Foundation
The foundation was created in 1994 as a way to combat a variety of societal ills that Gates saw. Much of the original money for the foundation came from Gates personally, but other individuals – including Warren Buffet and Bono – donated substantial amounts of money to the Foundation. Its assets grew immediately, and to date, it is believed to have an endowment of $49.8 billion.
The money raised by the foundation is invested in a variety of ways, including healthcare, education, and anti-poverty efforts. It has also been involved extensively in a variety of areas related to pandemic reduction.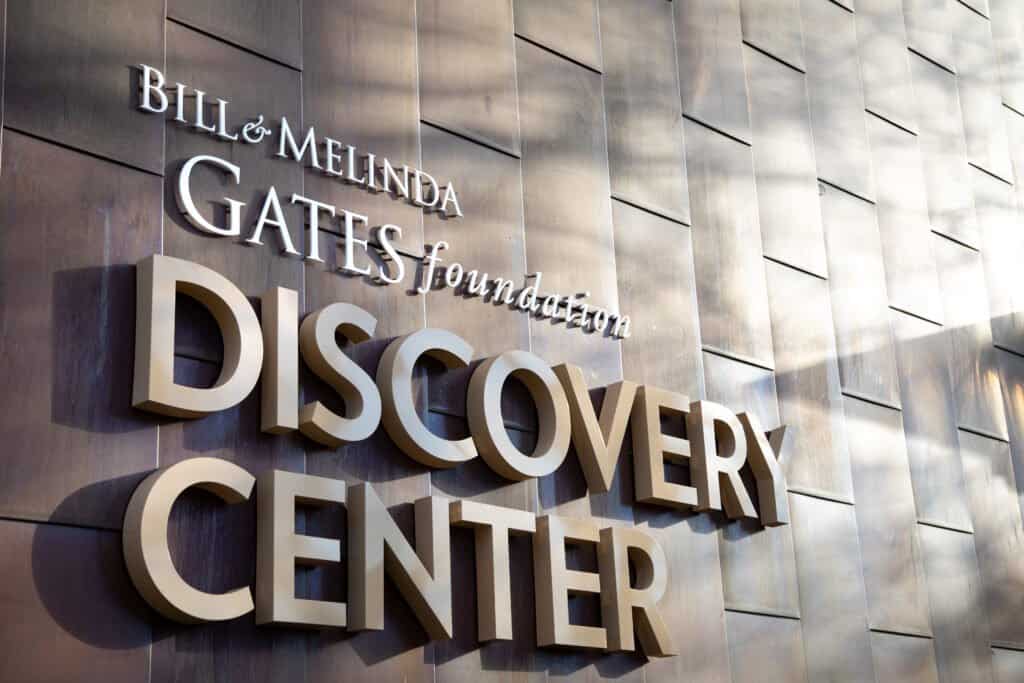 Bill Gates: Net Worth, Marriage, Children, and Divorce
Net Worth
Gates' net worth is estimated to be $132.1 billion, although it has ranged over $150 billion at various points, with much of the reduction of Gates' net worth believed to be associated with his charitable giving to the Bill and Melinda Gates Foundation. While it is not a title he currently holds, Gates was once the richest man in the world.
Marriage
Gates married his now ex-wife, Melinda French, in 1994. The two met while they were working together at Microsoft.
Children
Like his father, Bill Gates has three children in his family. All three come from his marriage to Melinda: Jennifer, Rory, and Phoebe. Bill and Melinda have both discussed their attempts to ensure that their daughters and son have the most "normal" upbringing possible, which included limiting their screen time when they were kids.
Divorce
In May 2021, Bill and Melinda Gates took to Twitter and announced that they would be looking to divorce. The Twitter announcement took the world by surprise, but later reports indicate that one of the sources of tension in their marriage was Bill Gates' relationship with Jeffrey Epstein, the American businessman who was arrested and convicted of multiple sex crimes. According to reports, Melinda Gates began speaking with divorce attorneys as early as 2019, with Gates' relationship with Epstein serving to spur the end of their relationship. The exact nature of Bill Gates' relationship with Epstein has been speculated on repeatedly both before and after the divorce.
The divorce moved very quickly and was finalized in August 2021. According to its terms, there will be an unknown division of assets. The two will also continue to work together on the Bill and Melinda Gates Foundation.
Bill Gates: Awards and Achievements
Turing Award
The Turing Award is given to computer engineers, innovators, and inventors who have "shaped the foundations" of computing. It is named after Alan Turing, the famed mathematician and computer scientist.
Presidential Medal of Freedom
The Presidential Medal of Freedom is one of the highest civilian honors an individual can win, given to individuals by the President of the United States in recognition of major contributions to the United States. Gates won the award in 2016 and was awarded it by then-President Barack Obama.
Padma Bhushan Award
The Padma Bhushan Award is given by the Indian government to individuals who have made major contributions to India. Bill and Melinda Gates were given this award in 2015 in recognition of their philanthropic work.
Bill Gates: Published Works and Books
Gates has written numerous articles, columns, and speeches during the course of his successful business career. He also maintains an active social media presence, has a Twitter account, and has participated in an Ask Me Anything on Reddit.
Gates has written three books.
The Road Ahead
Written in 1995, The Road Ahead discusses the future of the internet, personal computer and technology. Many of its predictions came true, particularly in terms of predicting the impact of the internet on information exchange.
Business @ the Speed of Thought
Business @ the Speed of Thought, from 1999, was written by Gates and Collins Hemmingway. It detailed the increasing intersections and integration of business and technology, noting in particular that newer businesses were relying more heavily on booming technological fields.
How to Avoid a Climate Disaster
How to Avoid a Climate Disaster is Gates' most recent book. Written in 2021, showcases his increasingly global and philanthropic bent. It reviews the current climate change disaster that is looming and lays out a plan to get to net-zero carbon emissions.
Bill Gates: Quotes
"Success is a lousy teacher. It seduces smart people into thinking they can't lose."
"I choose a lazy person to do a hard job. Because a lazy person will find an easy way to do it."
"We have to find a way to make the aspects of capitalism that serve wealthier people serve poorer people as well."
"Be nice to nerds. Chances are you'll end up working for one."
Up Next…
Interested in finding out about other influential individuals who changed our world forever? Read the following articles below:
The image featured at the top of this post is ©Frederic Legrand - COMEO/Shutterstock.com.