Key Points:
Choosing a hosting provider for your website(s) is not a simple decision because there are many factors to consider.
Some of these factors are speed, security, stability, support, and plenty others.
Because WordPress is so popular, there are a plethora of options to choose from!
WordPress is the #1 CMS on the web, and it's not hard to see why. It's easy to use, incredibly flexible, and highly customizable, making it perfect for creating professional websites. That said, you still want your website to be accessible 24/7, load up fast, and display across different devices. This is where web hosting comes in handy. Your choice of WordPress hosting provider matters a lot, as it can impact the speed and performance of your agency's website. With many different hosting providers in the market, choosing the best WordPress hosting for agencies can be tricky.
After a week of sleuthing, we're happy to recommend the following 5 WordPress hosting services and some recommendations to help you make an informed decision:
Best Overall WordPress Hosting For Agencies: Kinsta
Kinsta is the best overall choice for agencies looking to host their WordPress site. It offers a reliable and secure hosting service, unlimited storage and dedicated IP addresses, and 24/7 customer support. Kinsta also offers a CDN (content delivery network) that can help boost your website's performance and speed up page load times.
Kinsta's interface is easy to navigate, and they have a comprehensive tutorial on how to set up a new site. Their Agency Partner Program allows agencies to build, launch, and manage client sites. It is intended for creative and web agencies that manage WordPress hosting for their client's websites.
If your website is hosted elsewhere, Kinsta will handle the migration regardless of its complexity. They can handle all types of sites, from portfolio sites to large eCommerce stores, and migrate them flawlessly to Kinsta.
As a Kinsta partner, you can get FREE hosting on their Pro plan and the same security and performance as other Kinsta customers. A 5-star customer support team is on stand-by to help you with various hosting issues. Use the white-labeled clear cache plugin to add your logo for better branding and visibility quickly.
You can organize your websites or perform ownership transfer quickly using their website transfer tool, website labelling, and site renaming. 24/7 technical support is available via email or phone, which is helpful if you're having website issues. Security should be the least of your concerns. Kinsta uses industry-standard SSL certificates from Let's Encrypt. No extra plugins or code are required to bolster website security.
Best Premium Option: WP Engine
WP Engine is a well-known premium hosting provider for WordPress. The company offers a good balance of speed, security, and customer service. Their base plans start at $25/month with easy setup and deployment with just one click.
WP Engine also has staging environments for testing changes before they go live on your site, saving you time and frustration. They offer 24/7 technical support, phone access, and a money-back guarantee if you're unhappy.
On their dashboard, you will find a set of agency-specific tools, including a free developer account, a listing in their agency directory, referral commissions, co-selling options, co-branded billing, and more. Best of all, signing up for an agency hosting account and reaping the benefits is free.
WP Engine also provides design tools such as Genesis plugins, themes, and building blocks, saving time and wowing your clients with beautiful, user-friendly websites
You have access to premium WordPress themes, allowing your agency to create more beautiful, versatile, and memorable websites for your clients. Designed with SEO in mind and regularly updated, their WordPress themes are also highly customizable templates,
Best Budget Option: Hostinger
If you're looking for a low-cost hosting service, consider Hosting. It's perfect for new businesses that want to test the waters first. Their customers enjoy free website migration, 1-click installation, and SSL. Hostinger has support staff available 24/7 to answer your questions. This WordPress hosting service has a website builder plan bundled with its hosting services. Within minutes, you can create and publish a website.
Hostinger is a fast WordPress host with an impressive uptime guarantee. What it lacks in advanced customization features, it more than makes up for in dependability, speed, and security. Although the cheaper plans are attractive, agencies should be wary of their low bandwidth and storage limits. These could lead to loading and operational issues for larger sites.
Even though Hostinger's is not the most customizable, it's difficult to criticize its pricing. Hostinger is unquestionably your best option if your business is looking for trustworthy WordPress hosting on a tight budget.
Best WordPress Hosting for Smaller Agencies: A2 Hosting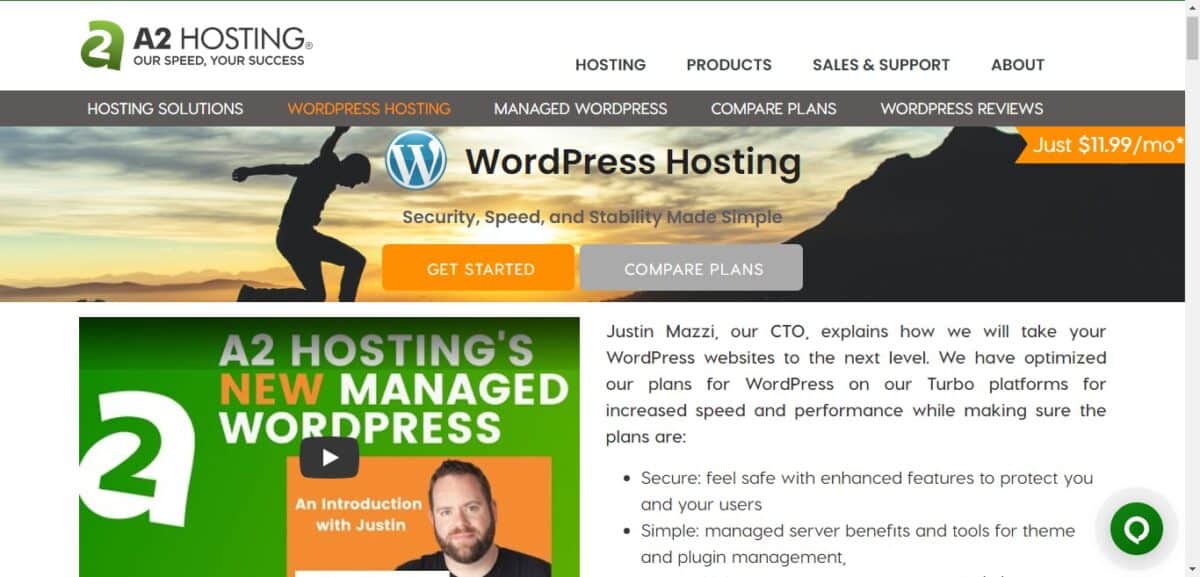 A2 Hosting is a cloud-based hosting service that targets small organizations lookingfor powerful yet affordable web hosting solutions. Founded in 2001, the company offers a wide range of hosting packages and caters to various requirements and budgets. This hosting service bundles all the features required to manage your clients' accounts in one location.
A2 SiteBuilder, its proprietary website builder tool, lets you create simple but functional websites. All A2 Hosting agency hosting plans include white labeling. It allows you to use your agency's brand on your customers' control panels, billing software, and nameservers.
your clients' sites up and running quickly.
Subscriptions include developer tools such Apache, SQL, Python, PHP, and server rewinds as well as admin-level access to all servers. In addition to standard encryption and DDoS protection, A2 hosting accounts are protected by Hackscan. This program constantly scans for malware attacks and responds quickly to any issues.
With A2 Hosting, you won't be left in the dark when there's a problem. All their plans include 24/7/365 support from their "guru crew." The anytime money-back guarantee protects your investment. You can ask for a refund if you change your mind within 30 days.
A2 Hosting might not offer advanced customization options, but it's still a great choice for smaller agencies with small budgets.
Best Customization Option: Cloudways
Cloudways is one of the only web hosting companies that provide customization options to their platform. This includes features like an intuitive interface and an easy-to-use panel for managing it all. It also uses advanced script technologies and security mechanisms that protect your websites from malicious attacks. With Cloudways WordPress hosting, you can choose the hosting platform that works best for you. Not to mention, many other great customization options.
You have five options, including Google Cloud Platform and Amazon Web Services. Also, you can "pay as you go," which will allow you to save money by only activating the features you need.
Cloudways provides a free website builder as part of their three-day trial. It's a great perk for anyone trying out their hosting service but hesitant to commit long-term. Choice and customization are at the heart of Cloudways. In addition to WordPress, they offer a selection of other popular CMSs like Drupal, Joomla, and Magento.
They even give you control over your servers. You choose their server location and a wide range of infrastructure options. DigitalOcean, Amazon Web Services, Google Cloud Platform, Linode, and others are supported.
How to Choose the Best WordPress Hosting For Agencies
If you are an agency, you know that your website is more than just a place to advertise your services. It's a window into your business and a way to connect with clients. You want your site to be easy to navigate, fast loading, and secure while saving money on hosting costs.
Speed
Your agency's success depends on having a fast and reliable web presence to handle many visitors per day. You must ensure that your WordPress site has enough resources to handle all traffic from different locations and devices.
Security
Security is very important in any online business, especially when dealing with sensitive data like client or financial information. Your website must be safe from hackers who try to attack it with viruses or malware attacks. A good security provider has implemented multiple layers of security to protect your site from these threats. They also offer 24/7 support service. If you run into any website issues, they can help fix them quickly without causing downtime or service interruptions.
Reliability
Your website needs to be up and running 24/7. So, choose a reliable host with up to 99% uptime. Occasional network or server issues are not uncommon. But persistent hardware failure or issues that can knock websites offline should be a cause of concern and red flag.
Technical Support
If your agency is growing, you'll want a host that can keep up with the demands of your business. The best way of measuring customer service is how fast customers receive responses to email or live chat queries. Live chat agents are available 24/7, but email response times can vary depending on availability. The best WordPress hosting services offer fast and reliable support.
Scalability
Cloud hosting allows websites to scale up and down as needed, which is perfect for agencies with ever-changing business needs. Cloud-based hosting doesn't limit your website to a certain amount of traffic as traditional hosting does.
Features
Consider the features you want in a WordPress hosting service, including email hosting, SEO tools, security options, and more. Features will vary from one hosting service to another. You might want to look into how easy it is to add new pages or categories to your site. You also want to ensure that there aren't any storage size or bandwidth limits. These can slow down your site.
Ease of Use
There are many different types of plans available for agencies, but some may be easier than others to use. Some hosting accounts may have easy-to-use control panels that let you manage domain names, server settings, emails and more. Others may require more technical knowledge. It's always good to pick a control panel that let you create and manage websites quickly.
Pricing
The price of WordPress hosting plans varies greatly depending on the type of service offered by the provider. Some companies offer monthly plans with limited or no limits on the number of sites hosted per customer account. Still, others allow unlimited sites under one account. You'll also find different prices for shared hosting plans versus dedicated servers. Expect to may more for dedicated servers than shared plans.
What to Know Before Choosing a Web Host For Agencies
Many hosts offer hosting solutions for agencies, so picking the right host largely depends on what you need. If your agency relies heavily on eCommerce platforms such as Shopify and BigCommerce, then an eCommerce-oriented service would be a good choice.
There are several things to look for when finding the best WordPress hosting for agencies. This includes speed, security, stability, support, and much more. A good service should have fast page loads and the ability to scale quickly. The company should also offer top-notch WordPress support with fast response times and knowledgeable agents. Customization options also matter. So, pick a hosting service that lets you get the most out of your site.
Using the Best Web Hosting for Agencies: What it's Like
You could have the most amazing idea, but your site will never take off without great web hosting. The top 5 hosting services for WordPress offer familiar tools and decent customizations. In addition, they provide great features and value for money. While Kinsta is the best option overall, Cloudways and WP Engine are better if you need advanced customization. A2 Hosting is a fantastic choice for smaller firms. SiteGround and Hostinger may be the solution for budget-conscious agencies.
Up Next…
Still looking for more information about WordPress and hosting? Check these articles out.