If you're shopping for the best waterproof speakers, you want the right blend of audio quality, water resistance, and battery life. The wrong speaker could leave you with music that doesn't resonate with your vibe. Or worse, it could fail after getting soaked. We reviewed dozens of speaker models while compiling our best waterproof speakers list. From total water resistance to insane battery life, the best waterproof speakers have it all.
Here are our top waterproof speakers in 2023:
Best Waterproof Speakers: Comparison
| | Ultimate Ears Megaboom 3 | Sonos Move | JBL Go 3 | Bang & Olufsen Beosound Explore | Tribit StormBox Micro |
| --- | --- | --- | --- | --- | --- |
| Size | 8.9 x 3.4 x 3.4in | 9.4 x 6.3 x 5.0in | 3.4 x 2.7 x 1.6in | 5.0 x 3.2 x 3.2in | 3.9 x 3.9 x 1.4in |
| Weight | 2lbs | 6lbs 9.6oz | 7.4oz | 1lb 6.0oz | 8.0oz |
| Battery Life | 20hrs | 11hrs | 5hrs | 27hrs | 8hrs |
| Water Resistance | Yes (IP67) | Yes (IP56) | Yes (IP67) | Yes (IP67) | Yes (IP67) |
| Voice Controls | No | Yes (Alexa and Google Assistant) | No | No | No |
| Features | Bluetooth | Bluetooth, Wi-Fi, Auto-tuning | Bluetooth | Bluetooth, Auto-tuning | Bluetooth |
| Price | $199.00 | $426.99 | $49.95 | 199.00 | $59.99 |
Best Overall: Ultimate Ears Megaboom 3
Of the best waterproof speakers on the market, the Ultimate Ears Megaboom 3 comes out on top for its excellent blend of music clarity, water resistance, battery life, and portability. The device has a cylindrical design which allows it to play your jams in 360 degrees. With 20 hours of battery life, you can party on into the night.
The speaker's IP67 rating means you can take it out on the lake or the pool without worry; you can fully submerge the Megaboom 3 and keep the music flowing. But even if you lose control, the speakers float.
While this ultra-durable, the water-resistant speaker is already quality on its own, one of these coolest features is its ability to connect with other UE devices; up to 150 of them! So even if you and your friends don't agree on the $200 price, there's a speaker for any budget.
Check out the Ultimate Ears Megaboom 3 on Amazon.
Best for Performance: Sonos Move
Best for Premium Sound
Sonos Move
Bluetooth and Wi-Fi connectivity
Up to 11 hours of battery life
Drop-resistant
Automatic Trueplay balances sound depending on the environment and content
IP56 rated for resistance to humidity, rain, snow, dust, salt spray, UV rays, and extreme temperatures
Built-in Alexa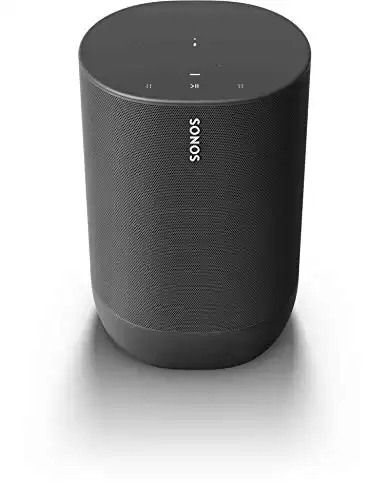 We earn a commission if you make a purchase, at no additional cost to you.
Sonos Move is a speaker with superior music quality and packed with features.
Significantly bigger than the Megaboom, Sonos Move offers the deepest base and the widest range available. This speaker takes advantage of all that range with its automatic Trueplay tuning, adapting sound to the space and type of music you're grooving to.
The Sonos Move also comes with a unique Wi-Fi connectivity, which can interact with Amazon Alexa for tasks beyond simply playing music. Be mindful, though as the device's Wi-Fi and its other features make it beefy. Not to mention, it comes short on water resistance, with an IP56 rating. So, while Sonos Move can resist rain and humidity, it shouldn't go underwater.
Check out the Sonos Move on Amazon.
Best for Budget: JBL Go 3
JBL Go 3: Portable Speaker with Bluetooth, Built-in Battery, Waterproof and Dustproof Feature - Black
JBL Pro Sound delivers surprisingly big audio and punchy bass from Go 3's ultra-compact size.
JBL Go 3's ultra-portable design goes great with the latest styles, and its design make it look as great as it sounds.
JBL Go 3 is IP67 waterproof and dustproof, so you can bring your speaker anywhere.
Wirelessly stream music from your phone, tablet, or any other Bluetooth-enabled device.
JBL Go 3 gives you up to 5 hours of playtime on a single charge.
We earn a commission if you make a purchase, at no additional cost to you.
The JBL Go 3 offers complete water and dust resistance in an ultra-portable design for a fraction of the price of our best overall model.
A quality waterproof speaker might seem like a huge investment, but JBL Go 3 debunks that belief. Just don't expect too much out of this surprisingly booming device. Unsuspecting of its tiny stature (the Go 3 comes in at less than 8 ounces), you can expect some pretty solid base. Where the budget speaker falls short, however, is its 5-hour battery life. So, if you push the device to its limit, prepare to charge it multiple times a day. Still, the Go 3 makes a great speaker for singing in the shower or a leisurely float down the river.
Check out the JBL Go 3 on Amazon.
Best for Battery Life: Bang & Olufsen Beosound Explore
Powerful Sound Anywhere
Bang & Olufsen Beosound Explore
True 360 sound
IP67 rating (dustproof and waterproof)
The anodized aluminum shell is built for adventure
Up to 27 hours of playtime
Stereo pairing
We earn a commission if you make a purchase, at no additional cost to you.
If you're looking to maximize your battery life for long trips without power, Bang & Olufsen Beosound Explore is the right battery for you.
Their Beosound Explore model has a rated battery life of 27 hours, more than 5 times that of the Go 3. The state-of-the-art battery isn't the only feature that makes this model one of the best waterproof speakers, however. The Beosound Explore is IP67 rated, making it impervious to dust and water. It's also fortified with an anodized aluminum outer shell, protecting it from shock and scratches when out on the trail.
Bang & Olufsen packs exciting features into their speaker. The speaker comes with intuitive autotuning, allowing you to customize your music listening experience. The only drawback is it sometimes lack bass, even when tuned. You can find the B&O Beosound Explore for just under $200.
Check out the Bang & Olufsen Beosound Explore on Amazon.
Best for Portability: Tribit StormBox Micro
As the best portable speaker on the market, Tribit StormBox Micro packs some bass into its shell.
This small, compact speaker lets you take your music anywhere. It somehow comes with XBass tuning, giving it a deep base and full mids. What's more? StormBox Micro is waterproof, like some of the top models. Its built-in strap lets you attach the speaker to your pack and take it anywhere.
Check out the Tribit StormBox Micro on Amazon.
How to Pick the Best Waterproof Speaker: Step by Step
When choosing the right waterproof speaker, there are four main considerations.
Music quality
Water resistance
Battery life
Price
Let's look at each one in more detail.
Music Quality
Whether waterproof or not, a good speaker has top audio quality. Before purchase one, consider how you listen to music. Someone who likes a little background noise might not require the same sound quality as a person who spends hours in a music studio.
It's not enough to expect the same music quality from similarly priced models, either. Some manufacturers prioritize different tonal aspects. So, choose a speaker based on your type of music. Some speakers come with tuning capabilities, making them a little more versatile than others.
Water Resistance
You're here looking at the best waterproof speakers for a reason. Whether you're heading to the lake or want to know your device is safe from moisture. So, keep water resistance in mind too. This typically looks like an Ingress Protection (IP) rating and comes with a variety of numbers (more on this later). Depending on how you plan on using your speaker, you might require a higher IP rating.
Battery Life
Waterproof speakers have different running time. Know how long and how loud you like to listen to your music. Long sessions at a normal volume can result in a longer lifespan than booming your speaker at max capacity.
Price
Waterproof speakers have a seemingly limitless price cap depending on audio quality, battery life, and features. How long you like to listen to music will influence your decision. You can go overboard on autotuning with a device that allows casually listening or get a cheap model that doesn't drop the beat like you hoped.
What to Know Before Buying a Waterproof Speaker
When shopping for a waterproof speaker, look for its IP rating. IP or Ingress Protection is the global standard of protection for devices from solid or liquid intrusion. The higher IP rating numbers, the better protected your device is from dust and water.
To read an IP rating, look at both numbers individually. The first number represents the level of solids protection your device is rated for and the second, the level of water protection. Dust resistance is on a scale from 0-6, and water resistance from 0-9.
IP67 is typically the gold standard on most devices, including waterproof speakers. A device with this rating is totally protected from dust and can resist water immersion at a three-foot depth for up to 30 minutes.
Using a Waterproof Speaker: What It's Like
When using the best waterproof speakers, people felt confident in their IP ratings and worried little about water conditions. All of the devices (excluding the Sonos Move) work properly in moist conditions.
While the Move wasn't submersion-tested, users particularly loved this model for its sound quality. The ability to auto-tune the music to the setting and style made it feel close to a live experience. The Beosound Explore, however, fell short on quality for its cost.
When packing the speakers along, users found both the Go 3 and the StormBox micro easy to access. Their size made using the speakers on the move an enjoyable experience. Due to its size, the Move was harder to bring carry around.
Next Up
Check out some of our other popular pieces:
The image featured at the top of this post is ©Prostock-studio/Shutterstock.com.