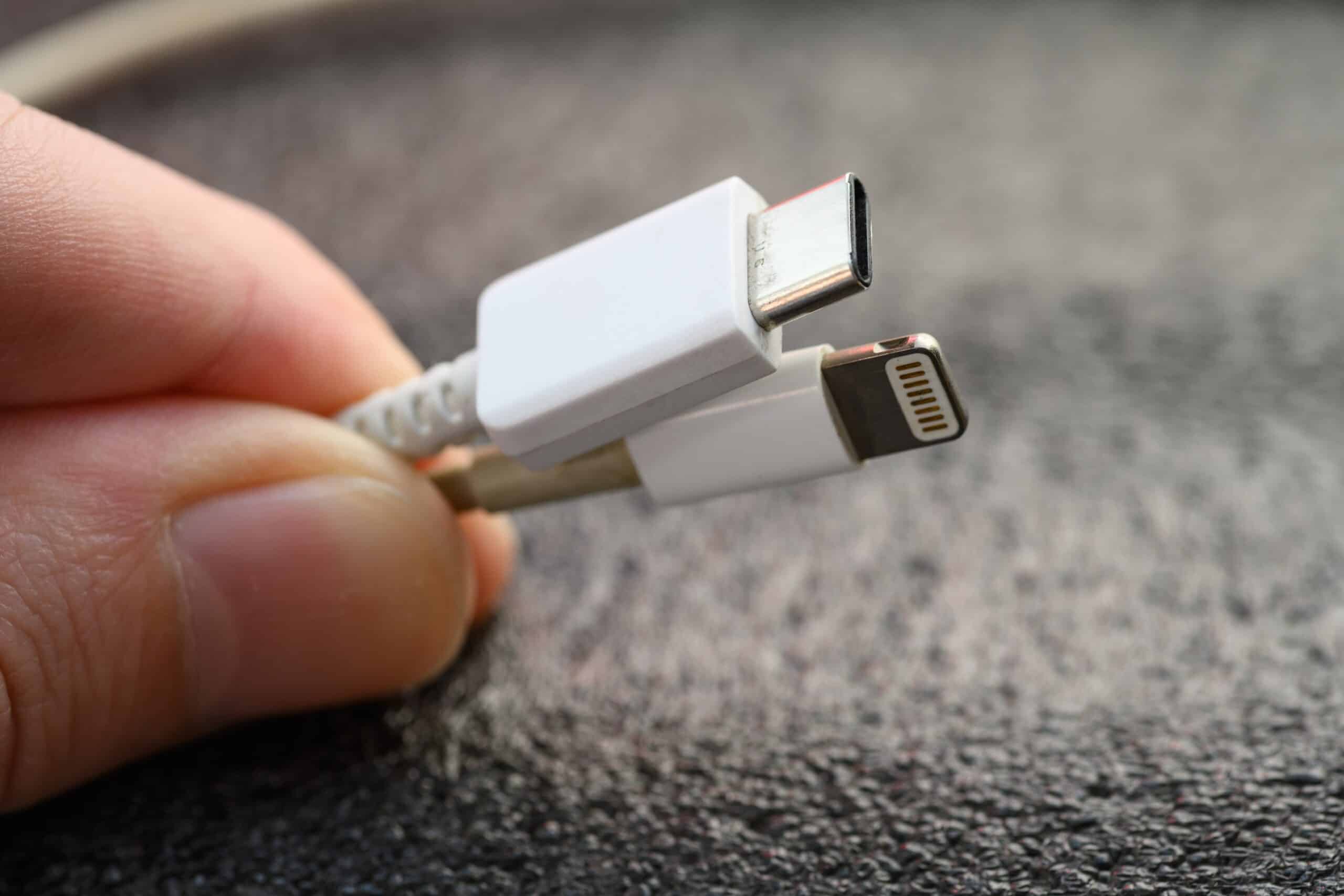 The Best USB-C to Lightning Cable can be useful when charging or connection two different devices. Most are compatible with more modern devices, and are faster than their predecessors. In other words, they can carry more data and support data transfer speeds of up to 480Mbps.
When buying a USB-C lightning cable, you have plenty of options to choose from. You can check out the Kevlar USB-C to Lightning Cable, Powerline+ III Special Edition, or even the 641 USB-C to Lightning Cable. These cables are designed to be durable and are recommended by tech experts for their high quality and excellent customer support. They also work well with USB-C adapters. Here're our top picks for the best USB-C to lightning cable for 2022:
Available in a range of colors and finishes, the 641 USB-C to Lightning Cable is MFi-certified and compatible with most Apple devices.
While many cables are compatible with the same devices, some are better than others. 641 USB-C to Lightning cable is, by far, the best. The cable is more than six times as strong as the average Lightning cable and can be used for years.
Whether you're looking for a lightning cable to charge your iPhone faster or use it as a backup, the Anker 641 USB-C to Lightning Cable is an excellent choice. This cable is compatible with Power Delivery high-speed chargers, so you can charge your iPhone more quickly. And it's backed by an 18-month warranty.
Check out the 641 USB-C to Lightning Cable on Amazon.
Belkin Braided USB C to Lightning Cable MFi Certified iPhone Fast Charger Type C Compatible with iPhone 13, 12, 11, Pro, Pro Max, Mini, iPad, AirPods, and Other Lightning Devices 6.6FT/2M (White)
The Belkin Difference: Pioneer in technology and innovation for over 35 years
Braided Lightning to USB-C Cable for iPhone
Fast charge your iPhone 8 or later from 0-50% in 30 minutes (when paired with 18W USB-PD charger)
With these durable USB-C to Lightning cables, you can give your iPhone 8 or later a fast charge, up to 50% in 30 minutes when paired with an 18W USB-PD Charger. They're tested to survive 10,000+ bends, and feature an enhanced braided nylon exterior, so they'll last no matter how many times you plug or unplug them in. MFi-certified to meet Apple standards. Available in multiple lengths and colors.
Braided nylon exterior tested to withstand 10,000+ bends
TheBelkin Braided USB C to Lightning Cable is an excellent option for anyone looking for a high-quality cable for their Apple devices.
It offers fast charging and extra durability while complying with Apple's compatibility standards. The cable has a braided shield for increased protection. The cables are available in many two different colors. It is also backed by a warranty and comes in two sizes. We have tested both types of cables and found that both worked well in our tests.
Check out the Best for Fast Charging: Belkin Braided USB C to Lightning Cable on Amazon.
Amazon Basics Nylon USB-A to Lightning Cable Cord, MFi Certified Charger for Apple iPhone 14 13 12 11 X Xs Pro, Pro Max, Plus, iPad, Dark Gray, 6-Ft
APPLE MFi CERTIFIED: Ensures complete compatibility with iPhone 14/13/12/11/X/XR/XS/8/7/6/6s/5/5s/5c, iPhone Pro 14/13/12/11, IPhone Pro Max 14/13/12/11/XS, iPhone Plus 14/8/7/6/6s, iPhone SE 1st Gen/2nd Gen/3rd Gen, iPhone mini 13/12, iPad Pro 10.5 in/9.7 in, iPad Air 3/2/1, iPad mini 5/4/3/2/1, iPad 9th Gen and older, iPod Touch 5th Gen and older, iPod nano 7th Gen and Beats Pill+
IN THE BOX: Amazon Basics Lightning to USB-A Cable for charging and syncing devices. Comes with Apple's original C89 smart chip
FAST CHARGING: Wide-diameter wires and reduced cord resistance maximize charging speed (supports up to 2.4 amps charging current)
HIGH SPEED DATA TRANSFER: Up to 480Mbps for transferring music, movies, and more in seconds
DURABLE DESIGN: An additional layer of protection has been added to the Lightning and USB ends to improve durability and reduce fraying
The Amazon Basics Nylon USB-C to Lightning Cable Cord is the perfect cable for iPad, Mac, and iPhone users.
It has the strength and durability you need to connect your device to your Mac or PC. The Amazon Basics Nylon USB-A to Apple Lightning Cable is a good cable for the money. It works well and is surprisingly inexpensive. It's also thinner and lighter than Apple's cable and has been reinforced to reduce fraying.
Check out the Amazon Basics Nylon USB-C to Lightning Cable Cord on Amazon.
Anker 2020 Special Edition 24K Gold USB C to Lightning Cable (6 ft) Powerline+ III, MFi Certified Lightning Cable for iPhone SE / 11/11 Pro / 11 Pro Max/X/XR/XS Max, Supports Power Delivery
Special Edition Gold Design: This 2020 special edition USB-C to Lightning cable features 24K gold-plated cable heads for a design that is bold yet elegant. 
Precision Engineering: Each PowerLine cable is assembled partially by hand and must pass through a painstaking 51-step construction process to meet our exacting standards. 
Sophistication and Strength: PowerLine combines an unprecedented 35,000-bend lifespan with a sleek, curved exterior.
Certified Compatible: MFi certified for flawless compatibility with Lightning devices, ensuring safe charging at the highest possible speed.  
Package Includes: PowerLine+ III USB-C to Lightning Cable (6 ft), gift box, black travel pouch, welcome guide, lifetime warranty, and friendly customer service.
Powerline+ III Special Edition USB-C to Lightning, is a sleek and sophisticated USB-C cable that looks and feels great in your hand.
It features real 24-karat gold plating and elegantly curved edges, making it a striking accessory in any crowd. Plus, the new cable is slimmer than ever before! This cable is MFi-certified and comes in a gift box with a welcome guide and a lifetime warranty.
The new cable supports Power Delivery and is MFi certified, so you can get a perfect charge every time. Its 51-step construction protects your device from scratches and helps retain its high-end appearance. It also has a reinforced internal design and a 35,000-bend lifespan to maximize portability. So, if you're wondering how to charge your new iPhone with a USB-C cable, check out the new PowerLine+ III Special Edition USB-C to Lightning cable!
Best Luxurious: Powerline+ III Special Edition USB-C to Lightning
Native Union Belt Cable USB-C to Lightning - 4ft Ultra-Strong Reinforced Charging Cable with Leather Strap [MFi Certified] Compatible with iPhone 14, iPhone 13 and Earlier (Sage)
MADE FOR USB-C: The smarter way to charge. With the new USB-C to Lightning option, you can now charge & sync your iPhone or iPad with any USB-C port device. High-speed charging to support Power Delivery (fast charging) up to 20W for iPhone 8 or later.
UNPARALLELED STRENGTH: Upgraded construction with ultra-strong reinforced structure and functional design provides enhanced flexibility, absorbing 2x more stress than regular strain relief. 6x stronger than standard cables.
TANGLE-FREE STYLE: Simply wrap up your 4ft cable with the attached leather belt to stay neat, never compromising style.
COMPATIBLE WITH LIGHTNING DEVICES: iPhone 14, iPhone 14 Plus, iPhone 14 Pro, iPhone 14 Pro Max, iPhone 13, iPhone 13 Pro, iPhone 13 Pro Max, iPhone 13 mini, iPhone 12, iPhone 12 Pro, iPhone 12 Pro Max, iPhone 12 mini, iPhone 11, iPhone 11 Pro, iPhone 11 Pro Max, iPhone SE 2022, iPhone 8 and earlier, iPad 9th gen and earlier, iPad Air 3 and earlier, iPad Pro 2017 and earlier, iPad mini 5th gen and earlier, iPod Touch (5th gen) and iPod Nano (7th gen). NOT COMPATIBLE WITH: USB-C iPad Pro (2018 and later), iPad Air 4 (2020) and iPad mini 2021
MFI CERTIFIED: Our cables are MFi Certified, giving you peace of mind that they will be compatible with any of your Lightning devices. Each cable is given a unique serial number, and every Lightning connector contains an authorization chip that your device recognizes, so you know you have the real deal.
NATIVE UNION Belt Cable is made to fit the Lightning port of most Apple devices, so you can easily charge your iPhone or iPad using it.
One pf the top brands for lightning cables, NATIVE UNION has several products in its lineup. This cable is a robust, and can easily withstand everyday use. It's soft and lightweight and has reinforced connectors. The cable is 4 feet long, making it ideal for those who need a long cord.
The Native Union USB-C to Lightning cable comes with a hefty price tag, but it's worth it for its features and performance. It's an ideal choice for everyday charging needs and is available in various colors. This cable also comes with a lifetime warranty.
Check out the NATIVE UNION Belt Cable on Amazon.
How To Pick The Best USB-C To Lightning Cable? Step By Step
Apple typically sells its Lightning cable, but you can buy one from a third-party manufacturer. If you're in the market for a new USB-C to lightning cable, there are some factors that you should keep in mind. Here are some of them:
MFI Certification
When buying your cable, you have several options. One is a proprietary cable that Apple controls with MFi certifications. This guarantees high production quality and drives up the price. Beware of knock-off cables, though – if they don't come with an MFi certification, they may not work or even damage your iPhone.
When buying a USB-C to Lightning cable, make sure Apple or an MFi-certified third-party manufacturer makes it. MFi is an acronym "Made for iPhone, iPad, and iPod." If the cable is certified by Apple, it will be labeled with the MFi logo. Look for this logo to ensure it is certified by Apple or an MFi-certified third-party manufacturer or developer.
Quality and durability
Besides the certification, another important factor is quality. While Lightning is more reliable, it can be damaged more easily than USB-C cables, so choosing one with good quality and durability is essential.
Fortunately, there are several ways to ensure your Lightning cable's durability. First of all, make sure the cable is made from durable material. The wires are made of thin plastic and can crack or break. Another option is to choose a cable made from a nylon braid. This cable will last longer than plastic-covered cables, which can harden and lose tensile strength.
Fast charging
As well as being durable, these cables can charge your devices up to three times faster than conventional cables. To determine the charging speed, you should check the label of your cable. It will often include the maximum charging rate in tiny print.
Price and reviews
Another important factor to consider is the cable's price. It should be affordable. Low-priced cables can save you money, but check the quality. Some cheap USB-C to lighting cables may not be very durable.
The price of powerline lightning cables can vary significantly, so it's important to read customer reviews before purchasing. These reviews will also help you decide whether the product is right for you. Remember that the "you get what you pay for" rule applies to these cables.
Warranty
While shopping for a USB-C to lightning cable, you should also consider its warranty. A well-made powerline cable will last for years. It should be able to handle pressure and withstand bends. So ensure it is backed by a warranty and don't forget to read other details about the product.
Compatibility
When purchasing a USB-C to Lightning cable, make sure you choose one compatible with your iPhone model. A USB-C to Lightning cable that supports USB Power Delivery or 20W fast charging is best if it's compatible with the device you're charging.
What to Know Before Buying a USB-C to Lightning Cable
Before buying a USB-C to Lightning cable, you must know what you're looking for. If you have an iPhone, it's important to find a cable with a Lightning connector. These cables have more power than traditional USB cables and can provide faster charging. Moreover, you need to ensure that the cable you're buying is compatible with your specific model of iPhone; otherwise, your money will be wasted!
Using Best USB-C to Lightning Cable: What it's like
Apple was the first one to develop the Lightning connector. This connector is 8-pins, with an authentication chip, and is compatible with Apple devices. They're inexpensive, support fast charging, and are compatible with most adapters! Depending on your needs, you can buy a cable. The abovementioned models for Best USB-C to Lightning Cable are great options if you're looking for the best USB-C to lightning cable to charge your iPhone.
Last update on 2023-01-08 / Affiliate links / Images from Amazon Product Advertising API