Key Points
Our choice for the #1 Best TV for watching sports is the LG C2.
TVs designed for watching sports are popular because they provide a window into the passionate and competitive world of sports.
Such TVs provide a platform for sports fans to enjoy an immersive sporting atmosphere and root for their favorite sports teams and personalities.
One of the factors to consider when selecting a TV for watching sports is screen resolution. It determines the number of pixels in a display and directly influences picture sharpness.
Other factors include the type of display technology on the device, refresh rate, and connectivity options.
Every sports enthusiast or fanatic understands the need for a unique, captivating, and fulfilling viewing experience. That is why some fans are comfortable spending substantial amounts of money on courtside seats at a basketball game or on the lower-level seats of an NFL stadium.
The same principle applies to fans who watch sporting events from their homes or local bars and pubs. They look for TVs offering picture clarity, natural colors, and immersive sounds. They do not want to miss a moment of their favorite team playing because of compromised TV quality.
The challenge is choosing a TV that guarantees consistent, high-quality sports viewing. Every major consumer electronics company, including Sony, Samsung, LG, Panasonic, Hisense, and TCL, has a TV worth considering for watching sports. That is why it was necessary to compile this list of the best TVs for watching sports. Check out that TVs we picked for our top five:
#1 Best Overall TV for Watching Sports: LG C2
Excellent OLED Screen
LG C2 65-Inch OLED evo
Great contrast, deep blacks, and over a billion colors
8 million self-lit OLED pixels
Alpha 9 Gen 5 AI Processor 4K, exclusive to LG, intuitively adapts to what you're watching
LG Game Optimizer mode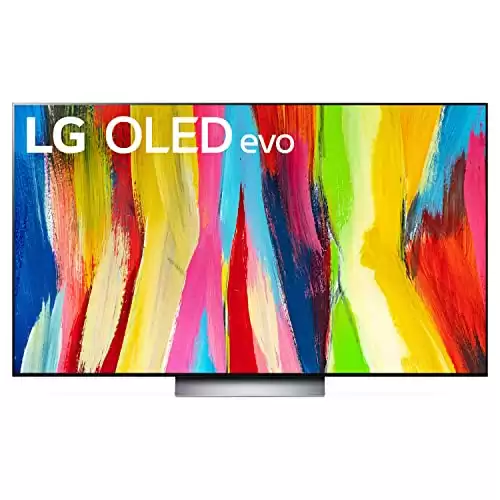 We earn a commission if you make a purchase, at no additional cost to you.
The LG C2 tops several performance lists, including being the best for watching sports. The device offers the best value for money compared to the rest of the TVs among our picks. Firstly, the LG C2 has LG's OLED evo panels, which improve tone and contrast by providing better image definition.
It also has the Alpha 9 Gen 5 AI processor that runs the AI Picture Pro and AI Sound Pro, which help improve picture and sound quality. For example, the processor helps upmix 2-channel sound into virtual 7.1.2-channel audio.
The processor also helps run the LG Brightness Booster found in the C2 models above 48 inches. The Booster increases the TV's brightness by up to 20% compared to previous models in the C-Series.
In addition, the webOS 22 offers customization options, allowing users to personalize their TV settings to suit their preferences. Lastly, the LG C2 supports numerous audio and video formats like Dolby Vision, HDR10, and Dolby Atmos. However, it does not support HDR10+.
Check this product out on Amazon.
| Pros | Cons |
| --- | --- |
| The webOS 22 allows users to customize their profiles to their preferences. | It does not support HDR10+ format. |
| Its processor improves picture and sound definition. | It is quite expensive. |
| The OLED evo panel improves natural picture tones and contrasts. | |
Best Runner-Up TV for Watching Sports: Samsung S95B
Incredible Brightness
SAMSUNG S95B 65-Inch OLED
Contains 8.3 million self-illuminating pixels
Built-in Dolby Atmos object sound tracking
Smart TV hub to help find movies, shows, and games you want to play
Xbox Game Pass built-in, no console necessary
We earn a commission if you make a purchase, at no additional cost to you.
The Samsung S95B is the best second option TV for watching sports if you cannot buy or do not want the LG C2. Its primary selling point is its Quantum Dot OLED (QD-OLED) display, which helps resolve some of the inefficiencies of OLED technology.
OLED TVs are known to have insufficient lighting, especially when watching in HDR mode, which interferes with the viewing experience. The Samsung S95B resolves the problem by incorporating QD technology into the OLED system, adding an extra light-emitting layer.
The result is an OLED TV brighter than most of its peers; this feature often appeals to most avid sports fans. The S95B also has a Neural Quantum Processor 4K with 4K Upscaling.
That means the processor can upscale HD content to 4K resolution, ideal for consumers watching sports offered by non-4K TV stations and channels. The processor also uses twenty neural networks to process images, resulting in improved picture contrast and tones.
The S95B has excellent sound quality thanks to its 2.2.2 channel audio system. In addition, the device has Object Tracking Sound that synchronizes pictures and sound and generates 3D surround sound. As a result, sports viewers receive accurate real-time actions as they occur in the stadium or arena.
On the other hand, the primary letdown of the Samsung S95B is its OS. The TizenOS is not up to par with its competitors' operating systems, especially regarding its user interface and navigation.
Check this product out on Amazon.
| Pros | Cons |
| --- | --- |
| It has a QD-OLED display, which offers great picture quality and brightness. | Its TizenOS is underwhelming compared to other premium models, like the LG C2. |
| The processor has excellent picture-upscaling capabilities. | |
| The device offers incredibly realistic 3D surround sound. | |
Best Mid-Range TV for Watching Sports: Sony A80K
Bright Colors
Sony OLED 65-Inch BRAVIA XR A80K
Features XR Cognitive Processor developed by Sony
Triluminos Pro enhances the already outstanding picture
Dolby Vision HDR and Auto HDR tone mapping for PS5
8.5ms input lag
4K at 120Hz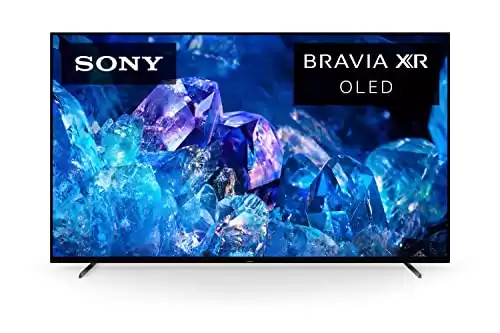 We earn a commission if you make a purchase, at no additional cost to you.
The Sony A80K is the standout mid-range TV for watching sports. The device is more affordable than most OLED TVs. One of the most impressive features of the A80K is its Cognitive Processor XR. The processor utilizes artificial intelligence to analyze and improve picture and sound quality.
For example, the processor works with the XR OLED Contrast Pro feature to produce rich colors and sharpen image contrasts; this results in deep blacks and striking bright colors. The processor also powers the XR Triluminos Pro feature, which accurately generates billions of colors ideal for sporting events.
Another notable feature of the A80K is the reasonably designed Android TV OS, which offers access to other Google features like Google Assistant. The device also has 3D surround sound upscaling and Acoustic Surface Audio+, which turns the screen into a multi-channel speaker.
Some downsides of the A80K include its subpar brightness levels compared to other OLED TVs and its lack of HDR10+.
Check this product out on Amazon.
| Pros | Cons |
| --- | --- |
| It has an intuitive processor that helps improve image contrast, tone, and color. | The display brightness levels could be better. |
| It has a decent operating system. | It does not support HDR10+. |
| The TV is more affordable than most OLED TVs. | |
Best Non-OLED TV for Watching Sports: Samsung QN90B
Best QLED
SAMSUNG QN90B 65-Inch Class Neo QLED 4K
Samsung's ultra-precise Quantum Mini LEDs
Quantum HDR 32X
Neo Quantum Processor 4K uses AI-based deep learning to analyze content and optimize it to full 4K
Anti-glare
Ultra viewing angle
We earn a commission if you make a purchase, at no additional cost to you.
The Samsung QN90B is the best non-OLED TV for watching sports primarily because of the screen brightness. The QN90B has Quantum Mini LEDs, which are small micrometer-sized LED lights that emit light onto picture walls.
The small size of Mini LEDs allowed Samsung to pack thousands of them into individual light zones, resulting in enhanced brightness, color, and contrast. The device also has Quantum HDR 32X, further improving the contrast ratios and producing deeper dark tones and brighter light colors.
The Samsung QN90B also has a Neo Quantum Processor with 4K upscaling, which enhances picture resolution by analyzing and upscaling each scene individually, resulting in consistently high-quality imagery.
Regarding the sound, the QN90B has Dolby Atmos for cinematic sounds and Object Tracking Sound+ for enhanced 3D sound. Given its brightness, the QN90B has EyeComfort Mode, which reduces exposure to blue light, thus offering protection and comfort to the eyes.
However, despite the Samsung QN90B having Anti-Glare, it barely reduces reflections on the display, which can affect viewing, especially on bright sunny days. This remains Samsung QN90B's biggest shortcoming.
Check out this product on Amazon.
| Pros | Cons |
| --- | --- |
| It has Quantum Mini LEDs, which improve display brightness. | Its anti-glare feature does not effectively get the job done. |
| It has sharp contrast ratios. | |
| The TV has an efficient picture processor. | |
| It helps reduce exposure to blue light. | |
Most Affordable TV for Watching Sports: TCL 5-Series
Best for Budget Buyers
We earn a commission if you make a purchase, at no additional cost to you.
The TCL 5 Series/55S555 is our top pick for the best affordable TV for watching sports. The TV has a low price tag, placing it within the reach of the average sports enthusiast. However, its favorable price tag is not an indicator of its lackluster performance and features.
First, this TCL 5 Series TV is powered by QLED technology, associated with high brightness levels and color contrast. TCL also fitted this TV with the HDR Pro Pack that supports Dolby Vision, HLG, and 4K HDR.
We must also mention the AiPQ Engine™ technology, an artificial intelligence feature that enhances picture quality on the go. The highlighted features work together to produce crisp images, guaranteeing an immersive watching experience.
The only shortcoming of this TCL 5 Series/55S555 TV is that it lacks the advanced features found in premium models. For example, it does not support HDR10+. However, this is expected for a TV in its price range.
Check out this product on Amazon.
| Pros | Cons |
| --- | --- |
| It is very affordable. | The TV does not support HDR10+. |
| The TV's QLED technology guarantees high brightness levels. | Its picture doesn't match other premium QLED models. |
| It supports watching content in 4K HDR. | |
How to Pick the Best TV for Watching Sports
Buying a TV for watching sports is a significant investment as the best options often cost above $1,000. Consumers should have a checklist of items a TV should satisfy before finalizing a purchase. The following tips should help you pick the best TV for watching sports.
Screen size
Screen resolution
Refresh rate
Price
Let's look at each one in more detail.
Screen Size
Screen size is arguably the most important factor when buying a TV for watching sports. A large screen allows you to see and keep up with the movement of the football in an NFL game, the hockey puck in an NFL game, or the tennis ball at an ATP or WTA tournament.
The recommended screen size for a sports TV is 55 inches or more if the device is placed in a sizable room. However, if you have a small space, you can opt for a smaller TV, such as a 42-inch display.
Screen Resolution
Screen resolution refers to the number of pixels that can fit within the display's horizontal and vertical planes. When looking for a TV for sports, you want to go for high-resolution displays. That is because more pixels equate to better image definition.
You get to enjoy a sharp image instead of blurry smudges, especially if the display is mounted several feet away from the viewer. The recommended screen resolution is 4K (3840 x 2160 pixels) because most sporting broadcasts are available in 4K resolution today.
Refresh Rate
Sports can be considerably more fast-paced than other traditional forms of entertainment like movies and TV shows. For example, Nascar cars can reach up to 200 mph, while the average baseball pitch and hit in the MLB clocks in at an average speed of more than 90 mph each.
Such speeding objects can seem like blurry objects on your screen hence the need for a device with a high refresh rate to help you keep up with the action. The minimum recommended refresh rate should be 60Hz, though it is better to play it safe by getting a device with a 120Hz refresh rate.
Price
What you are willing to pay for a TV dictates the type of TV you pick. The best TVs for watching sports are usually very pricey and beyond the average consumer's budget. Thus, buyers must strike a balance between how much they are willing to pay and the features they are looking for in a TV for watching sports.
What to Know Before Buying a TV for Watching Sports
If you buy a TV made from poorly or cheaply made components, you might experience motion blur. This phenomenon refers to scenarios where the picture quality looks hazy, especially when watching fast-paced sports like motorsports.
The primary reasons for motion blur include a TV's inadequate motion processing abilities and a lack of synchronization between a video's frame rate and a TV's refresh rate. Therefore, ensure you buy decent-quality TVs.
You should look for a device with multiple connectivity options. That includes having several HDMI ports because when watching sports, you may want to enhance sound using a soundbar or home theater system, and HDMI passthrough is the best way to experience high-quality sound.
Using a TV for Watching Sports: What it's Like
Very few experiences beat watching your favorite team or sports personalities succeed. However, having a TV built for watching sports takes that thrill and exhilaration a notch higher. Such TVs combine incredible display technologies to produce impeccable picture quality.
In addition, you enjoy the fast-paced nature of sports without worrying about motion blur or image freezing because the refresh rates on such TVs can keep up with the frame rates broadcast from sporting events.
Watching sports on the right TV can be so captivating and immersive that you can get a sense of the stadium or arena's atmosphere.
Summary Table
| Rank | TV Model |
| --- | --- |
| Best Overall | LG C2 |
| Runner-Up | Samsung S95B |
| Best Mid-Range TV | Sony A80K |
| Best Non-OLED TV | Samsung QN90B |
| Most Affordable | TCL 5 Series/55S555 |
The image featured at the top of this post is ©alphaspirit.it/Shutterstock.com.