Nothing is worse than having screen glare ruin a TV show or movie. The best TVs for bright rooms can solve that problem, although they can be hard to find. That's because there are no categories for TVs in this class, which means you'll need to dig deep and know what to look for to find the right choice for your home. Take a look at the 5 best TVs for bright rooms of 2023 below.
Best Overall: Samsung QN90C 55-inch QLED TV
Best Overall
SAMSUNG 55-Inch Class Neo QLED 4K QN90C Series (2023 Model)
Neo Quantum HDR+ delivers exceptional color, contrast, and brightness
4K upscaling transforms all your content to 4K
Dolby Atmos and Object Tracking Sound+
Anti-Glare with Ultra Viewing Angle for a great view in any light at any angle
Motion Xcelerator Turbo+ for 4K visuals at up to 120Hz
Samsung Gaming Hub
Built-in Alexa and Bixby
We earn a commission if you make a purchase, at no additional cost to you.
When you want a TV that blows people away with brightness, the Samsung QN90C is the #1 Best Overall choice. This QLED TV set comes from Samsung's premium lineup and provides a fantastic viewing experience in bright rooms. 
The QN90C is the 2023 version of Samsung's popular TV. It utilizes the company's Neo Quantum HDR technology, which results in stunning images regardless of the angle or glare in a room. The Quantum Matrix display is packed with mini LEDs, and Samsung's Neural Quantum Processor handles 4K upscaling.
AI-assisted algorithms are nice, and so is their anti-glare viewing angle technology. That's a big reason this TV works so well in bright rooms, along with a peak brightness of around 2,000 nits with HDR. The TV supports HDR10+, although there's no Dolby Vision. Connectivity options are excellent, with a full array of smart features and four HDMI ports that can handle 4K at 120Hz.
When you want the best TV for a bright room, the Samsung QN90C is the best option — not an OLED TV. You may not get the same black levels or Dolby Vision support from this panel, but it's the only way to go when glare and sunlight are problems in a room. 
Check out the Samsung QN90C and see if it is the perfect fit for your needs.
| Pros | Cons |
| --- | --- |
| It has anti-glare technology and wide viewing angles. | The price tag is steep for the size. |
| All HDMI ports support 4K at 120Hz. | There is no Dolby Vision support. |
| The Motion Xcelerator Turbo+ system is great for gamers. | |
| It can hit 2,000 nits peak brightness. | |
Runner-Up: Hisense U8 Mini-LED Smart TV
Runner-Up
We earn a commission if you make a purchase, at no additional cost to you.
Hisense has quickly become a brand to watch, and the Hisense U8 is a fantastic choice for rooms where bright lights are an issue. While it doesn't quite live up to our top pick in that regard, the brightness, picture quality, and price point are excellent. 
The Hisense U8 is from their 2023 lineup, which comes in four sizes, including a newly launched 85-inch ULED TV. The 75-inch model we chose can hit 1,500 nits peak brightness and has a new mini LED technology. With a refresh rate of 144Hz, it's responsive and has FreeSync Premium Pro for gamers.
This TV can reproduce up to a billion colors with support for all major HDR formats, including Dolby Vision. The audio is better than usual thanks to a 50-watt mini 2.1.2 surround-sound system. Hisense's U8 has Wi-Fi 6E, Bluetooth 5.2, and four HDMI ports, although only two can handle 4K at 144Hz.
Hisense is a step behind companies like Samsung and LG when it comes to the tech that pushes those pixels, but they are catching up quickly. The U8 is a premium 4K TV set that isn't priced like one, and it's a fantastic option for bright rooms. 
Check out the Hisense U8 and see if it is the perfect fit for your needs.
| Pros | Cons |
| --- | --- |
| The mini LED array has a peak brightness of around 1,500 nits. | The viewing angles aren't the best. |
| It has fantastic pricing at every size. | Only two HDMI ports support 4K. |
| The TV supports all HDR formats. | |
| There are special features designed for gamers. | |
Best OLED TV: LG C3
Best OLED
LG G3 Series 55-Inch Class 4K OLED
Supports HDR and Dynamic Tone Mapping
120Hz refresh rate
Dolby Vision and Dolby Atmos
Connects to smart home devices
LG Game Optimizer with customizable settings
We earn a commission if you make a purchase, at no additional cost to you.
The LG G3 is the best OLED TV for bright rooms where glare and sunlight are issues. While OLED panels are more known for their deep blacks than their ability to fight sunlight, the G3 is an exception. 
LG's OLED TVs are the best money can buy, and the G3 has one of their best panels to date. The 55-inch display is self-lit with 100% color fidelity and volume. It also has an infinite contrast ratio and Micro Lens Array tech, which significantly increases brightness. It's not as bright as Samsung's QLED panel, but it has much deeper blacks.
The company's 6th generation a9 AI processor provides users with an optimum viewing experience and a 120Hz refresh rate. You can game lag-free on this OLED TV and you will appreciate LG's smooth UI as well. The LG C3 also supports Dolby Vision and Atmos. Other flagship features include Filmmaker Mode, Brightness Booster Max, and a special thin-fit wall bracket for putting the Gallery display on the wall.
The picture quality on the LG G3 is outstanding, and it's the top-selling OLED TV for a reason year after year. We chose the 55-inch model, but you can pick up this premium 4K OLED TV set in three additional sizes, including a massive 83-inch OLED TV. The only downside is the price and the fact Samsung's QLED panel is better in bright rooms. 
Check out the LG G3 and see if it is the perfect fit for your needs.
| Pros | Cons |
| --- | --- |
| It has a beautiful display with deep blacks and rich colors. | It's an expensive TV. |
| It's very bright and handles reflections well. | OLED TVs aren't the best option for very bright rooms. |
| The C3 is only one inch thick. | |
| It has Dolby Vision support. | |
Best for Sunrooms or Full Sun: Samsung Terrace
Best for Full Sun
SAMSUNG 65″ Terrace Full Sun Outdoor TV
IP55 rating for resistance to water, dust, and extreme temperatures
QLED 4K

1,500+ nit ultra-bright viewing

Panel protected for up to 6 hours in sunlight at 700 watts and 104 degrees Fahrenheit

Wide-angle viewing with anti-glare

Multi View functionality allows you to screen mirror your mobile device while you watch other content
We earn a commission if you make a purchase, at no additional cost to you.
The Samsung Terrace is the best TV for sunrooms or living areas flooded by sunlight. That includes kitchens with bay windows and steam from cooking, as this TV is weather-resistant and provides an excellent image from any angle. 
The Terrace lives up to its namesake by providing consumers with a vivid, sharp picture outdoors. It can take direct sun with ease, and the elements will never be a problem. The TV is IP55-rated with anti-reflective tech and has a Base-T receiver to help keep cables in check. The inputs are sealed, however, which can be a hassle if you constantly use your ports.
Samsung's remote is just as durable as their TV, although you may not use it much with Bixby, Alexa, and Google Assistant built-in. This QLED 4K TV can hit 2,000 nits peak brightness on the responsive panel. The color volume is 100%, and upscaling is top-notch. Tizen powers Samsung's TV, not Google TV, but is intuitive and easy to use.
While this TV can get brighter than our top choice, it doesn't have the same picture quality or clarity as Samsung's flagship panel or LG's OLED TVs. Given the price and design, it's perfect for patios or anywhere weather and glare are a concern. The Terrace is available in three sizes with partial and full-sun displays.
Check out the Samsung Terrace and see if it is the perfect fit for your needs. 
| Pros | Cons |
| --- | --- |
| The TV is impervious to the elements. | Tizen powers this TV instead of Google TV. |
| It can hit 2,000 nits peak brightness indoors or outside. | The sealed inputs can be a hassle. |
| The reflection handling is superb. | |
| It is vibrant with 100% color volume. | |
Best Budget TV: TCL 6- Series QLED Smart TV
Best Budget TV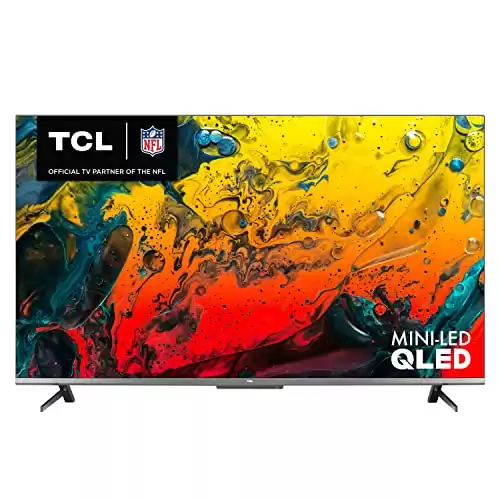 We earn a commission if you make a purchase, at no additional cost to you.
The TCL 55R646 is the best choice for bright rooms if you're on a tight budget. While 4K TVs have dropped dramatically in price, models that can clear 1,000 nits are still expensive, aside from exceptions like this Class 6 series TV.
This 2022 release is powered by Google TV and sports a QLED panel with a 120Hz refresh rate. The mini LED array can surpass 1,000 nits with HDR, and blacks are deep thanks to tech like contrast control and their AIPQ Engine. That's impressive for the price, and so is the fact it supports Dolby Vision HDR.
Content is available through Google's UI, the built-in Chromecast, or the four HDMI ports. Only one is eARC, but the TV has dual-band Wi-Fi 6 and an ethernet port. You can control the TV with your voice through Alexa or Google. The panel is colorful and responsive, with several tools designed for gamers.
The TCL 55R646 doesn't have some of the features found on the company's newer models, but it's brighter than the Q7 series. Consumers have been thrilled with its performance, and it's hard to argue with the price. This affordable TV is available in three sizes, including a 65-inch and 75-inch model. 
Check out the TCL 55R646 and see if it is the perfect fit for your needs.
| Pros | Cons |
| --- | --- |
| The bright QLED panel clocked at 120Hz. | It doesn't have AirPlay support. |
| It's a fantastic price at every size. | The build quality could be better. |
| It has HDR and Dolby Vision support. | |
| The contrast is excellent with deep blacks. | |
How to Pick the Best TVs for Bright Rooms: Step by Step
Choosing a TV for a bright room is challenging for various reasons. There's no set category for this type of TV, and while manufacturers claim high brightness and wide viewing angles, plenty of consumer reviews say otherwise. If you want to find the best TV for a bright room, hone in on these areas.
Brightness Levels
Viewing Angle
Features
Let's look at each of these areas in more detail.
Brightness Levels
The only real specification you can turn to when looking for the best TVs for bright rooms is nits. This unit of measurement lets you know how bright a display can get. It's something you'll see smartphone manufacturers mention in regard to outdoor usage, but it's key for TVs as well.
TVs with a high nit rating are generally priced at a premium, but you don't need a 1,000-nit TV to get stunning image quality. Without the right software and panel, the image will be bright but could be very washed out. It's a balance, which is why TVs from companies like Samsung and LG are at the top of the food chain.
Viewing Angle
Moving a TV a foot to the left or right can help combat glare in some rooms. In other areas, it's almost impossible to beat back glare and bright lights with placement. Outside of brightness, the viewing angle is the most important factor in choosing a TV for bright rooms. How do you find a TV with a great viewing angle?
Well, that's easier said than done online. The best way to check viewing angles is to try to find the TV you want in a showroom where you can check the angle with your own eyes. Otherwise, you can refer to user reviews online to try and help narrow things down.
Features
When you're focused on nits and viewing angles, it's easy to overlook features and get caught up in brightness levels. While all of the best TVs for a bright room are in the 4K class, smart features, connectivity, and other elements go a long way in providing an enjoyable experience.
Most modern TVs have at least two HDMI ports, but you'll get four or more on premium models. Bluetooth is hit or miss, but it's key if you want to set up a wireless soundbar or use headphones. Voice control is a bit more common, although the operating system controlling the TV varies wildly from one manufacturer to the next.
What to Know Before Buying a TV for Bright Rooms
One thing you'll need to know is that "bright" TVs are more expensive than traditional ones. The higher the nit rating, the more expensive the model, and you can double that price for OLED TVs. OLED panels don't get as bright as LED screens, however.
If you plan to connect your TV to gaming consoles, PCs, or streaming devices like the Fire TV 4K, consider the HDMI ports. Budget-friendly models may only have one port rated for 60 frames per second at 4K compared to premium models.
Using a TV Designed for Bright Rooms: What It's Like
If you've been shifting around on the couch trying to avoid bright spots on a reflective screen, using a TV designed for bright rooms will be a treat.
TVs with wide viewing angles and anti-reflective coatings allow viewers to comfortably enjoy content. Unless you're downgrading from an OLED, you can also expect excellent picture quality from TVs in this category.
The image featured at the top of this post is ©Andrey_Popov/Shutterstock.com.