Key Points
Our TV size chart will show you the optimal size television for your TV viewing room.
Bigger isn't always better! You don't want to place a 100-inch TV too close to your viewing location. If you are too near a TV that large, it could distract from the viewing experience, as you may be able to see individual pixels.
Create a mock-up of your potential TV using cardboard or paper bags to ensure it looks right in your space.
Use the TV size chart to determine the best TV size for your viewing distance.
Preparing to Use a TV Size Chart
You'll need to take a few preliminary distance measurements to use our TV size chart effectively. Here's one methodology that will work for anyone.
Ensure the furniture in your TV viewing room is positioned in its permanent location.
If you're purchasing new furniture, we'd recommend only purchasing the TV after the furniture is in position. The distance between the walls and the furniture is dependent on the size of the furniture.
Once your furniture is in position, cut a string that's about twenty feet long. No need to be perfect, just get it close enough.
Tack one end of the string to the wall where you'll eventually place the TV. Shoot for the center location of the potential TV.
Walk to your favorite TV viewing spot and have a seat, or lay down if that's how you watch TV.
Bring the string up to your eyeball level and remove the slack in the line.
Pinch the string, mark the line with a pen, or otherwise note where the string is close to your eyeball.
Remove the string from the wall tack. Stretch the line on the floor and measure its length with a tape measure.
Repeat the same steps for the other viewing locations in your room. Diagonal viewing locations will be further away from the TV and may have less brightness.
Now that you have your measurements, check the chart below to find the correct-sized TV for your room.
How Big Is Your Canvas? (AKA Your Wall)
Size isn't everything! The aesthetics of the TV in your living room or home theater is also essential. It may look odd if you have a tiny wall and a gigantic TV that covers up ninety percent of the viewing space.
The chart below contains categories for distance and size. The distance column represents the measured distance between the TV and your eyeballs. The length and height on the right-hand side of the size column represent the measurements of the TV. Size is our recommendation for the perfect-sized TV.
Larger model TVs measuring 75 inches and greater are gigantic and leave little room for measurement error. These monsters are an investment in your future entertainment, but they're substantial in both size and cost. We'd recommend using the length and height values to verify you're comfortable with the TV size before you purchase a TV.
Best TV Sizes Chart
Using the measurements you took earlier, check the TV sizes in the chart below. The size of the TV we're recommending may be slightly bigger or smaller than the exact size. Common sizes for televisions are 32 inches, 40 inches, 43 inches, 50 inches, 54 inches, 65 inches, 70 inches, 75 inches, 85 inches, and even a 100-inch option for those with a very big room and very deep pockets!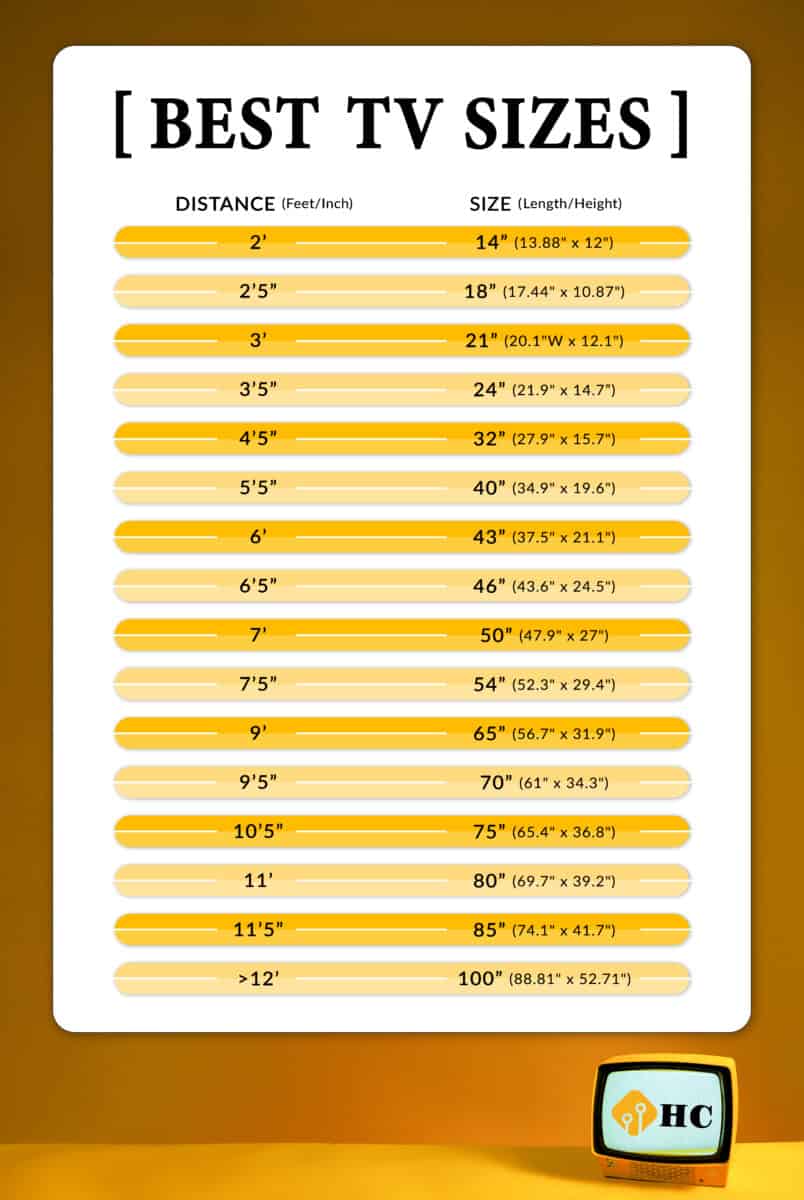 Here's our recommendation: Go old school! After you determine the best TV size based on the chart above, use cardboard or paper bags to create a flat mock-up of your potential TV. The size column shows the height and width of the TV so you know how large to make your model. Tape the model together and hang it up on the wall where you plan to place your TV.
Does it look right? Too high on the wall? Too low? Way too big? We "might" have installed a TV too high over our fireplace a few years ago. We wish we would have made a mock-up. It would have saved countless "intense follow-up discussions" in our house!
Now that you know how big your TV should be, it's time to go shopping! Not to worry, we've got you covered with a helpful guide to selecting the best TV.
Great contrast, deep blacks, and over a billion colors
8 million self-lit OLED pixels
Alpha 9 Gen 5 AI Processor 4K, exclusive to LG, intuitively adapts to what you're watching
LG Game Optimizer mode

Buy on Amazon

We earn a commission if you make a purchase, at no additional cost to you.

08/29/2023 10:24 am GMT

Delivers deep blacks with high brightness with a truly life-like picture
Excellent for PlayStation 5 gaming thanks to input lag as low as 8.5ms
Google TV includes over 700,000 movies and TVs
Get hundreds of free streaming movies with BRAVIA CORE

Buy on Amazon

We earn a commission if you make a purchase, at no additional cost to you.

08/29/2023 08:49 am GMT

Contains 8.3 million self-illuminating pixels
Built-in Dolby Atmos object sound tracking
Smart TV hub to help find movies, shows, and games you want to play
Xbox Game Pass built-in, no console necessary

Buy on Amazon

We earn a commission if you make a purchase, at no additional cost to you.

08/28/2023 07:46 pm GMT

The best overall value in television today
Hands-free voice control included with remote
Google TV provides one of the widest selections of apps available for any smart TV
Built-in Google Assistant doubles as smart home hub




Buy Now on Amazon

We earn a commission if you make a purchase, at no additional cost to you.

08/29/2023 03:41 pm GMT

Stream over 1 million movies and TV episodes across Prime Video, Netflix, Disney+ and more favorite streaming services.
Hands-free TV support with Alexa built-in so you can turn on the TV and find something to watch all through voice control.
Adaptive brightness helps the Fire TV automatically adjust to different ambient lighting.
All-in-one smart home hub for apps, TV and more.

Buy on Amazon

We earn a commission if you make a purchase, at no additional cost to you.

08/29/2023 02:54 am GMT

Auto Game Mode
Dolby Vision and HDR10
Roku operating system
QLED technology

Buy Now on Amazon

We earn a commission if you make a purchase, at no additional cost to you.