Key Points
Washington receives about 3.57 hours of peak sun daily, just above half the average of sunnier states like New Mexico, Arizona, and Nevada.
Washington installed at least 286MW of solar in 2022, putting the total installed solar at 627MW, thanks to reduced installation costs and an increase in solar companies.
The six best solar companies in Washington include Sunergy Systems, Blossom Solar, Blue Raven Solar, Pro-Stat Solar, Fire Mountain Solar LLC, and A&R Solar.
Important factors to consider when choosing a solar company in Washington include knowledge of the local solar market, excellent customer service, accreditation, and flexible financing options.
Washington is not the first name that comes to mind when discussing the sunniest states in the US. It receives about 3.57 hours of peak sun daily. This is just above half the average peak sun hours received in sunnier states like New Mexico, Arizona, and Nevada.
However, Washington has made significant strides toward sustainable green energy. The Solar Energy Industries Association (SEIA) reported that Washington installed at least 286MW of solar in 2022, putting the total installed solar at 627MW. We attribute the sudden spike in solar installations to the reduced installation costs. The number of solar companies in Washington has also risen over the last few years — at least 151 companies as of 2022.
Given the high number of solar vendors, we have compiled a list of the six best solar companies in Washington. Let's see why they made it to the list!
Sunergy Systems
Sunergy Systems is among the most reliable solar companies in Washington. This employee-owned company was founded in 2005 and serves the Greater Seattle Area and Kitsap County. Sunergy Systems runs as a one-stop shop for all your solar-related needs — it handles everything, including applying for installation permits.
Sunergy Systems is accredited to install solar panels and storage batteries from renowned manufacturers, including REC Group, Silfab Solar, and SunPower Corporation. This allows them to offer one of the most comprehensive warranties. For example, Sunergy Systems offers an exclusive SolarClad Warranty, which includes 10-year workmanship, full equipment replacement, and performance covers.
This solar company is also popular among Washington residents because of its flexible payment plans. Customers can purchase solar systems in cash or apply for solar loan financing. The repayment period is spread over 10, 15, or 20 years.
Blossom Solar
Blossom Solar prides itself in educating potential customers on the benefits of sustainable green energy to ease their switch to solar systems. It achieves this by offering free 15-minute consultations where interested customers can ask questions, raise solar-related concerns, and receive accurate information from solar experts.
Upon deciding to switch to solar power, customers receive free quotes, which include the available financing options. Customers can choose between cash purchases and solar loan financing. Blossom Solar also sets up its customers with an online project dashboard where they can track the installation progress from start to finish.
Blossom Solar also offers partnership deals to real estate companies looking to incorporate solar energy into their projects. Project owners can work with Blossom Solar to make their buildings solar-ready. This includes installing wired conduits leading to the roof where the solar panels will be positioned in the future.
Blue Raven Solar
Blue Raven Solar is among the most trusted solar companies in Washington. It serves several metropolitan areas in Washington, including Everett, Redmond, Spokane, and Tacoma. The company's primary mission is to help Washington residents switch to solar energy to reduce their energy bills and save the environment.
Blue Raven Solar also makes it easy for customers to own solar energy systems by offering favorable payment plans. Besides cash purchases, customers can opt for either the BluePower Plus+ or SmartStart financing products. The former offers the most benefits, including up to 18 months of free solar power and a fixed interest rate over the repayment period.
Finally, Blue Raven Solar guarantees its customers peace of mind through its comprehensive warranties. Customers receive a 25-year product warranty and a 10-year workmanship warranty. These warranties cover any repairs attributed to defective solar products or workmanship errors.
Pro-Stat Solar
Washington residents looking for a reliable solar company should try Pro-Stat Solar. This company focuses on providing quality solar installation and maintenance services. It also offers free quotes to customers interested in switching to solar power.
Prospective customers will also be glad that Pro-Stat Solar has one of the best financing options. The company works with EnerBank USA and PSCCU to offer its customers solar loan financing over 10 to 20 years. Active-duty military personnel, veterans, and other first responders also qualify for a $1,000 discount when they purchase their solar system from Pro-Stat Solar.
Finally, this solar company also offers one of the best solar warranties in Washington. Customers enjoy a 25-year workmanship warranty, including free repairs for defects arising from installation errors.
Fire Mountain Solar LLC
Founded in 2001, Fire Mountain Solar LLC has established itself as a customer-focused solar company. It promises to help its customers find the best-fit solar energy solutions for their homes. Customers can request a free consultation over a call or book a physical appointment during office hours.
Fire Mountain Solar offers several services, including full-service installation, DIY solar support, solar electric systems consulting and design, and on-site service and technical support for existing solar energy systems. The company also doubles up as a solar equipment merchant. Customers can browse its product catalog and order complete solar energy systems or specific components.
Fire Mountain Solar does not offer fixed product warranties — the covers vary depending on the solar panel manufacturer. Moreover, customers should expect different warranties depending on whether they request an off-grid or grid-tied solar system. We recommend reading each system's terms and conditions before picking your preferred option.
A&R Solar
For over 15 years, A&R Solar has been at the forefront of helping Washington residents switch to sustainable and renewable energy. The company claims they have installed solar energy systems in over 4,000 homes, businesses, schools, and public utility districts.
One standout feature about A&R Solar is that it has a B Corp Certification. That means it has a verified reputation for transparency and accountability in its operations. A&R Solar also complies with social purpose corporation (SPC) standards. The company ensures its activities do not undermine the world's social and environmental well-being.
A&R Solar works with NABCEP-certified professionals, which explains its industry-leading warranties. The company offers its customers the Perfect 10 Guarantee, which covers repairs attributed to poor installation services or workmanship errors.
Electric vehicle (EV) owners and prospective buyers in Washington will also be glad that A&R Solar customizes and installs solar-based EV charging systems. This reduces your reliance on grid electricity to charge your EV, which saves you money.
How to Pick the Best Solar Company in Washington: Step by Step
Picking a solar vendor in Washington may be more challenging than you think, considering more than 150 companies deal in solar products. Moreover, homeowners may perceive what makes a good solar company differently. Some prioritize installation costs, while others are more concerned about warranties. So, how do you pick the right company in Washington? Let's take a look at some important factors.
Knowledge of Washington's solar market
Excellent customer service
Accredited installers and dealers
Flexible financing options
Let's take a look at each of these criteria in more detail.
Knowledge of Washington's Solar Market
Pick a solar company that understands Washington's climate and the local solar market. Washington has among the lowest average peak sun hours. That means factors like the direction the solar panels face and the degree to which they tilt influence their energy output. Local solar companies that have installed several thousand solar panels in Washington are better placed to assess your roof and design a solar system that guarantees maximum output.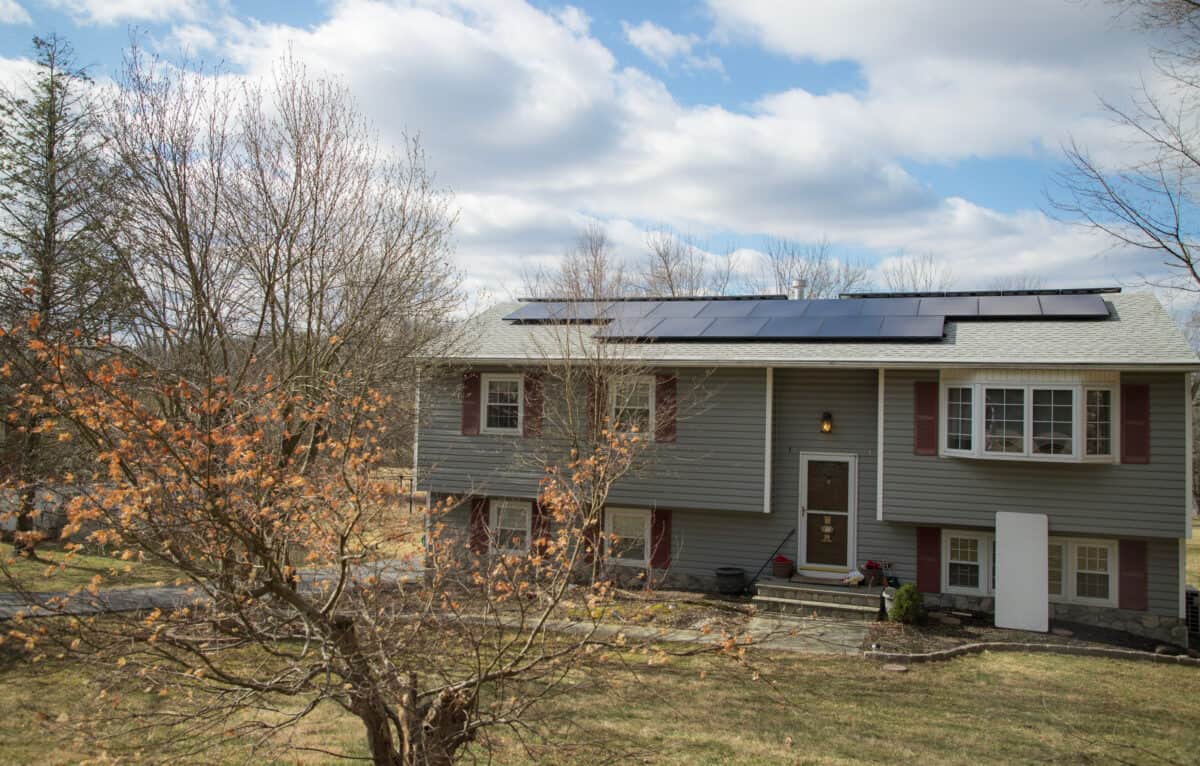 Excellent Customer Service
Prospective customers often rush to solar companies offering the cheapest installation costs and overlook the expected customer service. You do not want to work with a solar company that often ignores customers' complaints and concerns.
The best way to gauge a company's customer service is by checking its online reviews. Companies with frequent complaints of unanswered phone calls and emails are a red flag. We recommend picking a solar company with a dedicated customer support department — it is even better if it has a 24-hour response team.
Accredited Installers and Dealers
We recommend working with solar companies that have been accredited to stock and install solar systems in Washington. Accreditation means the solar company stocks genuine solar products.
Most solar product manufacturers also require vendors to hire trained and licensed technicians. Confirm that the solar company you pick has REC or NABCEP-certified professionals. Do your due diligence before committing to a specific solar company to avoid future issues regarding workmanship errors and void warranties.
Flexible Financing Options
A 6kW solar energy system in Washington costs about $17,000 before deducting federal and state tax incentives. However, the amount drops to around $12,000 after deductions — this is still a huge amount for most Washington residents to pay upfront.
Most solar companies in Washington offer financing options, such as leases, loans, and power purchase agreements, to make solar systems affordable. Pick a solar company whose financing options suit your financial situation. This allows you to repay the loan on time and reduces your default risk.
Wrapping Up
Washington only has an average peak sun of 3.57 hours, but it is enough to sustain a solar energy system. Residents can switch to solar power to reduce their monthly power bills and contribute to environmental conservation.
This is the best time for Washington residents to switch to solar power and benefit from federal and state incentives. Those who switch to solar power qualify for a 30% federal tax incentive and an additional 9% sales tax exemption, saving them more money.
Finally, the large number of solar companies in Washington allows clients to benefit from competitive pricing. Most companies offer enticing rates and flexible payment plans to gain a competitive advantage. Prospective customers can leverage this to bargain for discounts.
Ultimately, Washington residents considering switching to solar energy systems can approach any company on this list and request a free quote.
The image featured at the top of this post is ©Chatchawal Phumkaew/Shutterstock.com.