Wondering why you should buy an 8K TV? They provide the ultimate home entertainment experience, boasting unmatched detail and picture quality that no other display technology can match.
Packed with over 33 million pixels per inch of screen, an 8K TV boasts four times higher resolution than 4K displays and 16 times that of standard 1080p HD televisions. Consequently, giving you a lifelike viewing experience where every detail and hue shines brightly with stunning clarity and depth.
But 8K TVs go beyond simply offering high-resolution picture quality. They also boast advanced features like HDR, OLED technology, and built-in smart functionality. This makes them ideal for gamers, movie buffs, and anyone who appreciates immersive, high-quality entertainment.
No matter if it is watching your favorite film or playing a new video game, streaming TV shows, or watching movies, an 8K TV can transform the viewing experience and truly enhance it.
At such an early stage of 8K technology development, there are plenty of reasons to purchase an 8K TV today. From impressive picture quality to cutting-edge features and functionality, these state-of-the-art displays have quickly become a go-to choice for those seeking the latest and greatest in home entertainment. Now is an excellent time to take your viewing experience to new levels with an 8K display.
8K TVs: Overview
An 8K TV is a type of television with a resolution of 7680 x 4320 pixels, giving it four times as many pixels as a 4K TV, and sixteen times the number as 1080p TVs. This pixel density creates an astonishingly sharp and detailed image, producing almost lifelike clarity. This is an example of technological progress leading to ever-higher visual fidelity levels.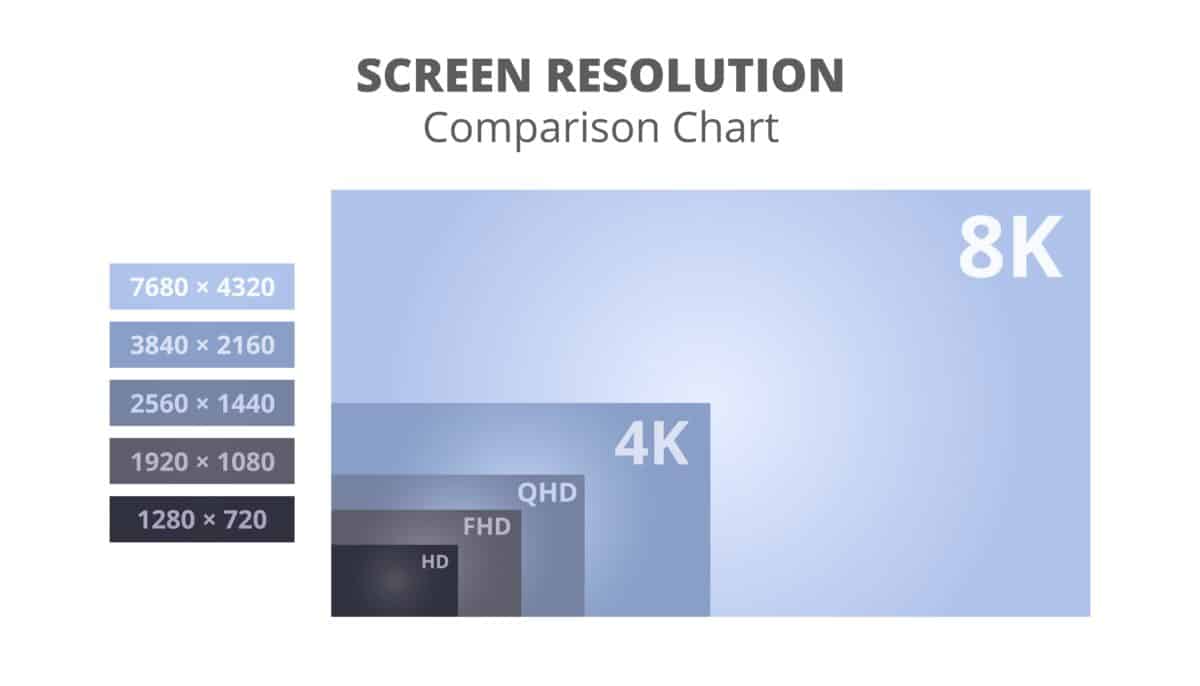 The initial high-definition TVs were introduced in the 1990s with a resolution of 720p. While this marked an improvement over standard definition TVs that were previously the norm, technological progress led to demand for even higher visual fidelity levels. Thus, leading to the introduction of 1080p televisions in early 2000.
As 1080p televisions became more widespread, there was an increasing desire for higher-resolution televisions. This led to the introduction of 4K televisions in the mid-2010s. 4Ks feature a resolution of 3840 x 2160 pixels — four times greater than that found on 1080p sets. Thanks to advances in display technology, smaller pixels and improved backlighting technology increased resolutions further.
Though 4K televisions provide stunning visual fidelity, viewers still sought even greater levels of visual detail, leading to the introduction of 8K televisions in late 2010. 8K sets feature 7680 x 4320-pixel resolution, which is four times that of a 4K set and 16 times greater than what 1080p televisions support.
Their increase requires smaller pixels, as well as more efficient backlighting than those offered by 4K televisions. An 8K TV represents constant improvement and the pursuit of ever-increasing levels of visual fidelity. As display technology progresses, higher resolutions may become available. However, their benefits become less noticeable as resolution levels increase.
Reasons to Buy an 8K TV
Want an immersive viewing experience that makes you feel like part of the action? An 8K TV could be exactly what you need. Boasting four times more resolution than 4K displays, 8K delivers realistic images and crisp details to bring movies and TV shows to life. Here are a few compelling reasons to upgrade to an 8K TV for home entertainment setups.
1. Higher Resolution
High resolution is one of the primary draws to an 8K TV. It provides four times as many pixels as a 4K and sixteen times more than a 1080p television would provide for an immersive and realistic viewing experience. An 8K's higher resolution can also display more detail within images allowing viewers to notice even the finest details in scenes.
8K TVs boast higher resolution, allowing for larger screen sizes without compromising image quality or details. They also provide gamers and sports fans with an immersive, life-like gaming or sports experience, offering detailed images that bring games or sports alive for you to experience in a whole new light.
Our Pick
We earn a commission if you make a purchase, at no additional cost to you.
Their higher resolution lets viewers see small details they might otherwise miss on lower-resolution TVs. This includes expressions on players' faces or textures of playing fields.
An 8K TV's higher resolution also helps future-proof its purchase, as more content becomes available in 8K resolution. Many streaming services and content providers have begun providing 8K content, and this trend will likely only continue. By investing in an 8K TV now, you can ensure you will continue enjoying high-quality entertainment in years to come.
2. More Vibrant Colors
Experience stunning visuals in the comfort of your own home with an 8K TV. One major advantage of owning an 8K TV is being able to display more vibrant colors than ever due to its increased pixel density, which allows a wider spectrum of hues to be displayed more accurately and vividly than before.
An 8K TV promises more vibrant colors and lifelike imagery than can be found on traditional 4K or 1080p screens, thanks to its additional pixels that enable accurate reproduction of bright reds and greens. They may otherwise be difficult to reproduce correctly on these devices. Movies, shows, and even video games should look more lifelike for an enhanced viewing experience.
8K TVs feature increased pixel density that enables more precise color accuracy, meaning colors can be displayed with greater precision and detail, enabling even subtle hue variations to be seen clearly and precisely, something especially beneficial for content featuring intricate textures or intricate patterns, such as nature documentaries or high-action movies. You'll be able to see every detail with striking clarity and accuracy.
An 8K TV provides greater color volume, which means it can display more colors at various brightness levels. This feature is made possible thanks to HDR (High Dynamic Range) technology, which creates a more immersive and engaging viewing experience. You'll witness more vibrant, but also nuanced and dynamic, hues than ever.
3. Greater Contrast
An 8K TV's ability to provide increased contrast is among its most compelling arguments for purchase. Thanks to its higher number of pixels on the screen, an 8K can show more detail and sharpness for an immersive and realistic viewing experience — with darker parts of images having greater disparities from lighter areas than before. This difference becomes especially visible when considering the contrast ratio.
An 8K TV achieves greater contrast by producing deeper blacks and brighter whites, creating a more dynamic color range. Typically, its contrast ratio is higher than on standard 4K or 1080p TVs. Thus, making any differences between the brightest and darkest areas of an image more apparent.
This effect becomes particularly prominent when watching content shot with HDR (High Dynamic Range), as its wider color gamut and brightness range perfectly complement an 8K display.
Amazing Clarity
We earn a commission if you make a purchase, at no additional cost to you.
An 8K TV's increased contrast ratio also allows it to discern more details in shadowy or low-light scenes. This makes it easier for viewers to follow complex plotlines or action sequences.
An 8K TV improves contrast and displays a wider variety of colors to improve image quality. Due to more pixels being available for production, 8K televisions can produce smoother color gradients and vivid shades for a more realistic and lifelike picture.
This is especially noticeable when watching nature documentaries or sports broadcasts where landscape features appear more vivid and realistic.
4. Larger Screen Sizes Available
If you're in the market for a new television, consider an 8K TV due to the larger screen sizes available. 8K technology enables more immersive viewing experiences with crisper, sharper images on a much larger display screen.
Larger screen sizes offer an immersive cinematic viewing experience. When watching movies or TV shows on such larger displays, it feels as if you are right there in the middle of all of the action. Hence, larger and lifelike images make you feel part of the scene.
One benefit of larger screen sizes is their ease of viewing from a distance. When watching from across the room, larger screens make it easier for you to keep up with what's happening without straining your eyes. This is something that becomes particularly essential when reading text such as news headlines or subtitles.
Larger screens also enhance the viewing experience in group settings, like movie nights with friends and family or Super Bowl parties. A larger screen ensures everyone can see and enjoy what's happening. Thus, creating a more social and engaging experience where everyone shares similar memories together.
Larger screen sizes offer the chance for an immersive home theatre experience. Your living room can become a cinema-esque environment complete with comfortable seating, surround sound speakers, and a screen large enough to fill your field of vision. This provides an unforgettable experience when watching blockbusters or television shows alike.
5. Enhanced Picture Quality
Improvement of picture quality is one of the primary draws to purchasing an 8K TV. With a resolution of 7680 x 4320 pixels, these TVs boast four times as many pixels on a 4K television and 16 times that in 1080p TVs. It creates an ultra-sharp and detailed image that brings out even the finest details in every scene.
8K TVs also have advanced upscaling technology that enhances the picture quality of lower-resolution content, such as older movies or TV shows. This is done by processing them to fit with 8K resolution.
Upscaling works by taking images processed to fit this resolution and refining them for viewing on an 8K television screen. This means even older movies or shows can be enjoyed with improved picture quality.
Our Pick
We earn a commission if you make a purchase, at no additional cost to you.
8K TVs' larger screens only compound their superior picture quality. This immersive viewing experience is particularly useful when watching movies or sports games where even small details can immensely impact one's experience.
8K TVs feature enhanced picture quality that results in vibrant and lifelike colors. This is due to using quantum dot or OLED technology which improves color accuracy and contrast ratios.
Quantum dot technology adds nanoparticles onto the screen. They do this by enhancing color saturation and brightness, while OLED allows for increased black levels and contrast ratios.
With the growing popularity of gaming, enhanced picture quality is increasingly vital for an immersive gaming experience. An 8K TV can bring lifelike images and realistic colors to their games. Thus, bringing them to life. Meanwhile, the larger screen size makes it easier to spot enemies or hidden treasures in games.
Please Note: As of July 15, 2023, the LG NanoCell 99 Series 65″ TV is currently unavailable on Amazon. If you cannot find the product elsewhere, please check back later.
6. Improved Upscaling Technology
Improved upscaling technology is another compelling reason to invest in an 8K TV. Due to ever-increasing demands for quality content, 8K content still needs to be improved.
However, thanks to superior upscaling technologies, you can upsample lower-resolution content to near 8K quality for an enhanced viewing experience. Even without accessing native 8K content directly, an 8K TV provides enhanced viewing pleasure.
Upscaling technology uses complex algorithms to increase the pixel count of lower-resolution content. When connected to an 8K TV, upscaling technology can bring videos in 1080p or 4K resolution closer to 8K quality. This results in sharper and more detailed images with reduced jagged edges or pixelation for a more natural and lifelike viewing experience.
Improved upscaling technology on an 8K TV can also elevate the quality of streaming content from streaming services like Netflix and Amazon Prime Video. Thus, producing 4K video and creating an immersive cinematic viewing experience for their subscribers.
8K TVs have improved upscaling technology that can also upgrade older content to near 8K quality, such as DVDs or Blu-ray discs from your collection. The improved upscaling will analyze each frame before applying a complex algorithm that increases pixel counts to produce sharper and more detailed images. It is perfect for watching classic movies in vivid HD detail.
Mini LEDS and Quantum Matrix Technology Pro

Edge-to-edge screen

Quantum HDR 64X

Neo QLED display technology

Buy Now on Amazon

We earn a commission if you make a purchase, at no additional cost to you.

11/25/2023 05:06 pm GMT

8K AI upscaling

Self-lit OLED pixels

810W total output power

Dolby Atmos and DTS:X

Buy Now on Amazon

We earn a commission if you make a purchase, at no additional cost to you.

11/25/2023 05:06 pm GMT

TruMotion 240 technology (native 120Hz)

a9 Gen 4 AI Processor 8K

Auto Low-Latency Mode

AI Picture Pro and AI Sound Pro

Buy Now on Amazon

We earn a commission if you make a purchase, at no additional cost to you.

11/25/2023 06:20 pm GMT
Is Any Technology Better Than 8K?
Currently, 8K is considered to be the best TV resolution on the market. A handful of very high-end micro LED TVs are available, but they're extremely expensive. Micro LED displays are comprised of tiny LEDs that are lit individually, resulting in a more vibrant and lifelike picture than traditional LCD or OLED displays.
Up Next
The image featured at the top of this post is ©Tada Images/Shutterstock.com.