Key Points:
The Epson Home Cinema LS11000 is a laser projector which is perfect for home cinemas, gaming setups, man caves, and a whole lot more.
The BenQ HT2050A tops our list as the best budget option, coming in at $749. It's thousands of dollars less than the top-tiered ones but doesn't sacrifice all that many features.
One of the most important things to consider when purchasing a projector is the lighting of the environment you are placing it. The ideal environment is a dark or semi-dark room.
Televisions are some of the most expensive pieces that complete a home theater or movie setup. For many, finding a perfect screen to fill up a wall isn't an easy task, especially if it's a large area. While they were popular a few years ago, projectors are again making a comeback and becoming affordable, adaptable, and realistic options for people at almost every price point. If you are interested in getting one to complete your home cinema or just want something to toss into your car before a camping trip, we have the best options on the internet! Let's take a look and compare the five best projectors you can buy today.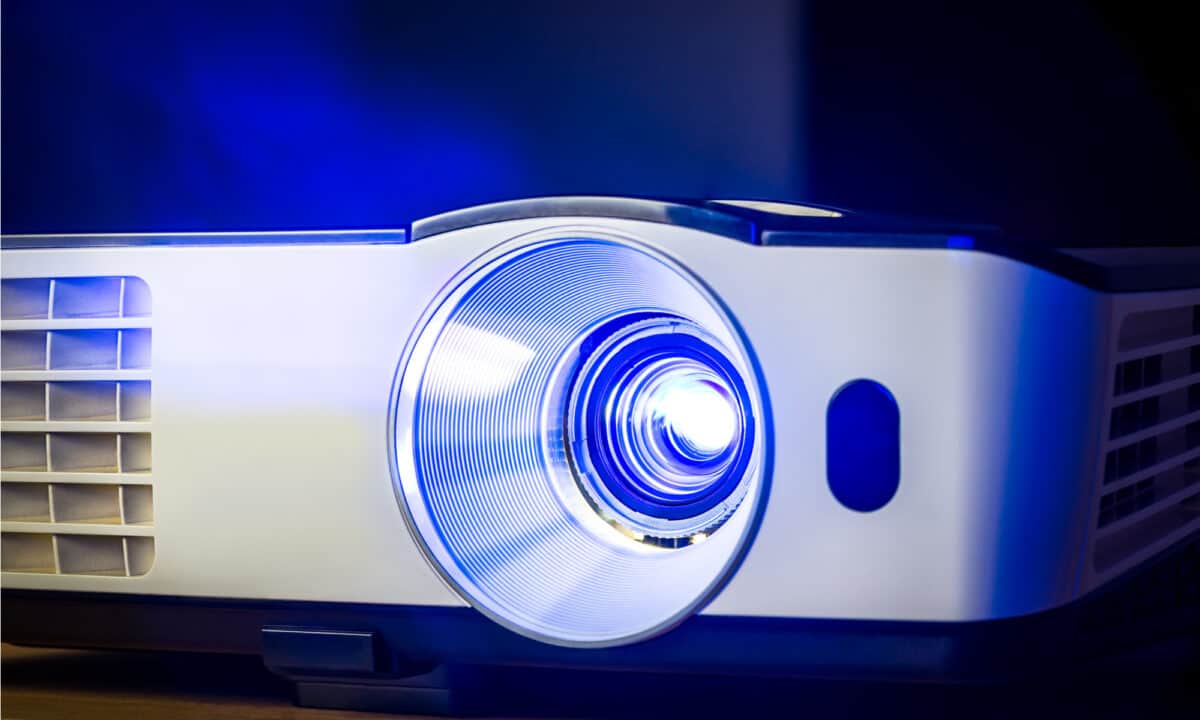 The 5 Best Projectors You Can Buy Today
We've broken down our top picks on the internet into five primary categories. Whether you need a budget-friendly option or want to go all out, we have a few options that will make it easy to decide.
Best Overall: Epson Home Cinema LS11000
The Epson Home Cinema LS11000 takes the top spot for our best overall projector. This laser projector is perfect for home cinemas, gaming setups, man caves, and a whole lot more. Currently, the LS11000 runs $3,999.99, but most places offer a financing option to avoid paying for all of it upfront. The LS11000 features include:
4k Pro-UHD
Laser projection
Up to 2500 lumens
A motorized lens
120 Hz refresh rate
Part of what makes this projector worth it is its lifespan. It's new enough that you shouldn't have to replace it for at least a decade. It also includes updated HDMI 2.1 ports, allowing for 4k gaming now and the potential for 8k gaming later (when they finally decide to make 8k more consumer-facing.)
The battle for the best budget-anything is usually hard-fought. In the case of projectors in 2022, however, it is a steal. The BenQ HT2050A tops our list (and most everyone else's list) as the best budget option for most people. Coming in at $749 brand new (and usually on sale for $700), the HT2050A is thousands of dollars less than the top-tiered but doesn't sacrifice all that many features. The HT2050A features include:
1080p resolution
2200 lumens
Low latency (16 ms)
Multi-input support
For what you are paying for, the HT2050A doesn't cut too many corners. While you aren't getting a 4k, motorized lens, and HDMI 2.1 support, you are getting a crisp 1080p unit that can stream most content to a level that is beyond satisfactory.
Short-throw projectors are newer in the consumer world, but they are getting really good, really fast. For traditional projectors, a decent amount of space is required from the screen to the bulb to allow the light to cast properly and fill up the screen or blank wall. With short-throws, that space only needs to be a few inches. The HU715QW is a 4k later projector that can create a 120-inch screen while only sitting 12.48 inches away. Its features include:
4K UHD
0.22 Throw Ratio
2500 lumens
40W (20W+20W Stereo) / Woofer included
If space is a premium for your room or you just don't want to set up a long-distance casting projector, a short-throw projector is for you. As the technology stands, getting incredible picture quality on an 80-inch screen with a projector sitting only five inches away is unparalleled.
The Anker Nebula Mars II Pro is what we call a "total package." It's small and portable, comes with its own battery, and includes 10W speakers. If you need a projector that can go up in seconds and give you video and sound, the Anker is perfect for you. This projector includes:
720p resolution
500 lumens
10W audio drivers
Android 7.1 for media projection
Plug and play through HDMI and USB 2.0
You can use this projector in a variety of environments, including the outdoors (although we included a specifically outdoor-oriented projector on our list). The only real drawback of this unit is its measly 720p resolution. If you need something quick and cheap though, the Anker is for you!
Best for Outdoors: BenQ GS50
The BenQ GS50 is more than just a portable projector – it's designed for the outdoors. With a price tag of only $749, it competes with some of the other budget options on the list but with a specific niche. What makes the GS50 so great for the outdoors is its incredible volume (needed when you are outside) and its hardy design. Its features include:
Being able to charge a projector with a USB power brick is a great feature for an outdoor projector. When you add in its FHD resolution, 500 lumens, built-in speakers, and hard-shelled case, the BenQ GS50 makes for one of the best outdoor projectors you can buy.
How to Pick the Best Projector for You
Light
One of the most important things to consider when purchasing a projector is the lighting of the environment you are placing it. The ideal environment for any projector is a dark or semi-dark room. If you are planning on placing your projector in a basement or home cinema room, the lack of ambient light won't drastically impact the quality of your picture. In a window-lit living room, however, the picture quality could be drastically reduced.
The most common metric to determine the brightness of a projector is known as its "lumen rating." Lumens are essentially a measure of how bright something is, with a higher number being brighter. A 2,500-lumen projector can get brighter than a 500-lumen projector. When picking a unit out, consider the ambient light of the room.
Space
The second factor to consider when purchasing a projector is the space. Different projectors need certain distances from the target they are casting their picture onto. In many of the higher-end projectors, a mechanical lens is included that can help the picture reach the correct dimensions without needing to be moved around. However, in a fixed-lens unit, the entire unit needs to be moved.
In extremely small rooms, the only projector options are known as "short-cast" projectors. Instead of needing 8-15 feet, they only need a few inches. This technology is new and just getting to the point where it can compete with other projectors in quality, although you normally make up for that in cost. High-end short-cast projectors can cast 180-inch screens while only being 12 inches from the surface itself.
Budget
Potentially the most important factor to consider when buying a projector is budget. Certain features just cost more than others. 4k, HDMI 2.1, and Wi-Fi connectivity are examples of features that aren't necessary to have in a projector but often make it a much better experience. Consider what you are willing to live without if budget is a hard constraint for your new home theater.
What to Know Before Buying A Projector
Projector technology has improved over the past years, and there isn't as much upfront knowledge needed as there used to be. Still, there are some important things that anyone looking to purchase one should know.
First, consider the environment you are placing your projector in. This will impact the projector you choose in regards to the distance from the screen and lighting requirements, as we mentioned above. Knowing where you can floor mount or wall mount a projector is important when considering different models and their potential cast ranges.
Second, know the technology that is being used to create your picture. Projectors that use bulbs will eventually need to be replaced, and it isn't cheap. Thankfully, most bulbs last for at least a decade now, but it's still an expense you will need to be aware of. Additionally, know that some projectors emit a decent amount of heat, and proper room ventilation is required.
If you have a good idea of the space you plan on placing a projector, the tech on the various models you are considering, and know your price point, you are all set! Enjoy having a massive screen with a crisp picture that a TV could never compare to, at least in sheer size.
Up Next…