Key Points
The best overall pre-built gaming PC is the MSI Aegis RS 11th Gen.
The best "on a budget" pre-built gaming PC is Acer Predator Orion 3000.
The best customizable gaming PC is the CLX Set Gaming Desktop.
Gaming PCs have advanced in leaps and bounds over the years, where high-end parts can now be found inside a portable device. The best pre-built gaming PCs of 2023 lets you quickly play all the most recent games, from first-person shooters to open-world RPGs to blockbusters, while also providing enough power to handle productivity tasks, streaming media, and more in style.
But which are the best? We've ranked the best pre-built gaming PCs of 2023 and reviewed them in detail so you can find the one that's right for you. This review looks at the top-rated options in 2023 based on performance, portability, durability, and affordability. Below are our rankings for the best of the best
Best Overall Pre-built Gaming PC: MSI Aegis RS 11th Gen
We earn a commission if you make a purchase, at no additional cost to you.
The MSI Aegis RS 11th Gen is the best Pre-built gaming PC on this list. It's not only a great gaming PC but also has some seriously impressive specs for its price range. This computer has an excellent build quality, and it's loaded with tons of powerful components. The SSD and RAM are fast and reliable, and the graphics card can handle most games at high settings.
The excellent gaming performance is provided by the 11th Gen Intel Core CPU and options for an RTX 3080 in a design that you may upgrade on your own in the future.
The casing is one of many standardized components. The power supply, GPU, fans, CPU cooler, and case are all made by MSI. Over the next few years, you can modify, customize, and enhance this kind of pre-built desktop. MSI's keyboard and mouse are enough for getting started if you don't already have them, though you'll probably want to upgrade to a keyboard with mechanical switches later.
| | |
| --- | --- |
| CPU | Intel Core i7-11700K |
| GPU | MSI GeForce RTX 3080 Ventus 3X OC |
| RAM | 16GB |
| Ballistix DDR4-300 Storage | 1TB XPG Gammix S70 PCIe Gen 4, 2TB Seagate Barracuda (7,200 RPM) |
Check out MSI Aegis RS 11th Gen on Amazon.
Best Budget Option: Acer Predator Orion 3000
Best Design
Acer Predator Orion 3000 Laptop
Powerful Intel Core i7-11700F 8 processor
Expandable 16GB DDR4 RAM, 512GB SSD, 1TB HDD storage
NVIDIA GeForce RTX 3070 Graphics with 8GB Video Memory
USB 3.2 (Type C), USB 2.0, and Gen 2 ports
Predator RGB Gaming Keyboard and mouse included
We earn a commission if you make a purchase, at no additional cost to you.
New players have one of the greatest and most affordable chances to establish a name in the PC gaming industry with the Acer Predator Orion 3000 desktop PC. After all, there's a good reason why it ranks first on TechRadar's list of the best low-cost gaming PCs.
Gamers may select from a number of mid-range options from Acer's Predator Orion 3000 lineup, which now includes a 12th Gen Intel processor, an Nvidia RTX 30-series graphics card, and up to 64GB of DDR4 RAM, all neatly housed in a small micro ATX case. This PC series naturally makes a few component sacrifices that can only be considered cost-cutting measures. For instance, even though the Orion 3000 has both HDD.
| | |
| --- | --- |
| CPU | 12th-gen Intel Core i7 |
| Graphics | Nvidia GeForce RTX 3070 |
| RAM | Up to 16GB |
| Storage | Up to 1TB SSD |
Check out Acer Predator Orion 3000 on Amazon.
Best Customizable: CLX Set Gaming Desktop
High Performance
CLX Set Gaming Desktop
Intel Core i9 10900KF 3.70GHz (5.30GHz Max. Turbo)
32GB DDR4 - 2 x 16GB (4 slots total, 128GB Max)
960 GB SSD, 4 TB HDD
GeForce RTX 3060 Ti 8 GB GDDR6
750 Watt power supply
Black
We earn a commission if you make a purchase, at no additional cost to you.
No matter your budget, the CLX Set Gaming Desktop is unquestionably one of the best pre-built gaming PC you'll find anywhere, and we'd even argue that it might be the best gaming PC you can get right now.
Starting with a respectable AMD Ryzen 5 3600 processor and an Nvidia GTX 1660 Super graphics card, you can scale your build-up to the most recent Intel Core i9-11900K or AMD Ryzen 9 5900X processors with compatible motherboards and pair them with the most recent AMD Radeon RX 6900 XT or Nvidia RTX 3090 graphics cards with a variety of RAM and SSD configurations, as well as everything in between.
You can choose from various chassis, including ones with sleek cable management choices and designs full of RGB lights to suit your taste better. Even the entry-level setup includes the CLX liquid CPU cooling system, a relatively expensive and uncommon option at this pricing point.
Custom projects like this will present certain challenges, such as potential shipment delays depending on the availability of parts. Even our high-end setup would currently ship in under two weeks, which is certainly not bad for a PC with an RTX 3090 inside, but that isn't always a given.
You can't go wrong with this PC's tremendous array of possibilities, so even if you have to wait a little bit to obtain what you want, you're sure to find a configuration that fits your needs perfectly. Additionally, as every unit is meticulously tested before being shipped to the customer, you are spared the trouble of having to design such a sophisticated system yourself and risking making a mistake.
That doesn't rule out the possibility of problems, though, as desktop computers moved across the nation can have a variety of parts come loose during the transport.
| | |
| --- | --- |
| CPU | Intel Core i7 11700KF 3.60GHz 5.00GHz |
| Graphics | GeForce RTX 3060 12 GB GDDR6 |
| RAM | 32GB |
| DDR4 Storage | 32GB DDR4 – 2 x 16GB 4 slots total, 128GB Max |
Check out CLX Set Gaming Desktop on Amazon.
Best For Performance: Corsair ONE i300 Compact Gaming PC
Super Powerful
Corsair ONE i300 Compact Gaming PC
Packs all the performance of a full cutting-edge AMD-powered gaming desktop into a gorgeous and quiet small-form factor that takes up less desk space than a laptop
Enjoy years of operation thanks to reliable, award-winning CORSAIR components
An AMD Ryzen 5000 Series processor powers the most demanding games and obliterates multithreaded tasks like 3D or video rendering and software compiling
An NVIDIA GeForce RTX 30 Series GPU with real-time ray tracing technology enables unbelievably lifelike graphics and high frame rates, dwarfing the performance of previous-generation graphics cards
Dual-channel CORSAIR VENGEANCE DDR4 high-performance memory provides the speed and capacity to handle the most demanding games and applications
We earn a commission if you make a purchase, at no additional cost to you.
The Corsair ONE i300 Compact Gaming PC is the best pre-built gaming PC you can buy when it comes to performance. It's powerful, compact, and built for performance—and it has an excellent price tag! The Corsair One i300's extremely small size supports the high price, which is barely larger than the Xbox Series X gaming console.
This is true of earlier Corsair One gaming PCs as well. This PC is ideal for connecting to a TV in your living room because it packs so much power into a small chassis. It also occupies much less space than a typical desktop PC and looks fantastic on a desk.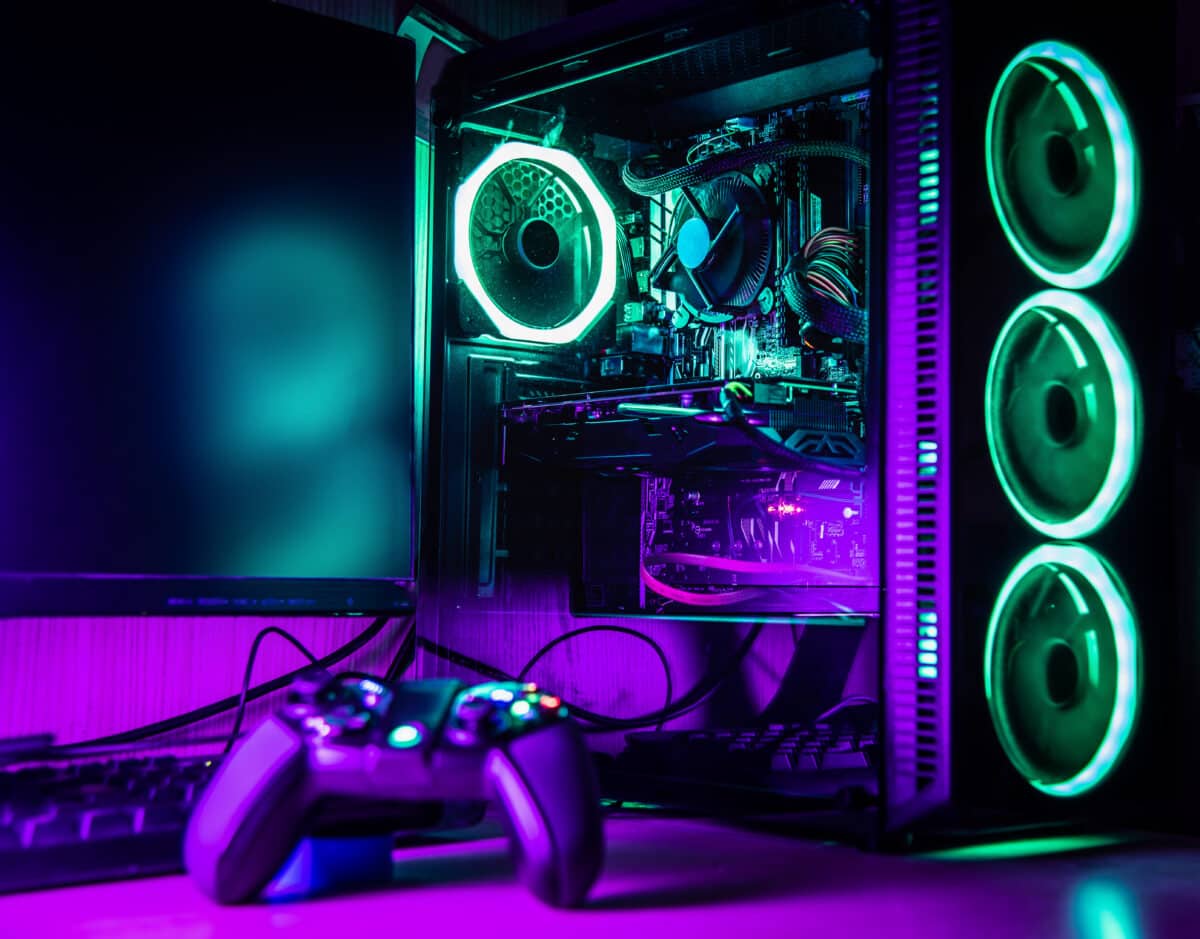 It's not only little, but it's also well-made. However, because of its small size, this PC can be challenging to modify and improve. However, in terms of performance, this is a beast and can easily play any recent game at 4K resolution.
One of the strongest GPUs available, the RTX 3080 Ti, works well with Intel's new 16-core 12th generation Alder Lake processor to power games like Cyberpunk 2077 and Metro Exodus at the maximum settings and resolutions.
Additionally, the PC has 64GB of fast DDR5 RAM, which again promises lightning-fast performance, but to be honest, it's a bit too much for most gamers. However, it implies that those searching for a powerful workstation should choose the Corsair One i300. You won't find a better tiny form factor PC if you're searching for one that is both highly powerful and nicely constructed than this.
There is no escaping the reality that this is very pricey and that you are paying a premium for the design and some features you may not actually need. Even with the global chip scarcity, there are many more cheap solutions for gamers that are more cost-conscious.
| | |
| --- | --- |
| CPU | Intel Core i9-12900K |
| GPU | Liquid-cooled Nvidia GeForce RTX 3080 Ti (12GB GDDR6X) |
| RAM | 64GB Micron DDR5-4800 |
| DDR5-4800 Storage | 2TB PCIe Gen 4 NVMe SSD |
Check out Corsair ONE i300 Compact Gaming PC on Amazon.
Most Durable: Alienware Aurora R11
AimCare New_Dell_Alien.Ware Aurora R11
Powerful RTX 3060 Ti graphics card for immersive gaming
32GB RAM and 256GB SSD + 2TB SSHD storage
Multiple connectivity options (Bluetooth, WiFi 6, USB, LAN)
Windows 10 Home comes pre-installed
We earn a commission if you make a purchase, at no additional cost to you.
The Alienware Aurora R11 is one of the most durable gaming PC we tested. It's also expensive, but it offers a host of features that may be worth paying extra. Due to its powerful GPU, the pre-built Alienware Aurora R11 managed to get onto our list. Nvidia's Ampere GPUs are currently quite difficult to find. However, as of this writing, Alienware is shipping with the RTX 3080 and RTX 3090, so that's one option.
Although it may be controversial to some, the futuristic design is undeniably relatively tiny. Compared to the Intel Core i9-10900K in our review unit, the RTX 3090 provided excellent gaming performance. It uses primarily standardized components and has lots of space for additional drives.
| | |
| --- | --- |
| CPU | Intel Core i9-10900K |
| GPU | Nvidia GeForce RTX 3090 |
| RAM | 64GB HyperX Fury |
| DDR4-3200MHz Storage | 2 TB M.2 NVMe SSD and 2 TB, 7,200-rpm HDD |
Check out Alienware Aurora R11 on Amazon.
How to Pick the Best Pre-Built Gaming PCs: Step by Step
Pre-built gaming PCs are an excellent alternative for those who want the benefits of a gaming PC but don't want to build one. These devices are available in various hardware setups to support all performance levels. But how do you know which one is right for you? We've put together this guide on how to pick the best pre-built gaming PC for your needs.
The Processor
When buying a pre-built gaming PC, you must pick one with a powerful processor. The processor is where all of the computational work on your computer takes place. It controls how fast and smoothly your computer operates and what software will run on your machine. The more powerful the processor, the better your experience will be.
The number of processing cores is a crucial factor. In the mainstream market, options range from two to sixteen cores. A four-core CPU should be the lowest you can go, unless your budget is extremely tight, to avoid experiencing performance issues with some applications and video games.
A six-core processor, such as the i5-10600K or Ryzen 5 5600X (featured in our roundups of the top Intel and AMD CPUs, respectively), is a fantastic place to start due to current pricing. Last-generation counterparts like the 9600K and 3600X are also excellent options.
GPU
Most current games are best played on a dedicated GPU. Be sure to examine a GPU's capabilities, especially if you're seeking high resolutions, frame rates, or graphics settings, as GPU performance ranges widely, from high-end to a basic level.
You should also ensure that your CPU and display performance match the GPUs. Compare the GPU you're contemplating to the minimum and maximum system requirements of the games you want to play by searching up reviews of it from other users.
RAM and Storage
Since 16GB is frequently seen as an appropriate starting point for running modern games alongside other apps, many pre-built gaming computers today have at least that much memory installed. On the high end, some pre-builts may include 8GB or even 32GB. If you're running many applications in addition to playing modern games, 32GB of RAM is preferable. Less than 16GB of RAM may cause performance issues.
Think about speed afterward. When choosing RAM, capacity is typically the most crucial component, although performance is also significant. When compared to a faster CPU and GPU, RAM with rates over 3000MHz can have a marginally favorable effect on in-game performance. However, these advantages are typically far less noticeable.
The amount of storage you choose affects both how many games and programs you can install simultaneously and how quickly the system can access installed data. Faster storage can shorten game load times, speed up system startup, and speed up the opening of programs like email, media players, and web browsers.
What to Know Before Buying Prebuilt Gaming PCs
There are plenty of brands out there that will sell you a pre-built gaming PC, but there are also a lot of things you need to think about before making a decision. Here are some things to consider when buying a pre-built gaming PC:
Ports and Connectivity
Your gaming rig should have enough ports to connect all of your peripherals, like controllers and headsets. If you need more than one monitor, look for a system with Thunderbolt 3 or USB-C ports.
Case Design and Aesthetics
Pick a case that works with your gaming setup and aesthetic choices.
Cost
The first thing to consider is how much you want to spend on your new desktop. The cost of pre-built systems can vary dramatically, so knowing what features are important to you before you start shopping is important.
Warranty
Most pre-built gaming PCs come with a one-year limited warranty from the manufacturer. If your machine malfunctions or stops working, you'll have to take it back to the store where you bought it and get a new one.
Some companies offer longer warranties on their pre-built machines, but those tend to be more expensive than one-year warranties. Even so, they can still be worth considering if you're spending a lot of money on your gaming rig.
Using Best Prebuilt Gaming PC: What it's Like
The best pre-built gaming PCs include all of the high-performance components required to play the most demanding PC video games without the effort of constructing a system from scratch. Pre-built systems are marginally more expensive than the do-it-yourself method, but the convenience may be worth the additional expense if you are short on time or skill.
A pre-built gaming PC is a terrific method to improve your gaming experience right now if you want to start playing at better frame rates, resolutions, and detail settings.
Next Up…
The image featured at the top of this post is ©Gorodenkoff/Shutterstock.com.