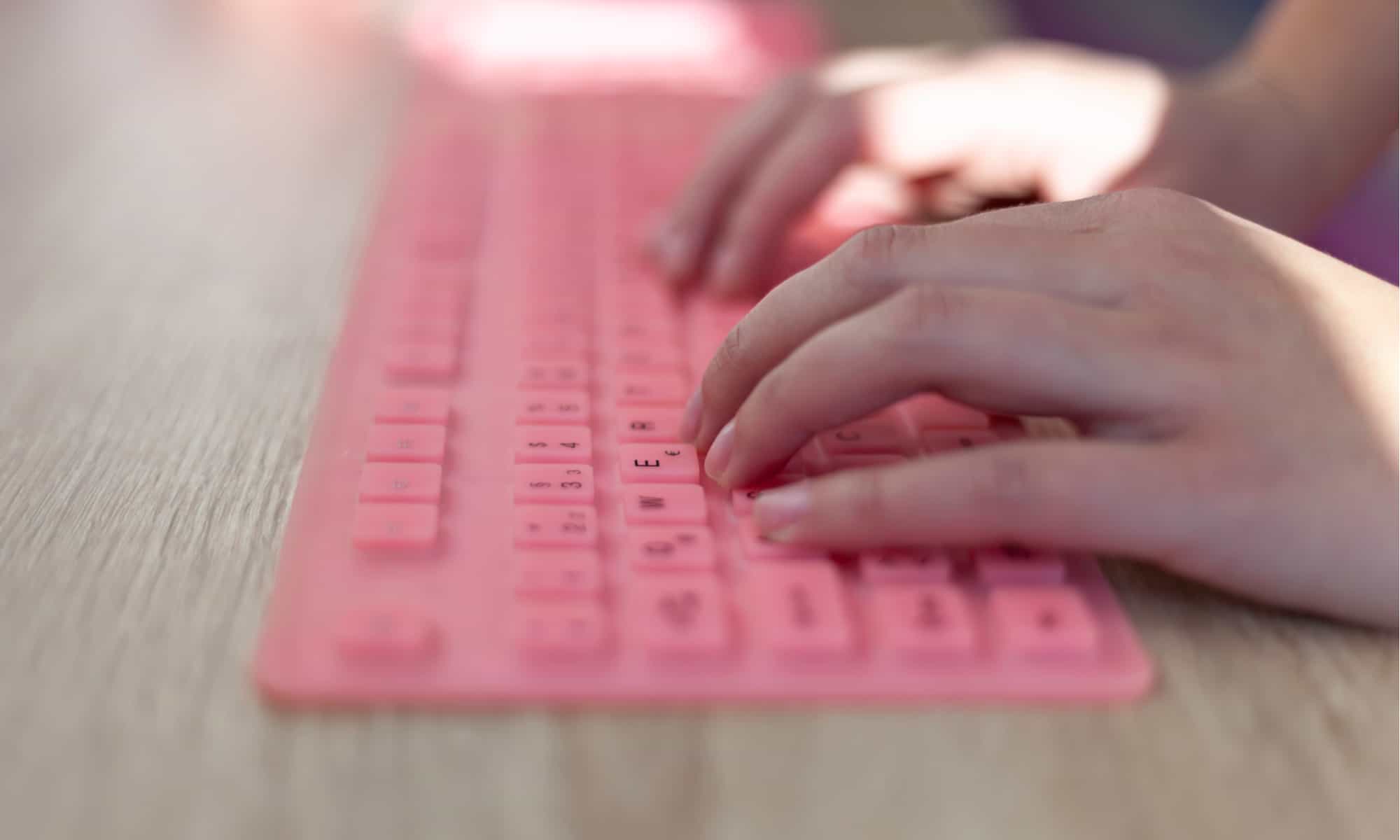 Key Points:
The Logitech K380 is small in size and capable of connecting to most Bluetooth devices. It's stripped-down, functional, affordable, and works with laptops, MacBooks, or iPads.
The iClever Folding Keyboard is designed with a trifold for easy transport. This foldable keyboard easily connects to your MacBook via Bluetooth when you're ready to work.
The Apple Magic Keyboard with Trackpad brings the same kind of comfort and ease of a laptop keyboard with trackpad and delivers it to the iPad user experience.
Oftentimes, when we think of keyboards, we think of them situated in front of a desktop computer inside a cubicle or work-from-home space. However, keyboards are far more versatile and useful than desktops alone. There has been an influx of attention paid to those specific kinds of keyboards made for MacBooks, iPads, and laptops. While laptops come with physical keyboards of their own and these aforementioned touchscreen devices come with their own digital versions, it's worth investing in the best portable keyboards that go above and beyond the default options.
Whether you're traveling on a cramped plane or sitting on the couch, there come certain scenarios when you might not be able to sit down at a desk and type with the keyboard your MacBook, iPad, or laptop came with. This is where portable keyboards come in handy. From foldable options to silicone designs and everything in between, these wireless keyboards help you continue to get the job done even when you're away from your desktop. 
But how do you know which of the best portable keyboards is best for you? Which one is best overall? Which is best for travel? Or for MacBook, for iPad, or for laptop computers? What about those with a mouse, trackpad, or numberpad capabilities? Let's take a look at all these different portable keyboards below to determine which ones are best. 
If you're looking for the best overall portable keyboard — one with basic features, a simple setup, and a low-hassle wireless functionality — then the Logitech K380 is hard to beat. Small in size and capable of connecting to most Bluetooth devices, the Logitech K380 is exactly the sort of stripped-down, functional, affordable wireless keyboard you need. For laptops, MacBooks, for iPad … the Logitech K380 works well across the board. Of all the best portable keyboards, this is the one with the most universal appeal.
Logitech K380 Multi-Device Bluetooth Keyboard – Windows, Mac, Chrome OS, Android, iPad, iPhone, Apple TV Compatible – with Flow Cross-Computer Control and Easy-Switch up to 3 Devices – Dark Grey
Multi-device Bluetooth keyboard: Universal keyboard for typing on all your computing devices: Windows, Mac, Chrome OS, Android, iPad, iPhone, Apple TV 2nd or 3rd generation (Any Bluetooth-enabled...
Easy-switch: Connect up to 3 devices simultaneously and switch between them at the touch of button. Wireless range 10 meter
Logitech flow cross-computer typing: Use as a regular keyboard or combine with a compatible Logitech flow mouse (sold separately) to type, copy, paste and move files seamlessly between computers
Compact mobile keyboard: Easy to carry around your home for familiar typing in any room and Logitech options for Windows (Windows 7, Windows 8, Windows 10 or later), Logitech options for Mac (OS X...
OS adaptive: Automatically recognizes each device and maps keys to give you a familiar layout, including shortcuts. Battery life (not rechargeable) - 24 months. Connection type: Bluetooth classic...
We earn a commission if you make a purchase, at no additional cost to you.
Coming in under eight ounces, less than 10 inches in length, and thinner than a quarter of an inch, the Arteck HB030B is undoubtedly the best portable keyboard for travel. Affordable, stylish, functional, and compatible with Bluetooth devices such as tablets, laptops, and cell phones, the HB030B boasts rechargeable batteries and a bright LED backlight too. Its six-month battery life makes it even more ideal for travel — You won't have to worry about it dying on you mid-flight or anything like that.
Arteck HB030B Universal Slim Portable Wireless Bluetooth 3.0 7-Colors Backlit Keyboard with Built in Rechargeable Battery, Black
7 Unique Backlight Color: 7 Elegant LED backlight with 2 brightness level and auto sleep feature to maximize power usage.
Broad Compatibility: Use with all four major operating systems supporting Bluetooth (iOS, Android, Mac OS and Windows), including iPad / iPad Air / iPad Pro / iPad mini / iPhone / Android Tablets like...
6-Month Battery Life: Rechargeable lithium battery with an industry-high capacity lasts for 6 months between charges (based on 2 hours non-stop use per day and backlit off)
Ultra Thin and Light: Compact size (9.7 X 5.9 X 0.24in) and light weight (0.37lb) allows easily carried and packed backpack, messager bag or case.
Package contents: Arteck Backlit Bluetooth Keyboard, USB charging cable, welcome guide, our 24-month warranty and friendly customer service.
We earn a commission if you make a purchase, at no additional cost to you.
While the MacBook keyboard comes already built into MacBooks big and small, there are some who'd prefer something a little more flexible and portable. This is especially true when hooking up your MacBook to a television or projector for a presentation or the like. For these instances, the iClever Folding Keyboard is a huge plus. Designed with a trifold for easy transport, the iClever foldable keyboard easily connects to your MacBook via Bluetooth when you're ready to work and then folds back up when you're done with it. Plus, it has a bright, color-changing backlight for easier use in dim airplane cabins, train cars, or buses.
Foldable Keyboard, iClever BK03 Portable Keyboard with Stand Holder (Sync Up to 3 Devices), Full-Size Bluetooth Keyboard for iPhone, iPad, Smartphone, Laptop, Tablet
RECOMMENDED FOR EDITORS: Write down your stories or ideas any time any where you want as long as you own one iClever BK03, the slim and reliable typing partner
PORTABLE & LIGHTWEIGHT: Convenient and lightweight (6.3OZ) pocket sized, tri-folding bluetooth keyboard, perfect for travel. And 4 silicone pads were attached to keep this folding keyboard stable....
iOS, WINDOWS & ANDROID COMPATIBILITY: Built-in Broadcom Bluetooth 5.1 module with an operating range of 33 feet. Three-channel Buetooth make it easy to set up three devices at once with this...
ERGONOMIC & DURABLE DESIGN: Premium aluminum alloy texture (aircraft-grade) for superior durability. Auto power off and sleep mode function helps to conserve battery. Built-in rechargeable lithium...
12 Months Warranty: iClever support more than 12 months of warranty services and 24 hours of customer service.
We earn a commission if you make a purchase, at no additional cost to you.
The Apple iPad is a truly remarkable tablet. They've been this way from the very first generation, but it's even more true today with the release of the iPad Pros. However, they still lack certain features for some users — specifically, a physical keyboard and trackpad like a laptop. Thankfully, the Apple Magic Keyboard with Trackpad brings the same kind of comfort and ease of a laptop keyboard with trackpad and delivers it to the iPad user experience. If you're an iPad user who wants a portable keyboard with a trackpad, then this particular Magic Keyboard is the one for you.
We earn a commission if you make a purchase, at no additional cost to you.
Are you the kind of person who hates the sound of your laptop's clicky keyboard? The sungwoo Foldable Silicone Keyboard is exactly the type of solution you've been looking for. While there's nothing wrong with using the keyboard attached to your laptop, this silicone keyboard is ideal for quiet typing and convenient portability. Because it's made of silicone, it's virtually silent and can be rolled and stored away with incredible ease. It's great for those moments when you're in a quiet library or business meeting and have a lot of typing to do but don't want to make any noise.
sungwoo Foldable Silicone Keyboard USB Wired Waterproof Rollup Keyboard for PC Notebook Laptop (All Black)
✅ Flexible, Soft, Foldable, Roll-up, Silent, Waterproof, Dustproof, Lightweight, Portable and easy to store. Multiple function make it an extraordinary computer keyboard!
✅ Soft silicone material: Made of high intensity and high elasticity silicone gel, non-toxic and odorless. Flexible material allow you to fold it or roll up freely, very handy and convenient to take...
✅ Waterproof and dustproof: No additional keyboard cover skin required, food crumbs or dust can be easily cleaned thoroughly. Clean the silicone keyboard with water, alcohol, or alcohol based...
✅ Silent Click: Soft material allows discreet silent typing experience. No typing sound design makes you have a quiet working environment and avoid disturbing others. At night, it can keep your...
✅ Warm Tips: To protect the keyboard and extend service life, pls do not damage the item as following actions: stretch and twist keyboard; place heavy objscts on keyboard; spill liquid on keyboard;...
We earn a commission if you make a purchase, at no additional cost to you.
Similar to the aforementioned Magic Keyboard with Trackpad, the Apple Magic Keyboard with Numeric Keypad is another great product from the iconic tech company compatible with its suite of Apple products. Equipped with an extended layout with a number pad included on the right side, this version of the Magic Keyboard is ideal for Macs and MacBooks as opposed to iPads or iPhones. Plus, some versions of this keyboard with a number pad even include Touch ID! Despite its larger size and longer width, this Magic Keyboard is no less portable than the others: It's still as lightweight and skinny as ever.
Apple Magic Keyboard with Numeric Keypad (Wireless, Rechargable) - US English - Silver
WIRELESS, RECHARGEABLE CONVENIENCE — Magic Keyboard with Numeric Keypad connects wirelessly to your Mac, iPad, or iPhone via Bluetooth. And the rechargeable internal battery means no loose batteries...
WORKS WITH MAC, IPAD, OR IPHONE — It pairs quickly with your device so you can get to work right away.
ENHANCED TYPING EXPERIENCE — Magic Keyboard delivers a remarkably comfortable and precise typing experience. Its extended layout features document navigation controls for quick scrolling and...
GO WEEKS WITHOUT CHARGING — The incredibly long-lasting internal battery will power your keyboard for about a month or more between charges. (Battery life varies by use.) Comes with a Lightning to...
SYSTEM REQUIREMENTS — Requires a Bluetooth-enabled Mac with macOS 10.12.4 or later, an iPad with iPadOS 13.4 or later, or an iPhone or iPod touch with iOS 10.3 or later.
We earn a commission if you make a purchase, at no additional cost to you.
In another win for Logitech, the MK545 Advanced Wireless Keyboard and Mouse Combo understands that not every person's desktop with mouse and keyboard can be lugged around to and fro. Thankfully, for tablet and laptop users in need of the same sort of convenience a keyboard and mouse can bring, the MK545 Combo delivers a portable keyboard with mouse. The keyboard is a decent size that doesn't feel too bulky in your hands or your backpack, and the wireless mouse is small enough to be carried around with ease, too. Not to mention, purchasing the two as a combo also saves you a bit of money.
Logitech MK545 Advanced Wireless Keyboard and Mouse Combo
Type comfortably and accurately on a full size keyboard with textured palm rest, media controls, f key shortcuts, and adjustable tilt legs for the perfect typing position
Stay productive for hours with a comfortable full size mouse that combines precision laser grade tracking and advanced controls
Your keyboard stays powered for 36 Months and your mouse for 24 Months with no battery changes. Abrasion resistant key print
Hot keys put media, calculator and battery check functions at your fingertips
One tiny Unifying receiver connects both the keyboard and mouse to your computer.Advanced 2.4GHz wireless (10 meters)
We earn a commission if you make a purchase, at no additional cost to you.
How To Pick The Best Portable Keyboard: Step by Step
When looking at portable wireless keyboards, not everything you find is going to fit your specific bill. Some wireless keyboards are too big to be portable, and some portable keyboards might not be compatible with your specific device. Beyond this, some might be too far out of your price range or connect in ways your device just can't connect to. That's why it's important to keep these four main considerations in mind before settling on something. They include: 
Portability
Compatibility
Connectivity
Price
Portability
When looking for portable keyboards online, it won't take long for you to start to notice that wireless doesn't necessarily mean the same thing as portable. As a matter of fact, some wireless keyboards and their massive size are the exact opposite of portable. Pay attention to the physical specs of the keyboard to figure out whether or not its size and shape and weight are truly portable.
Compatibility
Just as important as the physical size of the keyboard is its compatibility. Some Apple products are exclusive to Apple devices, while some Microsoft devices are exclusive to Microsoft products. You need to ensure that the portable keyboard you've settled on is compatible with your device before you check out.
Connectivity
Going hand-in-hand with compatibility is connectivity. While it might sound like the same thing, here's the difference: a product could be compatible with your device's brand, but it might not be capable of connecting to your specific device. For instance, if the wireless keyboard's receiver or mouse transmits to a USB attachment, you need to ensure your device's version has the correct USB. (For instance, older MacBooks use different USB ports than newer ones. The keyboard could be compatible with Apple, but it might not be capable of connecting to your Apple product.)
Price
Above all else is price. You can find an outstanding, portable keyboard that's compatible with your laptop and capable of connecting to it with ease, but if it's out of your price range, then you're going to be out of luck. It's worth coming up with a budget and sticking to it before you begin your search.
What To Know Before Buying
Before you buy a portable keyboard, you need to think about when and where you'll be using it. On the bus? In the workplace? During the day it at night? On the train? In the car? These are the kinds of questions that will get you thinking about what kind of priorities are most important to you. For instance, if you plan on using the keyboard on the daily for hours at a time, you should opt for a portable keyboard with a rechargeable battery. If you're only going to be using it here and there, then you can probably opt for one with regular AA or AAA batteries. That's the big thing to know before you make your purchase. There are all kinds of options, so see what you need before you begin the search.
Using Portable Keyboards: What It's Like
Once your portable keyboard arrives and you begin to use it, you might notice a very slight lag from when you press the keys and when they actually register on the MacBook, iPad, or laptop you're using. This is because Bluetooth and other wireless technologies need an additional step to get commands to the device. You'll eventually get used to it after a week or so, but it's something you'll notice almost immediately upon getting it set up. Beyond this, portable keyboards are an excellent and convenient way to get your work done on the go.
Up Next…