Key Points
The Samsung Galaxy S23 Ultra is the best phone camera that money can buy today. It's our winner overall.
The iPhone 14 Pro Max has the best camera quality and performance of all Apple's smartphones.
Of all the Android smartphones available for purchase, the Google Pixel 7 Pro tops the list. Its camera quality, performance, and special features make it the best of all the Androids.
The Google Pixel 7a is also a decent option in its own right, offering great camera features for a fraction of the cost of the 7 Pro.
To choose the best phone camera for you, consider cost, aperture, number of megapixels, video quality, and bonus features.
In today's world of multimedia, phone cameras are an indispensable tool. Year after year, the top smartphone brands improve their phone cameras and push the boundaries of image quality and special features alike. Whether you're an aspiring photographer or simply love documenting your everyday life, finding the right phone camera can make all the difference in your day-to-day. But which phone camera is best? Let's review four of the best phone cameras on the market today, touching on the best iPhone, Android, and budget options as well as the best phone camera overall.
The Best Phone Cameras You Can Buy Today
Best Phone Camera Overall: Samsung Galaxy S23 Ultra
Best Overall
We earn a commission if you make a purchase, at no additional cost to you.
While it's far from the most affordable option, the Samsung Galaxy S23 Ultra is nevertheless the best phone camera on the market today. Equipped with a 200MP camera with an ultra-wide aperture alongside a handful of other cameras on the front and back, the S23 Ultra blows every other option out of the water. If you have the money and want the greatest phone camera, then you truly can't go wrong here. Combining this with a great battery life, plenty of storage, an optical zoom of 30x, and a digital zoom of 100x, it's obvious how worthwhile this phone camera truly is.
| Pros | Cons |
| --- | --- |
| Best phone cameras around | Very expensive |
| Great battery life | It doesn't come with a charger |
Best iPhone Camera: iPhone 14 Pro Max
Best Apple Camera
We earn a commission if you make a purchase, at no additional cost to you.
If you're not a Samsung person, the iPhone 14 Pro Max is a worthy alternative to the Samsung Galaxy S23 Ultra. While the camera quality doesn't quite touch that of tsi Samsung rival, it's still the best iPhone camera in the Apple product line today. The camera offers 48 megapixels of high-quality photography and lots of special features to optimize your photos and videos. This is less than 1/4 the megapixels of the S23 Ultra, but for Apple loyalists, it'll nevertheless get the job done. Its attractive bonus features make up for the lack of megapixels.
| Pros | Cons |
| --- | --- |
| Always On display | No USB-C charging |
| A16 Bionic chip | Fewer megapixels than S23 Ultra |
Best Android Camera: Google Pixel 7 Pro
Best Android Camera
Google Pixel 7 Pro
6.7-inch 120Hz display
Tensor G2 chip and M2 security
Stock Android
Triple camera array
We earn a commission if you make a purchase, at no additional cost to you.
Fans of Android phones who don't want to shell out for the Galaxy S23 Ultra will find a lot to love with the Google Pixel 7 Pro. This phone camera tops the iPhone 14 Pro Max in terms of megapixels, aperture, and optical zoom. While it might not have the best battery life or color quality, it's still a more advanced camera than what's offered by the 14 Pro Max. Not to mention, the Google Pixel 7 Pro has an arsenal of appealing bonus features that make photo processing and editing simpler than any rival smartphone.
| Pros | Cons |
| --- | --- |
| More megapixels than the iPhone 14 Pro Max | Unimpressive battery life |
| Great camera features | Color gamut could be better |
Best Phone Camera on a Budget: Google Pixel 7a
Budget Pick
Google Pixel 7a
24 hour battery life with up to 72 hours in Extreme Battery Saver mode

Google Tensor G2 advanced image processing

USB-C charging

64 MP wide camera, 13 MP ultrawide camera, and 13 MP front camera
We earn a commission if you make a purchase, at no additional cost to you.
If you want a good phone camera without spending over a thousand dollars to get one, then the Google Pixel 7a is your best bet by far. Less feature-heavy than the S23 Ultra, the 14 Pro Max, or the Pixel 7 Pro, the Pixel 7a nevertheless manages to be a reliable phone camera on a budget. It offers 64MP and a wide aperture, managing to exceed a couple of these other phone cameras mentioned above at a fraction of the cost. Don't let the low price trick you — this is still a worthy phone camera.
| Pros | Cons |
| --- | --- |
| Wonderful camera on a budget | No charger included |
| Reliable image processing | Fewer cameras than rival phones |
How to Pick the Best Phone Camera: Step by Step
Picking the best phone camera is no easy feat. There are five important considerations to keep in mind as you browse through your options. Cost, aperture, megapixels, video quality, and bonus features are five of the most vital factors to consider while you shop. Let's elaborate on each of these five key considerations step by step below.
Cost
Aperture
Megapixels
Video Quality
Bonus Features
Cost
Considering the cost of your preferred camera phone is important because it helps you find the option that best suits your budget. Different phone cameras will obviously come at different price points. Understanding your budget helps you narrow down your many options and make a purchase that best aligns with your unique financial situation. This guarantees you're getting the best value for your money without overspending or compromising on other important features as a result.
Aperture
Aperture is the term used to describe the size of the camera's lens opening. While you don't hear about it nearly as much as you hear about megapixels, it's actually a more crucial consideration. This is because it determines how much light the camera can capture. A wider aperture lets in more light, making it easier to take well-exposed photos in low-light conditions. It's also crucial in creating a shallow depth of field, also known as Portrait Mode.
Megapixels
Highlighting the importance of aperture is not to downplay the importance of megapixels. This spec represents the overall resolution of the camera (i.e., the number of pixels per image or video). A higher megapixel count results in more detail, but not necessarily better quality. Combine this with a large sensor size, fast image processing, and other special features, and your phone camera will have the best quality images imaginable.
Video Quality
It's not all about photos. Considering video quality is just as important if you intend to record videos with your phone camera. Look for a phone camera with 4K video resolution or higher. Some included on this list offer as high as 8K video quality. The higher the resolution, the sharper and more detailed the video. With so many video-based social media platforms out there, you're going to need good video quality in addition to good photo quality.
Bonus Features
Lastly, consider bonus features. This includes any additional functionalities or unique capabilities that work to enhance your overall experience with the phone camera. From optical image stabilization to special modes to advanced shooting settings, these bonus features expand your phone camera's horizons to rival professional cameras. Consider these bonus features for the best phone camera you can buy.
What to Know Before Buying a Phone for Its Camera
Before buying a high-quality phone camera, there are some key facts you should know first. For one, megapixels aren't everything. It's important to find a phone that balances a high megapixel count with a wide aperture. This balance is key. The same goes for sensor size. The larger the sensor, the more light the camera can capture and the better your pictures will look. Megapixel count, sensor size, and aperture width are all equally important.
You should also consider the phone camera's special features before choosing. From image stabilization to high dynamic range to various camera modes such as "Portrait" or "Night," these special features help you make the most of your camera's physical specs. Without great special features, your high-quality camera could go to waste. Don't forget about the phone's video capabilities, either.
When you think about it, you also need to ensure the phone has sufficient battery life and storage space to make your photography easier. It's one thing to have an excellent camera with appealing special features, but what's it all for if you don't have a long battery life or ample storage for photos and videos? You need to double-check these specs before you make your final decision, otherwise, you may end up regretting your choice.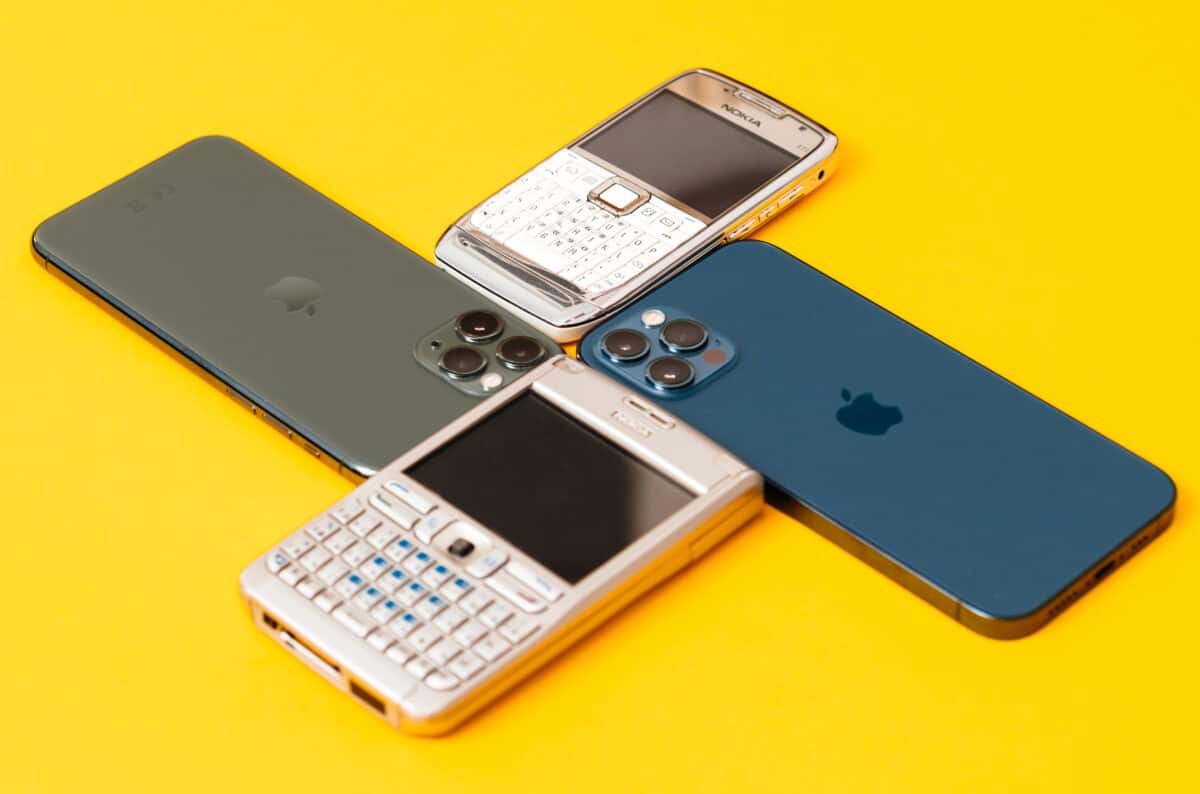 Using a Phone Camera: What It's Like
Using a high-quality phone camera can make you feel like a professional photographer. Carrying such a high-quality camera around in your pocket, and built right into your phone to boot? A good phone camera can be an amazing tool that allows you to capture stunning photos and videos with ease. This is especially true of the camera phones listed above. Each is equipped with its own advanced technology, exceptional image quality, and special bonus features.
When you take a photo with a high-quality smartphone camera, you'll notice that the colors are more vibrant and true to life than what you've seen in years past. Whether it's a bright summer sky, a beautiful grassy field, or a vibrant sunset, the remarkable camera will capture the gorgeous colors like a pro. The high resolution of the cameras ensures every small detail gets included in your photos and videos.
Unlike some of the low-quality smartphone cameras on the market today, these four options should have no problem performing just as well in low light. Every one of them is more than capable of capturing exceptional photos in dimly lit environments without giving up on image quality. Combining this with next-level software and processing, it's abundantly clear why it's so worth it to use the best phone camera money can buy.
The image featured at the top of this post is ©Marc Calleja/Shutterstock.com.