Key Points:
Determining all of the parts that you will need is a smart first step before buying a case.
The design that you choose can make a big difference on how your computer will fit and appear in your workspace.
While design and features are important, making sure your PC can cool properly inside its case is crucial to the running of your computer.
Building a custom PC can be fun if you have all the parts. Unfortunately, most people prioritize the graphics card, processor, and motherboard and overlook the case, yet it's a critical piece of the puzzle. Your choice of PC case will determine how your build looks and feels when it is all put together. Pick the best PC case, and you'll have a stylish-looking PC that also performs well and lasts a long time. Buy the wrong PC case, and you will curtail expandability, hinder airflow, and struggle with cable management.
With so many cases on the market today, picking the right one can be challenging. We've compiled a list of some of the best PC cases to make your work easier. Here are the top PC cases to buy for your custom PC in 2022:
Best Overall PC Case: HYTE Y60
HYTE Y60 Modern Aesthetic Dual Chamber Panoramic Tempered Glass Mid-Tower ATX Computer Gaming Case with PCIE 4.0 Riser Cable Included, White (CS-HYTE-Y60-BW)
Panoramic Views: No corner pillar. The Y60 features a 3-piece panoramic tempered glass design for the ultimate photo and display potential. See your build the way it was meant to be seen from the left...
Exclusively Vertical GPU Mounted: Why would you want to see your graphics card any other way.
Included PCIE 4.0 Riser Cable: A protective riser cable canopy integrates beautifully into the case, allowing for half-height PCIE cards behind the throne of the vertical graphics card. The protective...
Antechamber Construction: Segment cables from thermal components and turn your PC into a work of art.
Cold Floor Cooling: Eliminate hot spots with sweeping lateral vents from fans tastefully tucked into the basement of the Y60.
We earn a commission if you make a purchase, at no additional cost to you.
Whether building a gaming computer or a video editing workstation, or a highly custom PC with an attractive design, theHYTE Y60 does not disappoint. The case has a striking panoramic glass design with a unique visual appearance. The glass case showcases your internal components and makes for a pleasing design.
While the HYTE Y60 is on the larger end of PC cases, it has enough room for your components without being bulky. This case supports all major motherboard form factors, including mini-ITX, ITX, micro-ATX, ATX, and even EATX. Your imagination is the only limit to what kind of PC you can build.
The dual-chamber layout of this case allows you to set up a highly customized cooling system. Whether you choose liquid cooling or air cooling, the fantastic airflow of this case will ensure a good thermal performance. Additionally, you get a PCI-E riser to install your graphics card vertically. A vertical graphics card lets you show off the design of your GPU even further and prevents the dreaded "GPU sag" from happening.
What makes the HYTE Y60 the best overall PC case is its attractive price. Not to mention the range of inputs you get on the front panel, which includes two USB 3 ports, a USB Type-C, and an audio port. Overall, with such a unique design and quality thermal layout, this case is an ideal choice for any PC enthusiast.
Check out the HYTE Y60 on Amazon.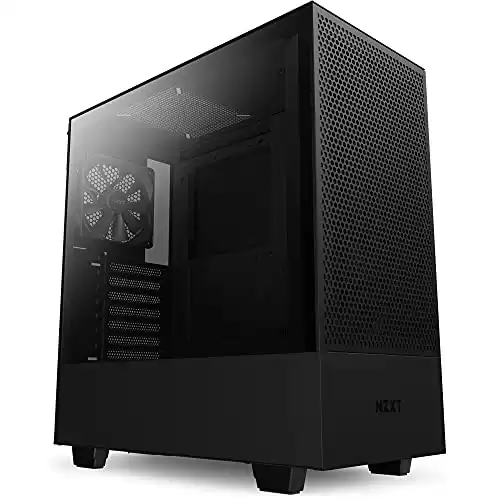 We earn a commission if you make a purchase, at no additional cost to you.
The NZXT H510 Flow will make you feel like royalty if you're on a budget. With such a solid construction and attractive design, this case should cost much more. Offered in multiple colors, H510 Flow caters to different tastes. The glass side panel lets you show off your internal components in a fantastic display.
While not the largest case on the market, the NZXT H510 Flow still supports various motherboard formats. You can use it with an ITX, Micro-ATX, or standard ATX motherboard, depending on your PC build. Its integrated cable management and the iconic "cable bar," ensures a neat physical appearance.
With this case, you'll find plenty of space to install a liquid or air cooler. Additionally, the perforated front panel ensures excellent airflow. Fans with high-performance fluid-dynamic bearings come preinstalled. Thanks to its fans and sound insulation, you can build a very quiet computer.
USB 3 and USB Type-C connections at the case's top allows you to connect your peripherals and accessories quickly. Overall, the NZXT H510 Flow is an excellent choice for a budget gamer, but its high-quality construction and features make it ideal for a high-end build. 
Check out the NZXT H510 Flow ob Amazin.
NZXT H1 Version 2 - CS-H11BW-US - Small Form-Factor ITX Case - Dual Chamber Airflow - Tinted Tempered Glass Front Panel - 140mm Liquid Cooler - SFX 750W 80+ Gold PSU - PCIe Gen4 Riser - White
POWERFULLY SMALL: The compact vertical design provides a small footprint while maintaining support for most full-sized GPU's on the market.
A SIMPLE BUILD: The toolless SSD tray and riser card are incredibly simple to install. In addition to pre-routed cables, the motherboard I/O faces down, routing all cables through the bottom of the...
INTEGRATED COMPONENTS: Integrated power supply and AIO liquid cooler provide a better build experience, along with pre-routed cables. An integrated PCIe Riser card is also included for vertical GPU...
ELEGANT AIRFLOW : The dual-chamber airflow is thermally designed to allow the CPU, GPU, and PSU to pull in fresh air, and exhaust hot air without affecting temperatures of neighboring components.
VERSION 2 EXCLUSIVE : The increased chassis size provides support for larger GPUs. Other upgrades include upgraded PSU wattage, an added fan controller, and an PCIe Gen4 Riser.
We earn a commission if you make a purchase, at no additional cost to you.
If you're trying to build a powerful and compact PC, look no further than the NZXT H1 Version 2. This case is an obvious choice for anyone looking to fit powerful components into a small area. NZXT's masterful design ensures you don't have to sacrifice any performance just to save space.
The NZXT H1 Version 2 is perfect for those who want a quiet build. The magic behind its quiet operation is a free liquid cooler. Few other cases offer such perks. The bonuses do not stop there. This case also includes a free 750-watt power supply, specifically designed to be compact enough to fit in this case.
Your greatest enjoyment will come from building your PC with this case. The "toolless" design means you don't need a screwdriver to take it apart and access your internal components. With an SSD tray, you can quickly mount your solid-state drives. The PCI-E riser card allows you to mount your GPU for maximum efficiency vertically.
USB 3 and USB Type-C connections are other nice additions to this high-end PC case. Thanks to its tiny design, you can build a compact PC in minutes. What we love about this case is its integrated power supply and liquid cooling system. Overall, the NZXT is an excellent option for a wide variety of PC enthusiasts.
Check out the NZXT H1 Version 2 on Amazon.
Thermaltake Core W200 Dual System Capable Extreme Water Cooling XL-ATX Fully Modular/Dismantle Stackable Tt Certified Super Tower Computer Case CA-1F5-00F1WN-00 Black
DUAL SYSTEM CAPABLE: Designed to accommodate (2) completely separate systems/motherboards/power supplies/VGA cards/ main component in a Back-to-Back configuration
FULLY MODULAR/ DISMANTLE DESIGN: Provides multiple configurations and flexibility for PC Enthusiasts with a fully breakdown construction design
DUAL MOTHERBOARD & I/O PANELS SUPPORT: Covering a wide range from Mini ITX to XL-ATX motherboards/ (2) 4x USB 3.0 with HD Audio ports for convenient front panel access for each system
LARGE ARYLIC WINDOW: Equipped with a Large, 3/16" thick acrylic window improving overall structure support and crystal clear viewing
EXTREME WATER COOLING SYSTEM: Support up to 2x 600mm radiator applications with various cooling configurations for full custom liquid cooling builds
We earn a commission if you make a purchase, at no additional cost to you.
If you want to build an all-out, massive workstation PC with the performance to boot, there is no better option than the Thermaltake Core W200. This PC case offers quite a few unique design choices that you simply cannot find on different models. Whether you are building a server, data storage system, high-end workstation, or just a gigantic PC with many components, you'll love this PC case.
The sheer size is the first thing you'll notice about the Thermaltake Core W200. Thanks to its massive size, you can fit two separate systems. While other PC cases are designed for one motherboard and one PC, the W200 can house two separate motherboards, graphics cards, and power supplies, doubling your computing power. 
With such a massive size, you have absolutely no limits. You can easily fit the largest GPUs, motherboards, and power supplies. With 20 drive trays and 10 PCI-E slots, you have room for building a true performance powerhouse. The modular design also ensures that assembly is extremely simple. Additionally, the acrylic window means you can still see your internal components.
You can use your imagination to create the most complex liquid cooling system ever. With support for up to two separate liquid cooling radiators and plenty of room for custom loops, you can build an extensive, custom system. The perforated side panels ensure you get excellent airflow throughout the whole case.
The Thermaltake Core W200 is the best option for building a custom workstation. With so much space, you'll always have room to add more components and keep upgrading. Thanks to the modular design and ease of use, this PC case is super simple to build and use.
Check out the Thermaltake Core W200 on Amazon.
We earn a commission if you make a purchase, at no additional cost to you.
If you're building a high-performance PC, you want a case that won't hold you back. The Thermaltake 900 Black Edition is the ideal case for a high-performance build thanks to its massive size and extended array of options for customization. This case is massive, weighing 54 pounds and over two feet in height. 
Designed for extensive compatibility, you can easily install your choice of motherboard form factor, from ITX up to EATX. The glass panels are magnificent and allow you to show off your internal components on another level. At 5 millimeters thick, these glass panels are also incredibly sturdy.
If you want the freedom to build a highly customized liquid cooling system, you'll be pleased to find that you have support for a liquid radiator and custom dual-loop configuration. Additionally, the graphics card can be mounted vertically further to enhance the look and design of your PC. If you want to install multiple hard drives, you won't have any issues with this case. With six 3.5" hard drive bays and even support for an optical drive, you get the freedom to build an extensive storage configuration.
Overall, the Thermaltake 900 Black Edition is the best option if you want to build a high-performance system. Whether gaming, streaming or producing music and videos, this case will provide the best foundation to build a massively powerful computer.
Check out the Thermaltake 900 Black Edition on Amazon.
How To Pick The Best PC Cases: Step by Step
Finding the best PC case can be confusing for starters but easy for those who know what they want. Keep the following five things in mind when shopping around for a PC case.
Size
Cooling
Connection
Design
Price
Size
Of course, size matters when picking the perfect PC case. If you already picked a motherboard for your build, you want to ensure it fits in your PC case. The form factor is a key aspect here. Most PC cases will use one of several form factors, from Mini-ITX at the small end to EATX in the largest cases. 
The size will determine how much space the PC occupies on your desk. If you want a small, barely noticeable PC, you'll be best served to look out for one that supports small form factor motherboards like Mini-ITX. Micro-ATX PC cases will also be on the smaller end of the scale, but if you want the largest case, you'll want one that supports an EATX motherboard. With an EATX motherboard, you typically get more RAM slots, SATA ports, and even more PCI-E slots.
Cooling
Thermal design is crucial in a quality PC case. You want to make sure that your PC does not overheat. Finding a PC case with good airflow, good cable management, and space to install a liquid cooler or radiator is essential. Additionally, most PC cases come with preinstalled fans to direct airflow within your computer. 
As well as staying cool, a system with good airflow and insulation will stay quiet. If you want to ensure your PC is as quiet as possible, you'll want to ensure you have room for a liquid cooler. Most larger PC cases will give you space on the top or front to install an all-in-one liquid cooling system. Liquid cooling is ideal since it is often substantially quieter than air cooling.
Connections
While most PC cases offer similar connections, ensuring you get everything you need is critical. Typically, you'll want to look for at least one or two USB 3.0 ports on the front or top of your case. Additionally, the newest cases will offer the latest USB Type-C standard for connecting the latest peripherals.
While you can easily install additional expansion cards to get the ports and connections you need, a good PC case already has the essentials built right in.
Design
Arguably the most important aspect of your entire build, the design is largely a personal preference. If you want to put everything on display, a PC case with a prominent glass window will let you showcase your components and enjoy the aesthetics of your build. With most PC cases, you can expect to find a glass panel since this is a popular design.
That being said, appearance is not everything in a good design. A quality design allows you to easily open your PC case with a latch or a few screws. An easy-to-disassemble case is crucial if you enjoy upgrading your components and maintaining your equipment. 
Cable management is another essential aspect of the design. Most entry-level and budget cases will only offer basic cable management, which leads to a mess of wires inside your case. Decent PC cases, on the other hand, offer you plenty of space to conceal cables. Some of the largest cases also offer channels to route your cables through and velcro ties to keep everything neat. 
Price
If you're on a budget, the price is one of the most vital aspects to pay attention to. When you're trying to build a high-performance computer with limited funds, you're much better off focusing your efforts on a quality graphics card and processor. That's not to say you should get the cheapest case possible. Your overall performance will be affected if you get a poor-quality case.
The best PC cases offer a balance of good design, expansion, and options while staying within a reasonable price. For example, the budget option on our list still offers all the features you would expect on a high-end PC case. Even more impressive is that it does all this while staying under $100.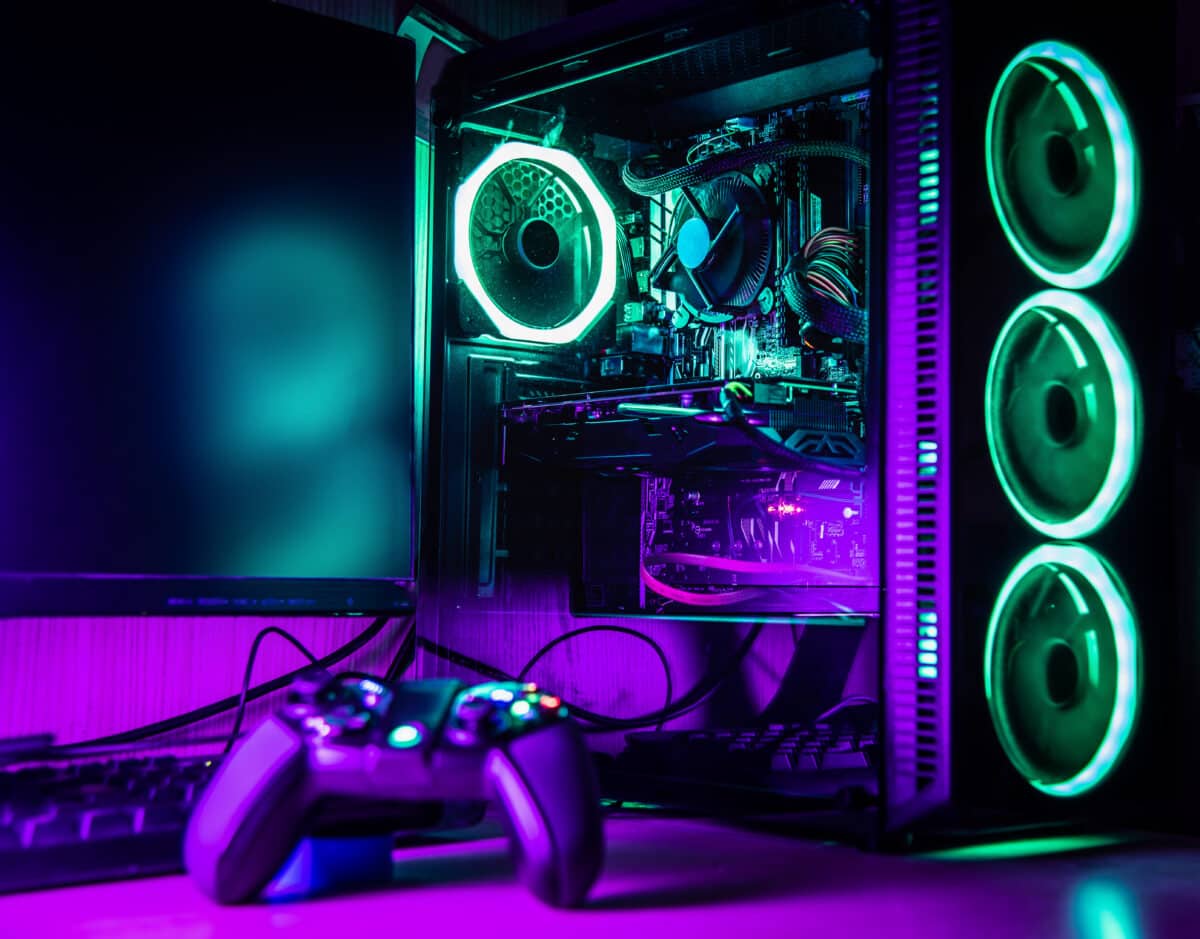 Using a PC Case: What it's Like
Nothing is as exciting as getting a new PC case for your custom-built gaming rig. Depending on which case you buy, you'll have to do some simple initial setup to get everything installed. Ideally, your motherboard fits perfectly, and you have all the space you need to mount hard drives, route cables, and install cooling systems.
The first thing to do in setting up your new PC is to install your processor and motherboard. Typically, you'll find it easiest to install your CPU on your motherboard, then mount the board into the case using the mounting screws. If you have a liquid cooler, this is the point you'll install it on the top or in the front of the case. 
Once your cooling system is firmly connected to your CPU and your motherboard is securely mounted in your case, you can start installing the rest of your components. Some PC cases offer PCI-E risers so you can vertically mount your graphics card. A vertically mounted card is often preferred since it allows you to showcase the front of your GPU for maximum visual appeal.
Finally, once all of your components are installed, you are ready to boot up your system for the first time and install your operating system. Many PC cases have RGB controller buttons and basic power and reset buttons. With an RGB button, you can change the color of your RGB lights with just one press.
What To Know Before Buying a PC Case
Before buying a PC case, you should have a good idea of your overall parts list. You should also know what you want to use your computer for. All of this will help you determine the ideal case. If you want a gaming computer, you will want to ensure you have plenty of room for a large graphics card and liquid cooling system. 
If you want a compact computer, you'll want to find one with a small footprint while still offering plenty of space on the inside. For a PC focused on data storage, you'll want to find one that offers plenty of hard drive bays and SSD slots. Additionally, a lightweight PC case is vital if you plan to take your PC on travel excursions or the occasional vacation.
If you already have a motherboard, you'll need to ensure that your PC case is compatible with that form factor. For example, if you purchased an EATX motherboard, you'll need a hefty PC case with plenty of room. On the other hand, if you have an ITX motherboard, you'll need to ensure your PC case is fully compatible with that form factor. 
Up Next…
Don't stop reading now! We have plenty more articles about improving your PC.