Building your own network-attached storage system, or NAS is an exciting alternative to buying a prebuilt NAS. Finding the perfect case, hard drives, processor, and RAM are all important steps, but the motherboard is arguably the most crucial. It's where all your components will plug in, so picking the right one will determine the capabilities of your NAS.
With hundreds of different motherboards in the market, picking the right model can be an uphill task. How do you know which motherboards are good and which ones should be avoided? We did some sleuthing to find the industry's best.
Here are the five best motherboards for a NAS:
#1 Best Overall Motherboard for NAS: MSI Pro Z690-A
The best overall motherboard for NAS is the MSI Pro Z690-A because of its expandability and performance.
This motherboard boasts helpful features like 12th-generation Intel support, four DDR4 RAM slots, and an extended heatsink design and thermal shield. With six SATA ports running at 6GBps, the Pro Z690-A lets you install up to six full-size hard drives. While there are motherboards out there with more SATA connections, they often come at a much higher price tag. This motherboard is the perfect combination of expandability and low price.
A nice feature of this motherboard is the M.2 slots for installing NVMe solid-state drives. While SATA ports are great for storage drives, an NVMe drive will be advantageous for your system as a boot drive. With an NVMe SSD, you'll enjoy speedy boot times and low latency.
The MSI Pro Z690-A offers a 2.5GBe ethernet port for superior networking capabilities. This connection is enough to handle high-bandwidth data transfers over your network. Having such a speedy connection makes this an ideal motherboard for your NAS.
Check out the MSI Pro Z690-A on Amazon.
Best Budget Motherboard for NAS: Asus Prime B450M-A II
Building your own NAS doesn't have to cost an arm and leg. You can often get a reliable motherboard like the Asus Prime B450M-A II at a great price. To expand your storage, you can use any of the six high-speed SATA connections to create a massive data array. Four RAM slots are included, allowing you to load up your NAS with plenty of memory so it doesn't slow down under heavy use.
With support for AMD Ryzen processors, you'll be able to enjoy the performance benefits of the latest generation of AMD CPUs. Additionally, features like LANGuard, DRAM overcurrent protection, and BIOS Flashback make the Asus Prime B450M-A II a durable motherboard for the curious beginner.
Its gigabit ethernet port is enough to handle high-bandwidth data transfers. You'll be able to connect your NAS to your network and enjoy high transfer speeds. Additionally, with multiple PCI-E slots, you have plenty of expansion options if you want to add more components like USB or graphics cards.
Check out the Asus Prime B450M-A II on Amazon.
Best Compact Motherboard for NAS: MSI MAG B660M Mortar
The MSI MAG B660M Mortar with Micro-ATX form factor is the ideal motherboard for building a low-profile NAS due to its small size and lower power requirements.
If you're trying to build a compact, space-saving NAS to put under the desk or off to the side, you'll want the smallest motherboard you can get. The MSI MAG B660M is your best bet. With features like 12th-generation Intel support, DDR4 RAM slots, and PCI-E 4.0, this motherboard has plenty of expansion capabilities.
Its six SATA ports allow you to expand your NAS storage. Additionally, you can install an NVME solid-state drive using the provided M.2 slot. This will ensure your NAS boots up fast and has a quick response time.
For connectivity, you get a 2.5GBe ethernet port and WiFi 6. Whether you want to deploy your NAS or hardwire it to your network wirelessly, you have multiple options to do so. Overall, the MSI MAG B660M Mortar makes an excellent compact motherboard for any NAS.
Check out the MSI MAG B660M Mortar on Amazon.
Best Performance Motherboard for NAS: MSI X99A
The MSI X99A is the ideal performance motherboard thanks to its wide array of high-end features.
If you're after performance, picking out the correct motherboard is just as important as the processor, RAM, and storage. The motherboard is the base for all your components. So, it's essential to find one with high-speed interfaces and plenty of connections. The LGA 2011-V3 socket fits the bill.
It allows you to connect a server-grade Intel Xeon processor for robust and long-lasting performance. Xeon processors are perfect for high-performance NAS since they are designed for intensive applications like hosting, web applications, and file servers.
Another unique aspect of this motherboard is the massive number of RAM slots you get. With a whopping eight RAM slots, each supporting up to a 16GB 3466MHz DDR4 module, you can install up to 128GB of RAM. If you are using your NAS for multiple purposes, having as much RAM as possible to handle multitasking can be helpful.
Having as many SATA ports as possible is important if you're building out a massive storage array. The MSI X99A comes with Ten SATA ports for connecting full-size hard drives. In addition, you get an M.2 slot for installing an NVMe solid-state drive.
The ATX form factor is the perfect mix of size and functionality. We like that it has enough room to install components yet is compact and mid-size in build. A Gigabit Ethernet port can quickly connect this motherboard to your network and provide a high-data throughput.
Check out the MSI X99A on Amazon.
Most Upgradeable Motherboard for NAS: Asus Z10PE-D16
If you want to pull out all the stops and build the most upgraded NAS possible, the Asus Z10PE-D16 is the perfect motherboard.
While this motherboard is designed for servers and workstations, it is still ideal for building a high-performance NAS. It has 10 SATA ports, allowing you to configure a massive storage array. However, what truly sets this motherboard apart is the dual-socket CPU configuration. With two LGA 2011-V3 sockets, you can install two server-grade Xeon processors.
If you are after unwavering high-performance, two CPUs will ensure that your NAS is always ready for whatever you can throw at it.
Asus Z10PE-D16 has sixteen RAM slots, meaning you can install a whopping 1TB of RAM. If you're serious about workstation-level performance, this much RAM will ensure your NAS can handle multiple heavy applications simultaneously.
This motherboard will also come in handy to those intending to use their NAS as a server and workstation simultaneously. Short of buying a server, there are not many motherboards with support for such a massive amount of RAM.
The networking capabilities of this motherboard are also second to none. With three Gigabit LAN ports, the Z10PE-D16 can be configured to use more bandwidth than a standard motherboard. Although there is no WiFi support, you can always add a WiFi card later, thanks to the many PCI-E 4.0 slots.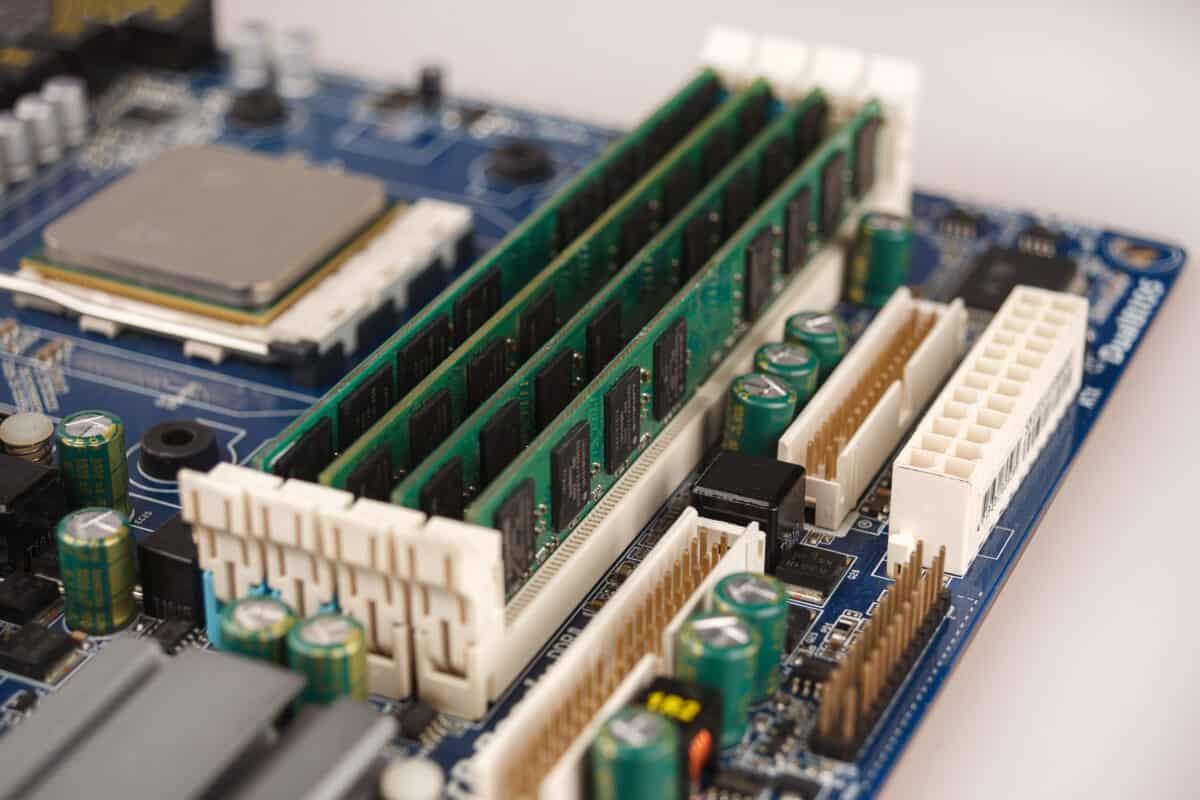 Overall, this motherboard is the most expandable and the perfect base for building a future-proof NAS. With so many options for connectivity and upgradeability, the Z10PE-D16 will ensure a high level of performance for many years to come.
Check out the Asus Z10PE-D16 on Amazon.
How To Pick The Best Motherboard for NAS: Step by Step
Building your own NAS comes with a unique set of requirements. Typically, you'll want to connect multiple hard drives to provide your system with as much storage as possible. Additionally, network connectivity is equally important when building a NAS. Keep these four things uppermost in your mind when shopping for the best motherboard for NAS.
SATA connections
Networking
Expansion
Price.
SATA Connections
Want to connect a standard desktop hard drive? You'll need a SATA port. The more SATA ports you have, the more drives you can connect. Since each hard drive will occupy one SATA port, you'll need to consider how many drives you plan to connect.
A good motherboard should have at least six SATA ports. Some of the best will have up to ten. The speed of the SATA interface is also important. The "gigabytes per second" is critical in determining how fast your data transfer speeds will be. Older standards will run at 3GBps, while newer motherboards will offer a 6GBps connection.
Networking
Another crucial aspect of any good NAS motherboard is enhanced networking features. Ideally, the model you buy should have at least a one-gigabit ethernet port. This will allow you to connect your system to your network and enjoy high transfer speeds.
While you can always add additional network cards later, having a fast ethernet connection built into your motherboard is helpful. Another handy addition is WiFi. If you plan to configure your NAS wirelessly, built-in WiFi is essential.
Expansion
The last thing you want is a motherboard that will hold you back. A good motherboard will include essential features like good networking and SATA connections and the ability to add more features as you see fit. Expandability is the keyword here. Ensure you buy an expandable motherboard to continue upgrading your NAS for years.
Some key expansion features to look out for include plenty of RAM slots. Having multiple RAM slots will allow you to increase the performance of your NAS with more RAM. Additionally, PCI-E slots are helpful if you want to add more networking cards, USB cards, or even graphics cards.
Price
If you're building a NAS on a budget, price is something you can't overlook. Building a DIY NAS is cheaper than buying a prebuilt NAS. If you are wise in your choice of components, you can save money and still build a highly functional NAS.
When shopping around, avoid buying lower-quality components to save money. You may end up replacing cheap parts soon. It is better to buy premium components as they typically last longer and provide years of service.
What To Know Before Buying a Motherboard for NAS
Before you decide on the perfect motherboard for your NAS, you should know the form factor and size of the motherboard you want. If you already have a PC case, this is easy. Just look at what form factors are compatible with your case. Mini-ITX, ITX, Micro-ATX, ATX, and EATX form factors are motherboard options. Each type has its pros and cons, but the main differentiator is the size.
Additionally, you should ensure the power supply requirements for your motherboard and the rest of your build. You don't want to buy a power supply incapable of handling the power needs of the components in your NAS. Typically, a NAS will house many hard drives and may use much more power than a standard computer, so ensure the power supply is adequate.
Another thing, decide on what processor to use with your motherboard. While the processor is not important for NAS, you don't want to buy an Intel motherboard if you have an AMD CPU, and vice versa. To be sure your processor and motherboard are compatible, look at the socket type for the motherboard, and make sure it matches the socket type required by the processor.
Using a Motherboard for NAS: What It's Like
While a prebuilt NAS will save you the hassle of picking out a motherboard, building your own NAS offers numerous advantages. For example, you can customize your NAS to an incredible extent and pick out all your components.
So how should you go about the process of using your new motherboard? The first step is ensuring you have all the necessary components, from the RAM, power supply, CPU, and hard drives. Once everything is together, you can begin your DIY NAS build.
Install your CPU and motherboard in your PC case of choice, and configure your operating system. FreeNAS is a Linux distro designed for DIY NAS builds, but any version of Ubuntu or Windows will also work well.
Having a motherboard with easily accessible SATA ports makes it easy to install new hard drives and add more storage to your NAS. If you want to add more components over time, you'll be glad you picked out an expandable and powerful motherboard.
Next Up…
Check out some of this awesome content:
The image featured at the top of this post is ©daniiD/Shutterstock.com.